The Scandal Tearing Apart America's Largest Protestant Denomination
A denominational leader's claim that abused women should remain in their broken marriages is forcing Southern Baptists to pick sides.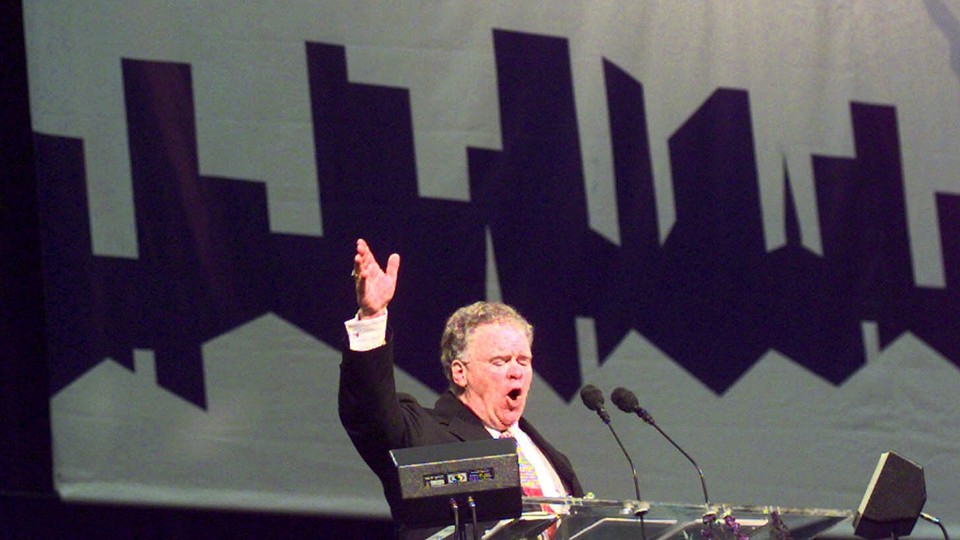 Over the past 20 years, the Southern Baptist Convention has weathered an onslaught of controversies, from renaming the denomination to repudiating the Confederate flag. But in the end, all it took to potentially rend the organization in two was a single quote about domestic violence from a solitary leader that most Americans have never even heard of.
Paige Patterson is the 75-year-old president of Fort Worth's Southwestern Baptist Theological Seminary, which claims to be one of the largest schools of its kind in the world. He is lionized among Baptists for his role in the "conservative resurgence," which is what some call the movement to oust theological liberals beginning in the 1970s. But this week, his past legacy and present credibility were called into question when a 2000 audio recording surfaced in which Patterson said he has counseled physically abused women to avoid divorce and to focus instead on praying for their violent husbands, and to "be submissive in every way that you can."
Domestic-violence advocates quickly and unsurprisingly condemned the remarks, but, and as The Washington Post reported, it sent "leaders scrambling to respond."
Some notable SBC leaders echoed concerns about Patterson's comments and whether he should step down. Thom Rainer, president of LifeWay Christian Resources, a book-publishing house and retail chain that is owned by the SBC, released a statement denouncing domestic abuse and calling out Patterson by name. Ed Stetzer, a former Southern Baptist employee who is currently a professor at Wheaton College, penned an article for Christianity Today arguing that Patterson must resign post-haste. Others, including theologian Albert Mohler and mega-church pastor Matt Chandler, also made statements condemning spousal abuse.
But the tight-knit Southern Baptist boys' club is not so easily unraveled, and many leaders have sheltered their colleague. Some have simply remained mum. The denomination's Executive Committee has not acknowledged the controversy despite the media coverage it has received. Current SBC President Steve Gaines has also stayed silent, though today he curiously tweeted, "You must not speak everything that crosses your mind" and encouraged people to "read your Bible more than you check [social media]." Others have actually offered their support. For example, Atlanta-based pastor and former SBC President Johnny Hunt took to Twitter to praise Patterson as "a man of God and a man of your word."
It's not difficult to denounce domestic violence, and it shouldn't be controversial. And yet, America's largest Protestant denomination now seems to be ethically schizophrenic when it comes to the topic.
In the days since the scandal was first sparked, the situation for Patterson has worsened substantially:
First came another quote from the same audio clip, in which Patterson is heard telling a story about a female congregant of his who confessed to being abused by her husband. Rather than report the incident to the authorities or help the woman escape, he sent her back to her spouse and asked her to pray "not out loud, but quietly." The woman returned the next Sunday with two black eyes, a sight which Patterson said made him "very happy" because it made her husband feel guilty enough to attend church for the first time.
Next came the release of Patterson's defiant public statement in which he only conceded that his remarks were "probably unwise" before painting himself as a martyr who has been subjected to a campaign of "mischaracterization" fueled by "lies."
Then, a video recording from 2014 emerged in which Patterson resembles the ghost of Roy Moore, objectifying and sexualizing a 16-year-old girl in a sermon illustration.
If that were not enough, a news story published by the Atlanta Journal-Constitution in 1997 surfaced in which Patterson was asked about women and quipped, "I think everybody should own at least one."
Patterson offered an interview to the denomination's publicity arm, Baptist Press, in hopes of doing some damage control. But he made things worse by confirming that he believes "non-injurious physical abuse which happens in so many marriages" might spur a woman to "pray [her husband] through this." (Baptist Press later manipulated the quote to read "minor non-injurious abuse" claiming that it better aligned with Patterson's intention.)
Finally, The Washington Post published an article noting that Patterson has been named as a defendant in a lawsuit, which claims he knew about child-molestation accusations against a close friend of his, fellow Southern Baptist Paul Pressler, but chose to cover it up rather than report it.
A wave of such damning allegations and confirmed quotes would be enough to drag down almost any giant. In a #MeToo moment, it's astounding that Patterson is still standing. But Southern Baptists are a loyal bunch. One wonders if Baptists' loyalty to one of yesterday's leaders is blinding them to the optics of his present involvement and the damage to their public witness should he remain in power.
It doesn't take a fortune teller to recognize that this will not end well.
At the denomination's annual gathering next month, Patterson is scheduled to give the coveted keynote sermon. A growing number of Southern Baptists are protesting his involvement, calling for him to be replaced. But because the messengers approved the schedule last year, there are only two ways he can be removed from the program. Either Patterson can voluntarily resign, which seems unlikely given his recalcitrance throughout the debacle, or the messengers in Dallas next month can offer a motion for his replacement.
"If Patterson preaches at the SBC, he will, because of his past work, get a standing ovation," Stetzer wrote at Christianity Today. "Every news story will point to that moment, tie it together with the accusations against Paul Pressler, and say that Southern Baptists don't take abuse seriously."
Stetzer is right. If Patterson preaches in Dallas, then the Southern Baptist Convention, which has lost a million members over the last decade, will appear to be tolerant of spousal abuse in a cultural moment in which Americans overwhelmingly oppose such things. Such a perception, whether true or not, will doubtlessly come at a high price.
On any given Sunday, there are more women than men who attend church. These women, in communities across America, may think twice before pulling into a Southern Baptist church's parking lot. And what of the many social justice-minded Millennials? They may see the denomination's lack of conviction of their belief that organized religion is irredeemably corrupt, giving them one more reason to saturate churches with their absence.
One can only imagine how the million of Southern Baptist women feel when their own denomination cannot seem to muster enough moral courage to offer a full-throated repudiation of domestic abuse. The denomination holds that God intends for wives to submit to their husbands and has not passed a resolution on domestic violence since 1979.
It's somewhat easier to tolerate disagreement on matters like race when the majority of SBC churches are overwhelmingly white. But when every congregation is at least 50 percent female, domestic abuse hits closer to home. The Southern Baptist Convention simply cannot afford to stand by a leader who has exhibited a decades-long pattern of dangerous comments that appear to trivialize women's suffering.
With their denominational meeting fast approaching, Southern Baptists now find themselves in a situation that is precarious, perilous, and frankly ironic. The man who three decades ago unified his denomination now seems poised and willing to divide it.
*This article originally referred to Wheaton College as Wheaton University. We regret the error.