Rival Candidates Try an Unusual Election Message: Vote for Both of Us
In a move that could block the race's frontrunner, two contenders for mayor of San Francisco are taking advantage of the city's ranked-choice voting system and endorsing each other.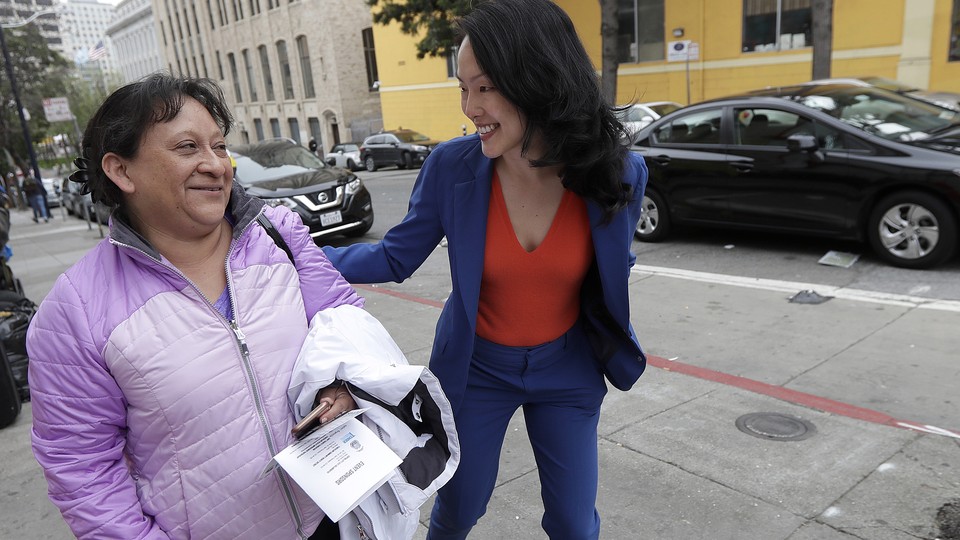 The joint press conference that Jane Kim and Mark Leno, two Democratic candidates for mayor of San Francisco, held together earlier this month looked like the kind of unity event that happens the day after a competitive-but-cordial primary election. Surrounded by their respective supporters, they stood side-by-side before a gaggle of microphones and cameras in front of City Hall and looked poised to perform that perennial primary ritual: Former rivals link arms, the loser endorses the winner, and they both vow to head into the general election as a unified force.
What made the Kim-Leno event unusual, however, is that it didn't happen after a primary—it occurred right in the middle of the general-election campaign, and each candidate was endorsing the other for the job. Kim, a 40-year-old member of the city's Board of Supervisors, still very much wants to be San Francisco's next mayor, but she was there to tell voters that they should cast their ballots both for her and for Leno. And Leno, a 66-year-old former state senator, was there to reciprocate the gesture.
The two also made a joint ad together to hammer home the message. "Vote for me and Mark Leno," Kim says in the video.
"Vote for me and Jane Kim," Leno says in the next shot.
The odd alliance between these mayoral rivals ahead of the June 5 election is a function of San Francisco's system of ranked-choice voting, whereby residents can choose up to three candidates by order of preference instead of the usual one. Kim and Leno each want voters to put themselves as their first choice, but they're urging their supporters to select each other as their second choice on Election Day. Ranked-choice voting has been in place for municipal elections in San Francisco for 15 years, but this year's race is the most wide-open campaign for City Hall during that time and the first in which two major candidates have so explicitly taken advantage of the system by forming an alliance.
Advocates of ranked-choice voting cheered the move as a validation of an election reform they hope to expand to other major cities, such as New York, and to states as well. Maine next month will become the first state to use ranked-choice voting in its primary elections for governor and other offices.
But the Kim-Leno alliance is not without controversy. By endorsing each other, they are effectively trying to thwart the candidacy of the putative frontrunner in the race, London Breed, the Board of Supervisors president who served briefly as the city's acting mayor following the December death of Mayor Ed Lee. In a move that enraged Breed supporters, her colleagues on the board—including Kim—voted to name another member, Mark Farrell, as interim mayor through the election. The editorial board of the San Francisco Chronicle, which endorsed Breed, accused Kim and Leno of "gaming" the ranked-choice system and wrote that the move "projects an element of desperation."
Each of the three leading candidates would mark a first for San Francisco if they win. Breed would become the first African American woman elected to lead the city; Kim would be the first Asian American woman to serve as mayor; and Leno would be the first openly gay mayor in the city's history. In heavily Democratic San Francisco, all three hopefuls are staunch progressives on the issues that animate national politics: They back same-sex marriage, a higher minimum wage and government spending, and all of them oppose President Trump's crackdown on immigration and support San Francisco's status as a "sanctuary city."
But on local issues, Breed is seen as the most moderate of the top three candidates in the race, which has been dominated by a debate over the city's twin crises of affordability and homelessness. In press interviews, Kim and Leno have knocked Breed for siding more frequently with developers, and they've criticized her association with a tech investor who endorsed her candidacy at a memorial service for Lee and then helped fund super PACs backing her bid on the airwaves.
"When it comes to asking the private sector to do more, or to follow along with rules, or to have rules even that benefit greater society as a whole, that's where London and I have been apart," Kim told me. "We always say: Everyone is progressive until money is involved in San Francisco."
Kim grew up in New York City but moved to the Bay Area for college, attending Stanford University and the law school at the University of California, Berkeley. She served first on the Board of Education before winning two elections for the Board of Supervisors—San Francisco's version of a city council. With an eye toward Kim's East Coast upbringing, Breed has stressed her roots in San Francisco, where she grew up in poverty in the same district she now represents.
Kim rejects the suggestion that her alliance with Leno is in any way strategic. "Oh no. Absolutely not," she told me in a recent phone interview. "If you just look at our politics, Mark and I are more similar than London and I." Kim said she's actually personally closer to Breed, with whom she's served on the Board of Supervisors for several years. "We get along great. We get drinks after work. It's not personal at all," she said. "But London and I have been on the opposite sides of issues on controversial votes, and Mark and I have been similarly aligned along political values and our work."
Leno has been active in San Francisco politics for decades, working for years to combat the AIDS epidemic before and after his partner died from the disease in 1990. He served 14 years in the state legislature, becoming the first gay man elected to the California Senate in 2008.
Leno couched his decision to endorse Kim as a second choice in the context of his change-oriented campaign. Neither candidate has been openly critical of the late Lee, who died from a heart attack in the middle of his second term. But Leno said Breed, as a two-term president of the Board of Supervisors, represents the status quo.
"It's really about the need for change in San Francisco," Leno told me. "There has been a status quo holding the reins of power for many successive administrations.
"Jane Kim," he continued, "has been a stalwart defender of tenants' rights, whereas London Breed has sided with developers and landlords over tenants."
For her part, Breed has made affordability and the need for more housing in San Francisco a central plank of her campaign platform. In an interview earlier this year, she told me she's watched many friends leave the city because of rising costs. "I lived through redevelopment in my district and understand displacement from direct experience," Breed said. But she differs from Kim and Leno in emphasizing that San Francisco needs more housing "at every level," including both subsidized and market-rate apartments. Because of cuts to state and federal aid, she argues, San Francisco must rely in part on the private sector to fund affordable housing. "The cavalry isn't coming; the money just isn't there," she wrote in January. "We need to stretch every housing dollar, and the production of market rate housing is critical to subsidizing new affordable units."
To Breed and her supporters, the fix was in from the moment the Board decided to bar her from serving as interim mayor while running for the job, breaking a precedent set 40 years ago when then-Board President Dianne Feinstein took over after the assassination of Mayor George Moscone. Feinstein won the election and served two terms before beginning her long tenure in the U.S. Senate.
The Board's decision in January was ostensibly aimed at ensuring a fair race in which Breed did not have the advantage of incumbency, but tempers flared at the public meeting leading up to the vote and afterward. Opponents of Breed insinuated she was in the pocket of venture capitalist Ron Conway and big developers in the city, while Breed's allies saw a racial undercurrent in the decision to remove the first African American woman to serve as San Francisco's mayor.
With the memory of the Board's decision to replace Breed as acting mayor still fresh, a spokeswoman for her campaign merely scoffed at Kim and Leno's decision to align formally. "What's the news here?" replied the spokeswoman, Tara Moriarty, when I asked for comment, repeating a line she also offered to local reporters. "Leno and Kim's one-two strategy was announced to the world the day they orchestrated London Breed's removal as mayor."
---
When San Francisco voters approved the ranked-choice system by ballot initiative in 2002, proponents of the idea cited three main reasons for doing so. First and foremost, the system would increase voter participation. San Francisco had used a runoff election in the past, but historically, only three in five voters who cast ballots in the primary turned out for the second, decisive election, said Pedro Hernandez, the deputy director of the ranked-choice advocacy group Fair Vote California.
Ranked-choice is essentially an instant runoff. Voters rank up to three candidates, and if no one gets a majority on the first ballot, the candidates with the fewest votes are eliminated, and voters' second-choice preferences are added to the totals of the remaining contenders. The process is repeated until there are just two candidates left, and the one with the most votes wins. Other cities allow voters to rank more candidates, but the voting technology in San Francisco in 2002 could only accommodate three, Hernandez said.
The second argument for ranked-choice voting was cost: Eliminating the need for a runoff election would save the city about $3 million, said Leno, who served on the Board of Supervisors at the time and supported adoption of the new system.
Advocates for the change also insisted ranked-choice voting would lead to more positive campaigning, because it encourages candidates to seek the support of voters who are backing one of their rivals. Instead of attacking a voter's first choice, a candidate might instead highlight where they agree on issues as a way of getting that voter to rank him or her second.
"Generally, the basic strategy is to appeal broadly and say, 'I'd like to be your first choice, and if I can't be your first choice, I'd like to be your second,'" Hernandez explained in an interview. "Now everyone's vote becomes even more valuable, rather than shutting out a voter because they have selected a [different] favorite candidate."
In practice, the system often leads to alliances and positive campaigning predominantly among underdogs, who treat each other better than they all treat the frontrunner. During the final mayoral-candidate forum, in mid-May, all seven hopefuls on stage were asked who their second choices are for mayor. None of them chose Breed, and Breed chose no one at all. "My No. 2 choice is London Breed, and my No. 3 choice is London Breed," she said.
Hernandez said his group discourages candidates from giving that advice, since it can confuse voters into thinking they are giving additional help to their first choice. If a voter selects the same candidate for all three choices, only the first ballot will count. Breed's campaign, however, has encouraged voters supporting other candidates to make her their second choice, Hernandez said.
Has ranked-choice voting led to a more positive mayoral campaign in San Francisco? Well, it's complicated.
On the one hand, it has not stopped backers of Breed from running attack ads against Kim, including one funded by Ron Conway's wife that criticized Kim for voting to keep in office a San Francisco sheriff who had pleaded guilty to domestic violence. The racial tensions sparked by Breed's removal as mayor have also lingered: Breed supporters interrupted and hurled racial slurs at Kim during a campaign event she attended in Breed's district. (Breed denounced the people who went after Kim.)
Yet the debates among the candidates have been undeniably substantive and free of the zingers and personal attacks that dominate so many congressional and presidential campaigns. The candidates have held wide-ranging discussions on specific policies to address homelessness, affordability, and a spike in car burglaries in San Francisco. "If anything," Leno told me, "there's been complaints they haven't been fierce enough."
The tenor of the race also raises the question: In an era when electoral slugfests and an endless stream of attack ads are the norm, can ranked-choice voting lead to campaigns that are too polite? Negative campaigning may turn off people in the abstract, but it serves to draw contrasts between candidates and highlight the stakes of the election for voters. As candidates like Kim and Leno try to align themselves with one another rather than draw overt distinctions, potential voters could decide it doesn't matter who wins and not bother turning out. A 2008 study backed by FairVote found that ranked-choice voting increased turnout in San Francisco's municipal races, but this year's voting will occur in June alongside the California congressional-primary elections, rather than in November when turnout is usually higher.
Hernandez acknowledged that this year's San Francisco mayoral race could be seen as "boring" in comparison to others, but he said Kim and Leno's dual endorsement was a feature of the system, not a flaw. "That kind of civility, instead of those two candidates knocking each other down, was exactly what ranked-choice was made to do," he said.