Giuliani's Defense Only Intensifies the Legal Risks for Trump
The former New York mayor said in an interview that a payment made on the president's behalf to Stormy Daniels prevented damaging information from emerging during the 2016 election.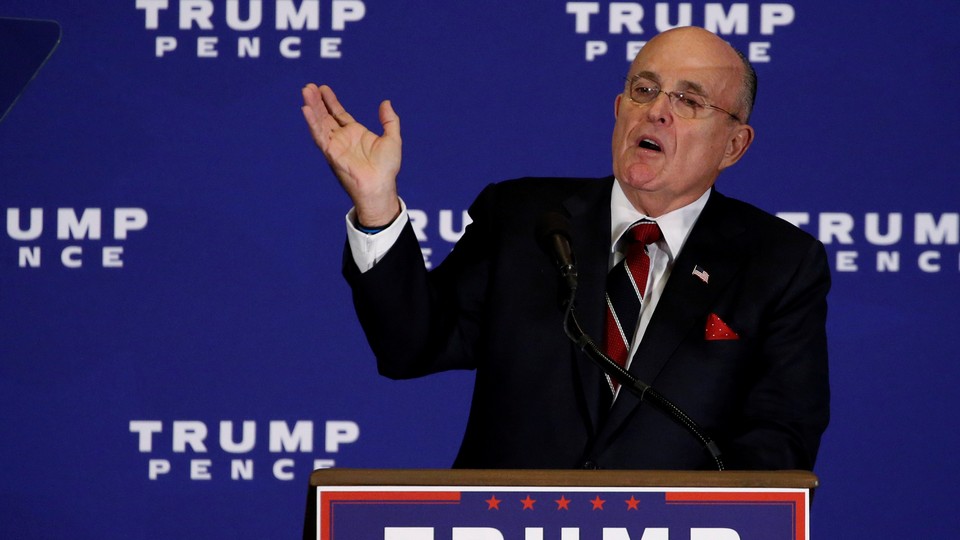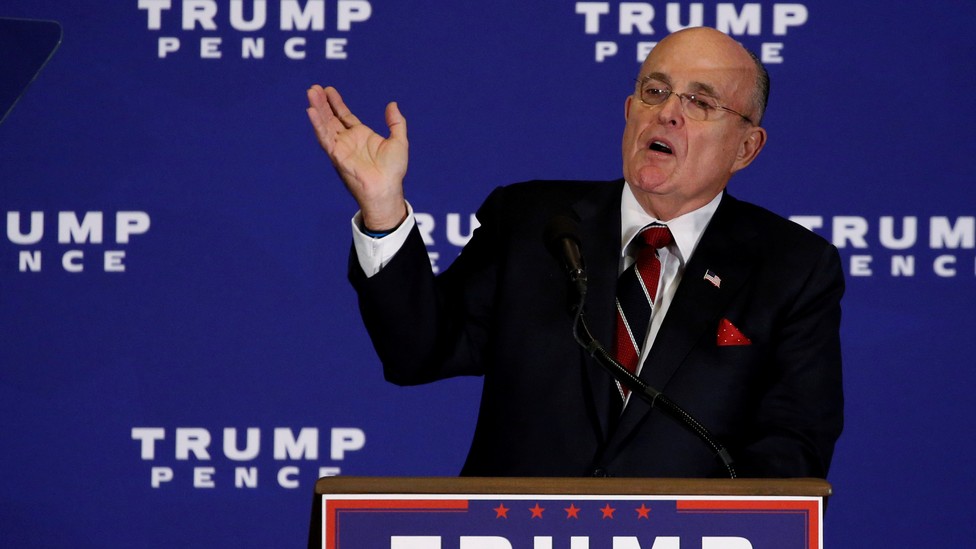 Rudy Giuliani, who joined President Trump's personal legal team last week, told Fox News on Thursday that the Trump attorney Michael Cohen had arranged a payment to the adult-film actress Stormy Daniels in order to prevent allegations of an affair from coming out in the closing days of the 2016 election.
The former New York City mayor's explanation for the $130,000 payment to Daniels suggests the deal likely ran afoul of campaign-finance laws.
Giuliani gave two interviews to Fox News in which he acknowledged that Cohen paid Daniels on Trump's behalf to silence Daniels's allegations of an affair with Trump, while insisting that the affair never took place. But he also acknowledged that the payments were made in order to shield Trump's presidential bid from scandal. That would appear to make Cohen's payments an excessive contribution to Trump's campaign, as well as an unreported campaign expenditure, both violations of federal election law. Knowing violations of campaign-finance laws can be subject to criminal prosecution.
"It certainly appears that the $130,000 that was paid to Daniels was a payment made in connection with the election," said Brendan Fischer, an attorney with the Campaign Legal Center.
On Thursday morning, Trump tweeted that Cohen "received a monthly retainer, not from the campaign and having nothing to do with the campaign … used to stop the false and extortionist accusations made by her about an affair despite already having signed a detailed letter admitting that there was no affair."
"Money from the campaign, or campaign contributions, played no roll [sic] in this transaction," the president insisted.
But Giuliani quickly contradicted that explanation in an interview with Fox and Friends Thursday morning, indicating that the payment to Daniels was meant to prevent damaging information from emerging in the latter days of the 2016 campaign. "Imagine if that came out on October 15, 2016, in the middle of the last debate with Hillary Clinton," Giuliani said. "Cohen didn't even ask. He made it go away. He did his job."
That statement, legal experts said, appears to confirm that the payment was a campaign expenditure. "This is good circumstantial evidence this was campaign-related," said Rick Hasen, a law professor at the University of California, Irvine. "Giuliani did Trump no favors."
Fischer agreed. "Giuliani's reference to the October campaign debate makes the electoral purpose of this payment more clear than it already was, and it already was pretty clear," Fischer said. "It is hard to argue that this payment was not intended to influence the 2016 election, and it should have been reported."
Cohen's payment to Daniels could constitute an illegal over-the-limit contribution, as federal election law caps individual contributions at $2,700 per election. Giuliani's admission could also make Trump's reimbursement of Cohen an unreported campaign expenditure, along with the legal payments to Cohen for legal work Trump acknowledged making Thursday morning.
Convictions for campaign-finance violations, like those for corruption, have become notoriously hard to secure. The Federal Election Commission, which has the power to fine campaigns for violating the law, currently only has four of its six commissioners, two Republicans, one Democrat, and one independent, and any enforcement action would require their unanimous support.
Then there's the ghost of the John Edwards case, which would loom large over any potential prosecution effort. The Justice Department dropped its case against the former Democratic presidential candidate over more than $1 million in payments made to his pregnant lover during the 2008 campaign, after failing to win a conviction. Prosecutors said the payments, financed by wealthy Edwards backers, were campaign contributions, meant to hide potentially damaging news of an affair from the press. Edwards's attorneys argued that the payments were made to hide the affair from his wife, who was ill with cancer and died in 2010, not to improve his political chances.
Trump could deploy a similar defense, arguing that the payments were meant to spare his wife, Melania Trump, from embarrassment. But Giuliani just made that a lot more difficult.
"It was at least plausible that the payments in the Edwards case were made for personal reasons rather than for campaign-related reasons," Fischer said. "You have Rudy Giuliani out here saying the reason he made this payment when he did [was] so that it wouldn't come out during the election. That's pretty damning evidence."