Michael Avenatti Is the 1990s-Style Celebrity Lawyer of the Trump Age
The bombastic legal adviser to Stormy Daniels is taking cues from the era of O.J. Simpson and Monica Lewinsky.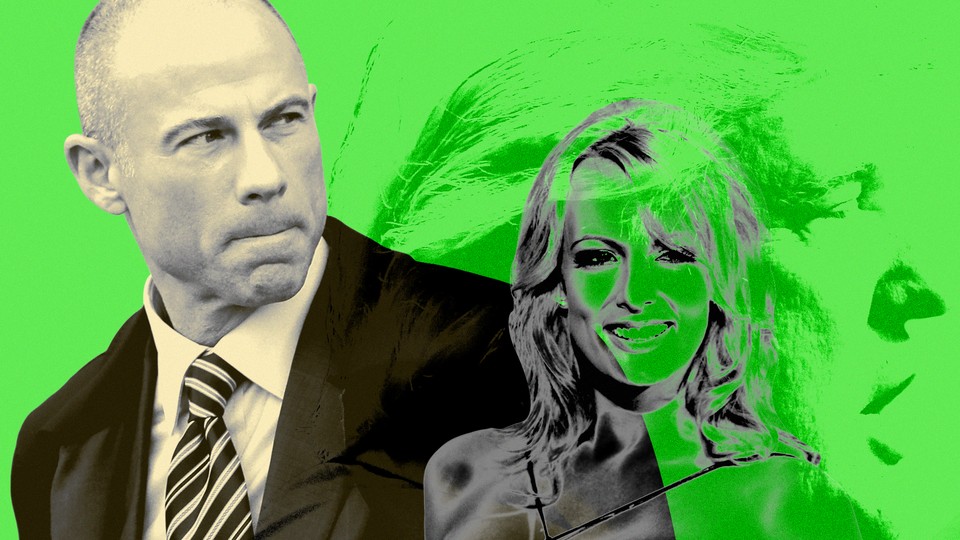 On cable news these days, there are very few people who have approached President Trump's ubiquity. In fact, there is only one, and his name is Michael Avenatti. (Stormy who?)
Avenatti is not the first attorney to understand how the publicity game is played. Litigators are often like this: brash, aggressive, and sophisticated media manipulators. But Avenatti is the first celebrity lawyer of the Trump age, and it's for that reason that he has become ultra-famous: Everything to do with Trump becomes, for good or ill, a star. And so it is with Avenatti, who in the public imagination has become not just "Stormy Daniels's lawyer Michael Avenatti," but simply "Michael Avenatti," and appears to live inside your TV set.
All of the elements have worked in Avenatti's favor: the missteps of President Trump's lawyers and media defenders, the desire in Resistance America for a counterpoint to Trump's dominance, and the eagerness of cable news to amplify and obsess over people who cause a spectacle. Of course, this has long ceased to be just about Stormy Daniels, whose real name is Stephanie Clifford, and her legal dealings with the president with whom she says she had an affair. Daniels says Trump bought her silence—for a while—through his lawyer/fixer Michael Cohen for $130,000. The saga has taken on a life of its own, with Avenatti treating it like an episodic television show, teasing information reveals, getting into all-out scraps with critics, and generally making it a capital-T Thing. The Washington Post has profiled him more than once.
"We are covering this like O.J.," said one cable-news staffer who spoke on condition of anonymity because they are not authorized to speak publicly. "I've never been more sure someone is going to get a TV-contributor deal in my life."
The O.J. Simpson comparison is apt. As far as media coverage, the Daniels story has started to resemble nothing so much as major spectacles like the Simpson trial did. It's an all-encompassing vortex that has pulled all kinds of issues into its wake and become about much more than Trump's alleged affair: Cohen's selling of access to the president, his potential role in Russian efforts to help Trump, and what his role in Trump's world says about how the whole thing works. None of these angles have gotten by without a boost from the smooth-headed Avenatti, who broke the news of the payment from a Russian oligarch to Cohen. "I'm the lawyer for Stormy Daniels in the first instance and I'm the lawyer for the truth in the second instance," he said on MSNBC last week.
Avenatti frequently says he is simply representing the interests of Daniels, and an all-encompassing media strategy is what the case requires. "Every time I appear, every time I speak, there's references to Stormy Daniels," he told me. "Every time I appear on television, I am introduced as the attorney for Stormy Daniels. Every time I'm on television, they have a banner that says Stormy Daniels."
"Our media strategy has elevated the stature and respect afforded my client exponentially," Avenatti said. "One-hundred fold or more since we started this back in early March. Anyone that claims otherwise either is jealous or doesn't know what they're talking about."
But his public statements have gone beyond just Daniels-related matters. He has become a leading light in the universe of cable-news prognosticators, predicting, for example, that Trump won't finish his term. "I've made a lot of predictions, many of which have come true. I don't know of anything I've predicted yet that has not come true," Avenatti told me. "Every time I've given an opening statement in a trial, I've made predictions. How is it any different from that?"
Those who know Avenatti say that he is well-suited to the pressures of a high-profile case like the Daniels one. He "obviously is not shy, he wasn't shy ever," said Brian Panish, a lawyer in Los Angeles who worked with him for years at the firm Greene Broillet & Wheeler, at that time Greene Broillet Panish & Wheeler. "He had a plan in what he was gonna do and he did it … What you see is what you get."
There's a "very high burnout rate among litigators because the pressures are so intense," said Jonathan Turley, who taught Avenatti at George Washington University Law School. "There are some who actually seem to thrive on those pressures. Michael Avenatti is one of them. It's no accident that he found car racing as a form of recreation." Turley said Avenatti had shown an interest in litigation as soon as he got to GW. "He had an overwhelming desire to be on a litigation team," Turley said. "The reason he's lethal is because he loves it."
"What you see is what you get," Avenatti says. "This isn't some shtick."
"I'm just being me, this is who I am," he said. "And I'm just doing what I do. It just happens to be on a really big stage."
And despite some bumps, like a large settlement against the accounting firm KPMG that was overturned by the New Jersey Supreme Court in 2012, Avenatti has had a successful career in the world of high-stakes litigation, including a $454 million verdict against Kimberly-Clark in a class-action suit about surgical gowns. (A judge later substantially reduced the verdict.) It's a field in which lawyers often operate as "lone wolves," Turley said, and in which the amount of work involved in the pretrial and trial phases can be immense and all-consuming. Avenatti has a team of people helping him, but says he has been working nonstop, and the first thing on his agenda when it's all over will be to sleep.
---
Avenatti is not the first lawyer to rely heavily on media attention to litigate his case, nor is he the first to do this in a case involving the president. There are examples in the not-so-distant past: Monica Lewinsky's lawyer William Ginsburg, famous for inventing the "full Ginsburg" maneuver of doing all of the Sunday talk shows the same day, and the lawyers for Paula Jones, who sued Bill Clinton for sexual harassment in 1994.
Joseph Camaratta, one of Jones's lawyers, said he saw similarities in what Avenatti was doing "in the sense that you wanted to move the case along, keep the president on his heels, and, to the extent permitted, use the media as a tool in the toolbox."
"We used to say, 'Look, this is a case not a cause,'" Camaratta said. "I am not here to take down the president of the United States. I am here to give my client her day in court. An opportunity for truth to be tried—that was my tagline." The press frenzy surrounding his case "was craziness," Camaratta said. "It was something I'd never experienced in my life." And this was before Twitter and round-the-clock cable news.
Camaratta said Avenatti had done a "masterful job" getting Daniels out from under the NDA. "He wants to invalidate the arbitration, he wants to take the president's deposition. These are all things I'd be doing. These are all the right things to do for an aggressive trial lawyer."
Harvard law professor Alan Dershowitz, who worked on O.J. Simpson's defense team and who has become a Trump confidant, said that Avenatti's approach is the right one if he's truly doing it for Daniels's benefit and not just for himself. "If he can look in the mirror and honestly say that he's doing it to help his client's case, then he's doing fine, he's doing the right thing," Dershowitz said. He rejected the comparison to the Simpson case, saying that in that case, like in most cases, the object was to win a result in court, whereas in his view, "Here the object is not just to win the lawsuit, it's to destroy the presidency. It's to create problems for Trump." Dershowitz compared Avenatti to William Kunstler, the radical lawyer who represented the "Chicago Seven" activists who were put on trial for their role in the 1968 protests around the Democratic National Convention, and who was known for his media-friendly approach. Both lawyers, he said, promote "causes as well as clients."
"This is a once-in-a-lifetime event for anybody," Avenatti said. He sees parallels between what's happening now and the O.J., Paula Jones, and Monica Lewinsky cases. "I don't know of anything else in modern times" that compares, he said. The media environment has completely changed; whereas the Simpson case unfolded during the early rise of cable news, the Daniels case is playing out in a landscape dominated by social media. Everything is faster, and there are more news cycles per day.
Lawyer and Popehat blogger Ken White has criticized Avenatti's threatening reporters who have written about him—something that has happened several times. An email he sent to Daily Caller reporters threatening to sue them, for example, was in White's view poorly executed because it failed on a number of levels to be a credible threat, neglecting to list specific complaints and identifying itself as off the record, a demand for secrecy that makes the substance of Avenatti's complaint seem specious. On Twitter, White coined a term—"Avenattos"—for Avenatti's adoring followers, whom he sees as analogous to Trump's: "people who react exactly the way I've seen Trump cultists act the last two or three years," White said. Avenatti, he said, is "beating Trump at his own game."
"There may be some similarities in the form, but we actually back it up with substance," Avenatti said of the comparisons with Trump.
Avenatti was also aggressive towards Eriq Gardner, who wrote about him for The Hollywood Reporter and whom Avenatti called an "asshole," and Colin Kalmbacher, a reporter for Law & Crime News to whom Avenatti sent a series of combative direct messages on Twitter. "Good morning," he wrote. "This is off the record. Please let me know who your editor is. I am done taking your nonsense and adhonium [sic] attacks. I don't know what you [sic] problem with me is but your reporting is not close to accurate and you have an agenda. I need the contact information for your editor. Now."
"You fabricated almost the entire thing," Avenatti wrote in another message, though he didn't name any specific examples. "You are a joke." Kalmbacher connected Avenatti with his editor, Rachel Stockman. In a phone call, Avenatti threatened Stockman with a lawsuit, she wrote.
Avenatti, who briefly changed his Twitter avatar to a version of Shepard Fairey's famous Barack Obama poster but with his image instead of Obama's and his catchphrase "Basta"—meaning "enough" in Spanish or Italian—instead of "Hope," also blocked CNN analyst Ryan Lizza on Twitter, Lizza tweeted. Lizza attached a screenshot in his tweet of a text exchange with Avenatti in which Avenatti refers to someone else running his Twitter account. "I have an individual who helps oversee my Twitter account," Avenatti told me. "I just thought it was cool," Avenatti said of his new avatar. (And, about that #basta business: "It's a word I've used for 10 years.")
He says he didn't mean to block Lizza; "Even if it was purposeful, and it wasn't, who cares? Am I not allowed to block people now? When did that happen?"
Besides, "I'm not elected," he said. Is getting into politics something he'd be interested in doing someday, by the way? "I don't think so," he said. "I haven't really thought about it. Right now I'm trying to get through this case."
Avenatti argued that to focus on his scraps with reporters is to miss that he has been more responsive and cooperative with the press than anyone else involved in this case.
"Frankly, if there's anyone associated with this case or the Russia investigation who has provided more information to the press, I'd like to know who that is," he said. "There's hundreds of articles that have been written that I don't like. There's over 100 so-called journalists, quote unquote, that I don't think have done a professional job or met basic journalistic standards. Pointing to my reaction to a few journalists, I do not think is justified."
Avenatti tweeted a paean to journalists on Monday afternoon in response to a piece about him by The Washington Post's Margaret Sullivan: "When history is written there will be no doubt as to whether I contributed to and defended 1st Amend values. None. I will continue to contribute to and assist you and other professionals in what you do. It is vital to our nation."
Avenatti is responsible for breaking the news of Michael Cohen's side career as a quasi-lobbyist who marketed himself as a conduit for corporations and individuals to Donald Trump, at the low price of hundreds of thousands of dollars. He tweeted a file that claimed Cohen had received payments from the Russian oligarch Viktor Vekselberg, the pharmaceutical company Novartis, and AT&T—which have been confirmed and led to waves of fallout. Avenatti got results and linked the investigation into Cohen to what the special counsel in the Russia investigation, Robert Mueller, is looking into. But one of the documents Avenatti got his hands on was incorrect, referring to an entirely different Michael Cohen based in Ottawa, Canada.
And critics accused him of overplaying his hand—and how did he get the documents, anyway? (He won't say.) Cohen's lawyers are trying to stop Avenatti from getting involved in Cohen's legal effort to limit how much of the materials seized in a raid last month can be reviewed by prosecutors, arguing that Avenatti has made false statements about Cohen and created a "carnival atmosphere" around the case. On Monday, the deputy U.S. Attorney for the Southern District of New York wrote to Judge Kimba Wood that the government is not taking a position for or against Avenatti's motion.
Trump has not mentioned Avenatti in public, but as a frequent watcher of cable news, he's surely aware of him. Trump's lawyer Rudy Giuliani has dissed Avenatti, calling him an "ambulance chaser," and the two have needled each other in public. Avenatti has said he would like to face off against Giuliani on Fox and Friends. (Giuliani said in a text message: "You must be kidding. What a supreme jerk. I don't debate bankrupt amateurs." Trump, Giuliani says, "knows very little" about Avenatti.)
But Trump's lawyers have done a "very mediocre job" counteracting Avenatti, said one source close to the president's legal team who spoke on condition of anonymity. "He's out-lawyered them and out-media'd them. It's an easier job because he has an easier client."
"Why should we counter Avenatti," Giuliani told me in a text message. "He's meaningless to us... If we paid attention to him we would be as stupid as the media."
Jonathan Turley, the GW Law professor, defended his former student by criticizing Trump's legal advisors. "Michael Cohen has shown the legal skills of a wombat," Turley said. He added that the NDA had been poorly constructed, giving an opening for Avenatti to argue that his client shouldn't be bound by it. "Michael reframed the case through a very public litigation strategy. He has largely denied the benefit of the NDA." Trump's lawyers, Turley said, had "tripped every wire that Avenatti has put in front of them."
It's unclear how long the Daniels case will continue, but Avenatti's rising profile seems likely to open doors for him no matter what happens. The New York Times reported last week that United Talent Agency agent Jay Sures had pitched television executives on a Crossfire-style show starring Avenatti opposite Anthony Scaramucci, the former White House communications director. Scaramucci told me that Sures, who doesn't represent him but is a friend of his, had floated the idea past him before pitching it, but that Scaramucci had shot down the idea. "I get the idea but I don't see how I could do the show," Scaramucci said, noting that he has returned to his company, Skybridge Capital, after its sale to Chinese conglomerate HNA fell through. Sures declined to comment.
Scaramucci described Avenatti, who he says he doesn't know well but has met a few times—in the green room at MSNBC, at a Hollywood Reporter party, and at UTA's White House Correspondents Dinner pre-party in Washington—as a "formidable adversary."
If Avenatti were playing center field for the Red Sox, Scaramucci said, the late New York Yankees owner George Steinbrenner would "be looking out from the owner's box saying, 'How do I get this guy in the Yankees dugout?' My point is, you want guys like him on your side."
"I wouldn't see us sitting down over tea and crumpets," Scaramucci said. "The flip side is I do have a lot of respect for him, I would never underestimate him, let's put it that way."
In a tweet last week responding to the New York Times story, Avenatti wrote: "Lol. I have no interest in television right now. I'll leave that to the experts. I enjoy practicing law and look forward to prevailing on behalf of my client Stormy Daniels. That's where my focus is. #focused #basta."
"I'm not interested in a career in television right now," Avenatti reiterated to me. "All kinds of people have approached me with all kinds of opportunities. I have not accepted any of them."
Besides: "Even if I did, who cares? What does that have to do with the case?"
A lot of people care, as evidenced by the amount of scrutiny he has undergone. Media outlets have pored over Avenatti's case history, as well as the complicated story of the Seattle-area Tully's coffee chain he bought with actor Patrick Dempsey, who sued him in 2013. The Seattle Times reported this week that the California state bar indicated in a letter to Seattle-area lawyer David Nold, who represented clients who sued the chain, that it is investigating Avenatti after Nold accused him of withholding millions of tax dollars from Tully's employees. A spokesman for the California bar said they "cannot confirm or deny any specific complaint or investigation." Avenatti says he's received no notification from the California bar. There's also been interest in his personal life; he filed for divorce against his wife Lisa Storie Avenatti in December 2017, and she told Fox News in a text message that the Daniels case was delaying their divorce. He was spotted at a restaurant with supermodel Christie Brinkley in the Hamptons, where he also attended the same party as CNN host Don Lemon.*
Turley, who recently held an event with Avenatti at GW, said the lawyer has "no delusions about his rocketing rise in the media" and is "fully aware of the dangers of over-exposure."
On Monday, the Los Angeles Times reported that a U.S. Bankruptcy Court judge had issued a $10 million judgment against Avenatti's firm, ordering him to pay a former lawyer in the firm to whom Avenatti had agreed to pay $2 million. According to the paper, Avenatti also defaulted on back taxes he agreed to pay the government. Avenatti said in an email that the L.A. Times reporting was "Nonsense. Completely different law firm—no ties to Daniels case. Irrelevant. Over blown. Sensational reporting at its finest. No judgment against me was issued. Who cares?"
Meanwhile, as his client travels around the country holding appearances at strip clubs and receiving a key to the city of West Hollywood, Avenatti continues to tease new information. Tips come in at a rapid pace; he says he's receiving 1,500 emails a day. Though he has over 500,000 followers, he locked his Twitter account on Wednesday, explaining in a tweet that it was because of bots and trolls but also so he could control who had access to new information he may release. Last week, he announced he was vetting two other women who say they had similar arrangements to Daniels's with Trump, and he told me there are others. But he won't say how many. Maybe we can find out next time.
Natasha Bertrand contributed reporting.
---
* This article originally stated that a party Michael Avenatti attended in the Hamptons was at Don Lemon's home. We regret the error.