An Exodus From Congress Tests the Lure of Lobbying
There's a wave of lawmakers fleeing Capitol Hill this year, but if recent history is a guide, many of them will put down roots in the D.C. swamp.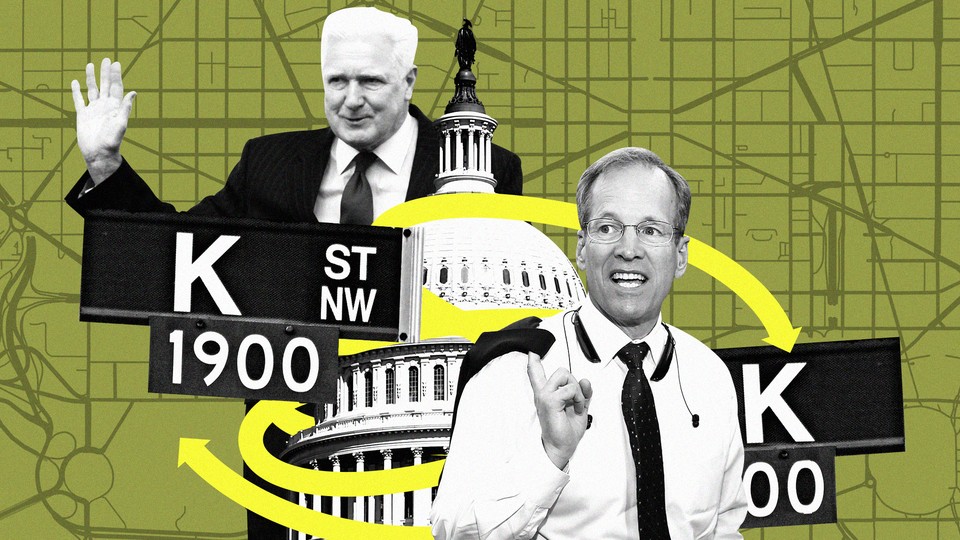 There's a particular moment Representative Tom Rooney can see in his mind, when his fifth and final term in the House comes to an end and he leaves Washington, D.C., for the last time as a member of Congress. He'll drive south toward Georgia, crossing over into Florida north of Jacksonville.
He'll pass that familiar sign, the blue one that says "Welcome to the Sunshine State," when he reaches the border.
"I made it," he'll think to himself.

Every two years, retiring lawmakers like Rooney face a choice: Do they return home to their states and districts, or stay where the political action—and the money—is in Washington? The last several months have seen a rush to the Capitol exits like none other in more than a quarter century: Rooney, a Republican, is one of three dozen members of the House and Senate who aren't running for reelection or another office this fall. About 20 others are taking a risk on campaigns for the Senate or state governorships, and relinquishing their seats in the process.
In all, more members of the House are forgoing reelection than in any year since 1992, when 65 representatives called it quits, according to the Pew Research Center. Among Republicans, it's an even bigger exodus—the most since before World War II. Some in this year's class of retirees are more junior members who've grown disenchanted with national politics. Rooney, 47, is one of them: "The D.C. rat race has run its course for me," he told me in a recent interview.
But if recent history is a guide, many of Rooney's fellow congressional retirees won't be leaving the Beltway at all. As candidates, Republicans and Democrats alike win over voters with jeremiads against Washington, pledging to bring their hometown values to a capital city overrun by lobbyists and special interests. But once their terms are up, a surprising number of these same politicians don't return home. They stick around town, joining law firms, think tanks, and lobbying shops. On any given day, ex-lawmakers stalk the corridors of the Capitol complex, kibitzing with their old colleagues as they prod them for votes.
Of the nearly four dozen lawmakers who left office after the 2016 election, one-fourth stayed in Washington, and one in six became lobbyists, according to an analysis by The Atlantic. The numbers were even higher for those who departed after the 2014 midterms: About half of those former members stuck around, and around one in four became lobbyists.
Lobbying remains the single most popular post-Congress career choice for retiring members. There's little to suggest that will drastically change among the 2018 class of retirees, even in an era when politicians in both parties have seized on pay-to-play scandals and stigmatized the profession as the epitome of the capital's culture of corruption—Nancy Pelosi led Democrats to the House majority in 2006 on a pledge to "drain the swamp" 10 years before Donald Trump purloined the phrase on his way to the presidency.
---
What Are Former Members of Congress Doing Now?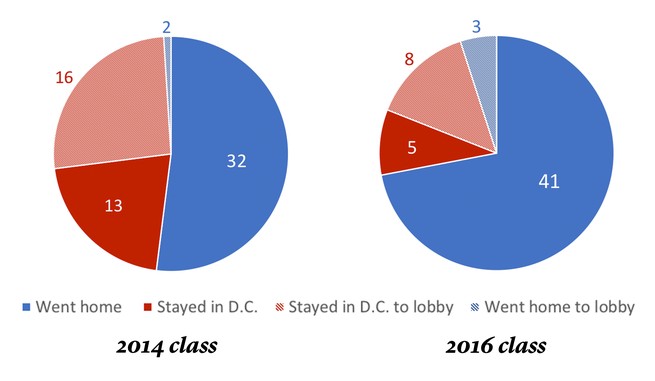 ---
"It's kind of a scarlet letter that you wear around if you're a lobbyist," said former Representative Jim Moran of Virginia, a Democrat who joined the D.C. firm McDermott, Will & Emery after retiring from the House in 2014. Ex-lawmakers can cash in on their policy expertise and friendships in the Capitol, earning two or three times their $174,000 base salary as a member of Congress.
Moran, for his part, wears the badge without shame: After 24 years as a congressman from Northern Virginia, becoming a lobbyist seemed like a logical move to Moran since he represented so many of them in D.C. "It was basically one of my industries," he told me.
In interviews, ex-lawmakers and soon-to-be retirees expressed attitudes toward lobbying and Washington life that were as polarized as their voting records in Congress (though the divide did not fall along party lines). One long-serving member-turned-lobbyist candidly admitted that he enjoyed the D.C. politics that Rooney derided as a "rat race," while another likened his chances of lobbying to hell freezing over. Others were in the middle, balancing their desire for a wealthy lifestyle with the constraints that affixing the "scarlet letter" of lobbying might put on their future political ambitions.
Members point out that lobbying allows them to use the experience and issue expertise they've built over many years in Congress to continue to advocate for causes they believe in. But while that might attract ex-lawmakers to lobbying, it's not what draws high-paying companies to them: They want the relationships. "Policy wonks and knowledgable people are out there," said former Representative Jack Kingston of Georgia, a Republican lawmaker-turned-lobbyist who left in 2015 after 24 years in the House. "The question is, can you get a door opened, and are you going to work?"
---
The so-called revolving door between Capitol Hill and K Street, the downtown D.C. home of many lobbying shops, has been spinning for decades. But it sped up dramatically during the 1990s and peaked early in the next decade, according to studies conducted by the liberal advocacy group Public Citizen and researchers at Georgia State and Exeter universities. In the 1970s, just a handful of retired lawmakers were lobbying. Between 1998 and 2004, however, 43 percent of the nearly 200 House members who left office became lobbyists, Public Citizen found; among departing senators, the percentage reached 50 percent. This increase coincided with the rise of corporate lobbying as a whole. As Lee Drutman wrote in The Atlantic in 2015, between the middle of the 20th century and the beginning of the 21st,  the industry grew "from a sparse reactive force into a ubiquitous and increasingly proactive one" totaling more than $2.5 billion in annual revenue.
The practice became particularly popular—and lucrative—for the most powerful congressional retirees. During points in the early and mid-2000s, the ranks of D.C. lobbyists included ex-House speakers (Democrat Tom Foley and Republican Newt Gingrich) and former Senate majority leaders from both parties (Democrats Tom Daschle and George Mitchell, and Republicans Trent Lott and Bob Dole).
But the widely publicized Jack Abramoff scandal in 2005 led to a push for reform. The prominent lobbyist was convicted of bribing members of Congress and defrauding Native American tribes, and the investigation into his activities led to the conviction of former Representative Bob Ney of Ohio and cast a shadow over other lawmakers and their senior aides. New restrictions in the Honest Leadership and Government Reform Act, enacted two years later in response to the scandals, led to a decline in registrations. Congress extended a one-year "cooling off" period barring former members from lobbying their former colleagues to two years for senators, and it added new disclosure requirements for lobbyists and increased penalties for breaking them. When Barack Obama became president in 2009, he signed an executive order banning lobbyists who joined his administration from working on issues on which they lobbied and prohibiting ex-officials from lobbying the White House after they left (although he quickly made exceptions).
But while these restrictions may have served their purpose in some ways—by making lobbying somewhat less attractive and accessible to former members—they also spawned a new practice. Critics call it "shadow lobbying": An ex-lawmaker will join a big law or lobbying firm as a consultant and do everything short of formally registering as a lobbyist and calling up his or her former colleagues. Either they're still bound by the cooling-off period, or they're trying to avoid the stigma of being a lobbyist. "They organize the entire lobbying campaign, they identify who has to be contacted and what messages to say, and then they have someone else on the lobby team make the contact," said Craig Holman, the government-affairs lobbyist for Public Citizen, a D.C.-based, liberal group that advocates for consumer rights and government reform, among other issues. "So it's just a very porous policy," Holman added. Former Speakers Newt Gingrich and John Boehner have both joined lobbying firms over the years without registering as one.
Congressional gridlock after Republicans won the House majority in 2010 put a further damper on official lobbying; with hardly any legislation moving through the Capitol, corporations cut back on their spending for federal advocacy. Yet there have been signs of a rebound in recent years, which accelerated despite President Trump's early moves to slow down the revolving door. Like Obama, Trump in the first days of his presidency signed an executive order on lobbying, which required appointees to sign a pledge swearing they would not accept gifts from lobbyists. The pledge also stated that appointees would not lobby their former agency or on behalf of a foreign government for five years after leaving the administration.
But Trump has since populated his administration with lobbyists—at least 187 of his political appointees are former federal lobbyists, according to ProPublica—and ethics watchdogs said there has been little enforcement of his executive order. "It's become a field day for lobbyists," Holman said. "For Trump, it was really just campaign rhetoric. He isn't enforcing it." By reopening the government door to K Street, the president appears to be sending the signal that becoming a lobbyist is no longer a barrier to getting senior federal positions.
For critics of lobbying and D.C.'s revolving door, it's not the advocacy alone that's problematic—it's the understanding that the lobbyists with the most influence are those who write the biggest campaign checks. Nothing underscored that concern more than comments made this week to a ballroom full of lobbyists by Mick Mulvaney, the White House budget director and former Republican congressman from South Carolina. "We had a hierarchy in my office in Congress," Mulvaney said at an American Bankers Association conference in Washington. "If you're a lobbyist who never gave us money, I didn't talk to you. If you're a lobbyist who gave us money, I might talk to you."
---
The lure of lobbying can be stronger for members tossed out by their constituents than for those who leave Congress voluntarily. They have less time to figure out what to do next, and they're often not ready to leave—physically or mentally. Many long-serving lawmakers have made their homes in D.C., bringing their families and living in the same house or apartment for decades. Once they lose, it's all over very quickly, forcing them to pack up their congressional offices during the post-election lame-duck session in November and decide whether to go for good when their term formally ends in early January. "They have to go back in a month and get thrown out of a building," said former Representative Jim McDermott, a Democrat who moved back to Seattle after he left the House following the 2016 election.
McDermott, then 79, announced his retirement a full year before the end of his term and spent the next few months fielding offers before deciding what he wanted to do: teach and travel. "The first question they asked me when I announced my retirement: Are you going to become a lobbyist?" he recalled, before answering the question with a loud cackle. "I said, 'I don't think the ice in hell is ever going to freeze over quick enough to carry me.'"
McDermott had lived in the same house in D.C's Eastern Market neighborhood for all 28 years he served in Congress. But when he returned to the West Coast, he downsized to a 965-square-foot apartment in Seattle where he can see Mount Rainier from his breakfast table. He donated 1,500 books to the Library of Congress on his way out of town. "People offered me stuff, offered me this and that," McDermott told me. "A six-figure salary would be nice, but with it comes a certain kind of pressure that you had in Congress. I wanted the freedom."
Jack Kingston, on the other hand, was one of those members who didn't want to leave. The 11-term Republican congressman from Georgia narrowly lost a Senate primary runoff to David Perdue in July 2014. Having given up his House seat to run for the Senate, Kingston joined the lobbying giant Squire Patton Boggs and signed on with CNN as a contributor after campaigning for Trump as a surrogate. "One of the things about politics is that it's an itch that you have to keep scratching," he said. "Most people want to keep a finger in the pie of policy or the politics."
Safely out of office, Kingston was able to admit something few officeholders in this drain-the-swamp era would acknowledge. "I did like D.C. politics," he confessed, "and I knew that I could stay involved with national politics easier being in Washington than I could do it from Atlanta or Savannah."
Kingston had more time to plan than members who lose unexpectedly in November elections. Still, he said, it's awkward for lawmakers to hunt for private-sectors jobs as a hedge against losing. (Senate rules bar current members from negotiating for a future lobbying position until their successor is chosen, although House rules are not as specific.) "If you know you're going to leave, you're ready to leave—you're out of the closet," Kingston said. "Whereas if you're an incumbent member running for reelection and you're job-hunting, you've got to hold it close to your vest like a super-secret nuclear code. Because you don't want people to know you're job-hunting, because if they think you're getting out, why should they donate to you?"
Some members hire headhunters to help them find a job. Others barely have to lift a finger before the offers start flooding in. Former Representative Reid Ribble of Wisconsin recalled that he tweeted the news of his retirement on a Sunday in early 2016. By the end of the coming week, the three-term Republican estimated he had seven to 10 job offers, mostly from lobbying firms or trade associations wanting him to lobby. He turned them down.
"Some of the jobs that were offered would have required me to live in D.C., so I just hat-in-hand rejected those," Ribble told me. "I didn't really enjoy my time there. I didn't enjoy living there personally."
Ribble, 62, had owned a roofing company before coming to Congress and had planned to retire with his wife to Tennessee, near where his grandchildren live. But he ended up taking a job as president of the National Roofing Contractors Association, the trade group for which he had volunteered long before he entered politics. The organization employs lobbyists, and Ribble attends their yearly D.C. fly-ins, but he told me he doesn't lobby himself. His main focus is on creating a first-ever national certification program for roofers. "I have no interest in registering as a lobbyist," he said.
Not that Ribble has a problem with the profession—like other retired lawmakers I interviewed, he said the public often has a misunderstanding of what lobbyists do and who they represent. "Virtually every American has a lobbyist," he said. "If you're employed in this country, that industry is represented in Washington, D.C."
The many varied interests with lobbyists advocating on their behalf include both labor unions and the business owners that employ their members; environmental groups; state and local governments; advocacy groups on the political left, right, and center; and arts organizations like the ones Moran represents. In an ironic twist, they also include the government-reform groups that lobby for reining in the influence of lobbyists. "I'm part of the revolving door as well," said Aaron Scherb, a former Hill staffer who as legislative director for the watchdog group Common Cause is now a registered lobbyist.
But Scherb said Ribble's statement that "virtually every American" has a lobbyist is misleading—it assumes that business groups are advocating on behalf of their workers rather than their bottom line. "There are certainly plenty of trade associations who work against their employees' best interests in many cases," Scherb said, citing opposition to minimum-wage increases or mandatory health insurance as examples. "It's somewhat of a contradiction."
---
It can be tricky to figure out how many members of Congress stay in D.C. after retirement, because many of them keep one foot in the capital and one in their home states, just as they did as lawmakers. Some get hired by companies that have offices both in D.C. and near their old districts, or take jobs with big firms that allow them to work remotely.
Boehner is a good example of this. In March 2016, the former speaker tweeted a photo of himself mowing his lawn in Ohio, the picture of a man happily retired and far removed from the stress of congressional life. But Boehner also signed on with the D.C-based Squire Patton Boggs, and while the firm has an office in Cincinnati, he's spotted frequently at his old haunts around the capital. More recently, Boehner joined the board of advisers of the New York-based marijuana-producer Acreage Holdings, where he's expected to advocate—if not formally lobby—for the drug's legalization.
For its analysis of congressional retirees from 2014 and 2016, The Atlantic combined data on D.C.'s revolving door published by the Center for Responsive Politics on OpenSecrets.org with information gleaned from other internet sources and phone calls to ex-lawmakers and companies. Overall, members who lost their elections were more likely to stay in Washington than those who retired voluntarily, and most who stayed behind became lobbyists. But the percentage of retirees who stayed in D.C. after the 2016 elections was significantly lower than those who stuck around after 2014.
About 60 percent of the lawmakers who quit in 2016 were Republicans. They included a number from the Tea Party wave of 2010 who, like Ribble, had not previously held elected office and quickly grew disheartened by Congress and the GOP's inability to deliver on its small-government promises. Others who got out early may have thought Hillary Clinton would win the presidency and bring either more congressional gridlock or Democratic majorities to Washington.
It's too early to say whether the large retiree class of 2018 will look to escape the capital or cash in by sticking around. An even higher percentage of those leaving this year are Republicans, and they include several House committee chairmen who would be in high demand as lobbyists. Rooney, who's part of the rank-and file, knows more about what he doesn't want to do next than what he does want to do.
"I absolutely do not want to walk the halls of Congress and try to get meetings with my former colleagues. I have no interest in that," Rooney said. He added that he has had nothing more than a few informal conversations with law firms back in Florida, where he had worked as a criminal lawyer before getting into politics.
Rooney is fortunate, however. As a grandson of Pittsburgh Steelers founder Art Rooney, he is worth millions and wealthy even for a congressman. Lawmakers are reluctant to talk about it while they're in office, but many privately complain about their congressional salaries, which haven't gone up in nearly a decade. The pay starts at $174,000 and goes up for committee chairmen and members of leadership. While that surely sounds comfy compared with the median U.S. income of under $60,000 a year, it doesn't go far, members say, after they shell out money for housing both in their districts and D.C. (if they don't sleep in their offices) and put their kids through college.
The private sector—and particularly lobbying—simply pays a lot more. With the extra cash that came from becoming a lobbyist, "I was finally able to buy my own house and my own automobile," Moran told me. "So it was a substantial change from my prior lifestyle."
Moran said he gave up the potential for an even higher salary by joining a firm that allowed him to pick and choose the issues on which he would lobby his former colleagues. He declined, for example, to push policies he used to oppose while in office. Moran pointed out that, in addition to representing defense contractors and the tech industry, he lobbies for a collective of 19 local arts organizations in D.C.—including the Kennedy Center and the Shakespeare Theater—that pays the firm $10,000 a month to advocate on their behalf. "I don't have the conflicts of conscience that I was afraid I might," Moran told me.
The money more than anything might be why some members are so eager to get out of Congress that they leave before their terms are up. Boehner resigned his seat once he quit as speaker, and former Majority Leader Eric Cantor left office a few months after he lost his June 2014 primary in a surprise upset. Former Representative Pat Tiberi of Ohio, a senior GOP member of the Ways and Means Committee, left the House in January to become president of the Ohio Business Roundtable.
One often unspoken benefit of leaving Congress early is that an ex-lawmaker can get a head start running the clock on the one-year lobbying ban. Representative Charlie Dent of Pennsylvania, a Republican, announced his retirement last fall but earlier this month said he would resign "in the coming weeks" rather than serve out his term. When I asked him if he had a job lined up, Dent said he hadn't finalized anything and was a bit cagey about his immediate plans. He wouldn't rule out an eventual career in lobbying. "I learned a long time ago never to say what you're never going to do," Dent told me.
As if to sharpen the point, he called me back a little while later to make another observation about the unexpected turns an ex-congressman's career can take. "If you had told me a few years ago that John Boehner would be on the board of a marijuana company," Dent quipped, "I would have said you're on dope!"
Lena Felton and Taylor Hosking contributed reporting.