The House Republican Blockade on Immigration Finally Ruptures
Fed up after years of inaction, a group of GOP lawmakers is close to forcing votes on bills to protect immigrants at risk of deportation.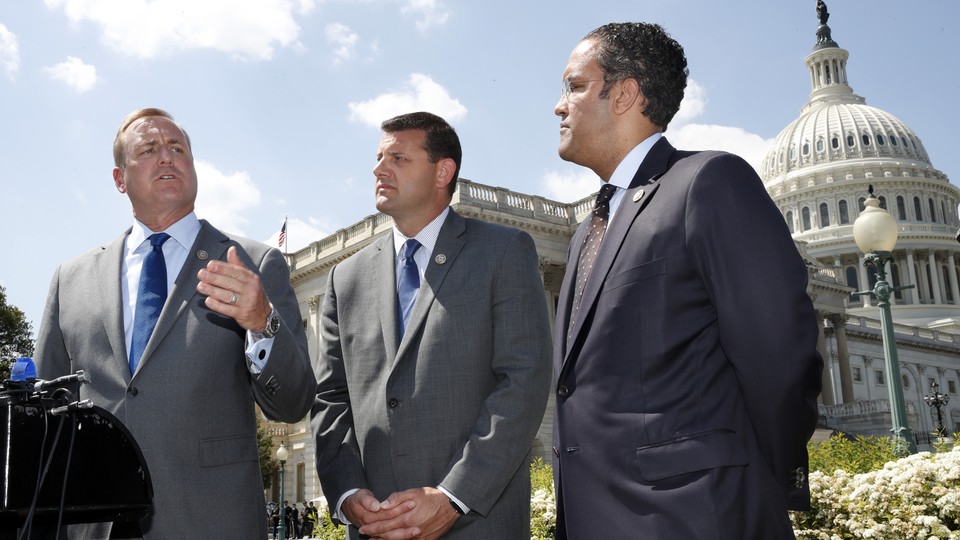 For the better part of five years, a small but vocal group of congressional Republicans has been pushing the party's leadership in the House to act on immigration—either to address the issue comprehensively or, more recently, to protect some 700,000 undocumented immigrants who find themselves in legal limbo.
Time and again, from two different Republican speakers across two presidential administrations, they've heard the same reply: soon.
They're finally tired of waiting. With immigration legislation once again on the back burner, this group of GOP lawmakers is embarking on an unusually aggressive maneuver to force House votes on proposals that would offer a path to citizenship for immigrants in the Deferred Action for Childhood Arrivals program, or DACA. President Trump has sought to end the Obama-era program that protected immigrants who were brought illegally into the U.S. as children from deportation. The program's immediate fate is now tied up in the courts after Congress missed a Trump-imposed March deadline to codify it into law.
The Republicans are acting against the explicit wishes of Speaker Paul Ryan, who has enlisted the Trump administration to try to tamp down a rebellion that could split the party at a critical moment in its bid to preserve its House majority.
"I've had it," said Representative Fred Upton of Michigan, a former committee chairman and leadership ally who has joined the effort spearheaded by Representatives Jeff Denham and David Valadao of California, and Will Hurd of Texas.
They've launched what's known as a discharge petition to go around the GOP leadership and compel a floor debate on DACA proposals. The parliamentary procedure requires signatures from 218 members, a majority of the House. Democrats have been clamoring for DACA votes for months, but it's the breakaway Republicans who are giving the effort new life. If every Democrat signs the petition, just 25 Republicans are needed to reach the necessary threshold. In little more than a week, 20 GOP lawmakers have already signed on.
Discharge petitions are frequently circulated by members of the minority party in the House, usually to no avail. But use of the tool by renegade members of the party in power is much rarer.
The speed and early success of the effort has unnerved Ryan and his fellow Republican leaders, who have implored their members in public and in private not to sign the petition. "We do not agree with discharge petitions," the speaker told reporters in the Capitol on Wednesday. "We think they are a big mistake. They disunify our party."
Behind closed doors, Ryan and Majority Leader Kevin McCarthy have warned their members that a messy immigration debate could spell trouble in the upcoming elections. Ryan has tried to assure Republicans that the leadership is working on DACA legislation, but it's a message lawmakers have heard too many times before. "The bottom line is, we were at a point where there was no momentum," one of the signatories, Representative Mario Diaz-Balart of Florida, told me. "We've got to get something that is viable."
Ryan has said that the House should not waste time voting on immigration bills that Trump would veto. But it's a shaky argument for a party that spent years passing dozens of repeals of the Affordable Care Act under former President Barack Obama that stood no chance of being signed into law. "Our job is to pass legislation, and the president has the ability to not sign legislation," Hurd said in an interview. "We should be focused on doing our job."
What distinguishes this effort from many previous discharge petitions is that it does not mandate a vote on a single piece of legislation. Rather, it sets up a "Queen of the Hill" debate on four competing immigration bills under which the proposal that gets the most votes would prevail, assuming at least one secured the majority required to pass. Two of the bills would be bipartisan DACA measures that combine a path to citizenship for so-called "Dreamers" with enhanced border security, while another would be a far more conservative approach written by Representative Bob Goodlatte of Virginia, chairman of the House Judiciary Committee. All three bills have previously been introduced over the last several months. The final bill would be left for Ryan to submit as speaker.
Hurd said it was "an elegant solution" designed to gain the broadest support possible. "The competition of ideas is what actually makes this place work," he told me.
Conservatives in the House Freedom Caucus have angled for a vote on the Goodlatte bill, which would extend protections for DACA recipients only temporarily and sharply reduce the future flow of legal immigrants. But they are trying to torpedo the discharge petition on the fear that it would lead to passage of a far more permissive immigration bill. "That's not what the mandate of the election was for Republicans. It's not even close," said Representative Jim Jordan of Ohio, a leader of the Freedom Caucus. "They're using a parliamentary maneuver for something that goes contrary to what people elected Republicans to accomplish."
To head off votes on more moderate immigration bills, conservative lawmakers have mounted their own push for action solely on the Goodlatte bill, even threatening to withhold their support for farm legislation the leadership wants to pass through the House on Friday. But the Goodlatte bill as currently written likely cannot get majority support, and GOP leaders were scrambling to figure out a solution that could satisfy both factions in the party.
Even if the discharge petition is successful, the prospects for enacting a DACA bill this year remain slim. Any bill that passes the House must also clear the Senate and win Trump's approval. Opposition from Trump helped sink legislation in the Senate earlier this year, and while the president has at times expressed sympathy for the Dreamers, he has insisted that any DACA bill include full funding for a southern border wall, end the diversity visa lottery, and restrict family-based immigration going forward.
Yet the broader significance of the GOP-led discharge petition is the divide it exposes within the House Republican conference on immigration—a rupture that's been years in the making. "It's a big deal," said Todd Schulte, a former Democratic congressional aide and political operative who is now president of FWD.us, a pro-immigration advocacy group. "It has been eight years since there has been a good vote in the House of Representatives for Dreamers and for undocumented immigrants," Schulte said. "If we can get this across the line in the House, it will be a huge step forward."
For the Republicans pushing the discharge petition, their pent-up frustration is not merely about a lack of consensus within the party on immigration, but the unwillingness to even have a debate. Party leaders going back to former Speaker John Boehner blocked Senate-passed legislation from coming to the floor and then backed away from commitments to bring House-drafted bills up for votes. With DACA only a potential court ruling away from ending and the legislative calendar quickly slipping away toward election season, lawmakers said the discharge petition was their only remaining option to force the issue. "We're running out of time," Diaz-Balart said.
Beyond the looming election, however, is a climate of fear among immigrants—and the businesses who rely on them—that some GOP lawmakers say is increasingly weighing on them. Upton told me he runs into an immigrant "with a sad tale" just about every time he's back in his district, either someone who had a relative deported or who was worried about their own uncertain status. An apple farmer in his district told him he's unsure he'll have workers to pick the apples come harvest time, while a dairy farmer threatened to just let his workers go and "let ICE deal with PETA and 1,000 cows that have to be milked twice a day."
Upton told me about a man he met last weekend, married for 15 years to a U.S. citizen. The couple has twins, and the man, who's undocumented, bikes to work every day to another town because he can't get a driver's license. "He's scared to death that he would be picked up for not having a driver's license and be deported," Upton said.
"We're a better country than this," he added.