Incumbency Is Toxic in the 2018 Republican Primaries
In Indiana and West Virginia, GOP congressmen seeking promotions to the Senate are struggling to fend off challenges from Washington outsiders.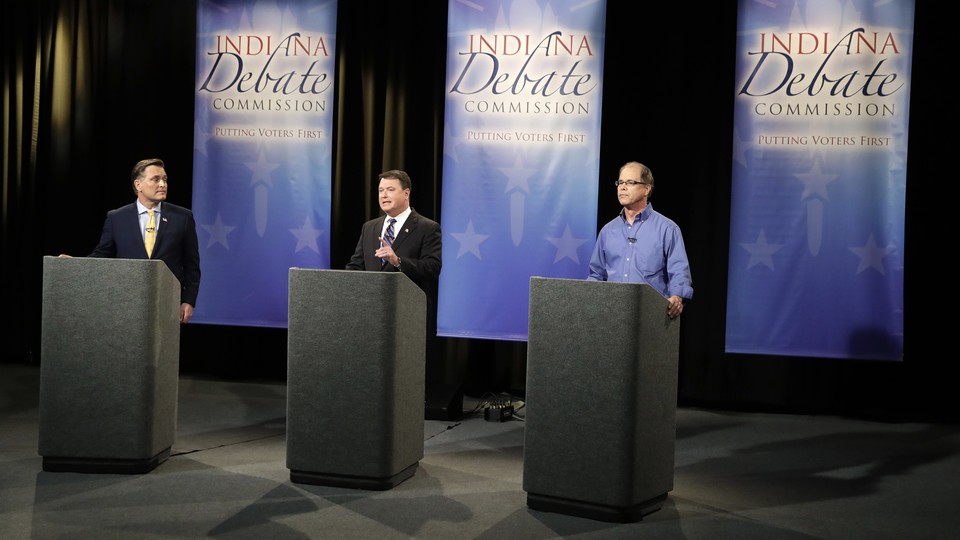 Updated on May 7 at 7:47 a.m. ET
The most revealing answer in last week's Senate Republican primary debate in West Virginia was a silent one—but it said a great deal about the popularity of the party's leadership in Washington a year and a half into the Trump presidency.
Moderator Bret Baier of Fox News asked the three leading contenders in this week's contest—Representative Evan Jenkins, state Attorney General Patrick Morrisey, and the former coal baron Don Blankenship—to raise their hands if they would support Mitch McConnell for another term as the Senate GOP leader.
None of them did.
Blankenship made a show of ducking under his lectern—an apparent reference to the bizarre and racist attacks he's launched against McConnell and his family. If the majority leader had an ally on the stage, it was Jenkins, the second-term congressman who's the closest to an establishment favorite in the race to take on Democratic Senator Joe Manchin this fall. But even as he praised McConnell for shepherding Neil Gorsuch onto the Supreme Court, he wouldn't commit his support to him. "I think it's way too premature," Jenkins said. "I'm not ruling anybody in. I'm not ruling anybody out. Nobody has asked for my support."
Such is the state of affairs in the Republican Party in the heat of primary season: A politician who's been in Washington for a little over three years is distancing himself from the party's leadership in Congress to fend off a strong challenge from a pair of self-styled conservative outsiders. A similar dynamic is playing out in Indiana, another state key to the GOP's hopes of keeping or expanding its slim, 51 to 49 majority in the Senate. In the race to challenge Democratic Senator Joe Donnelly, two Republican congressmen, Representatives Luke Messer and Todd Rokita, could lose out to a businessman, Mike Braun, who's painted them both as creatures of the D.C. swamp.
Both primaries, slated for Tuesday, could provide clues as to just how toxic incumbency still is for a party that in recent years has repeatedly rewarded political renegades over insiders. And once again, GOP leaders in Washington fear that the party base's preference for untested outsiders could damage its chances in the fall.
It's not that Jenkins, Messer, and Rokita are grizzled veterans who have lost touch with their home states—the three of them have fewer than 10 terms among them in Congress. But as Roy Moore's defeat of then-Senator Luther Strange in last year's Alabama primary showed, even the briefest whiff of incumbency and establishment ties can be a liability in today's GOP.
Of the two races that will be decided on Tuesday, the more volatile one is in West Virginia. Republicans who are aligned with McConnell have worried that Blankenship's unlikely strength—he recently spent a year in federal prison—could be a repeat of their nightmare scenario last fall with Moore, the former Alabama chief judge whose relationships with teenage girls led to his loss of a safe Republican Senate seat in December.
Blankenship, who as CEO of Massey Energy pleaded guilty in connection with a mining disaster that killed 29 people in 2010, has gone after McConnell relentlessly. He charged that the majority leader had "conflicts of interest" in China because of his wife's family heritage, and he gave McConnell the nickname "Cocaine Mitch," a reference to a 2014 report that drugs were found aboard a ship owned by Chao's parents. At the Fox News debate last week, organizers blocked him from taking the stage while wearing a red baseball cap emblazoned with the words, "Ditch Mitch." And to top it off, on Thursday Blankenship released an ad assailing McConnell's "China family." "Swamp Captain Mitch McConnell has created millions of jobs for China people," Blankenship says in the ad. "While doing so, Mitch has gotten rich. In fact, his China family has given him tens of millions of dollars."
Blankenship appeared to be fading in the closing weeks. Morrisey scored endorsements from conservatives like Senators Ted Cruz of Texas and Rand Paul of Kentucky, along with anti-abortion groups in West Virginia. And a Fox News poll of the race conducted late last month placed Blankenship in third place with 16 percent versus 25 percent for Jenkins and 21 percent for Morrisey. President Trump hasn't endorsed in the race, but on Monday he urged West Virginia Republicans to vote either for Jenkins or Morrisey. "Remember Alabama," the president warned. Blankenship, he tweeted, "can't win the general election in your state." Trump's decision to wade into the primary at the last minute followed reports this weekend in Politico and Axios that GOP officials in Washington were growing concerned that Blankenship had regained strength after a week's worth of attention on his comments about McConnell.
Morrisey has tried to take up the mantle of the conservative outsider, attacking Jenkins for supporting "liberal" policies on health care and energy as a Democratic state legislator before he switched to the GOP to run for Congress in 2010. But he's an imperfect vessel for the anti-establishment message: Morrisey first ran for Congress in New Jersey and spent years as a D.C. lobbyist before moving to West Virginia and winning his race for attorney general.
The primary had taken a decidedly bitter turn even without Blankenship's antics. As Morrisey attacked Jenkins for his past as a Democrat during the debate, the congressman reminded the attorney general that he hadn't always been so critical.
"You stood next to me and endorsed me three years ago and said I was right for West Virginia. What's different now?" Jenkins said.
"Evan, I didn't know you were willing to lie so much and as much of your liberal background," Morrisey shot back. "I won't make that mistake again."
In both Indiana and West Virginia, the primary campaigns have been as much about which Republican can hug Trump the tightest as about any single issue. The candidates have adopted the president's language and tone on the Russia investigation, slamming it as a "witch hunt" and criticizing Special Counsel Robert Mueller. "I am very clear: End this investigation now," Jenkins declared in West Virginia.
During a debate last week in Indiana, neither Messer, Rokita, nor Braun would even engage when a moderator asked whether there's any issue on which they disagree with the president. After all three used the opportunity instead to attack one another for insufficiently supporting Trump, Messer went after the question itself. "The media," he said, "wants to divide us from the president of the United States."
Two days later, Messer released a letter signed by 17 other House Republicans—including three others running for the Senate—nominating Trump for the Nobel Peace Prize for his work to negotiate a nuclear deal with North Korea. The next day, Rokita responded by releasing an ad lumping Mueller in with his Democratic opponent Donnelly and House Minority Leader Nancy Pelosi. The ad labeled Messer a "Never Trumper" and said he wasn't tough enough to end the Russia "witch hunt."
"That's the world we live in today," said Brian Walsh, a veteran GOP strategist in Washington. "For all the controversies and the chaos, the president is still tremendously popular among the Republican base." As if to reward the eventual winner in Indiana for his loyalty, Trump is planning a campaign rally in the state two days after this week's primary, where he'll help launch the fall campaign against Donnelly.
Messer and Rokita entered the House two years apart and have developed similar profiles and voting records—so similar, in fact, that one of Braun's ads features cardboard cut-outs of the congressmen and asks voters whether they can tell the two apart. Braun has some political experience: He served in the state legislature for four years. But he made his name as a warehouse distributor and has spent $4 million on often cheeky TV ads knocking Messer and Rokita's careers.
"When I get there, the first thing I'm going to do is not get cozy in Washington," Braun said during the debate. "Why would you trust two folks who are part of the problem for this amount of time? You're never going to get any change in D.C. if we keep recycling the same guys from the farm system of politics. Let's try to do something a little different, and I'm the guy to do it."
Messer and Rokita, meanwhile, have recently adjusted their tactics. The two have been rivals in Indiana politics for years and spent the first several months of the campaign battling each other. That gave Braun an easy opening to run as the outsider, and while there is little public polling in the state, both congressmen have turned their ire on him in recent weeks. Their focus on him has led outside strategists to believe Braun is running ahead. At the debate on Monday, Messer attacked him for voting in Democratic primary elections for most of his adult life. "How can Hoosier conservatives trust him to be a Trump-Pence ally and vote for our values?" he said.
The biggest difference between the Indiana and West Virginia races is that in the Hoosier State, GOP officials are largely agnostic about who wins. "On the issues, they're all pretty similar, and I believe they can all win in the fall," said Cam Savage, a GOP strategist in Indiana unaffiliated with any of the candidates, echoing a message delivered by two party operatives in Washington.
"Even though the primary has been rough-and-tumble to some extent, I see nothing to indicate to me that the party can't coalesce behind the nominee."
That's not as much the case in West Virginia, where the party establishment has spent money to thwart Blankenship and generally favors Jenkins over Morrisey. In part, Republicans have taken their cues from Democrats, who have trained their fire on Jenkins in a signal that they believe he'd be the tougher opponent for Manchin in the fall. "Jenkins is probably the strongest of the two. His base of support is from an area where Manchin needs to do well to win," said one D.C.-based GOP operative who was not authorized to discuss the race publicly. Morrisey's own lobbying history and his wife's work on behalf of pharmaceutical companies tied to the opioid epidemic plaguing the state make him more of a liability, the strategist said.
Jenkins has tried strenuously to shed whatever ties to Washington he's accumulated in his brief time in Congress. "I haven't been up in the swamp very long," he stressed during the debate, as if to apologize.
This week, he and the congressmen in Indiana will find out if they're the latest victims of the GOP's anti-establishment fervor—or survivors of it.