Hiring Emmet Flood Signals a Big Shift for Trump's Defense
The veteran lawyer's role in executive-privilege disputes in the Bush White House may prove crucial to reshaping Trump's legal strategy.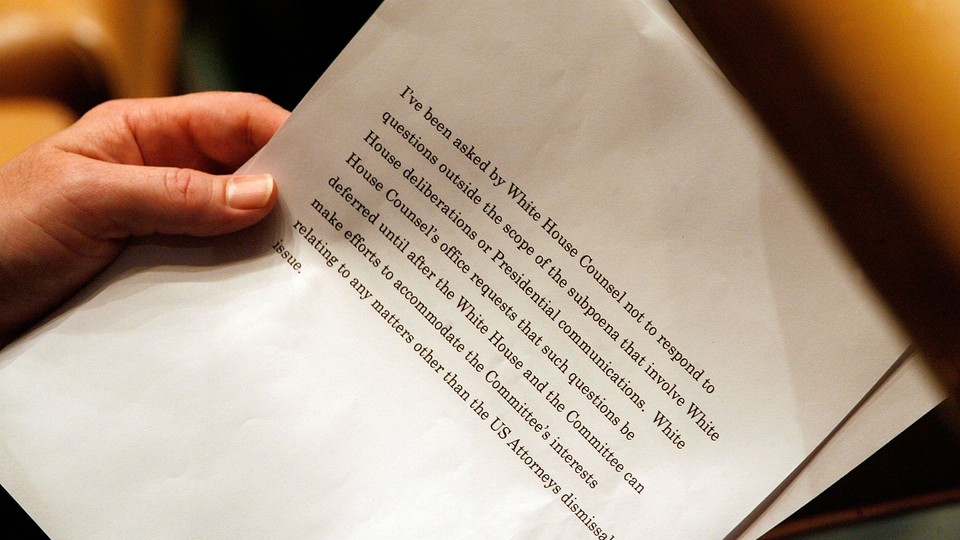 On Wednesday, the White House announced that Ty Cobb, the lead White House lawyer in Special Counsel Robert Mueller's probe, is retiring. He will be replaced by Emmet Flood, a veteran Washington lawyer. Headlines highlighted the fact that Flood, who currently works at Williams & Connolly LLP, represented President Bill Clinton during his impeachment trial.
But one of Flood's other experiences may be more crucial to reshaping the Trump White House's legal strategy: Flood worked for two years in George W. Bush's White House Counsel's office, where, according to his current bio, he "had lead responsibility" in "executive-privilege-related disputes." On Wednesday, MSNBC's Nicolle Wallace reported that Flood's addition to the team signals a decision to "exert executive privilege more aggressively."
Executive privilege, when invoked, allows presidents to retain certain executive-branch communications, shielding them from Congress or the federal judiciary. The theory is that presidents require candid and unvarnished advice in order to govern effectively. But asserting executive privilege to fend off requests from Mueller would mark a dramatic shift for the White House's legal strategy.
Cobb, by contrast, counseled maximal cooperation with Mueller. In a statement released Wednesday, Cobb insisted his departure shouldn't be viewed as a signal the White House is "going to war." He continued: "The key point is all the documents requested by the special counsel were produced by late October. All the interviews with White House personnel were conducted by late January. The bulk of the work was done." The Times reported Wednesday that White House Counsel Don McGahn thought Cobb shouldn't have so readily provided documents to the special counsel—and instead should have explored using executive privilege.
That lines up with the approach of Bush White House lawyers in 2007—Flood among them—who aggressively asserted executive privilege. Norm Eisen, the Obama White House's ethics czar, tweeted that Flood's showdown with Mueller "will be a fight for the ages."
The 2007 case was a congressional probe into the Bush administration's midterm firings of nine U.S. attorneys. The firings, which took place in December of 2006 and into 2007, were suspected of being—and later found to be—politically motivated, and struck many as a blow against the independence of the Department of Justice without recent precedent. Democrats on the Senate Judiciary Committee soon opened an investigation into the dismissals.
Bush's legal team fought back by attempting to block subpoenas related to the investigation. Time reported that Bush had "stiff-armed" the congressional committees, "dispatching" his lawyer to assert executive privilege and to refuse to comply with the demands, which included handing over documents and hearing testimony from two top officials. Democratic Senator Patrick Leahy, the Judiciary Committee chairman at the time, called the tactic "Nixonian stonewalling."
Ultimately, a judge struck down Bush's claim of executive privilege, and ordered the two officials to testify. Nevertheless, the executive-privilege claim delayed the investigation; the judge didn't rule out the executive-privilege claim until August 2008, more than a year after Bush's lawyers first invoked the privilege.
In October of that year, the White House turned over some email communications to a special prosecutor, but withheld other internal documents. Flood, by then deputy White House counsel, carefully stipulated that the documents were "covered by the deliberative process and/or presidential communications component of executive privilege in the event of a demand for them by Congress."
It is possible that Mueller could subpoena Trump to testify, although whether he has the power to do so is an unsettled legal question. Laurence Tribe, a law professor at Harvard University, tweeted that "Trump will argue no president has been compelled to appear before a grand jury in person" but that "Jefferson and Nixon were compelled to produce documents and tapes, and Clinton negotiated a 'voluntary' appearance. I don't see a difference—but others do." If Trump's legal team were to try to claim executive privilege, the 2007 precedent suggests that the claim might not ultimately succeed in court. But it could certainly buy the president, and his new attorney, some time.