Is the 'Cynthia Effect' Real?
Cynthia Nixon's strong debut has New York Governor Andrew Cuomo scrambling to the left in a heated primary. But can Democratic voters trust a celebrity candidate in the age of Trump?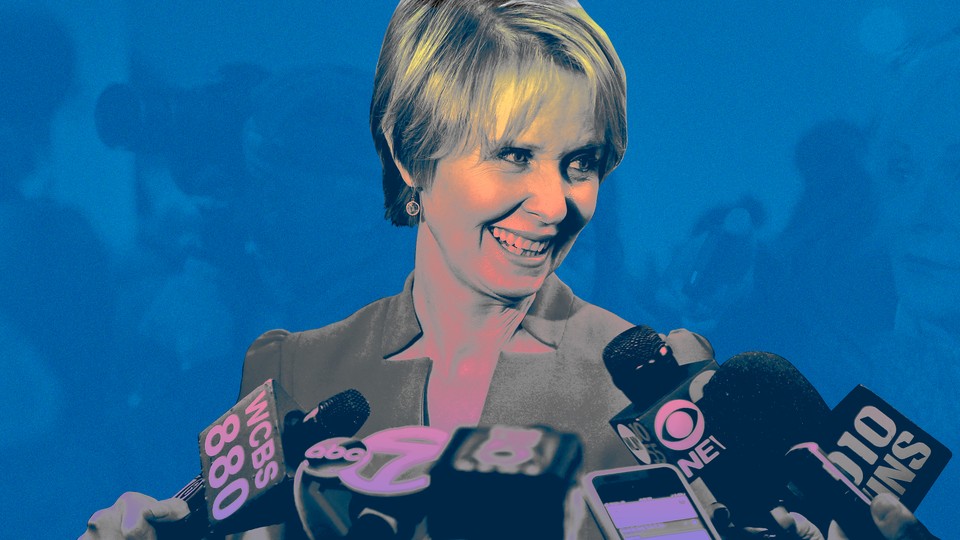 NEW PALTZ, N.Y.—"I'm Cynthia Nixon, standing in the mud!" the candidate declared by way of introduction to a rally of students, professors, and activists near a State University of New York campus about 80 miles north of Manhattan.
The crowd laughed as Nixon acknowledged her obvious predicament: She wasn't standing in the mud so much as she was sinking into it, a soggy hillside field threatening to swallow her gray, two-inch heels that dug into the grass like a plug into an outlet. When she finished the 10-minute speech she read from loose sheets of paper, she staggered over to greet supporters and reporters, stepping gingerly in search of a dry spot on which to steady herself.
It could be a handy, if unfortunate, metaphor for her gubernatorial campaign—the Emmy-winning actress and first-time political candidate being devoured by the behemoth Governor Andrew Cuomo, the two-term Democratic incumbent cruising to reelection and a possible presidential bid.
Except it really isn't true.
Cynthia Nixon is doing just fine, and if one candidate has been knocked back on their heels in this race, it's Cuomo. That's not to say she's winning—she's not by a long shot. The best public poll for Nixon has her down 22 points, and the governor has both a $30 million campaign war chest and the institutional support of the Democratic Party.
But Cuomo, 60, seems to be scrambling to shore up support among the progressive voters who could thwart his renomination in the September primary. In the less than two months since Nixon declared her candidacy, Cuomo all but reversed his opposition to legalizing recreational marijuana, which he called "a gateway drug" as recently as last year; proposed a ban on single-use plastic bags, again barely a year after he signed legislation barring New York City from imposing a tax on them; vowed to use his pardon power to restore voting rights to as many as 35,000 felons; and declared a state of emergency at the city's public-housing authority.
The primary election isn't for another four months, but the Cuomo-Nixon contest is already becoming a useful test of two post-2016 dynamics: Do Democratic voters want their own sharp-tongued celebrity over a political veteran? And will they insist on the kind of progressive purity that Bernie Sanders popularized, or are they willing to reward pragmatism?
Just about all of Cuomo's recent policy announcements have come on issues Nixon had raised in the early days of her campaign. The governor has also resorted to hardball tactics, allegedly threatening unions and community groups aligned with Nixon. "If unions or anyone give money to any of these groups, they can lose my number," Cuomo warned them, according to the executive director of the state's Working Families Party. The pressure didn't stop the WFP from endorsing Nixon, giving her a progressive nod that went to Cuomo four years ago and potentially a spot on the general-election ballot in November even if she loses the Democratic primary. Last week, she also won the support of Our Revolution, the progressive organization that grew out of Sanders's presidential campaign.
Nixon's camp calls Cuomo's policy shifts "the Cynthia effect." Cuomo's allies say he's simply governing. But for a man who grew up running his father's campaigns, and who for better or worse has governed as a politician's politician for eight years, no one would call the timing of his leftward moves a coincidence. To Nixon diehards, they're the best evidence yet of her early success.
"They're absolutely a reflection of Nixon's entry into the race," said Gregory Bernstein, a Columbia University law student. Bernstein was handing out flyers next to a picket line of striking graduate assistants that Nixon joined late last month. "Cynthia Nixon," he said, "has already done more by forcing Cuomo to act on these issues than many governors in New York history."
---
Nixon, 52, may be new to campaigning, but she's been politically active nearly all her life. She told me her mother would take her to Vietnam War protests when she was a young child, and she attended her first benefit for NARAL, the abortion-rights group, at around the age of 13.
For years, Nixon served as a spokeswoman for the Alliance for Quality Education, lobbying on the city and state level for increased and more equitable funding of public schools. She had given no thought to running for office until 2010, when two of her close friends in the advocacy world urged her to make a bid for governor. She dismissed the suggestion then, but four years later she watched as Zephyr Teachout, an upstate college professor with little money and zero name recognition, surprised Cuomo by capturing 33 percent of the primary vote despite the governor's refusal to so much as mention her name. Then came Donald Trump's election in 2016, which shocked progressives into a new burst of activism and inspired women across the country to run for office.
"I thought, 'What am I scared of?'" Nixon told me. "If Zephyr can be so brave, think of all the advantages I have that she doesn't have."
Nixon had been active in New York City Mayor Bill de Blasio's winning campaign in 2013, and she tapped two of his former advisers, Bill Hyers and Rebecca Katz, to help guide her gubernatorial bid. The mayor has professed no involvement in Nixon's effort to unseat Cuomo, but it's clear who she sides with in the long-running feud between the two powerful New York Democrats.
During our interview, Nixon and I were sitting in the kitchen of the Greenwich Village apartment she shares with her wife, Christine Marinoni, and their son, Max—a high-ceilinged, palatial-for-New York City home befitting an actress who's won an Emmy, a Tony, and a Grammy. Though she began acting at age 12, it wasn't until Nixon played Miranda for six seasons on HBO's "Sex and the City" that she became a household name.
She's used to attention, of course, but she told me the transition from regular celebrity to political celebrity is still an adjustment. "There are different ways as an actor that people have approached me," Nixon said. "They ask to take a picture, or they try to talk to each other about me without my seeing, or they'll talk loudly about their opinion of my show and not engage me."
But if before some people would be hesitant in their approach, perhaps not wanting to invade her privacy, now they come right up. She's asking for their vote, and they feel emboldened—empowered, even. "Now, everybody's direct," she told me. "Everybody's direct all the time, which is frankly such a relief."
Nixon is direct, too—especially when it comes to Cuomo. She blames him for the shabby state of New York's subway system, once the pride of the city but now a source of mockery after years of decay and mismanagement by the transit authority principally controlled by the governor. She's attacked Cuomo, a former housing secretary under President Bill Clinton, as a tool of the real-estate industry who's done little to maintain any semblance of affordability in New York City and the downstate region. And Nixon regularly accuses him of "governing like a Republican"—a reference to budget austerity early in his tenure and his tacit support for a coalition of breakaway Democrats that for years allowed Republicans to control the state Senate.
In the span of 30 minutes, Nixon referred to Cuomo as "a bully," "big daddy," and a politician who—perhaps like a certain Republican in the White House—is a fan of oligarchs.
"The economic inequality—I think he wants it that way," she told me. "I think he wants to emaciate government spending, and I think he wants to give huge tax breaks to the wealthiest people and the wealthiest companies so that they'd donate to his campaign, and not only his campaign for governor, but his campaign for president."
It's a serious charge to level against a Democratic governor who, for all of the agita he brings to liberals, has signed into law some of the most progressive policies in the nation over the last eight years. New York in 2011 became by far the largest state to enact same-sex marriage by legislation. Two years later, he signed some of the country's toughest new gun laws. And in 2016, the state legislature approved a bill gradually increasing the minimum wage to $15 an hour and providing for paid family leave. "Aren't we proud of Governor Cuomo?" House Minority Leader Nancy Pelosi gushed at a recent appearance with Cuomo, effectively endorsing his reelection.
All told, it's a record that arguably eclipses that of Cuomo's more liberal father, the late three-term governor Mario Cuomo. And it's the main reason he's included in the ever-increasing list of potential Democratic presidential candidates in 2020. "We set the bar on what progressive governance and progressive society looks like. We set the bar for the entire nation," Cuomo said as he stood alongside Pelosi, testing out a line that might work for his reelection bid as well as a future national campaign. "New York is the alternative state to Trump's America, and we are proud of it."
But in Nixon's telling, Cuomo deserves almost no credit for any of the progressive achievements enacted under his watch.
"He has a lot of history of claiming things as his own that advocates have fought for long and hard and made it untenable for him not to act on," she told me. "Then all of a sudden, he pushes to the front and says, 'This is my issue! This is fantastic what I've done for New York.'"
Nothing irritates Nixon and other New York progressive activists more than Cuomo's acquiescence to—or, in their view, his preference for—the arrangement by which Republicans have controlled the state Senate for the last several years despite Democrats holding a majority of the seats. A group of Democrats broke away from their party to form the Independent Democratic Conference and aligned themselves with Republicans, who also gained support from a conservative Democrat who represents a heavily Orthodox Jewish district in Brooklyn that voted for Trump.
Until Cuomo brokered the intraparty deal this spring—another move that came just days after Nixon's entry into the gubernatorial race—progressives had accused him of choosing not to use his considerable influence to bring the warring factions together. He even drew a rebuke from the national Democratic Legislative Campaign Committee shortly after Trump's election in 2016. As progressives see it, Cuomo preferred not to have a unified Democratic legislature because it meant he could claim credit for orchestrating bipartisan victories and escape blame for not moving further to the left.
"He's the big daddy, right?" Nixon said. "He's got to play the hero and the fighter who backs the Republican Senate down."
Cuomo's allies chafe at this depiction of the governor—which is quite popular on the left—as an all-powerful politician who could bend the state to his will, if only he'd lift a finger to try. "The governor in 2016 fought extremely hard to reunite the Democrats," one ally told me. "He's not an almighty being."
Cuomo is polarizing among Democrats not so much for his substance but for his style. His critics see him as embodying the Third Way centrism that Bill Clinton popularized a quarter-century ago but which has long since gone out of style among progressives. Cuomo's defenders, on the other hand, see an effective politician who is responsive to activist movements while careful not to get too far ahead of public opinion. "The worst the governor can be accused of is being a pragmatist," said Hectór Figueroa, the president of the regional affiliate of the Service Employees International Union, which endorsed Cuomo, ditching the Working Families Party after it backed Nixon.
Citing Cuomo's evolution on a $15 minimum wage and paid family leave, Figueroa told me progressives needed to recognize Democrats who responded to grassroots pressure on issues even if they weren't supportive at the outset. "We don't see that as diminishing who they are or the validity of their progressive credentials," he said. "We see that as a success of our movement."
Cuomo's campaign declined to offer on-the-record responses to each of Nixon's broadsides. "The governor's long record of progressive accomplishment is irrefutable," said Abbey Fashouer, a campaign spokeswoman. "Any claims otherwise should be seen for what they are: baseless election-year rhetoric."
Fashouer also referred to the governor's own defense of his tenure at press conferences. "I say, 'Look at what I have done all my life,'" he said last month, ticking off a list of accomplishments that included his stint as federal housing secretary; legislative wins like the passage of same-sex marriage legislation, a $15 minimum wage, and paid family leave; and his work to reduce the state's prison population. "I'm a very simple, consistent fellow," Cuomo said, "and we got into this business because my father taught me that the Democratic Party at its best was a vehicle for social justice and social change, and that's what I've been doing since day one."
At other appearances, however, he's been more dismissive of Nixon and her critiques. "You know, there are four or five candidates running against me depending on the day," Cuomo said last week. "They all have things to say and I'm not going to get in the business of commenting on what they say. I'm just going to do what I do and perform my service for the people of the state of New York."
---
If Donald Trump's election was the spark that lit Nixon's candidacy, his presidency might be—aside from Cuomo—the biggest obstacle to her success.
Democrats (along with establishment-aligned Republicans) hold up the current, chaotic administration as the culmination of a years-long devaluing of political and governing experience in campaigns. And in interviews along multiple Nixon campaign stops over the last few weeks, a number of potential primary voters who were no fans of Cuomo nonetheless cited Trump's example as a warning flag for Nixon.
"I'm skeptical of celebrities running for political office, for all the obvious reasons," Michael Lebron, 63, told me after listening to Nixon discuss rent issues at a community meeting in Newburgh, a small city about 60 miles north of Manhattan. Lebron came away impressed with the candidate—"She seems grounded and sincere"—but he said he was going to stay "agnostic" in the race for now.​​​​​​
S. Ilgu Ozler, a SUNY professor, said she had the same skepticism before seeing Nixon speak at the New Paltz rally, where students and faculty members were calling for a union contract and increased funding. "My first reaction was, 'Seriously, another actress?'" Ozler said. But she noted that although Nixon is a first-time candidate, she has been active in politics for many years and has a long history supporting public education. "She's not rising from nowhere," Ozler said.
Cuomo's campaign said the concern over lack of experience is borne out in polling, both in New York and in races across the country. "Democratic primary voters are looking for experience. They're looking for candidates who have experience, people who they think are not going to be novices," said Jef Pollock, the governor's pollster. "They look to Washington, D.C., and see what happens when we put someone with no political experience in charge. Obviously, none of us want to do that any place."
Cuomo first joked that Nixon's potential run was a plot hatched either by de Blasio or Vladimir Putin and mocked her as something less than a A-list celebrity. But since she officially jumped into the race, Cuomo has left it to his allies to take on Nixon publicly. That strategy initially backfired when on the day Nixon announced her candidacy, Cuomo supporter Christine Quinn, the former New York City council speaker, called Nixon "an unqualified lesbian" in contrast to Quinn's own bid for mayor five years ago. After a swift backlash, Quinn walked back her comments.
Most of Cuomo's response to Nixon has come behind the scenes, as he's leaned on labor unions and progressive groups not to defect, lest they jeopardize their funding. Jonathan Westin, who leads the housing group New York Communities of Change, told me in a phone interview that in the days before and after its endorsement of Nixon, "literally every union president in New York" called him to relay the governor's demand. "These people are like my closest allies, people I work with every day, some of our biggest funders," Westin said.
After the endorsement, one union cancelled a $150,000 contract with Communities of Change. "The threats are very real," Westin said. "People are following through, and it's because of the governor's pressure." (Fashouer attributed the rancor among unions to an "unfortunate" schism within the WFP, not to pressure from the governor: "We understand the motivation in continuing to push this false narrative, but it is quite simply not true," she said.)
Figueroa told me he did not threaten to withhold funding from community groups, but he made no apologies for Cuomo's tactics. "The style of the governor is a hardball, New York style of politics," he said.
Nixon also suggested to reporters that Cuomo was behind the decision of two different community centers refusing to host her campaign event near Buffalo after initially saying yes to her team. "First we've heard of it, but not the first Nixon to be paranoid!" Cuomo spokeswoman Lis Smith tweeted in reply.
Pollock wouldn't discuss the campaign's private polling, but he pointed to public surveys showing Cuomo has retained strong approval ratings among Democratic voters. Still, he made clear the governor is taking Nixon's challenge seriously.
"He's been a fierce campaigner for a long, long time, going back to when he ran his father's campaigns," Pollock said. "He's looking at it very seriously. He knows that he's got to get his message out to Democratic primary voters."
Four years ago, Teachout scored her biggest gains against Cuomo in upstate New York but got swamped in the city's five boroughs, where the bulk of Democratic primary votes are. Cuomo retained strong support among minority voters, and it's unclear whether Nixon will be able to make the necessary inroads with African Americans and Latinos to defeat him.
Nixon's hope is that widespread dissatisfaction with the deterioration of the subways will peel New York City Democrats away from Cuomo, and that anger at persistent corruption in Albany will help her elsewhere. In March, a federal jury convicted a former top aide to Cuomo, Joseph Percoco, of three counts of fraud and bribery related to development deals. Percoco managed Cuomo's two gubernatorial victories and had been a friend and adviser for two decades.
Yet Nixon's initial challenge is similar to the hurdle other celebrities seeking office for the first time must surmount—convincing voters that their campaign is about more than "sending a message." Do they actually want the job? It's a question Nixon has already gotten frequently from reporters on the campaign trail, and one that she tosses off quickly by insisting that, yes, in fact, she does want to be the governor of the state of New York. Her accessibility to the throng of reporters that hound her at events is a way of proving the point. She takes questions almost wherever she goes, offering quick takes on property taxes and labor disputes whether she's standing in a muddy field in New Paltz or navigating a rowdy picket line at Columbia.
Teachout signed on as Nixon's campaign treasurer, though with the candidate's encouragement, she is exploring a run for state attorney general after Eric Schneiderman's abrupt resignation. (In 2016, she also ran for an upstate New York congressional seat, earning endorsements from Sanders and then-Democratic Party leaders, including her former foe Cuomo.)
If there was a purely "message" campaign against Cuomo, Nixon's supporters say, it came from Teachout four years ago. Her own goal is to take the next, much bigger step. "Zephyr's campaign was a race to raise the issues and the critiques of Cuomo," said Billy Easton, a longtime colleague of Nixon's at the Alliance for Quality Education, "and Cynthia is building off that with a campaign to win."
---
If Nixon is really going to topple Cuomo, she'll need the votes of the people she met in Newburgh, in the Hudson Valley. The event she held there was supposed to be a straightforward community meeting—a listening session, mostly, and a chance for the candidate to learn about the desperate need for affordable housing in the racially diverse city, where rents are rising thanks in part to transplants priced out of New York City.
But a disruption was brewing.
Nixon was seated in the center of a large communal table at a local coffee shop, surrounded by a dozen or so predominantly African American residents organized by the local chapter of the Working Families Party. They were showing her pictures of dilapidated apartments and telling her of the urgent need for better low-income housing rather than market-rate development that would drive up rents even higher. The city's public-housing authority had just 70 units available for families and 65 for seniors, while as many as 700 apartments were currently boarded up.
"I've seen you on TV," one of the residents told her, referencing her recent criticism of the state of public housing after a visit to an apartment managed by the New York City Housing Authority. "You lit NYCHA up. We need you to come in here and light this place up."
Then a group of local business owners and real-estate developers—mostly but not entirely white— showed up, having caught wind of Nixon's appearance. They wanted some face time with her, too, to impress upon her the importance of what they considered Newburgh's biggest challenges: high property taxes and a scarcity of jobs. "We need economic development, and we need jobs," interjected Chrissy Amato, a real-estate developer, after several people sitting at the table had complained about rising rents and a lack of low-income housing.
The competing interests of the two groups underscored the kind of tension that has played out both in New York City and in smaller communities across the state, as public officials try to balance the need for more affordable housing with the economic interests driving development and gentrification. The group led by Amato was opposed to proposals to put low-income housing along Newburgh's higher-end waterfront, not wanting to sacrifice a lucrative location that could attract market-rate development—like a hotel and conference center—that would broaden the city's tax base and refill its public coffers.
Nixon was in no position to resolve the dispute, but she made a point of hearing everyone out. After an organizer of the housing meeting at first rebuffed the pro-development group, Nixon's wife spoke to them outside and made sure they got a chance to participate before the meeting ended. The specifics of Nixon's policy platform are mostly yet to come—itself a source of needling from the Cuomo camp—but over the course of the meeting, she vowed to expand rent regulations across the state and invest in infrastructure to create jobs and take some of the burden for funding off local governments.
Development, she said, "can be good if the community is taken into account and there's housing that's affordable being created at the same time. But if rents are just going up, and developers are coming in and people are being pushed out of the communities that they are from, that's not a good way to do economic development."
Nixon didn't bank a slew of votes on that sunny afternoon in Newburgh, but she seemed to make a good-enough impression with residents on both sides of the development debate. Most of the attendees were Democrats, and in interviews afterward, few of them were big fans of Andrew Cuomo. One man who was expecting little more than a photo-op favorably compared Nixon's hour-long appearance to the time nearly 20 years before when another famous woman dropped by on her "listening tour" of New York state: future Senator Hillary Clinton.
"I don't think Cuomo gives a rat's ass," said Michele Basch, a local business owner. And what about Cynthia Nixon? "My ears are open," she replied with a smile.