Planned Parenthood Was Always Meant to Be Controversial
Cecile Richards stepped down at a perilous moment for the reproductive-rights movement—but she leaves behind a potent legacy.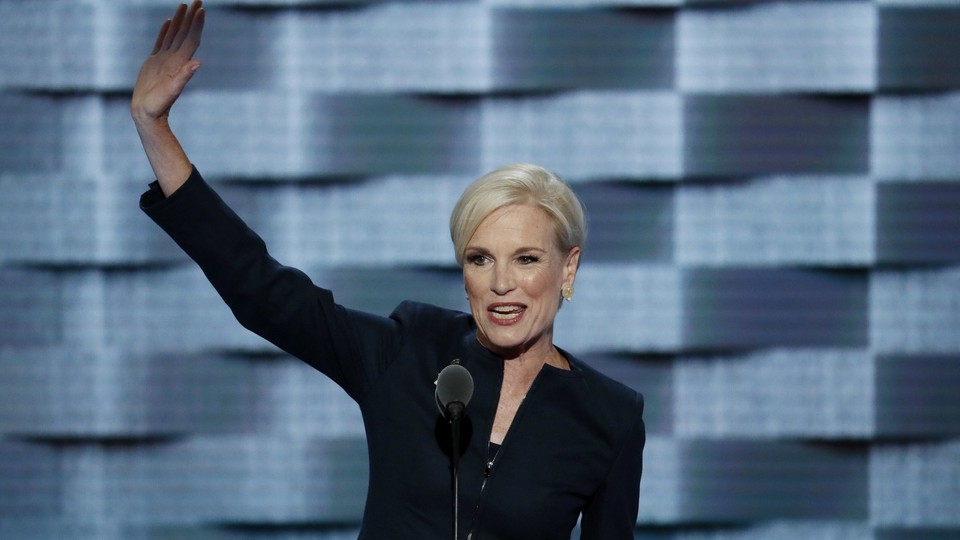 Folded onto a narrow wooden bench at a hip taco joint in downtown Washington, Cecile Richards doesn't look much like someone taking a victory lap after stepping down from one of the highest-profile, most politically contentious jobs in America. Knocking back a Mineragua club soda, the brand-new ex-CEO of Planned Parenthood is deep in conversation with her press secretary about the Trump administration's move to overhaul the Title X family-planning program. Having already shifted grant guidelines to include groups promoting abstinence and "fertility awareness" (you know: the rhythm method), Trump is now toying with the idea of barring funding to groups that provide abortion services, referrals, or even information. Earlier in the day, Planned Parenthood had filed a lawsuit to stop such changes.
As I join them, Richards is also struggling to determine if her new cell phone will fit into her old hot-pink phone case. She jokes that she hasn't yet adjusted to "civilian life"—new phone, new schedule, new focus. She's still on what she mockingly calls her "farewell tour," filled with interviews and other appearances commemorating her 12 years as the public face of women's reproductive rights. (Plus, she's been out plugging her new memoir, titled, fittingly, Make Trouble.) Taking a break is not on today's agenda. The 60-year-old Texan radiates a low thrum of electricity, an air of perpetual motion barely contained.
I ask Richards how it feels to be a free woman. "It feels good," she says. "Twelve years is the longest time I've ever done anything—except raise kids." And now was the right time to "step aside," she insists. "The organization is definitely strong enough."
Certainly, under Richards, Planned Parenthood has grown into a political force. Its ranks have ballooned (from 3 million supporters to over 11 million), along with its fundraising, political clout, and public profile. A March poll by Fox News put the group's favorability numbers at 58 percent. (An NBC poll put it at a similar level of 52 percent.)
Of course, as Richards is the first to acknowledge, the organization grew bigger and stronger during her tenure in part because it was under near-constant attack. Forget the not-so-women-friendly Trump administration. Planned Parenthood has long been a favorite target of Republican politicians looking to please their base. Congressional Republicans are forever seeking to strip its federal funding or otherwise kneecap it. (Everyone recall the 2015 to 2016 multi-committee congressional probe into whether the group had been illegally profiting from the sale of fetal tissue?) Such efforts date back at least as far as the Reagan-era "gag rule" and "squeal rule." In 2007 (and 2009 and 2011), then-Representative Mike Pence became a defunding crusader. The issue has become a perennial sticking point in budget battles, on occasion bringing the federal government to the brink of shutdown.
Nowadays, the Trump administration is feeding the fire. America's women are taking to the streets, calling and writing their elected officials, running for office, and flocking to the polls to vote. "Women and young people and young women are pretty much the most potent force in American politics going into these next elections," said Dawn Laguens, Planned Parenthood's executive vice president, chief brand officer, and, for now, its chief spokesperson.* Planned Parenthood, Laguens said, "is a huge magnet and a huge vehicle for" that wave of political "energy."
At the same time, pro-life advocates are feeling their oats as the administration embraces an anti-abortion agenda and a Republican-controlled Senate labors to confirm conservative judicial picks. At the state level, Republican-controlled legislatures keep passing bills to curtail abortion access, often with an eye toward drawing legal challenges. The ultimate goal: overturning Roe vs. Wade.
Just hours before I sat down with Richards, in fact, Iowa lawmakers had passed a measure to outlaw abortion at the point in a pregnancy when a fetal heartbeat can be detected (typically six weeks). "We need to create vehicles that will allow the Supreme Court possibly to reach back and take this case, and to take up an anti-abortion case," state senator Rick Bertrand explained to The New York Times.
For all the energy and growth, Planned Parenthood—and the reproductive-rights movement in general—is facing a perilous moment. "You have a virulently anti-abortion president and administration and Congress who are doing whatever they can to attack access to abortion and other reproductive health care," said Gretchen Borchelt, Vice President for Reproductive Rights and Health at the National Women's Law Center. "It's so extreme—like with the Office of Refugee Resettlement literally blocking women from keeping their abortion appointments—that it's almost like, you couldn't make this stuff up."
"We are living at the zenith of the sort of 40-year strategy of anti-choice movement that started it the mid-'70s," said Ilyse Hogue, president of NARAL Pro-Choice America.
With apologies to Dickens, it is the best of times and the worst of times for Richards to be leaving the troops she has led so fiercely—some have suggested too fiercely—for so long.
Asked what she considers her legacy, Richards cites three areas. One, bringing Planned Parenthood into the digital age—no small feat for a large, lumbering, 100-year-old group, she stresses. This shift was needed to improve outreach and access in general, but it also advanced goal No. 2: attracting and investing in young supporters. (This focus, in turn, helped diversify the organization.) And No. 3: increasing equity of care. Richards remains obsessed with parts of the country where women have limited access to health care. (Read: the South.) She mentions a smattering of Southern cities, from Tallahassee to Charleston to Memphis, where Planned Parenthood had recently opened or soon would open facilities.
Richards sees the inclusion of birth-control coverage in Obamacare as the biggest win of her tenure. "I remember when I first started, we were fighting to even get insurance plans to cover birth control, to even get pharmacists to fill birth-control prescriptions—which they were not." Yes, the health-care law is imperfect, and the Trump administration is "trying to unravel" it, she says. "But the great thing about winning a big victory like that is that women then just get used to having it, and it's much harder to take it away."
Her most overarching achievement, however, was in knitting together the different branches of her organization into a brand unlike any other in American politics. When Richards first took over, Planned Parenthood still saw itself as two mostly separate, uneasily linked entities: Planned Parenthood Federation of America, the century-old nationwide web of health-care clinics, and its advocacy sister, Planned Parenthood Action Fund.
The status quo wasn't working for either arm, Richards says. The clinics were facing an increasingly hostile political climate, but the political affiliate was not strong enough to provide any cover, much less improve the situation. Richards says she felt like the group was forever asking politicians to take tough votes on its behalf but lacked the necessary clout to influence the debate. And so Richards set about forging the pieces into a politically potent movement—one increasingly outspoken and unapologetic about its role as the nation's largest abortion provider. Bye-bye to all the cautious, Clinton-era talk about abortion needing to be "safe, legal, and rare." Richards had Planned Parenthood backers (herself included) out publicly sharing their abortion stories in an effort to shift the debate and erase the stigma.
The evolution was not without bumps. In the early going, she recalls, many supporters were a bit twitchy. "A lot of our donors are people who write us a $25 check once a year, and they were like, 'Well, I really give you money because I know you provide birth control for women who can't get it, but that other stuff—'" Richards makes a humming sound of ambivalence. "Now they expect us—and I've been watching this over 12 years—they expect us to be out on the forefront of women's issues." (And not just traditional women's issues. Planned Parenthood, Richards notes, took a strong stand in defense of the Dreamers in the ongoing immigration debate.) Today, Richards says, some supporters are more interested in being clinic escorts while others want to lobby congress. "But they don't see themselves as separate entities." (Though the two organizations are careful to maintain their legal distinctness.)
What was it like for Richards to be in permanent battle mode all those years?
"I guess I'd say I've been in permanent battle mode since I was birthed in Texas," she says.
This is only a slight exaggeration. The daughter of the legendary Texas Governor Ann Richards, Cecile was reared to raise hell in defense of her principles. As the story goes, she was hauled into the principal's office in 9th grade for wearing a black armband to protest the Vietnam War. She missed her college graduation because she was out protesting. Post-college, she worked for years as a union organizer. Later, she was deputy chief of staff to House Democratic Leader Nancy Pelosi.
Richards put her political and organizing chops to good use at Planned Parenthood, which she vowed to turn into the "largest kick-butt political organization." Even her fiercest pro-life critics acknowledge her knack for spinning political attacks into PR gold. During Congress's 2011 defunding push, for instance, Planned Parenthood's online fundraising jumped 500 percent. In the thick of the fight, the group's email activist list was gaining 1,000 new subscribers a day.
Even so, some question whether turning Planned Parenthood into a political powerhouse has made it more difficult for it to fulfill its broader health-care mission. (As Richards is constantly pointing out, abortions are but a tiny fraction of the services it provides.) In a 2015 interview on Meet the Press, host Chuck Todd pressed Richards about whether the organization should "get out of politics." He asked: Why not stick to providing care and leave the brawling to groups like NARAL and EMILY's List? Richards dismissed the entire idea, telling Todd that advocating for women has always been central to the organization's mission.
"When people say, 'Well, Planned Parenthood seems controversial,' well, our founder was thrown in jail for handing out birth control," she reminds me, with a nod to Margaret Sanger's arrest (two arrests, actually) in 1916 for operating a first-of-its-kind birth-control clinic in Brooklyn. The group has been advocating for abortion rights since 1955. "If we weren't controversial, we wouldn't be pushing hard enough," she says. "These are fundamental issues."
Besides, Richards says, the more circumspect, more polite route had already proved unworkable. "One option would be to try to stay under the radar and hope nobody ever found Planned Parenthood and never targeted us. That was already impossible. When I came in, there was already the kind of legislation passing that was undermining our ability to provide health care." (As Richards was taking over in 2006, South Dakota passed a law making it a felony to perform an abortion unless the mother's life was at risk.)
There are those who have tried to tempt Richards onto a less controversial path—including members of the current president's family. In her new book, Richards recalls a meeting in January 2017 with Ivanka Trump and Jared Kushner. As Richards tells it, Kushner argued it had been a mistake for Planned Parenthood to get "political," and he offered the group a deal: stop providing abortions, and the government would increase its funding. Richards declined.
I ask what she made of the couple's offer—and of their role in Trumpworld more generally. "That, to me, showed his naivete," she says of Kushner. "He was really just trying to make a deal."
As for Ivanka's oft-discussed influence on her father: "I just felt like that she is never going to stand up to him. She hasn't so far."
Even as Richard has rallied supporters to her cause, she has galvanized the opposition as well. (Every movement needs a compelling bogeyman.) As Liberty University Professor Karen Swallow observed to Christianity Today on the occasion of Richards's departure, "Richards helped turn what might once have been seen as a beleaguered public-service agency into an easy target for the anti-institutional idealism of a younger generation of pro-lifers."
All the same, post-Richards, don't look for Planned Parenthood to lower its profile or tone down its politics, Laguens said. "The fight for women's equality and sexual reproductive health is obviously, in the case of Planned Parenthood, a century-long one that still continues. It's always: You take a few steps forward, then someone says, 'Wait a minute! You're making progress.' And they push back."
Neither should anyone expect Richards to drift quietly into retirement. "I'm not going to go off and start baking pies," she quips. Her immediate plan, in fact, is to get even more politically aggressive. "Certainly between now and the November elections."
She declines to share specifically where or for whom she'll be working next but says she will be intently "focused on getting women out to vote." Because, while Planned Parenthood has done "incalculable" good, she says, unless women start making their voices heard at the polls, nothing will change.
And even then, Richards isn't naïve. Whatever the electoral outcome of 2018 or 2020 or beyond, she knows this fight isn't ending any time soon. "I think we're going to be dealing with these issues forever."
---
* This article originally stated that Dawn Laguens served as Planned Parenthood's interim CEO. We regret the error.