The Real Reason Why Republicans Could Win in California
It's not just the state's unusual primary system that's hurting Democrats' chances to win House seats this year—so is the party's weak bench.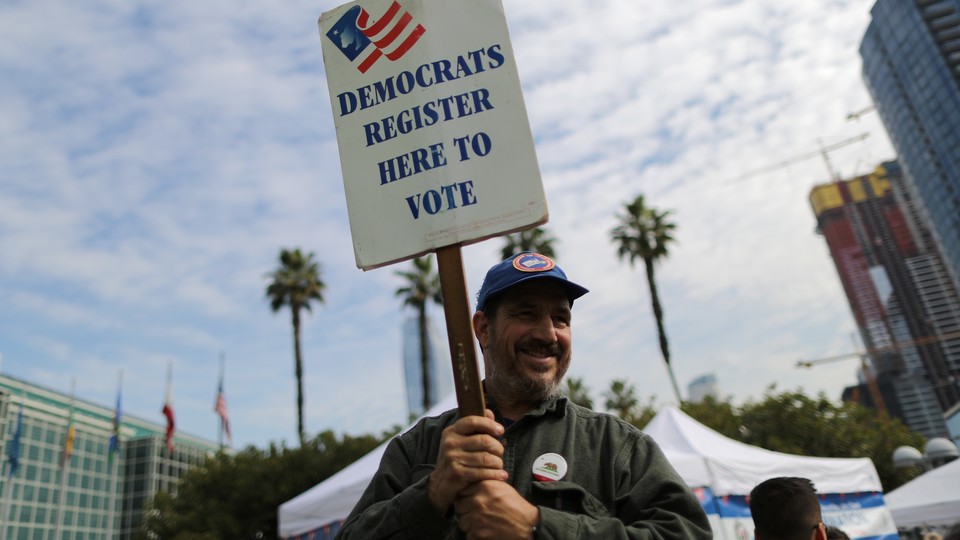 Preemptive finger-pointing is already starting among Democrats as they grow increasingly concerned that Tuesday's California primary could deal a painful blow to their hopes of recapturing the House of Representatives.
But the rising laments may all be missing the root cause of the gathering threat: a long-term failure by California Democrats to invest in building a network of credible local elected officials.
Particularly in Orange County, the epicenter of the competition for House seats in the state, Democrats are confronting what could be called a "resume gap." While Republicans are fielding an array of candidates who are current or former elected officials, Democrats are relying entirely on first-time contenders who entered their races without any elected experience, existing political networks, or name identification in their districts. That's making it tougher for any of the Democratic candidates to consolidate support within their party.
The lack of experienced candidates "without question poses a big problem to the Democrats," said Michael Moodian, a political scientist at Chapman College in the city of Orange. "The reason is that for decades the Orange County Republican Party has done a much better job than the Democrats at establishing a farm team of candidates."
The muddle within Democratic ranks is a unique liability in California because of the state's unusual primary system—which advances the top two finishers in each race, regardless of party. In several House districts, Democrats now face the risk of splintering the vote among several lesser-known candidates, while Republicans consolidate to a greater extent behind contenders with more local visibility and experience.
Democrats fear they could fail to crack the top two slots—and thus be excluded from the general election—in as many as three House seats now held by Republicans that Hillary Clinton carried in the 2016 presidential race. That would be a bitter disappointment to Democrats, who began the year brimming with optimism about their prospects against seven California House Republicans in seats that Clinton won, and more cautiously hopeful about their chances in three other districts that preferred Donald Trump. Compounding their frustration is the news that Republicans recently fell into third place in terms of total registered voters in California, far behind Democrats. They now also narrowly trail Independent voters, who don't choose a party.
The Democratic risk next week is concentrated in Orange County, the huge, sun-splashed suburban region south of Los Angeles. Long a hotbed of hard-core conservatism, Orange County has grown more competitive in national elections under the same twin forces that have reshaped the politics of affluent suburbs elsewhere: growing racial diversity (whites are projected to fall below 40 percent of the county's population by 2020) and improved Democratic performance among college-educated whites. Clinton in 2016 became the first Democrat to carry the OC since Franklin Roosevelt in 1936.
These trends fanned the party's ambitions in the four Clinton-favoring districts located in the county: those that incumbents Mimi Walters and Dana Rohrabacher are defending, and the open seats being vacated by Ed Royce and Darrell Issa. (Issa's seat extends into northern San Diego County.)
Democrats are guaranteed a spot against Walters, because no other serious Republican is running. But they face a genuine danger of being shut out against Rohrabacher (who is being challenged by another Republican, Scott Baugh) and in the vacated Royce seat, as well as a lesser risk in the Issa seat. Political Data Inc., a firm that tracks election statistics, reports that, as of Tuesday, Republicans led Democrats in returned mail-in ballots by almost identical double-digit margins in the Rohrabacher and Royce seats. The two parties are about tied in the Issa seat.
The prospect that several Clinton-won House seats might slip away in June—especially in a state where Trump remains deeply unpopular—has both horrified and infuriated California Democrats. Blame has been directed at the Democratic Congressional Campaign Committee for not intervening more forcefully to winnow the fields; at second-tier contenders for remaining in their races and dividing the vote; and at Orange County Democratic voters, who, at least in the mailed ballots, have not yet matched the higher turnout Democrats have seen in most other states since Trump's election. (Latino and youth turnout looks especially weak so far.)
But the core of the problem may be the composition of the Democratic candidates. None began with any name identification or experience in elected office that would help a frontrunner emerge. Instead, the party is relying almost entirely on wealthy political neophytes who are mostly self-funding their campaigns. In the Royce seat, the leading Democrats are a business executive born in New Jersey (Andy Thornburn) and a lottery winner and philanthropist (Gil Cisneros, whom the DCCC has endorsed). In the Rohrabacher seat, Democrats are choosing primarily between entrepreneurs Harley Rouda (who's also backed by the DCCC) and Hans Keirstead. And in the Issa seat, there's investor Paul Kerr; nonprofit executive Sara Jacobs; and the sole major contenders not funding their own efforts: environmental lawyer Mike Levin and a retired Marine, Doug Applegate, who also ran in 2016.
By contrast, Republicans are choosing among two former state legislators and a current Orange County supervisor for the Royce seat, and between one current and one former state-assembly member, as well as a current San Diego County supervisor, for the Issa seat. Baugh, who is challenging Rohrabacher, is a former state-assembly GOP leader and a former Orange County Republican Party chairman.
This mismatch reflects a gaping political imbalance at the local level. Though Democrats have nearly matched Republicans in registration in Orange County, "the vast majority of the elected boards in the county have a majority of Republicans," Moodian noted. Republicans now hold all five seats on the Orange County Board of Supervisors (just as they do on the board in San Diego County, which Clinton carried even more comfortably). Having failed to systematically recruit, train, or fund strong local candidates, Democrats hold city-council majorities in just two of Orange County's 34 cities.
The outsider-versus-insider positioning might benefit Democrats in the House races if they can get to the general election. But the lack of experienced, well-known candidates is making it more difficult for them to reach that stage. Orange County Democrats are working hard to channel the surge of Trump-generated enthusiasm into stronger bids for local offices, including one spot on the supervisor board open this year. But in the meantime, Democrats next week could pay a heavy national price for the prolonged local failure to recruit and nurture a stronger bench of rising stars.