An Ominous Night for House Republicans
The GOP's glee over Don Blankenship's defeat in West Virginia obscures warning signs for House incumbents, who lost three out of four races for Senate and a reelection primary on Tuesday.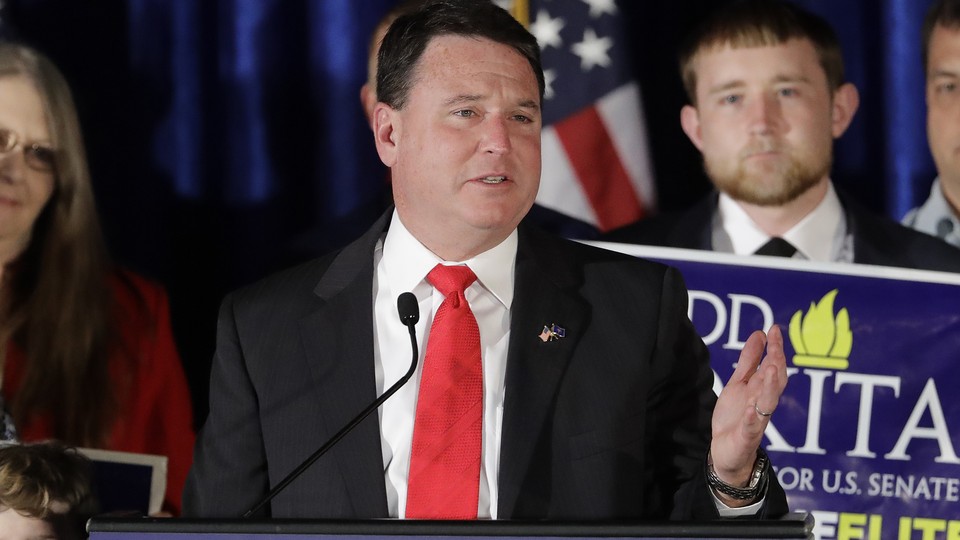 An incumbent Republican congressman lost his primary on Tuesday night, and three sitting GOP members of the House were defeated in their bids for promotions to the Senate.
Yet in an era when conservative primary voters are rewarding insurgency over incumbency, that somehow still counts as a good night for the GOP establishment. Party leaders in Washington escaped their nightmare scenario in West Virginia, where rank-and-file Republicans heeded President Trump's last-minute plea to reject the Senate candidacy of Don Blankenship, the recently imprisoned ex-coal baron who ran an overtly racist campaign against Senate Majority Leader Mitch McConnell and his family.
Blankenship finished a distant third with just under 20 percent of the vote in a primary won by West Virginia Attorney General Patrick Morrisey, who will now face Democratic Senator Joe Manchin in the fall. In the closing days of the race, GOP leaders feared a repeat of their loss last December in Alabama, after voters there nominated Roy Moore, a former chief judge who was twice removed from office and then accused of preying on teenage girls when he was in his 30s. Blankenship, the ex-CEO of Massey Energy, had spent a year in prison for a conviction connected to a 2010 mining disaster that killed 29 people. He ran ads referring to McConnell as "Cocaine Mitch" and in an interview labeled the father of his wife, Transportation Secretary Elaine Chao, a "Chinaperson."
In a sign of just how worried they were of a Blankenship nomination, top Republicans didn't much care that their preferred candidate, Representative Evan Jenkins, fell to Morrisey, an ex-lobbyist who had previously run for office in New Jersey before moving to West Virginia. They were just relieved that Blankenship lost, and were quick to embrace the victor.
"Unlike loyal Democrat Joe Manchin, West Virginia families know that they can count on Attorney General Morrisey to fight for conservative values," said Chris Hansen, the executive director of the National Republican Senate Committee, in a statement.
Jenkins was one of three GOP House members to lose Senate primaries on Tuesday night. The other two were in Indiana, where Republican voters nominated businessman Mike Braun over Representatives Luke Messer and Todd Rokita. The two congressmen were longtime political rivals and had been savaging each other for the better part of a year. Braun, who had run as a political outsider despite a brief stint in the state legislature, took easy advantage. While Messer and Rokita finished just over 5,000 votes apart, Braun won 55,000 votes more than the two of them combined—41.2 percent in all.
Unlike in West Virginia, Republican leaders stayed out of the Indiana race, believing that any of the three candidates would have a decent shot at taking out Democratic Senator Joe Donnelly in November. Trump won the Hoosier State by 19 points and will appear with Braun on Thursday to kick off the general election.
The fourth House Republican to lose on Tuesday night was Representative Robert Pittenger of North Carolina, who wasn't seeking a promotion but rather just wanted to keep his job. In his bid for a fourth term, Pittenger narrowly lost to conservative Mark Harris, who had nearly ousted him two years ago. With the incumbent out, political forecasters shifted the North Carolina seat toward Democrats, who nominated a well-funded Iraq War veteran and Harvard University graduate, Dan McCready.
In all four states that held primaries on Tuesday—Indiana, West Virginia, North Carolina, and Ohio—Republican candidates for federal office stuck close to the president, who remains popular among GOP primary voters despite his lackluster approval ratings overall. Trump-backed Representative Jim Renacci was one House GOP incumbent who prevailed in a Senate race, easily winning the nomination for the right to take on Democratic Senator Sherrod Brown in Ohio. Party leaders also scored victories in a pair of Ohio congressional contests, where establishment-aligned candidates prevailed over more conservative outsiders in GOP primaries for open seats that will be targeted by Democrats.
Democratic leaders had a less stressful night: In Ohio, Richard Cordray trounced former Representative Dennis Kucinich in a gubernatorial primary. Cordray had resigned his post as director of the Consumer Financial Protection Bureau to make the bid, and he will face former GOP Senator Mike DeWine, currently the state attorney general, in the fall.
For Republicans, Tuesday night was all about Blankenship. McConnell's campaign team gloated over his loss by tweeting a tongue-in-cheek image of the grinning majority leader surrounded by white powder, along with a short message: "Thanks for playing, Don." (McConnell has reportedly taken to answering his phone, "Cocaine Mitch," and the image was a reimagining of an ad from the Netflix series, Narcos.) McConnell aides taunted reporters for overhyping Blankenship's chances despite the lack of any recent public polls showing him in the lead.
Yet the GOP's glee that voters turned aside Blankenship's bid risks obscuring other warning signs from Tuesday's primaries. Republicans looking to run on their House records this fall can take little solace from the defeat of three out of the four House incumbents running in Senate primaries, nor from Pittenger's loss in North Carolina. Their defeats may not portend well for the eight other House Republicans who have left their seats to campaign for statewide office, including those in hard-fought races like Representatives Marsha Blackburn in Tennessee, Ron DeSantis in Florida, Kevin Cramer in North Dakota, and Martha McSally in Arizona.
Republicans were quick to point out that the trend should worry Democrats, too—especially the several senators who must defend their seats this fall in states Trump won. "Every race and every state is different and so I'd be careful not to read too much into what any particular primary might mean for November," said Brian Walsh, a Republican strategist who has worked on Senate campaigns, in an interview. "For example, if the message last night out of Indiana and West Virginia is that incumbent members of Congress face a head-wind, then 18-year Senator Bill Nelson should be much more worried than any of his opponents," Walsh said, referring to the Florida Democrat likely to face GOP Governor Rick Scott in November.
Walsh is right: The drag of incumbency among an antsy and dissatisfied electorate can work against either party. But with Republicans relying on incumbents not only to protect the House, but also to save or expand their majority in the Senate, the party in power has more to lose.