The White House Still Loves Joe Arpaio
At a tax event in Arizona, Vice President Mike Pence praised a "favorite" member of the audience: former Sheriff Joe Arpaio.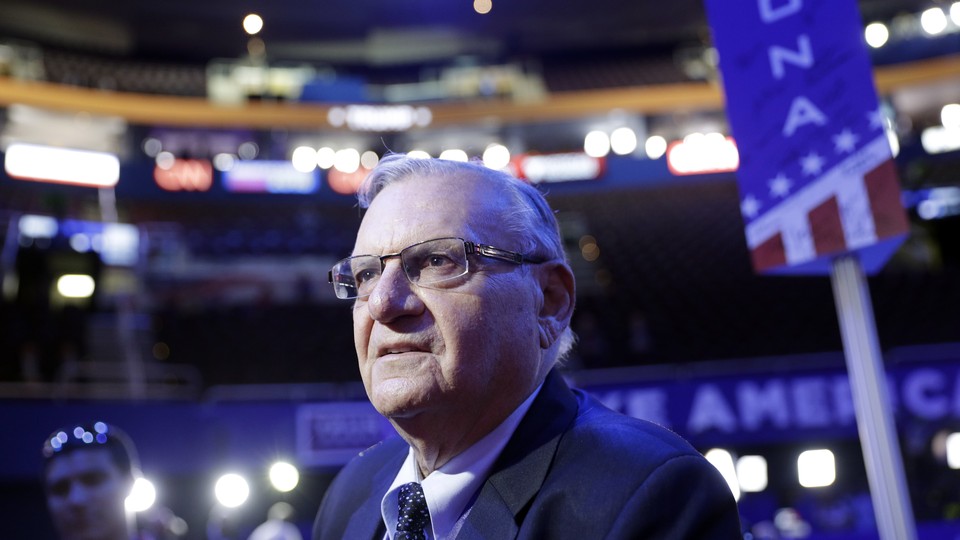 Vice President Mike Pence was in Tempe, Arizona, on Tuesday night to tout the tax bill. But he praised a guest, too, saying that a "favorite" was in attendance: former Arizona Sheriff Joe Arpaio. Pence went on to call Arpaio a "great friend of this president" and a "tireless champion of strong borders and the rule of law." Pence was, he told the crowd, "honored" to have the sheriff there.
In August of 2017, President Donald Trump pardoned Arpaio—his first as president—after the former sheriff was convicted of criminal contempt for defying a judge's orders to stop making immigration arrests. The move drew sharp criticism from those on the left, who saw Arpaio's harsh immigration policies as violating the Constitution. But as my colleague McKay Coppins has reported, Arpaio himself has been experiencing something of a comeback since the pardon. In January, he announced he's running for U.S. Senate. Indeed, Pence's laudatory introduction was met with enthusiastic cheers on Tuesday night.
The Atlantic's Jeremy Raff visited Arizona earlier this year to learn about the "Deportation Nation" Arpaio helped build there—and to hear from the sheriff himself.