Breitbart's Raheem Kassam Is Out
The editor of the site's London bureau was one of the last Steve Bannon allies left within the organization.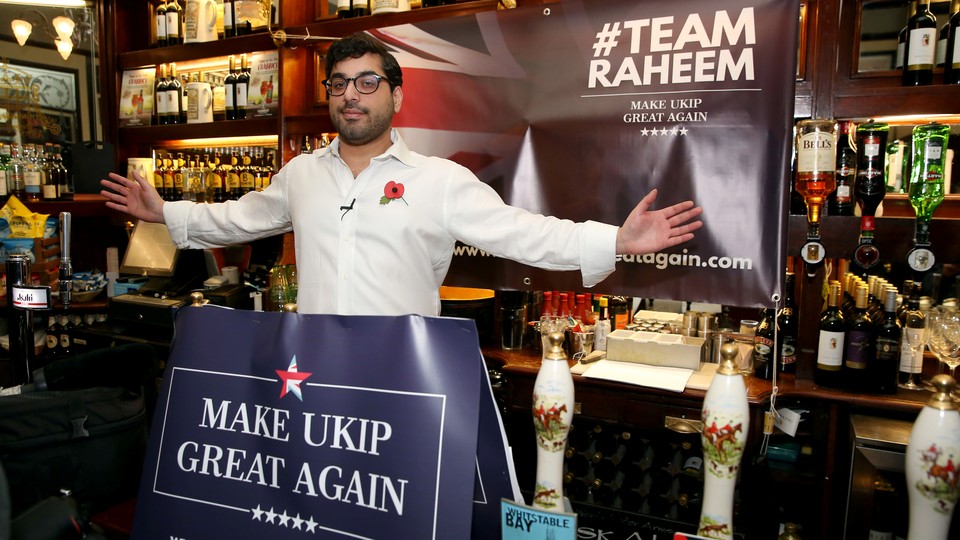 Updated on May 23 at 2:23 p.m. ET
Breitbart London editor Raheem Kassam has left the company, a source with direct knowledge of his departure told The Atlantic, marking the exit of one of the most visible legacies of the company's former chairman Steve Bannon within the organization.
Kassam was one of the last staunch allies of Bannon still working there. The former White House chief strategist had parted ways with the site in January after falling out with President Trump over disparaging comments he made to journalist Michael Wolff about the president's family and campaign.
Bannon brought Kassam to Breitbart in 2014, hiring him to run the site's London bureau. Kassam is closely associated with the anti-European Union, anti-immigration United Kingdom Independence Party and the pro-Brexit movement. He was also once a top aide to former UKIP leader Nigel Farage, and in 2016 launched a failed bid to lead UKIP himself.
Kassam declined to comment on his departure on the record beyond praising his replacement, Oliver Lane, who had been working as his deputy. "That role, editor in chief [of Breitbart London], was effectively managing editor, executive editor, and editor in chief rolled into one," Kassam said, "and I can think of no one better than Oliver to do that—better than me, in fact."
"Raheem Kassam has left Breitbart News to pursue other avenues," Breitbart spokesman Brian Glicklich said in a statement. "We thank Raheem for his integral role in launching and making Breitbart London the success it is today, and we wish him all the best." Breitbart's CEO Larry Solov and editor in chief Alex Marlow didn't return a request for comment.
In recent years, Kassam has gained visibility in the U.S., speaking at the Conservative Political Action Conference and other events and hosting Breitbart's radio show. In April, he published Enoch Was Right, a book about Enoch Powell, the right-wing British politician who gave a divisive, anti-immigrant speech in 1968 titled "Rivers of Blood," which caused a furor in Britain last month when BBC Radio 4 broadcast it in full.
As for what he'll do next, Kassam said he's joined the advisory board for ISSEP, the political training school for right-wing leaders being launched by Marion Maréchal-Le Pen, the niece of Front National leader Marine Le Pen. Its website lists him as a "member of the scientific council."
Kassam has remained close with Bannon, with whom he often travels. Since leaving Breitbart, Bannon has been spending more time in Europe; he spoke in Prague earlier this week. Kassam accompanied him on this trip and is currently with him in Budapest.
Bannon's star has fallen lately. After his ouster from the White House last August—amid controversy over Charlottesville and unguarded comments he made to the liberal magazine The American Prospect—Bannon had returned to Breitbart, and had refashioned himself as a player in the 2018 midterms with a plan to support anti-establishment Republican candidates. But the plan quickly fizzled: First, his candidate in the Alabama Senate race, Roy Moore, lost after facing multiple accusations of sexual misconduct with teenage girls. Then, the release of Wolff's book, Fire and Fury, damaged his relationship with the president. In the book, Bannon referred to Donald Trump Jr.'s 2016 meeting with a Russian lawyer at Trump Tower as "treasonous" and "unpatriotic." Trump quickly excommunicated Bannon after the comments became public, saying he had "lost his mind" and "has nothing to do with me or my presidency." Though Bannon eventually tried to walk the comments back, he has remained in the political wilderness, touring Europe and meeting with right-wing politicians there.
Breitbart has faced challenges, too. While in the early days of the Trump administration the site became an object of fascination and scrutiny—for its channeling of Bannon and his allies' positions, and as an emblem of the populist right's surge—its readership reportedly dropped by half earlier this year, compared with its numbers from last year. The hedge-fund billionaire Robert Mercer sold his stake in Breitbart to his daughters in November, and the family, which had formerly been Bannon's political patron, has distanced itself from him.