A Timeline of Trump Associates Asking for Dirt on Clinton
A new report that Roger Stone sought damaging information on Clinton from Julian Assange is the latest in an increasingly complicated chronology.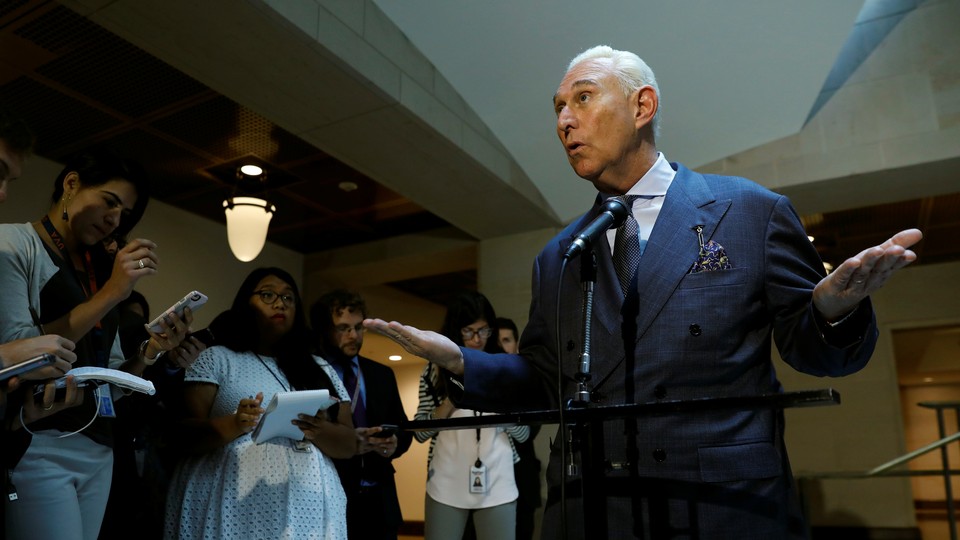 On Thursday, The Wall Street Journal reported that longtime Donald Trump adviser Roger Stone tried to solicit information about Hillary Clinton from WikiLeaks founder Julian Assange in September 2016. At the time, the Journal reported, Stone wrote to Randy Credico, a New York radio host who had interviewed Assange, and asked Credico to ask Assange for "any State or HRC e-mail from August 10 to August 30, 2011."
Like Stone, Trump seemed to believe that damaging information about Clinton could be found in the emails that she sent using her private email server, and later deleted. "Russia, if you're listening, I hope you're able to find the 30,000 emails that are missing," Trump said during a press conference in July 2016.
Stone and Trump were not alone in seeking help from WikiLeaks and Russia during the election. One of Trump's sons, Donald Trump Jr., asked WikiLeaks via a private Twitter message in October whether a "leak" was coming and what it was about. Trump Jr. also attended a meeting at Trump Tower, along with Trump's campaign chairman and son-in-law, after a suggestion that he'd be able to see incriminating information on Clinton from Russia's "crown prosecutor."
Time and time again, Trump and his associates seemed to demonstrate a willingness to accept help from WikiLeaks—an organization the former CIA Director Mike Pompeo described as a "hostile intelligence service"—and from Russia, which was actively trying to influence the election, intelligence officials warned Trump in August 2016. Here's a brief timeline of the interactions, or attempted interactions, that have led to this moment:
April 2016: A Trump Campaign Aide Learns of Russian "Dirt" on Clinton
In the spring of 2016, a Maltese professor with ties to the Kremlin, Joseph Mifsud, told Trump campaign aide George Papadopoulos that Russia had "dirt" on Clinton in the form of "thousands of emails," according to court documents filed last year by the special counsel. Following that meeting, Papadopoulos tried repeatedly to connect Trump with Russian President Vladimir Putin, several news outlets reported.
There is no evidence yet that Papadopoulos told the campaign about any Russian "dirt."
June 2016: Top Trump Campaign Officials Meet with Russians to Get Dirt on Clinton
Donald Trump Jr., Trump campaign chairman Paul Manafort, and Trump's son-in-law Jared Kushner attended a meeting at Trump Tower at the height of the election with a Russian lawyer who promised dirt on Clinton. Trump Jr. released emails after the meeting was made public by The New York Times that detailed how it had been arranged: Music publicist Rob Goldstone, who represents the pop-star son of one of Trump's former business partners, offered Trump Jr. information on behalf of "the crown prosecutor of Russia" that would "incriminate" Clinton. "This is obviously very high level and sensitive information but is part of Russia and its government's support for Mr. Trump," Goldstone wrote. Trump Jr. seemed eager to accept: "If it's what you say I love it especially later in the summer," he replied. Following the exchange, the lawyer, Natalia Veselnitskaya—who acknowledged recently that she works as an "informant" for the Kremlin—left Moscow to meet with the trio on June 9, 2016.
Trump Jr., Manafort, and Kushner have said they were disappointed by what Veselnitskaya brought with her—that there was little usable opposition research. When news of the meeting broke in July 2017, President Trump helped write a statement for his son that omitted any reference to compromising information about Clinton.
August 2016: CEO of Trump Campaign Data Firm Discloses Outreach to Assange
In August 2016, the CEO of the controversial data-mining and analysis firm Cambridge Analytica told his employees in an email that he had recently reached out to Assange to offer help in sorting through and releasing Hillary Clinton's missing emails, The Daily Beast reported last year. Top Republican donor and Trump campaign backer Rebekah Mercer was copied on the email, too, according to The Wall Street Journal. Assange later confirmed that the CEO, Alexander Nix, had approached WikiLeaks, but said that the organization had rejected his offer to help.
The Trump campaign hired Cambridge Analytica in June 2016 to help target ads using voter data collected from approximately 230 million U.S. adults, according to NBC News. The campaign paid Cambridge Analytica more than $5 million in September 2016 alone, according to federal election filings. But Michael S. Glassner, the executive director of Trump's campaign, scrambled to downplay Cambridge Analytica's role in the campaign following the Nix-Assange revelation. Cambridge Analytica has since filed for bankruptcy and is under FBI investigation, according to The New York Times.
September 2016: GOP Operative Claiming Ties to Michael Flynn Seeks Missing Clinton Emails from Russian Hackers
Beginning over Labor Day weekend in 2016, an 80-year-old opposition researcher and GOP operative named Peter Smith assembled a team of technology experts, lawyers, and a Russian-speaking investigator to track down hacking groups with access to the 33,000 "missing" Clinton emails, according to The Wall Street Journal. One of those hacking groups was Russian, the Journal reported, and intended to use Smith as an intermediary to transfer the emails stolen from Clinton's private server to top Trump campaign surrogate Michael Flynn.
Smith needed help navigating the dark web, however, where these hacking groups operated. So he reached out to Matt Tait, a cybersecurity researcher and former information-security specialist at Britain's Government Communications Headquarters. Tait relayed his interactions with Smith in a first-person blog post for Lawfare titled "The Time I Got Recruited to Collude with the Russians." He noted in the piece that "it was immediately apparent that Smith was both well connected within the top echelons of the [Trump] campaign and he seemed to know both Lt. Gen. [Michael] Flynn and his son well." Tait says he soon realized that, to Smith, it didn't matter if the hackers were Russian. "In my conversations with Smith and his colleague, I tried to stress this point: if this dark web contact is a front for the Russian government, you really don't want to play this game," Tait wrote. "But they were not discouraged." Tait was interviewed by the special counsel about his interactions with Smith, as I reported last year.
Also in September 2016: Roger Stone Asks for Clinton Emails From Assange
Stone tried to get damaging information about Clinton from WikiLeaks founder Julian Assange in September 2016, according to The Wall Street Journal. In an email to his friend Randy Credico, a radio host friendly with Assange, Stone wrote: "Please ask Assange for any State or HRC e-mail from August 10 to August 30—particularly on August 20, 2011." "State" was a reference to Clinton's time as Secretary of State, when she used a private email server for work-related correspondences.
"I can't ask them favors every other day," Credico replied, according to the Journal. "I asked one of his lawyers … they have major legal headaches riggt now..relax." Credico told the Journal that he never actually passed Stone's message on to Assange, but told Stone that he had because he "got tired" of being bothered.
Stone also exchanged private Twitter messages in August and September of 2016 with a user known as Guccifer 2.0. Guccifer claimed on a personal Wordpress site to have "penetrated Hillary Clinton's and other Democrats' mail servers," but the self-described hacker was later characterized by U.S. officials as a front for Russian military intelligence.
October 2016: Roger Stone and Donald Trump Jr. Communicate With WikiLeaks
Both Donald Trump's son and longtime Trump adviser Roger Stone communicated with WikiLeaks in October 2016. As The Atlantic's Julia Ioffe first disclosed last fall, Donald Trump Jr. wrote to WikiLeaks on October 3, 2016, asking: "What's behind this Wednesday leak I keep reading about?" The day before, Roger Stone, an informal advisor to Donald Trump, had tweeted, "Wednesday@HillaryClinton is done. #WikiLeaks." Ten days later, Stone sent WikiLeaks a private Twitter message asking the organization to "reexamine the strategy of attacking" Stone.
WikiLeaks—whose Twitter account is run "by a rotating staff," according to Assange—replied an hour later: "We appreciate that. However, the false claims of association are being used by the democrats to undermine the impact of our publications. Don't go there if you don't want us to correct you." "Ha!" Stone responded on October 15. "The more you 'correct' me the more people think you're lying. Your operation leaks like a sieve. You need to figure out who your friends are." The morning after Donald Trump won the election, WikiLeaks sent Stone another message. "Happy? We are now more free to communicate."