White Evangelicals Can't Quit Donald Trump
New polling finds that their support for the president remains strikingly high. But are they mortgaging the future of the faith?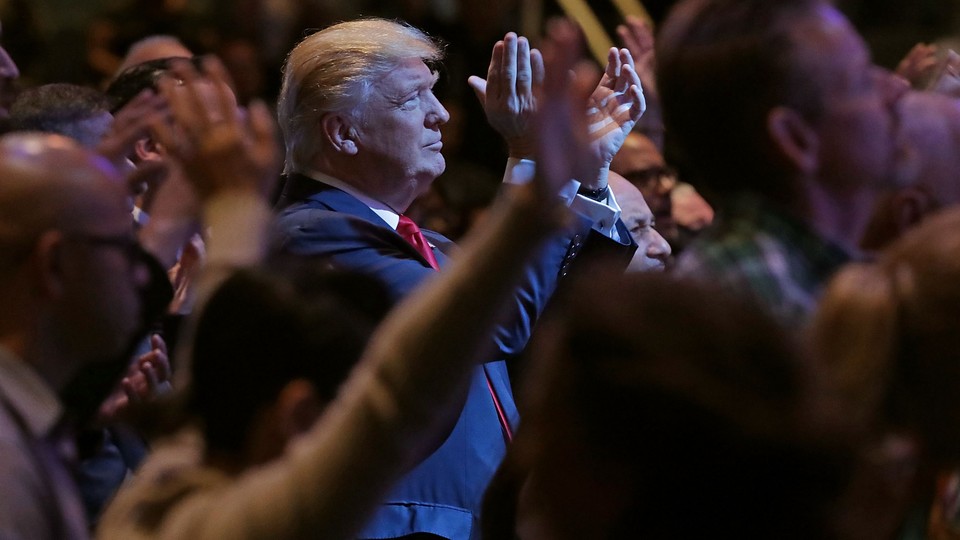 With two alleged extramarital affairs looming over the presidency, white evangelicals are doubling down on their support for Donald Trump. But the near-term political gains their support is yielding may come at a high cost for the future of the faith.
A new survey released this week by PRRI, where I serve as the CEO, finds white evangelical support for Trump remains strikingly high, with 75 percent holding a favorable view of the president and only 22 percent holding an unfavorable view. This level of support far exceeds his favorability among all Americans, which is at 42 percent. Among all non-white evangelical Americans, Trump's favorability is only 36 percent.
This is hardly the first time white evangelicals have chosen to weather a Trump scandal. Despite revelations of taped boasts of sexual assault during the 2016 campaign, moral equivocation about white supremacy during his first year as president, and a host of other controversies, white evangelical support for Trump has steadily increased over time. While his favorability never reached 50 percent during the 2016 primary season, by the early fall of 2016, it jumped to 61 percent. Until this week, the highest level of support from white evangelicals PRRI had measured was 74 percent, shortly after his inauguration. Since the start of his presidency, there have been minor fluctuations, but overall his favorability with this group has never dipped below 65 percent.
Even with the recent allegations of infidelity—with adult-film star Stormy Daniels and former Playboy model Karen McDougal, whose respective lawsuits have become tangled in the Russia investigation—white evangelical Protestants are showing no signs of a sunset on their support. By a margin of 3 to 1, or 69 percent versus 23 percent, white evangelical Protestants who identify with or lean toward the Republican Party say they would prefer Trump over another candidate to be the GOP nominee for president in 2020.
---
Favorability of Donald Trump Among White Evangelical Protestants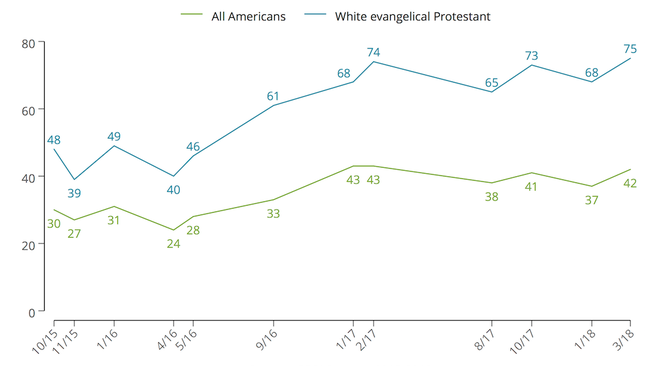 ---
A PRRI poll conducted in the fall of 2017 suggested how unshakeable the white evangelical-Trump connection has become: Among the 72 percent of white evangelical Protestants who approved of Trump's job performance at the time, approximately four in 10 agreed with the following statement: "There's almost nothing President Trump could do to lose my approval."
Several prominent evangelical leaders have explicitly said as much. When asked on Fox News last month about Trump's alleged affair with Daniels, Robert Jeffress, one of Trump's earliest campaign supporters, downplayed the news. "Evangelicals still believe in the commandment, 'Thou shalt not have sex with a porn star.' … However, whether the president violated that commandment or not is totally irrelevant for our support of him," explained Jeffress, who is the pastor of a Dallas megachurch. "Evangelicals knew they weren't voting for an altar boy when they voted for Donald Trump."
Tony Perkins, the president of the Family Research Council and a longtime operative on the Christian right, was even more straightforward in an interview with Politico earlier this year. Rather than attempt to deny or defend the Daniels allegations, he simply said: "We kind of gave him—'All right, you get a mulligan. You get a do-over here.'"
Some evangelical leaders are wrestling with the bloc's alliance with Trump, which they worry could threaten the religious future of the faith. This concern was the catalyst for a gathering of evangelical leaders earlier this week at the flagship evangelical school Wheaton College in Illinois. In an interview with Religion News Service, Katelyn Beaty, an editor at large at the leading evangelical magazine Christianity Today, said explicitly that the reason for the meeting, which she attended, was "the 2016 election and the role that white evangelicals played in electing Trump." But she emphasized that it was less about Trump himself—or the evangelical leaders who advise him—and more about what the strong evangelical association with Trump "mean[s] for us and how have we gone wrong and how can we repair what's clearly broken."
Doug Birdsall, one of the meeting's organizers, told The Washington Post "there's a grotesque caricature of what it means to be an evangelical."

"When you Google evangelicals, you get Trump," he lamented. "When people say, 'What does it mean to be an evangelical?' people don't say 'evangelism' or 'the Gospel.'"
As I've written before, white evangelicals' bargain with Trump is better understood as a desperate deal born of anxiety in the face of a changing nation than as a fulfillment of their aspirations. White evangelicals were the last soldiers still manning the barricades opposing same-sex marriage, and their resounding legal and cultural defeat on that issue put an end to any lingering serious talk of being "the moral majority" in the country.
But by tying themselves to the Trump brand, white evangelicals risk their movement's ability to grow. During the sea change in cultural attitudes over the last decade, white evangelical Protestants were also losing demographic ground, dropping from 23 percent of the population in 2006 to 15 percent of the population in 2017.  Most of the declines in the overall evangelical population have come from young people, resulting in stark differences in generational representation. White evangelicals comprise 26 percent of seniors ages 65 and older, for example, but make up only 7 percent of Americans under the age of 30.
As the Trump and white evangelical movements become increasingly intertwined, young people are increasingly at odds with both. In this week's PRRI poll, only 33 percent of young adults ages 18 to 29 rate the president favorably. Nearly two-thirds, or 65 percent, hold an unfavorable opinion, including a striking 41 percent who report they hold a very unfavorable view. While white evangelicals as a whole are still fighting the late 20th century culture wars, young adults are moving on: Nearly eight in 10 support same-sex marriage and approximately two-thirds say abortion should be legal in all or most cases and available in their local communities. And while, generally speaking, Trump's anti-immigrant rhetoric resonates among white evangelicals, young adults overwhelmingly support policies like the Deferred Action for Childhood Arrivals program and a path to citizenship for immigrants living in the country illegally. White evangelicals' association with Trump's alleged indiscretions, divisive speech, and policy priorities will likely make retaining and attracting younger members to the faith even more difficult than it would otherwise be.
It has been clear for some time that the GOP has become the party of Trump. These numbers bring into focus just how close white evangelicalism is to becoming the religion of Trump—and the challenges that identification will present to the movement going forward.