Four Things the Comey Memos Reveal
From Putin to Flynn, the highlights of the former FBI director's conversations with President Trump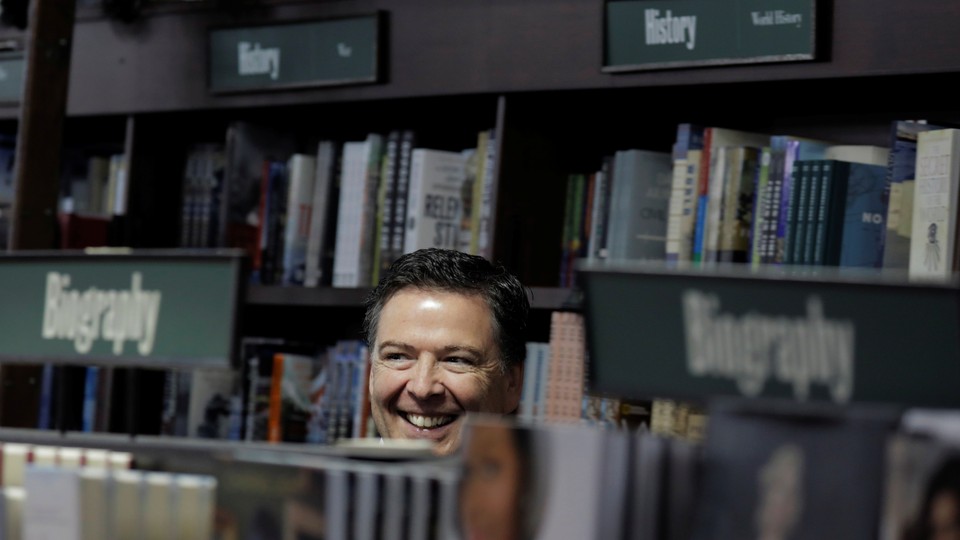 Thursday evening, after a long legal battle, the Department of Justice turned over to Congress a set of memos written by FBI Director James Comey about his interactions with Donald Trump. And within about an hour, predictably, the memos had leaked to the press.
The documents are a fascinating read: a window into Comey's mind at the moment of his encounters with the president-elect and then president, unmediated by either time or Comey's consciousness of being an author writing for a public audience, unlike his new book A Higher Loyalty. In general terms, the content of the memos hews closely to what was publicly known about them, first via a Columbia Law professor with whom Comey shared them; then from Comey himself, in blockbuster congressional testimony in summer 2017; and more recently from his book.
This may disappoint anyone who expected or hoped the memos would reveal Comey as a fabulist—but it was always unlikely Comey would have lied under oath to Congress about the content of the memos. Nonetheless, the memos do provide some important and useful new pieces of information.
Leaks for Thee, Not for Me
Trump has repeatedly assailed Comey as a leaker and liar. The memos only offer Comey's side of the story, so there's no way to firmly adjudicate the latter claim based on the documents alone. As for the former, Trump comes across as not just amenable to but encouraging of leaks. Comey records several occasions where Trump effectively asked Comey to leak to the press that he, Trump, was not personally under investigation. After a March 30, 2017, meeting, Comey wrote this:
Comey had already informed Trump that any such move would have to be cleared through the Justice Department, so the president's request—"get [it] out"—reads as a request for a leak. The following month, Trump again brought up the issue, and Comey deflected by insisting that any announcement would have to go through the acting attorney general:

Thursday evening, Trump allies emphasized that Comey never asserted in the memos that he felt his investigation was being obstructed, arguing that proved Trump had not obstructed justice. This defense has limitations: One, the memos don't cover Comey's firing, which is arguably the best evidence of obstruction, and second, the memos are almost entirely narrative, without such analytic detail.
The president famously told Lester Holt that he fired Comey in frustration over the Russia investigation, but the memos bring home how specifically Trump's frustration stemmed from Comey's refusal to say publicly that Trump was not under investigation. (Comey reasoned that it would create a "duty to correct," obligating him to speak out publicly if that ever changed—as he had with Hillary Clinton on October 28, 2016.) In a fitting irony, news leaked earlier Thursday that Deputy Attorney General Rod Rosenstein had assured Trump last week he was not a subject of investigation.
On the question of whether Comey actually leaked classified material, as Trump has repeatedly asserted without evidence, the memos suggest he did not. A group of House Republicans has also referred Comey to the Justice Department for prosecution on that basis, and Representative Matt Gaetz, a Floridian who is close to the president, declared victory, saying some of the memos contained classified information. Comey, meanwhile, has repeatedly insisted that the memos he provided to Dan Richman, the Columbia Law professor, were not classified. Richman did not provide the memos directly to reporters, but read them to them.
There are memos in the tranche that were classified, and some that were released Thursday with redactions. But as Jeremy Stahl details in Slate, the material that Richman shared with the press all comes from memos that were always unclassified. (Comey seems to have been highly conscious of the sensitivity, writing in one, "because this is an unclassified document, I will be limited in how I describe what I said next.") Stahl theorizes that the assumption that Comey leaked Richman classified documents seems to rest entirely on a Fox News report that states that Richman received four memos.
Early Reservations About Michael Flynn
Almost immediately after the election, Donald Trump named Michael Flynn, a stalwart campaign surrogate, as his national-security adviser. When Flynn lied to Vice President Pence about his conversations with the Russian ambassador, Trump did not fire him until the public learned about it via a Washington Post report. Even then, the White House insisted Flynn was a good man, and as Comey testified, Trump pressured him to drop the investigation into Flynn.
Yet as the memos make clear, Trump and his team had serious reservations about Flynn. After a January 27 dinner, for example, Comey recorded this:


As Comey knew, but did not tell Trump, Flynn had already lied to the FBI about his conversation with the ambassador three days earlier. Acting Attorney General Sally Yates also informed White House Counsel Don McGahn on January 26 that Flynn was making untruthful statements. She did not tell McGahn that Flynn had lied to FBI agents.
On February 8, Comey was at the White House, where then-Chief of Staff Reince Priebus asked him if the FBI was surveilling Flynn: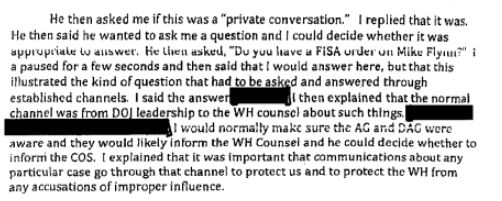 Although Comey's answer is redacted, some copies of the memos revealed the answer, which was yes, when text is highlighted:
In November, Flynn pleaded guilty to lying to the FBI, and is now cooperating with Special Counsel Robert Mueller.
Trump's Putin and Golden-Shower Obsessions
From the time Comey first briefed the president-elect on the Steele dossier, Trump seemed fixated on the allegation involving prostitutes and urination in a Moscow hotel. Trump heatedly denied them, and repeatedly raised them to knock them down:

The quote that Trump attributes to Vladimir Putin here about Russian prostitutes is astonishing—it's odd that one foreign leader would say that to another, especially given the cloud the Steele dossier created over Trump. That's especially true because Trump and Putin had only one known conversation prior to this February meeting. However, Putin had made a similar comment in a January interview with Bloomberg, saying that Trump was "a grown man, and secondly he's someone who has been involved with beauty contests for many years and has met the most beautiful women in the world. I find it hard to believe that he rushed to some hotel to meet girls of loose morals, although ours are undoubtedly the best in the world."
Did Trump simply conflate something he had read in an interview or heard on a newscast with his conversations with Putin? It is distressing if so, and reminiscent of claims that President Reagan confused his war movies with actual service. But Trump has offered conflicting and false accounts of his interactions with Putin before, claiming that they had a great relationship and then later saying they had never spoken.
There's one more curious Putin tie-in. Return to the concerns about Flynn that Trump voiced:

According to The Wall Street Journal, the redacted name is that of Putin. That episode raises a host of questions. Why had Flynn not informed Trump about the call? What had Putin said during that call? Why was Trump so agitated about the delay in hearing back from Putin? Despite the terrible state of relations between Moscow and Washington today, it's worth recalling that Trump entered office with hopes of improving ties with Putin.
Comey's Confusion
Over time, the nation has become somewhat acclimated to the president's unorthodox speaking style, though he retains the ability to surprise here and there. But Comey's memos show the FBI director struggling to understand the new president, especially as a contrast to other presidents under whom he had served. This is an evocative description of Trump's conversational mien, and just how incomprehensible it seemed at the time:

Trump is vague, rambling, and contradictory throughout. Comey records that he said during the course of the January 27 dinner both that Priebus was and was not aware they were meeting. Comey says Trump also praised his handling of the Clinton email scandal, though he has since publicly bashed it, and used it as a pretense for Comey's firing.
By and large, it's difficult to see why Trump's allies in Congress were so eager to see the memos. While the Justice Department was withholding them, they made a great cudgel, allowing GOP members to accuse the department of dishonesty and disloyalty to Trump, and to threaten impeachment of Rosenstein and Comey's successor, Christopher Wray. Now that DOJ has blinked, however, the Trump allies have lost their leverage. The memos themselves, meanwhile, don't really seem to support claims of leaking classified information; they back up what Comey has said elsewhere; and they aren't especially flattering for the president.