Democrats Hope For Another Upset in Arizona
The Grand Canyon state's 8th congressional district is unlikely to flip from red to blue, but a close race could still spell trouble for Republicans in November.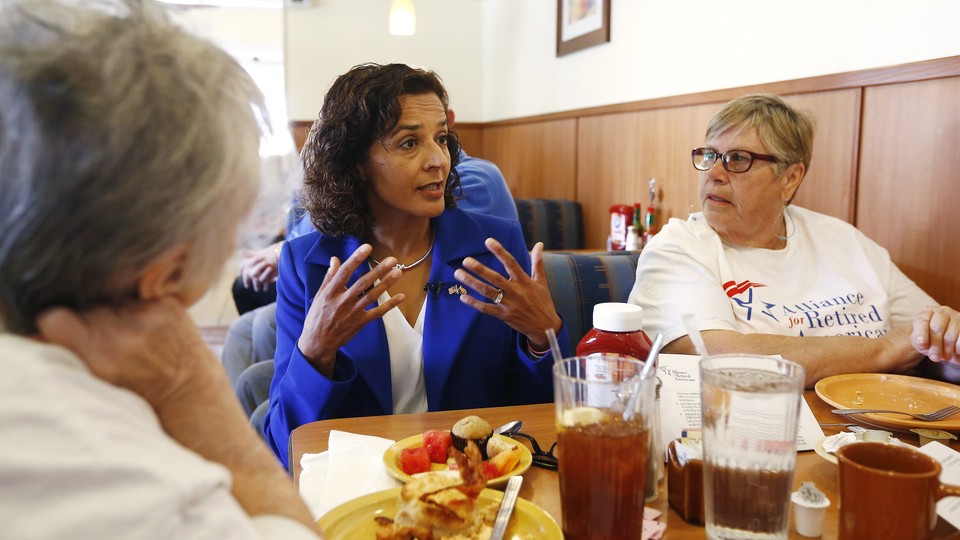 Democrats' recent winning streak in special elections might be coming to an end with Tuesday's contest in Arizona's 8th congressional district. But the party still plans to count it as a victory.
Two women, Democrat Hiral Tipirneni, a cancer-research advocate, and Republican state Senator Debbie Lesko, are vying to fill the House seat vacated by Republican Trent Franks, who resigned in December after it was reported that he asked a staffer to be a surrogate. Only two people have represented the area—which includes the suburbs to the north and west of Phoenix—since 1977, and Democrats haven't even had a candidate on the ballot since 2012. But a string of surprising wins in Alabama, Virginia, and most recently in Pennsylvania, has given Democrats cause for hope even in the reddest of places.
"It should be an unwinnable district for us," said Andy Barr, a local Democratic strategist, citing the fact that Donald Trump won the district by a whopping 21 points in 2016. "It should not be possible for us to be in this position, and yet we are."
Tipirneni, a former ER physician, has made health care the centerpiece of her long-shot campaign, advocating for a Medicare-for-all-type public option. She's also vowed to increase investment in public education, a pretty timely issue in the state: Arizona educators voted last week in favor of a statewide walkout to protest low pay and school funding. On this, the Democrat has positioned herself directly opposite Lesko, a longtime proponent of school choice who recently earned praise from Education Secretary Betsy DeVos for sponsoring a law to expand Arizona's school-voucher program. Lesko has also campaigned heavily on enhancing border security and been a passionate supporter of President Trump's proposed border wall.
The race hasn't been without drama: Lesko has been accused of violating campaign-finance law by moving $50,000 from her state Senate campaign to a federal political-action committee supporting her House bid. And in recent weeks, Tipirneni has been fending off attacks for wearing scrubs in her campaign videos, despite having been out of medical practice for more than a decade.
Two recent public polls show the race in a statistical dead heat, while a third shows Lesko with a lead of about 10 percentage points—still a far narrower gap than Republicans in the area are used to. And they're clearly not willing to take any chances: Groups like the Republican National Committee, the National Republican Congressional Committee, and the Congressional Leadership Fund have so far poured roughly $1 million into the race. Lesko herself recently acknowledged the tightness of the race, saying in an interview, "Not only do I want to win, but I do want to win by a lot so we can show the Democrats that they don't have a chance here."
Mike Noble, a Republican pollster at OH Predictive Insights, the polling firm that predicted a 10-point victory for Lesko, is confident that an upset won't happen. "This district is one of the safest GOP districts in the country," Noble said. "This race will be closer than it is historically, but this is a Republican win at the end of the day." Why? "Frankly, there's too many Republicans," Noble said, noting that they significantly outnumber registered Democrats in the district. Plus, Arizona's 8th district is home to Sun City, known as the country's original retirement community, which boasts a population of more than 37,000 residents and eight golf courses. (Lesko endeared herself to this particular community back in 2014 when she sponsored legislation legalizing golf carts for street use).
Another reason for Republicans to feel confident is that almost 140,000 voters—nearly two-thirds of the expected total—have already mailed in ballots, and most of those were from registered Republicans. The median voter age so far is 68.
Tuesday's special election is happening just over a month after 33-year-old political newbie Conor Lamb eked out a win over Republican state Representative Rick Saccone in a Pennsylvania district that went for Trump by 20 percentage points in 2016. But comparing the two races is unwise, The Cook Political Report's Dave Wasserman told me via email, because Arizona's 8th district simply doesn't have the same "Democratic heritage." Democrats had a voter-registration advantage in the Pennsylvania district, as well as a large union presence, while "the leading demographic in AZ-08 is retired Fox News watchers."
Still, Wasserman noted, if Tipirneni is able to get 45 or 46 percent of the vote on Tuesday, "that's a really strong over-performance for Dems." That this seems achievable is further evidence to both Democrats and Republicans that a blue wave, in some form or another, is coming in November. Most of that, Noble explained, has to do with Trump's popularity.  "If you have an 'R' next to your name, you are directly tied to President Trump," Noble said, explaining that local independents are voting more in line with Democrats in order to oppose Trump—and it's likely that fewer Republicans will vote out of indifference toward him. "That adds up to not a great year for the GOP."
Barr, the Democratic strategist, was on the same page. "If [Tipirneni] wins this it's not going to have anything to do with the ad spending, it's going to be more a rejection of Lesko and the Republican Congress and Trump than anything to do with Hiral," he told me. "Let's say [Tipirneni] loses by 10 points. I know people wouldn't feel super excited about a 10-point loss, but to me that would be a big fucking deal."
Whatever the result, the energy generated by the special election will soon be entirely concentrated in the highly competitive scrum for retiring Arizona Senator Jeff Flake's seat. Representative Kyrsten Sinema, a Democrat, recently polled ahead of all three of her Republican opponents, establishment-favorite Representative Martha McSally, former state Senator Kelli Ward, and former Maricopa County Sheriff Joe Arpaio.
"If [the AZ-08] race comes in close, it's going to signal to a lot of people maybe not that the state's ready to flip but that it's super competitive statewide here," Barr said. "If [Tipirneni] gets anywhere close, all the Republicans running for Senate, especially like Martha McSally, are just going to be losing their minds out of fear."