What Exactly Was Michael Cohen Doing for Donald Trump?
The president has complained that "attorney–client privilege is dead," but was Cohen functioning as a lawyer or a fixer?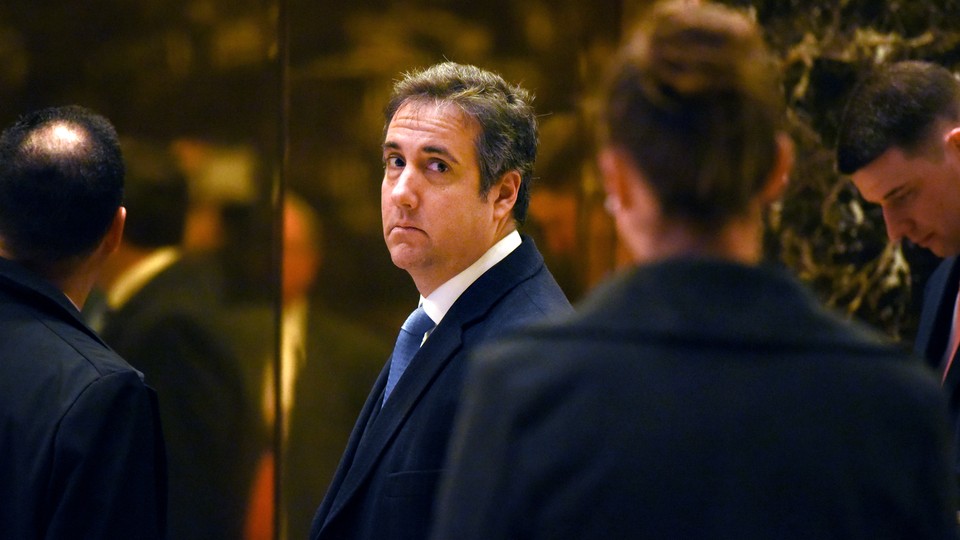 The more the public learns about the raid this week on Michael Cohen's office, home, and room at a New York hotel, the more it seems Cohen is in deeper and deeper trouble, and the harder and harder it becomes to tell what in particular the federal government is looking for from Cohen.
Unlike actions taken by special counsel Robert Mueller, this raid, conducted by federal agents in New York City, has produced a quick series of leaks. We know, for example, that the raid targeted information about Cohen's arrangements with two women, Stormy Daniels and Karen McDougal, who have alleged affairs with Donald Trump, in which they were paid for silence. This is no great surprise, since both have sued to get out of their non-disclosure agreements.
Yet since then we have learned of other things the agents were seeking. Another focus is reportedly Cohen's involvement in the New York City taxi business, through the valuable (though depreciating) medallions required for cabs. Evgeny Friedman, a Russian-born businessman who managed Cohen's fleet, is in trouble for alleged tax evasion related to taxis.
On Wednesday, The New York Times reported that agents also sought records related to the Access Hollywood tape, leaked in October 2016, in which Trump boasted of sexually assaulting women. Although many women have come forward with allegations of abuse, Trump insists those comments were empty braggadocio, or "locker-room talk." It's unclear what Cohen's involvement in that episode might have been, or what crime could have been committed.
That's a wide range of areas for investigation, and there may still be more, since the warrant is not public. The range is the more remarkable because such a raid required approval from multiple high-ranking Justice Department figures, including, reportedly, Deputy Attorney General Rod Rosenstein. The legal journalist Ben Wittes writes, "There is no way that the U.S. Attorney's Office for the Southern District of New York would have sought or executed a search warrant against the president's lawyer without overpowering evidence to support the action." Some of the matters involved have clearer connections to the special counsel's investigation and to Trump than others. The fact that all of them are of interest to federal prosecutors examining Trump raises a great deal of questions, but perhaps the central one is this: What precisely was Michael Cohen doing for Donald Trump in the first place?
Cohen is often described as Trump's "personal lawyer," but that doesn't really seem to illuminate his work. It's helpful to start at the beginning. The Associated Press retold the origin story of the Trump-Cohen relationship, also told elsewhere, on Tuesday: Cohen was a resident at a Trump building and a member of the condo board in the early 2000s when he intervened in a dispute and impressed Trump. "So Trump said, 'Who is this guy? My lawyers that I give thousands of dollars to couldn't do it. I'd like to meet him,'" Cohen's uncle told the AP.
That incident is telling: Cohen wasn't acting as a lawyer, so much as a mediator and troubleshooter. And at many stages in his association with Trump since then, he also has been doing work that doesn't really seem primarily legal in nature.
Trump himself was—is—famously litigious. On real-estate matters, however, Trump Organization attorney Alan Garten tended to speak for the company. Marc Kasowitz, who briefly represented Trump in the Russia matter last year, often represented Trump in big cases, from the Trump University suit to an unsuccessful libel case against journalist Timothy O'Brien. Cohen, by contrast, has made light of his own poor performance at a lesser law school, a classmate told the AP. And while he practiced law for a time, Cohen made his fortune as a real-estate and taxi mogul, not in courtrooms.
Adam Davidson, who has reported at length on Trump Organization deals overseas, notes that Cohen was heavily involved in projects abroad, some of which have since come under scrutiny over whether Trump did insufficient due diligence. "He was not part of the Trump Org legal team in any real sense," Davidson writes. "Trump Org lawyers either set up contracts for deals others had brought or they handled litigation. Cohen did neither. He was a deal maker. The only non-Trump deal maker doing all those international deals."
Consider Cohen's three most prominent appearances connected to the Trump campaign. One came in August 2016, when, on CNN, Brianna Keillar confronted Cohen with the fact that polls showed his boss trailing. Cohen demanded to know which polls, to which Keillar replied, "All of them." Whatever role Cohen was playing there, it wasn't legal, nor was it politically informed.
More telling were the other two. In 2015, The Daily Beast uncovered an old anecdote in which Ivana Trump had accused Donald of marital rape. (She later backed away from the claim—and signed a sweeping gag order in her divorce agreement.) Cohen's threat to the Beast was less legal than brutal: "I will make sure that you and I meet one day while we're in the courthouse. And I will take you for every penny you still don't have. And I will come after your Daily Beast and everybody else that you possibly know. So I'm warning you, tread very fucking lightly, because what I'm going to do to you is going to be fucking disgusting. You understand me?" On matters of law, however, he was shaky, arguing that one could not legally rape a spouse—which hasn't been true in New York since 1984.
The other was the agreement with Daniels, which came shortly before the election. The details and legality of that agreement remain up for dispute, but Trump has said that he was unaware of the agreement, and Cohen says he paid Daniels out of his own pocket, raising questions about whether Cohen was serving as Trump's personal lawyer or something else. Daniels has also accused Cohen of sending a man to threaten her, which would be, to put it delicately, extra-legal.
Indeed, both of these cases show Cohen more in a "fixer" role than as a lawyer. It's a label he's embraced in the past. Cohen has compared himself to the TV character Ray Donovan, and told ABC in 2011, "If somebody does something Mr. Trump doesn't like, I do everything in my power to resolve it to Mr. Trump's benefit. If you do something wrong, I'm going to come at you, grab you by the neck and I'm not going to let you go until I'm finished." In 2017, he told The Wall Street Journal, "I am the fix-it guy … Anything that he needs to be done, any issues that concern him, I handle."
It can't hurt to have a J.D., but those aren't the kinds of skills you need to go to law school to learn. Cohen filled the void in Trump's circle left by Roy Cohn, the infamous lawyer who had once represented Joe McCarthy, but while Cohen has a similarly bellicose personality, he lacks Cohn's accomplishments as an attorney.
When Trump won, there was speculation that Cohen would get a White House job. He did not. Instead, Cohen entered into a curious "strategic alliance" with the major law firm Squire Patton Boggs. The agreement ended with the raid, but The New York Law Journal reports that Cohen's role was mysterious to staffers at the firm. The nature of that arrangement, and Trump's arrangement with Cohen, are important to understanding what happened.
Trump has reacted to the raid furiously, threatening anew to fire Mueller or Rosenstein, and tweeting, "Attorney–client privilege is dead!" As my colleague Adam Serwer has noted, there is an exception to attorney-client privilege, which is that it cannot be used to cover up fraud. Yet Trump's declaration is also begging the question, since we don't actually know when Cohen was serving as Trump's attorney. As Serwer reported, Trump and Cohen can't simply throw a tarp over every conversation they had and declare that it is privileged, unless it actually involved legal representation, and as is now clear, the nature of Cohen's work for Trump was not always providing legal counsel—often, it was a matter of taking care of business.
It's easy to see why Trump would value Cohen's fixer work (though he probably wishes Cohen had done a tighter job on the Daniels situation), but less clear why he'd need his legal advice. Since entering office, Trump has arguably been better represented than at any other time in his career. He has the White House Counsel's office; he has Ty Cobb, who is working the Russia matter from inside the White House; and he has a personal legal team, which includes Jay Sekulow and has previously included Kasowitz and John Dowd. The Trump Organization has its own representation.
The specifics of that attorney-client relationship will likely be central to wrangling over Cohen, and may help determine what else the public learns about the materials seized from him. Trump's response to the raid has been uncommonly furious, even by his standards. It's far more heated than his reaction when Rick Gates, his former deputy campaign manager, pleaded guilty, or when Mueller indicted Paul Manafort, his former campaign chair. Not since Michael Flynn has any individual's plight so inflamed Trump, and in that case he fired FBI Director James Comey, eventually triggering the special counsel's appointment.
It's possible that Trump simply loves Cohen as much as Cohen loves Trump—the latter told Donny Deutsch Wednesday that he'd sooner leap from a building than turn on his old boss. But Trump's history militates against that. He cut Cohn out of his life when the older lawyer was stricken with AIDS. He has frozen family members out of his life. It seems more likely that Trump's frantic reaction is related to whatever is in Michael Cohen's files. But what is that?