'We're Back'
The hawkish world of GOP national-security hands sees hope for renewed relevance in John Bolton and Mike Pompeo.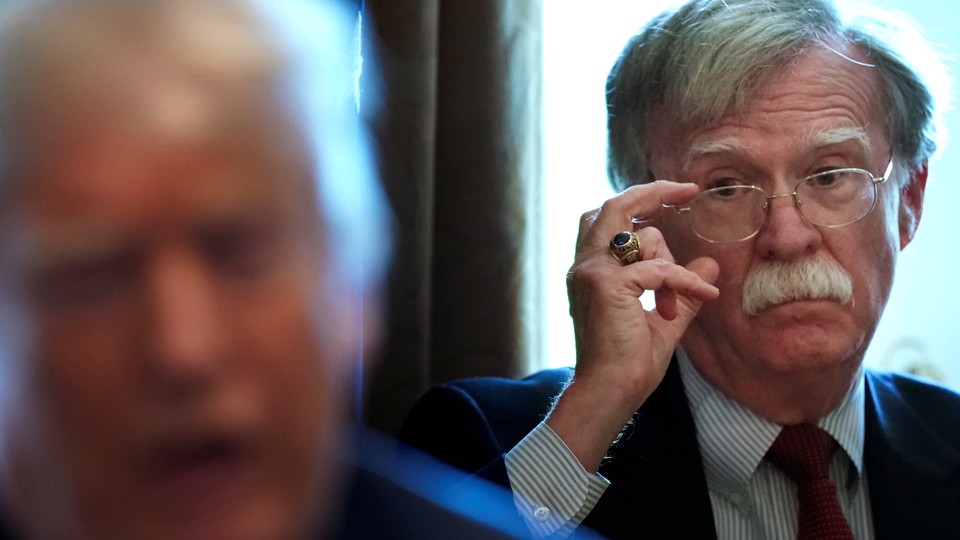 First, President Trump promised to drain the swamp of Washington. Very quickly, many of the swamp creatures were let back in. But a contingent of them stayed out: Republican foreign-policy hawks and centrists who had opposed Trump.
But the arrival of John Bolton to the National Security Council, and Mike Pompeo to the State Department, could spell a fresh start for Washington's Republican foreign-policy establishment, the kind of people who would have been automatic hires in a Jeb Bush or Marco Rubio administration. Many of them have been sitting on Capitol Hill or at think tanks, after also missing out on the action during the Obama administration. The tumultuous and bizarre Michael Flynn era, the messy, infighting fueled Flynn-to-McMaster transition at the National Security Council, and the head-scratching austerity reign of Rex Tillerson at the State Department? These, some in foreign-policy circles felt, were better avoided. Bolton and Pompeo, though, seem like a return to something more familiar to those whose worldview and experience were shaped by the Bush administration, or even earlier Republican administrations.
"It's back to the good old days," one Republican operative and Bolton ally, who spoke on condition of anonymity to avoid publicly criticizing friends of theirs pre-dating Bolton in the administration, said. "We're back."
But despite who serves under him, Trump is still the president. And statements made in the heat of the campaign—op-eds, public commentary, and especially signatures on anti-Trump letters—have had a lasting impact for some in the Republican foreign-policy sphere. The effective "blacklist" against Never Trumpers, who formed the core of the group that would be the likeliest pool of foreign-policy-related political appointees in a Republican administration, has still discouraged some who opposed Trump from even putting their names up for consideration.
At the same time, the new regime could lead to opportunities for a younger set, as older Bush Administration alumni start to age out of contention for the big jobs.
"With Tillerson and McMaster there were basically no normal conservative right-wing kids getting national-security jobs. Anybody who wrote an anti-Trump letter was iced out," the Bolton ally said.  "Now with Pompeo and Bolton, if it can last long enough, there's a chance to mold another generation of conservative foreign-policy types with real experience, a real network, and what does that mean for the next Republican administration? The people who work for Pompeo and Bolton could be the core of the movement for a long time to come."
Bolton and Pompeo don't exactly have a surplus of people to hire. Many Republicans in Washington have so far declined to work for Trump, wary of the administration's unceasing internal chaos and mistrustful of the president and those surrounding him in the White House. Or, they've been essentially disqualified due to past criticism of Trump. Both Bolton and Pompeo have been soliciting names. The atmosphere resembles the transition, with resumes flying around town from Hill types and think tankers. At the NSC, a list was drawn up for Bolton by outgoing National-Security Adviser H.R. McMaster's team, according to a source familiar with the list. Other sets of names are circulating unofficially. Already, changes are being made: NSC spokesman Michael Anton and Homeland Security adviser Tom Bossert both resigned over the past few days just before Bolton could fire them, and replace them with his own people. Anton was briefly considered but not chosen for the vacant White House communications-director job, according to a former White House official. On Wednesday, CNN reported that deputy national-security adviser for strategy Nadia Schadlow had also resigned.
The departures of Anton, Bossert, and Schadlow show that Bolton is serious about installing his own people, but the reshuffling is taking place during a major crisis—right now, the likely U.S. military intervention against the Bashar al-Assad regime in Syria.
A distinction is being made "between Never Trump people who disqualified themselves and people who signed the letters," one Republican foreign-policy source familiar with the deliberations on hiring said. "Even the Trump guys always distinguish between the first letter and the second letter." The first letter came out at the beginning of March 2016, in the midst of the primary season, and has over 100 signatories. The second letter signaled more irrevocable opposition to Trump, appearing in The New York Times in August 2016 when he was then the GOP nominee. Signatories to the letters included august names in the foreign-policy community like the neoconservative intellectual Robert Kagan, who signed the first letter, and retired Air Force general, former NSA chief, and former CIA Director Michael Hayden, who signed the second.
This source said that even the nixing of Bush administration official Elliott Abrams last year for a top job in the State Department could be less definitive than it appears. Abrams did not sign either of the letters, but he had criticized Trump and had written an op-ed in May 2016, after Trump clinched the nomination, titled "When You Can't Stand Your Candidate," which sank his chances for the State job after Trump caught wind of it. But some insiders think Abrams could have a shot at a job in the State Department again now.
It's also true that some Trump critics did make it inside the administration, like Brian Hook, a founder of the John Hay Initiative, alongside never-Trump Republicans Eliot Cohen and Eric Edelman. Hook is now the director of policy planning at the State Department. And Nikki Haley, who duked it out with Trump at various points during the campaign, is now the U.S. ambassador to the UN.
Still, these appear to be exceptions, and "there's no evidence yet of a change in blacklist," one Republican foreign-policy hand who spoke on condition of anonymity in order to not damage their chances of potentially joining the administration said.
That hasn't stopped people from trying. One Republican congressional aide, who is plugged into the process and was not authorized to speak publicly about it, said they had gotten phone calls from four different people asking for advice on how to get their names in despite having signed a letter.
"The whole revenge-after-the-election kind of thing subsided and now we're into managing the government," this person said. "I think that's probably changed some tunes."
Staffing up at the National Security Council and at the State Department won't necessarily happen quickly. Some positions that need to be filled at State—and there are many vacant positions—require Senate confirmation, and there are matters of security clearances and other bureaucratic details. Pompeo himself hasn't been confirmed yet; his hearing is on Thursday.
"The biggest challenge both Bolton and Pompeo face are staffing challenges," Edelman, who signed both letters during the campaign, said. "When it comes to political appointees, Bolton and Pompeo are going to be fighting over the same limited talent pool." He pointed out that many of those in the 55 to 65 age bracket whom Pompeo could cull for senior positions were either career diplomats who had fled the government under Tillerson, or had signed letters that made them off-limits as political appointees.
Pompeo and Bolton are not, themselves, comforting enough for the most ardent anti-Trump conservatives to feel comfortable going inside. "If you really don't like Trump you're not gonna go in because John Bolton's there now," one of the Republican foreign-policy sources said.
That goes even for Bolton's former employees. Some sources suggested to me that Mark Groombridge, who worked for Bolton at the U.S. mission to the UN and at his super PAC, might be someone Bolton is considering hiring. But when I reached out to Groombridge, he was unequivocally a no on the idea, sending a multi-part email listing his complaints with Bolton and, more importantly, with Trump, whom he adamantly opposes and views as a "misogynistic, narcissistic, and frankly asshole [sic]."
"It frankly doesn't really matter who the national-security adviser is," Groombridge said. "I don't know that John has his ear. That's not a criticism of John, that's just a function of the president."
Foreign-policy insiders are also talking about Fred Fleitz, another former Bolton aide who went on to join Frank Gaffney's Center for Security Policy, as a possibility. A Bolton spokesperson responded within minutes to turn down an interview request after I sent an email to Fleitz's CSP email address.
Johnny DeStefano, the head of the White House office for personnel, didn't respond to a question about whether the "blacklist" still exists. A White House spokesperson didn't respond to a request for comment.