Trump Throws Ronny Jackson Under the Bus
The president appears ready to blithely sacrifice his nominee for veterans affairs secretary as part of a long-running war against the Senate confirmation process.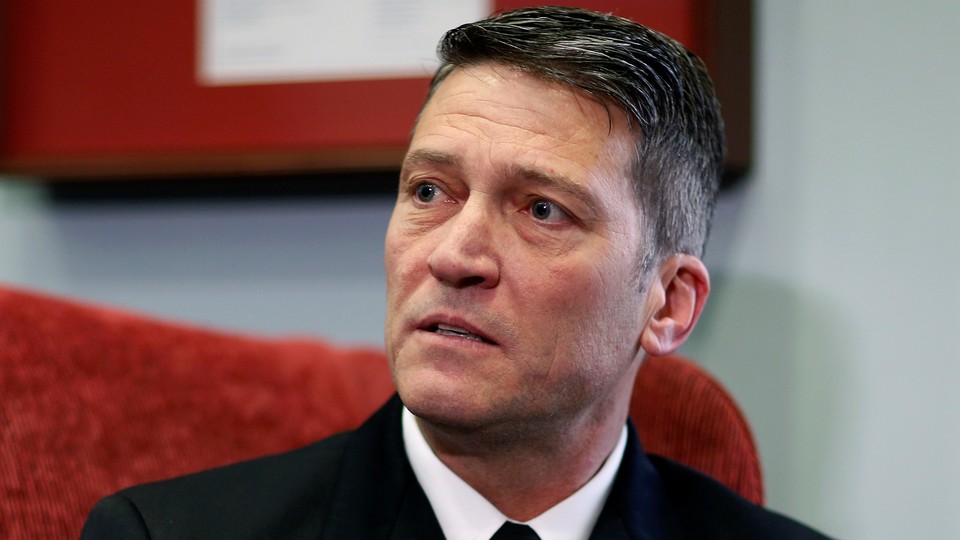 Hours after news of allegations of misconduct emerged against Rear Admiral Ronny Jackson, the White House physician and President Trump's pick to be the next secretary of veterans affairs, the president had a bizarre commentary to offer.
"I told Admiral Jackson just a little while ago, what do you need this for? This is a vicious group of people. … What do you need it for?" Trump said Tuesday, during a joint news conference with French President Emmanuel Macron. "I wouldn't do it. I wouldn't do it. What does he need it for? I don't think personally he should do it. It would be totally his decision."
I don't think personally he should do it.
Could there be a stranger thing to say about the man who you nominated to take the job—whom you delivered over to an "ugly" and "disgusting" confirmation process?
Yes, Trump offered words of support for Jackson: He said he'd stand behind the doctor if he kept himself in the running, vouched for his character, and said he was unaware of the allegations against him. But several times, he repeated the question of why Jackson would do it.
Why indeed? Jackson could have, theoretically, said no, but as has been remarked often, it's very hard for someone to tell the president of the United States no when he asks them to serve the country. This is especially true for Jackson, an active-duty member of the Navy, who would have been turning down the commander in chief. Indeed, Trump has repeatedly tapped current and former military officers, relying on their sense of duty and obedience to overcome any other hesitations. Jackson's reward has been for his name and reputation to have been dragged through the mud, which neither he nor Trump can undo, even if he withdraws now. (It's unclear whether the allegations, of drinking on the job, creating a hostile work environment, and overprescribing medications, have merit.)
Trump didn't consider Jackson's qualifications for the job when he appointed him, and he didn't bother to vet him. He was just a useful instrument—the person who was nearest to him, whom he trusted, who wouldn't say no, and who would meet the bare-minimum requirement as a nominee for VA secretary, so that the president could fire David Shulkin. Now, Trump isn't really treating him as a human being, either. In his comments Tuesday, he blithely torpedoed Jackson's nomination, treating him as a sacrifice in his ongoing war against the Senate confirmation process.
"I don't want to put a man through—who's not a political person—I don't want to put a man through a process like this. It's too ugly and too disgusting," Trump said. He gloated, inexplicably, that CIA Director Mike Pompeo, his pick to replace Rex Tillerson as secretary of state, had eked his way out of the Senate Foreign Relations Committee on Monday, trying to sidestep that the reason Pompeo almost didn't get a vote of approval was opposition by senators in both parties. (Mid-answer, Fox News reporter John Roberts also had to explain what a "present" vote was, to the president of the United States.)
Last week, the president tweeted this:
Democrats are obstructing good (hopefully great) people wanting to give up a big portion of their life to work for our Government, hence, the American People. They are "slow walking" all of my nominations - hundreds of people. At this rate it would take 9 years for all approvals!

— Donald J. Trump (@realDonaldTrump) April 19, 2018
As he pointed out Tuesday, fact-checkers, like The Washington Post's Glenn Kessler, had assessed that statement and found it accurate as far as the nine years and Democratic obstruction charges are concerned, but there's important additional context that goes beyond those simple facts. Democrats have done what they can to slow down the confirmation machine, including invoking cloture to force a maximum of 30 hours of debate. But Democrats have had plenty of help in slowing down the confirmation process—from Trump himself.
First, the president has often chosen nominees who were poorly qualified or inadequately vetted for their jobs, Jackson being only the latest example. That has meant that nominees have had to be withdrawn, or have pulled out before they are formally nominated, slowing down the process. Second, he has been historically slow to nominate people to fill posts, with more than 200 Senate-confirmed posts still awaiting a selection. Third, he has seen very high turnover in top jobs, meaning that he's had to nominate multiple people, and go through the confirmation process multiple times, for some jobs.
The Trump administration's inattention to vetting—or, in the case of Jackson, the decision to eschew it entirely—and slow pace suggest that the president's real beef is not with the specifics of the confirmation process, but with the process itself. As he has demonstrated in his frustration with Congress during the health-care and tax-bill processes, and with the courts at many stages, Trump remains uncomfortable with the checks and balances of the federal government. He still wishes he could operate as he did when he was the leader of his own, comparatively small, private corporation, and could deliver an order and have it carried into action.
One irony is that, without obstruction of the Senate confirmation process, the president would probably be back at the Trump Organization rather than in the Oval Office. In a clever—and to some eyes, dastardly—move, Senate Majority Leader Mitch McConnell blocked Merrick Garland's nomination to the Supreme Court for 10 months. As Trump himself acknowledged during the presidential campaign, this was essential to Trump's chances, because it gave conservatives who might otherwise have refused to vote for him a reason to hold their noses and pull the lever. More than a quarter of Trump voters deemed the open seat on the Court the most important factor in their vote, according to exit polls, and almost another half said it was an important one.
When Trump has had the opportunity to choose aides without the shackle of Senate confirmation, it's often gone quite poorly. That's the process that gave the country National-Security Adviser Michael Flynn, who lasted 24 days before being fired for lying to Vice President Mike Pence, and who has since pleaded guilty to lying to the FBI; chief strategist Steve Bannon, whom Trump fired and later said had "lost his mind"; Rob Porter, who had been accused of domestic violence by two former wives; body man John McEntee, whose finances were under investigation; and Anthony Scaramucci, the 10-day terror of the communications department. Perhaps rather than rail against it, Trump should thank the Senate for protecting him from his own hastiness.