Donald From D.C. Calls in to Fox and Friends
In a rambling interview, the president threatened to intervene in the Justice Department, disclosed "very, very secret" meetings with North Korea, and revealed that Abraham Lincoln was a Republican.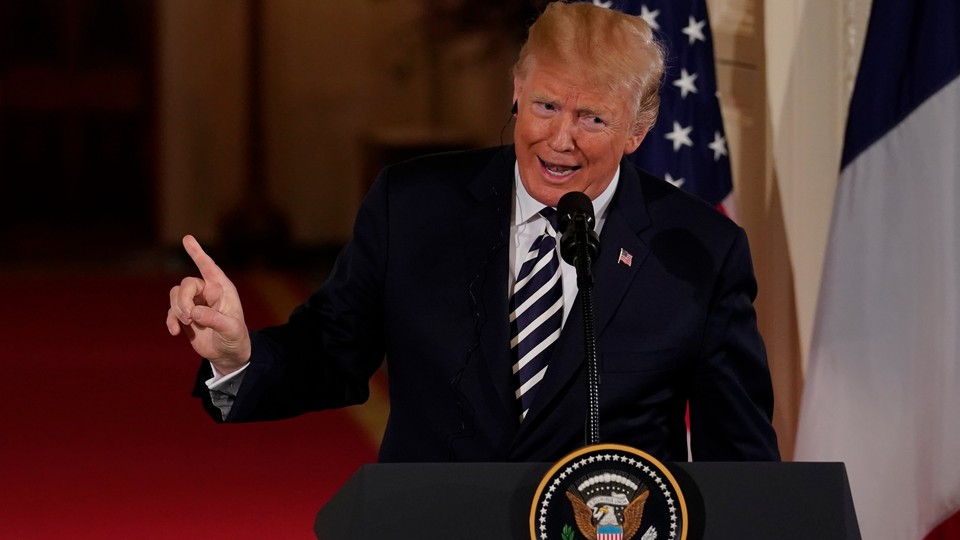 Updated on April 26 at 10:21 a.m.
President Trump isn't great at avoiding trouble. On Thursday alone, his nominee to lead the Department of Veterans Affairs, Ronny Jackson, withdrew amid allegations of misconduct; Environmental Protection Agency Administrator Scott Pruitt is set to be grilled about allegations of misconduct on Capitol Hill; and his longtime fixer Michael Cohen was set to appear at a court hearing in Manhattan, a day after saying he'd invoke his Fifth Amendment right against self-incrimination in a suit in California.
But if Trump can't avoid problems, he can at least try to grab the spotlight himself when they crop up. That's what the president did during a wide-ranging and characteristically bizarre call-in to Fox and Friends Thursday morning. It was the president's first television interview in some time—he called in to another Fox show two months ago—and he didn't hesitate to make news, if not sense. The hosts seemed shell-shocked when it was over.
"I think he was awake and had a lot to say," Steve Doocy said.
"He is a morning person," Brian Kilmeade replied.
Summarizing the interview would be impossible, but a number of moments stood out. Trump appeared to contradict earlier denials, saying Michael Cohen had represented him in a matter with Stormy Daniels, who has alleged an affair with the president. He defended Jackson, saying the allegations against him were false. He repeatedly threatened to intervene in the Justice Department, and accused former FBI Director James Comey of crimes. He appeared to endorse the popular vote over the Electoral College. He disclosed new details of talks with North Korea. For good measure, he complained about Hillary Clinton and the Democratic primary debates two years ago.
Trump defended Jackson, saying, "These are all false accusations. These are false. They are trying to destroy a man." He predicted that Senator Jon Tester, a Montana Democrat who has spoken the most about the allegations publicly, would be punished in his reelection campaign. Trump brushed aside concerns that Jackson was not equipped to run the federal government's second-largest department. "We can talk about experience but the VA, when you think about 13 million people, you could take the head of the biggest hospital corporation of the world and it's peanuts compared to the VA. So nobody has experience," Trump said. He said he had picked a new VA nominee, someone "with political capability," but would not name the person.
Trump distanced himself from Cohen, who is defending a lawsuit from Daniels and is also fighting in New York to shield documents seized by the FBI from federal prosecutors. Trump has also intervened to try to hold the documents back, saying they are privileged attorney-client communications.
"Michael is a businessman," he said. "He has got a business. He also practices law. I would say probably the big thing is his business and they're looking [at] something having to do with his business. I have nothing to do with his business, I can tell you."
Trump said that Cohen had represented him in a "tiny little fraction" of legal cases: "Like with this crazy Stormy Daniels deal, he represented me." Trump previously said he did not know of the $130,000 payment that Cohen arranged to Daniels in exchange for his silence about an alleged past affair with Trump.
Underscoring the danger of such a free-wheeling interview, federal prosecutors in Manhattan filed court documents less than two hours later citing Trump's "tiny little fraction" remark to bolster their claim that most of the documents seized from Cohen are not privileged.
Trump railed against Comey, the Justice Department, and Mueller's team, which he characterized as politically motivated. He called Comey a "leaker" and a "liar" who had disclosed classified information, charges he had made before, but for which there is no conclusive evidence.
Fox and Friends is very friendly territory for Trump, but even Doocy pushed back on the president's rhetoric about Comey.
"He is guilty of crimes and if we had a Justice Department that was doing their job instead of—" Trump was railing, when Doocy cut in to remind him: "It is your Justice Department, Mr. President. You're the Republican in charge of it, you got a Republican running it."
"I have taken the position, and I don't have to take this position and maybe I'll change, that I will not be involved with the Justice Department," Trump said. This is not a magnanimous, unusual stand to take: Since Watergate, presidents have granted the department broad leeway to act independently, and have not demanded specific prosecutions.
"It is all lies and it is a horrible thing that is going on, a horrible thing," Trump continued. "Yet I have accomplished with all of this going on more than any president in the first year in our history. Everybody, even the enemies and haters admit that. We have accomplished more than any president in the first year by far." No part of this statement is true.
Later, as the hosts tried to get him to wrap up the interview, Trump repeated his threat to intervene, bringing up fired FBI Deputy Director Andrew McCabe. "Our Justice Department, which I try and stay away from, but at some point I won't, our Justice Department should be looking at that kind of stuff, not the nonsense of collusion with Russia." (The department's inspector general has already referred McCabe for prosecution.)
Trump did, however, acknowledge having spent a night in Russia during the 2013 Miss Universe pageant. In recently leaked memos, Comey said that Trump had twice claimed he did not stay there overnight.
Trump also shed new light on talks with North Korea, including a trip by CIA Director Mike Pompeo, Trump's nominee to replace Rex Tillerson as secretary of state.
"He wasn't supposed to meet with Kim Jong-Un but he did," Trump said. "We have incredible pictures of the two talking and meeting which I would love to release if we can … They were with each other more than an hour." Trump also suggested that Pompeo had met with North Korea's top spymaster. "He also spoke with his counterparts in north Korea. They had a great meeting. He then left. It was very, very secret," he said, without apparent irony. The president said that discussions had narrowed to three or four dates and five locations for a summit between himself and Kim.
The hosts also asked Trump to weigh in on a series of supportive tweets by Kanye West on Wednesday. He attributed West's comments to dropping black unemployment, and suggested that the GOP could win over African American voters. "People don't realize, if you go back to the Civil War the Republicans really did the thing. Lincoln was a Republican," he said, citing an extremely well-known fact.
As the interview reached its end, the hosts tossed the president a softball, asking him how he'd grade his performance. His grade was predictable—A+—as was the meandering nature of his answer. He didn't miss the chance to bring up Hillary Clinton and the 2016 election. He noted his Electoral College triumph, but said, "I would rather have the popular vote because it's, to me, it's much easier to win the popular vote." Trump lost the popular vote by nearly 3 million votes.
Finally, Kilmeade stepped in to politely cut Trump off and to offer him a graceful closing. "We could talk all day but looks like you have a million things to do," Kilmeade said, and brought the interview to an end. Trump has only one event listed on his public schedule for the day.