What Bill Clinton Could Teach President Trump About Dealmaking
As Trump prepares to sit down with Kim Jong Un, he'd do well to consider Clinton's unorthodox approach to crafting the Good Friday Agreement, which ended the Troubles in Northern Ireland.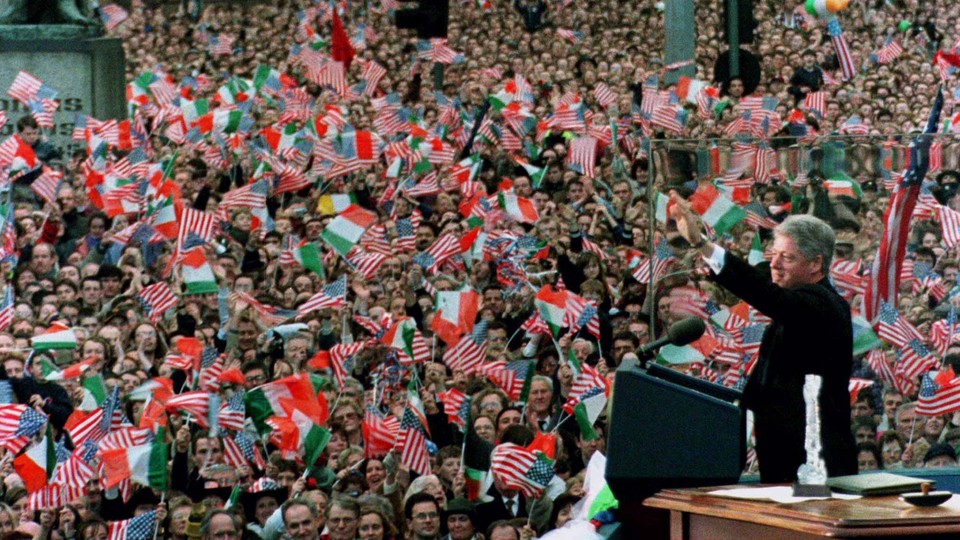 In the coming weeks, President Trump is expected to engage in unprecedented negotiations with Kim Jong Un about North Korea's nuclear arsenal. There's reason to question the administration's capacity for this challenge: Trump himself has never revealed a comfort with the nuances of policy, and the staffing apparatus at his disposal is shaky at best—with constant churning in White House personnel, lingering vacancies at the State Department, and a lack of experience among some of the staffers advising him on foreign policy.
Despite these novel circumstances, the administration has no shortage of historical examples from which to glean the intricacies of diplomacy. But one in particular seems especially relevant to a diplomatic novice like Trump: the Good Friday Agreement ending violence in Northern Ireland, which was finalized 20 years ago Tuesday under the guidance of former President Bill Clinton. It goes without saying that the dispute in Northern Ireland differs significantly from the North Korea issue, where both sides are brandishing nuclear weapons. But Clinton's example could nevertheless be instructive: It shows what a leader who is mindful of history; aided by a skilled and empowered staff; and persistent in his commitments, but unorthodox in his approach, can achieve on the global stage.
Clinton's role in the agreement—described in confidential oral-history interviews recorded by the University of Virginia's Miller Center—dates back to his 1992 presidential campaign, when he openly pledged that he would, if elected, grant a travel visa to Gerry Adams, the head of Northern Ireland's Sinn Fein political party. At the time, the Troubles, a bloody conflict between Catholic Irish nationalists and pro-Britain Protestants, had been ongoing for three decades and killed thousands of people. The visa would require only modest executive action from Clinton, but it would dramatically alter the American approach to Northern Ireland and the intractable conflict there between its Protestant majority and beleaguered Catholic minority.
Sinn Fein was commonly understood to be the political wing of the Irish Republican Army, a paramilitary organization that had used violent tactics to advance the minority's political cause. While Adams repeatedly denied membership in the group— advocating political action over violence—he had been thoroughly entangled throughout his life with IRA members and refused to renounce violence as a last resort. American intelligence and law-enforcement agencies labeled Adams a terrorist, and he was also considered a problematic figure among U.S. diplomatic hands. Because Northern Ireland is and was part of the United Kingdom, London viewed the Troubles as a domestic issue and vigorously opposed American rapprochement with anyone connected to the violence—especially Gerry Adams. Accordingly, American policymakers were highly deferential to the British.
Adams wished to come to the United States for two reasons. First, he sought to mobilize a large and politically active Irish American population in hopes of getting Washington to lean more heavily on London to establish an equitable power-sharing arrangement in Belfast, Northern Ireland's capital. Second, the grant of official permission to come to America would elevate Adams's stature back home among those competing to lead the Irish republican cause.
Clinton's willingness to grant a travel visa did not arise from any special familiarity with Adams himself—although Clinton had been paying attention to the Troubles since his time as a student at Oxford University in the late 1960s. Rather, he was moved because of a principled belief in the advantages of talk over violence. "Clinton is a conciliator; that's his thing," said Strobe Talbott, Clinton's former deputy secretary of state and his friend at Oxford. But Clinton also had a political incentive: He made his public commitment to Adams shortly before the Democratic primary in New York, which has a large Irish American voting bloc. Irish American voters were also important in several Midwestern states critical to Clinton's fate in the November general election.
Once Clinton arrived at the White House, however, he backed away from his campaign promise, twice refusing to grant Adams a visa. He'd bitten off more than he could chew in his first term on a range of issues, from his failed health-care overhaul to the implementation of his "don't ask, don't tell" policy in the U.S. armed forces. But more importantly, Clinton's decision was based on what he was hearing about Adams through official diplomatic channels. His presidential briefings—including classified reports from the Justice and State departments and the CIA—focused intently on Adams's IRA connections and continued to paint him as unworthy of the president's trust.
While these were sources Clinton couldn't easily ignore in the short term, he remained committed in principle to finding a way to advance the peace process. To do this, he made two personnel choices that, in retrospect, demonstrate the value of putting the right people in the right places and letting them do their jobs—a tip Trump would do well to consider as his White House prepares for Kim Jong Un.
First, he named as his deputy national-security adviser Nancy Soderberg. Soderberg had helped guide Clinton's foreign-policy team during his first campaign, but more importantly she had served for six years on the staff of Senator Ted Kennedy, where she handled his Ireland portfolio. Little meaningful happened in U.S.-Irish relations that did not in some way cycle through Kennedy's office, both because of his renowned Irish family history and because of the large Irish American population in Massachusetts.
Second, Clinton doubled down on the Kennedy connection by designating the senator's sister, Jean Kennedy Smith, ambassador to Ireland. Smith, like the senator, had a long familiarity with Ireland's problems, and her strongest credential was undoubtedly her connections. She was uniquely positioned to get the ear of key people on both sides of the Atlantic and to gather unfiltered intelligence on the ground in Dublin. Smith developed a particularly productive relationship with a little-known Catholic priest, Alec Reid. According to Adams's oral-history interview about the peacemaking process, Reid was an indispensable source of information about Northern Ireland otherwise unknown to American authorities, whose "special relationship" with Britain skewed the intelligence received by the State Department. Reid and Smith "became soulmates … against the background of awful atrocities" being committed in the North, Adams said.
By the end of Clinton's first year in office, he hadn't done much to promote peace in Northern Ireland. But the political environment there had nevertheless begun to change "just below the surface," to use Adams's phrasing: The competing factions in Northern Ireland seemed increasingly willing to find an end to the cycle of conflict and retribution.
This subtle evolution didn't register within the State Department, but it did with the people Clinton had chosen to work on the problem. John Hume, who was one of the most respected political figures in Northern Ireland pursuing a nonviolent end to the Troubles, quietly told both Kennedys, as well as Soderberg, that "now, I think, it's time."
In light of these assurances, the three Clinton allies urged the president to take action on Adams. Although the president agreed relatively quickly to do so, the decision to grant the visa was still a difficult one for him. It came after a year of political pain stemming from fights over tax increases and trade policy, and in the midst of erupting personal scandals. What's more, Clinton's Cabinet-level advisers were still vigorously opposed to his plan. Soderberg, in her oral-history interviews, described the moment that Clinton presented his decision to them:
The Cabinet got into it, screamingly, saying, "Don't you dare!" … [FBI Director] Louis Freeh was apoplectic. [Attorney General] Janet Reno was apoplectic. [Secretary of State] Warren Christopher—opposed to it. Louis Freeh was anti-terrorism, and Janet Reno the same thing. "You can't do this; it will send a [bad] message to our anti-terrorist allies." Warren Christopher was saying that it would ruin our relationship with Britain.
Clinton, however, stuck with his back-channel guidance. He issued the visa in January 1994 in order to "boost Adams's leverage within Sinn Fein and the IRA, while increasing American influence with him," as Clinton later described in his memoir, My Life.
It accomplished both aims. Adams's brief visit, limited to a speech to the National Committee on American Foreign Policy in New York City, went off without a hitch. Adams later observed in his oral history that Clinton's decision showed the IRA hardliners unwilling to turn away from violence "that we did have some clout, that our argument within Republicanism was that you can only use armed struggle if there's no alternative. But if there was an alternative, why on Earth would you be involved in anything other than peaceful and democratic means to achieve your goals?"
The Irish American journalist Niall O'Dowd, who had served as a secret U.S. conduit to Adams throughout the peace negotiations, later wrote about the importance of Clinton taking a chance on Adams when the American law-enforcement and intelligence communities were vigorously opposed to it. His "unorthodox, outside-the-box maneuver played a massive role in bringing an end to the violence in Northern Ireland," O'Dowd wrote, proving "that the soft power of an American president when used so brilliantly could solve a problem so difficult some people … pronounced it unsolvable."
The president later dispatched former Senator George Mitchell of Maine to engage in negotiations on an accord permanently ending the violence in exchange for increased power sharing in Belfast. Mitchell, who had also been a federal judge, steered the lengthy and painstaking process that ultimately concluded with the Good Friday Agreement on April 10, 1998. British Prime Minister Tony Blair, who helped shepherd it to completion, reflected on Clinton's role in an oral-history interview recorded in 2010:
During the critical negotiations, … he basically stayed out all day and night, really, to help us, to be at the end of the phone for counsel and to be on the phone for prodding and pushing the parties to get an agreement. … He could see this was, essentially, in some ways, an old-fashioned dispute. He was, in his soul, a kind of modernizer in his outlook and was thinking, "Let's sort this out and move forward." … It was remarkable how he got the issue. Got it, understood it. When I was talking to him during those three or four days, you really didn't have to explain it to him very fast. He just got it instinctively and immediately.
The coming weeks will reveal how committed Trump is to the negotiations with North Korea; according to The New York Times, administration officials are now "working to lay the groundwork" for a summit meeting next month. O'Dowd, in his oral history of the peace process, suggested one additional trait of Clinton's that helped make the negotiations work—and it's one of special significance to President Trump. "I think the fact that Clinton was a [political] outsider helped a lot, that he wasn't a creature of the establishment," O'Dowd explained in his oral history of the peace process. "[He] was a guy who didn't necessarily recognize accepted wisdom. I think that was deeply important on the issue of Northern Ireland." Clinton's outsider status meant that he had a productive skepticism about the advice he was getting through formal channels and thus he was able to see "an old-fashioned dispute" with fresh eyes. While the current White House hasn't publicly revealed the keen sense of history, the skilled staff work, or the persistent application of effort that helped produce a breakthrough peace in Northern Ireland, Trump's status as a geopolitical outsider is a given.
In November 1995, Clinton made an unprecedented presidential visit to Northern Ireland, at a time when the peace process was advancing but still incomplete. Trump could learn something from the video footage of that trip. Tens of thousands of ecstatic Irishmen and women poured into a city square to see Clinton light Belfast's Christmas tree, in what some would later recall as a moment of electric transcendence. They were hopeful and happy, Soderberg remembered, because "all of a sudden they thought, 'Maybe my life is about to get better because the president of the United States is here.'" The assembled masses chanted Clinton's first name, "though in the Belfast accent, hilariously, it sounded more like 'bull bull,'" O'Dowd recalled. Such moments do not often arise from unpredictability and chaos. Rather, that was exactly what Northern Ireland was escaping.