The White Men's Club Leading America's Largest Cities
The diversity of the country's urban centers is not reflected in City Hall: In the 15 biggest U.S. cities, all but three mayors are white men, and none are women.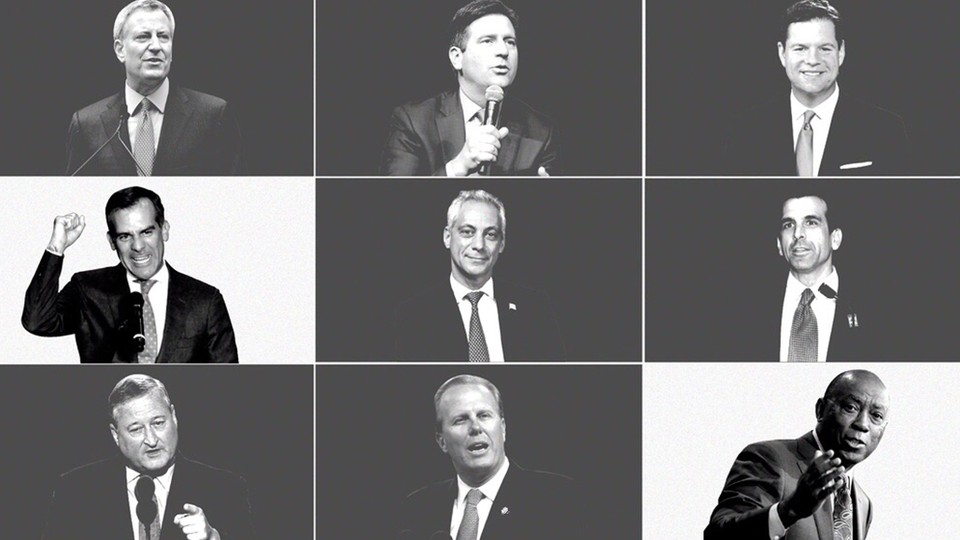 For a brief period beginning last December, London Breed had gained entry into a club that has, of late, almost exclusively belonged to white men: the ranks of big-city mayors.
Breed, a 43-year-old African American woman and president of San Francisco's Board of Supervisors, had automatically become the city's acting mayor following the sudden death of Ed Lee, who had served for seven years before succumbing to a heart attack on December 12.
Only two women have ever served as mayor of San Francisco, and both of them originally took office not by election, but after a death. The first was Dianne Feinstein, who assumed the mayoralty after the assassination of George Moscone in 1978. She stayed in office for a decade, turning her accidental ascendancy into a two-term stint as mayor, and she used that perch to launch a bid for Senate, where she is now running for her fifth full term.
Breed was the second. But she was gone just six weeks later, ousted by the same Board of Supervisors that had twice elected her as its president. In her place the Board installed Mark Farrell, who is white, to serve as temporary steward until a citywide election in June. Officially, the Board was concerned that incumbency would give Breed a leg up in her campaign for mayor over another member running, Jane Kim. Yet Feinstein was allowed to enjoy the same advantage four decades earlier, and some of Breed's supporters thought the decision smacked of racism.
"There's no 'thought' here—I know," said Reverend Amos Brown, the civil-rights activist and longtime pastor of San Francisco's Third Baptist Church. "I've been a pastor here for 42 years, and San Francisco has gotten by with the image, an untruth, that it is liberal and progressive. But it mirrors that sin, America's original sin, of race."
Breed is now campaigning to reclaim the mayor's post, and if she wins the June election, she'll once again become the only woman of color in a club that remains entirely male and overwhelmingly white.
America's largest urban centers are its bastions of diversity and progressive politics—most are overwhelmingly Democratic, and in many of them, whites no longer make up a majority of the population. But that diversity is not represented in City Hall. Of the 15 most populous cities in the United States, all but three are led by white male mayors. The exceptions are Sylvester Turner of Houston, who is African American; Ron Nirenberg of San Antonio, who is one-quarter Filipino; and Eric Garcetti of Los Angeles, who is part Mexican American.
With Breed's ouster, none of the mayors in the top 15 cities are women. Ivy Taylor left office as San Antonio's mayor after Nirenberg defeated her reelection bid in June 2017. The largest city currently run by a woman is Fort Worth, Texas, which is 16th on the list; Betsy Price is serving her third term there as mayor.
The dearth of women and people of color running big cities is about more than a lack of representation atop local government for the nation's most densely populated regions. It also cuts off a key pathway for political advancement to higher offices like governor, senator, and even president.
It was not always like this. Even just a few years ago, women or non-white men held the mayoralties in eight of the 15 largest cities and 16 of the top 25. Lee had been the first Asian American to helm San Francisco before he died. Women led Texas's two biggest metropolises. Houston, where Annise Parker served for three two-year terms, was the largest city ever to elect a woman or an openly gay person as mayor. And with Taylor's victory in 2015, San Antonio became the biggest city to elect an African American woman to City Hall. But men now lead both cities, and white men have in recent elections replaced black mayors in Philadelphia; Jacksonville, Florida; and Columbus, Ohio.
Outside the top 15 cities, there have been recent bright spots for women and candidates of color. In 2014, voters in Washington, D.C., elected Muriel Bowser as their second African American woman mayor.* Two years later, Vi Lyles accomplished the same feat in Charlotte, North Carolina. Jenny Durkan didn't become Seattle's first woman mayor when she took office in November, but she was the first in nearly 90 years.
Yet in Detroit and Memphis—two majority-black cities—white men won recent mayoral elections over African American candidates for the first time in decades.
Political scientists and women's advocacy groups attribute the lack of women mayors in the biggest cities to a pipeline problem, rooted in their longtime underrepresentation in positions of power. The drop-off in minority representation in City Hall, however, is a more recent phenomenon. Experts say there's no single factor to explain why, and they're not entirely sure it constitutes a trend. The voter coalitions that dominate municipal elections are unique to each city, as are the issues and challenges that animate the campaigns. In other words, the minority drop-off "may not be a long-term trend," said Marc Morial, the former mayor of New Orleans who is now president of the National Urban League. "Sometimes it's specific and peculiar about that election, those candidates, and those circumstances."
Still, the reason why there isn't one single factor could be that there are actually a number of them—from the changing demographics of the cities themselves, to shifts in how black and white candidates assemble diverse coalitions, to restrictive voting laws and declining turnout in local elections that favor older white voters over minorities.
---
From the 1960s through the 1980s, white flight from major U.S. cities to their surrounding suburbs helped African Americans accumulate power in urban politics, culminating in the election of black mayors like Harold Washington in Chicago, Wilson Goode in Philadelphia, and David Dinkins in New York—each of whom took office between 1983 and 1990. To a certain extent, the return of whites to city living over the last two decades has halted that swing.
"In a lot of these places, the only people left in cities were people of color, and that's where we saw the rise of black mayors in these kind of 'chocolate cities,'" said Christina Greer, a political scientist at Fordham University. "But now white people want cities again."
The explanation for why minority groups—and African Americans in particular—are less represented among big-city mayors is more complicated, however, than a dilution of voting power caused by the return of whites. For one, while in many cities the proportion of voting-age whites is no longer declining, it has not matched its level from decades ago, before the exodus to the suburbs began. "It's more of a stabilization than a resurgence," said John Mollenkopf, a political scientist at the City University of New York.
For another, as more whites are staying in or returning to big Northern cities, blacks are leaving. "The black population of many Northern cities is either in absolute or relative decline from its high points," Mollenkopf said. "I'm not sure that anyone has fully figured out why this is so. Gentrification may play a role, but also the intergenerational shift of African American professionals back toward the South. There's been a net migration towards the South of African Americans for several decades now." Some have been displaced by the rising prices associated with gentrification, he said, while others have chosen to pursue opportunities in Southern cities with a lower cost of living, like Charlotte and Atlanta.
Whether as a direct result of these movements or not, Charlotte has elected three black mayors in the 21st century, while Atlanta hasn't had a white mayor since the 1970s. Chicago and New York, by contrast, haven't elected black mayors since Washington and Dinkins, respectively, in the 1980s.
Morial sees the shift as less the result of demographics and more the product of voting behavior and candidate quality. Even in progressive cities, restrictive voting laws and the timing of mayoral elections—which unlike federal elections are held in odd-numbered years in many cities—discourage turnout among African Americans. New York, for example, has no early voting and no same-day or automatic registration. Those limitations compound in urban areas where the population is more transient; renters who move apartments every couple of years have to change their registrations or no longer live close to where they vote. "There are some Southern states that have easier voting laws than New York," Greer said.
The first African Americans elected to lead major cities often won high-turnout, "transformative" campaigns, Morial said. By contrast, many recent elections have been determined by low-turnout Democratic primaries, which function as de facto general elections and are historically dominated by white voters. "You've seen a decline in enthusiasm among African American voters in local elections," he said. As an example, Morial pointed to last year's Democratic primary in St. Louis, where higher white turnout helped Alderwoman Lyda Krewson narrowly defeat city Treasurer Tishaura Jones. Krewson went on to win the general election easily.
Voter turnout in local elections has always been low, and it's gotten worse in recent decades, studies of voting behavior in municipal elections have shown. In most of the biggest U.S. cities, fewer than one-third of eligible voters turned out in the most recent municipal elections. And according to data culled by researchers at Portland State University, those who do cast ballots in major cities tend to be significantly older than the general population, a factor that might weigh against women and candidates from diverse backgrounds.
But it's not just about turnout, Morial told me.
In New York and Chicago, he said, strong African American candidates have either chosen not to run or haven't been able to build the coalitions necessary to win. He cited Representative Hakeem Jeffries of Brooklyn, a rising Democrat in the House who chose not to take on Mayor Bill de Blasio in New York last year. "Some of them may not want the challenge and the headache of being mayor," Morial said. He noted that his friends who've served as mayors and governors—such as Ed Rendell in Pennsylvania and Martin O'Malley in Maryland—have all said the city job was much more difficult. "There are easier jobs in politics than being mayor," Morial said. "The mayor is the hardest one, after probably being president."
He said that black candidates may also have to work harder now to win the support of black voters, who in earlier decades might have backed a black candidate because they were trying to achieve a historic first. "That's a fascinating trend about the sophistication of African American voters who are not going to reflexively support an African American candidate if they don't think the candidate is a quality candidate or has paid their dues," Morial said.
In municipal elections, candidates of every race have to reach out beyond their bases. But in a Democratic primary, it's often easier for the white candidate to do so, Greer said. "Some black voters are looking at liberal and progressive white candidates who are going against black candidates who might be a teeny bit more conservative, because they're trying to pick up white votes," she told me. "Whereas white candidates will always pick up white votes, and so they're trying to cater to blacks."
Perhaps the clearest example of this came during de Blasio's first election in New York, when he emerged from a large field of Democrats by campaigning against the use of "stop-and-frisk" by police officers and by highlighting his African American wife and children in campaign ads. He ended up winning a higher percentage of the black vote than Bill Thompson, the African American former city comptroller who had been the Democratic nominee four years earlier. "These white mayors were not elected because white communities supported them and the black communities supported another person," Morial said. "They got elected because they had this ability to make an appeal to African American voters."
---
Neither de Blasio nor Thompson was supposed to win that 2013 race in New York, according to polls a year (or even a month) before the election. The odds-on favorite was Christine Quinn, the city-council speaker who was vying to become the first woman and the first openly gay mayor of the nation's largest city.
What brought Quinn down was not a scandal or a gaffe, but the steady erosion of her support to other Democratic candidates—all of whom happened to be men. They assailed her ties to the three-term incumbent who had run twice on the Republican line, Michael Bloomberg, and she faced a backlash among voters for her support of a one-time change to the city's term-limit law that paved the way for Bloomberg to win a third term in 2009.
It was, in some ways, a preview of a much higher-profile campaign three years later: a trailblazing, front-running, highly qualified woman depicted as politically calculating and inauthentic, and who ultimately misread the extent to which the electorate was yearning for change. "There were painful similarities. Painful. Painful," Quinn told me recently when I asked if she experienced any déjà vu watching Hillary Clinton struggle in 2016.
Like Clinton, Quinn said, she was a better elected official than a candidate—better at doing a job than running for one. Quinn said the sexism and homophobia she experienced in 2013 came more from the media's coverage of her candidacy than in anything she heard from her opponents or voters. But she said the sexism also came from what she termed "the intelligentsia"—the political elites and donors who picked apart her message, criticized her choices, told her to have more fun. She recalled a time she appeared on CNN and described talking to a woman who wanted her granddaughter to meet the person who could be the first-ever woman mayor of New York. "My phone lit up like a Christmas tree," Quinn told me. "'Is this the new pitch?' 'Is this the new woman-only pitch?' 'I thought you weren't going to stoop to that level.' Literally."
She continued: "You have to walk this incredibly perfect line of pushing to be the first woman but not over-pushing, and getting other voices to say that, not you. Well, you know what that makes you—trying to walk a perfect line when you're in the unbelievable task of running for mayor of a big city? It makes you preoccupied. And you know what voters hate? Preoccupied people. Why? Because they lack authenticity in the moment, because they're preoccupied. And you know what makes a bad candidate? A not-authentic candidate."
By the time New York held its Democratic mayoral primary in September 2013, Quinn—the longtime front-runner—had fallen to a distant third behind de Blasio and Thompson, capturing just 15.5 percent of the vote.
If the experiences of Quinn and Clinton might have discouraged women from running for office, the election of Donald Trump and the myriad controversies of his young presidency have fired them up. Women are running for Congress in record numbers and could be key to Democratic hopes of retaking the House and Senate. But the focus on (and enthusiasm for) legislative positions, rather than executive offices, fits a pattern that candidate-recruitment groups have noticed for years: Women are much more likely to run for the city council, school board, or even Congress than for mayor.
Andrea Dew Steele is the founder of Emerge America, a national nonprofit that recruits and trains women to run for public office. She told me that when she launched the organization in California in 2002, she would gather groups of women and ask them what kind of position they were interested in running for.
"The hands would go up, and inevitably, most of our women would want to run for some kind of legislative position," Steele said. "Very few of them would self-select into positions like mayor, like district attorney—executive positions."
Steele said one explanation for this choice is that women often prefer positions that would allow them to work in a collaborative environment. But it also has to do with the women they see in political leadership now: Because women have more frequently risen through the ranks of legislative positions, that's where younger women look first. As Quinn told me, "If you don't see it, it's hard to believe you can be it."
California is a prime example. More than any other state, it has elevated women to powerful legislative positions. Since 1993, both of its U.S. senators have been women. Representative Nancy Pelosi of San Francisco became the first woman speaker of the House and has led the Democratic caucus for 15 years. Two of the last four speakers of the state assembly have been women, and both the Democratic and Republican leaders of the state Senate are women. Breed, the ousted acting mayor, was elected twice to lead San Francisco's equivalent of a city council.
But the Golden State has never had a woman governor, and Los Angeles—its largest city—has never elected a woman mayor. Now-Senator Kamala Harris had been the state's most prominent woman elected to an executive position when she won her first campaign for attorney general in 2010. But when she chose to run for higher office, she made a bid for Senate, not the governor's mansion.
---
Harris has been a political mentor to Breed, who is now in a tight race to win back the San Francisco mayoralty she held for just five weeks. According to a recent poll, she has a three-point edge over Jane Kim, with a third candidate, Mark Leno, falling behind.
Breed has been reluctant to discuss her Board colleagues' decision to remove her, choosing to focus instead on the core issues of her campaign: tackling homelessness in San Francisco and what many see as an affordability crisis. "From my perspective, I just really felt strongly that whatever my colleagues decided I will support that," Breed told me in a recent phone interview. "I just really was disappointed and saddened by some of the comments that were made, which kind of sparked the whole conversation around race."
In a liberal city where the prevailing political divide is usually between left and further left, Breed is seen as more of a moderate. Her opponents have criticized her refusal to reject help from super PACs and her past support for AirBnB, which has taken blame for San Francisco's lack of affordable housing as owners rent out apartments for short visits by tourists and limit supply for permanent residents.
Breed's ties to billionaire tech investor Ron Conway figured prominently in the move by progressives on the Board of Supervisors to remove her as mayor and install Farrell, a white investment banker, in her place. Conway, a longtime financial backer of Breed, had offered what was seen as an implicit endorsement of her candidacy at Lee's funeral. During the public meeting that precipitated the vote, progressive Supervisor Hillary Ronen told Breed that she was backed by the "same white men" that had made San Francisco unaffordable to poor people and communities of color. Kim and her progressive allies on the Board supported Farrell because he is not running in the special election for mayor.
After the Board's vote in late January, Breed's allies were livid. "There's nothing a black woman does that a white man can't do better," tweeted Christine Pelosi, the chairwoman of the California Democratic Party's women's caucus and the daughter of the House minority leader.
Steele, the San Francisco-based founder of Emerge America, took issue with the insinuation that Breed was beholden to a white male donor. "What I think is sexist and racist is saying that she's in the pocket of somebody," she said. "And I think that's because they say, 'Oh, how could this African American woman have gotten to this position on her own?' Or [was it] from hard work? Or from being really good? She was elected Board chair twice because she's really good at what she does."
Reverend Brown told me the Board's decision fit into the city's long history of racism, which had most recently manifested itself in redevelopment programs that he said had "virtually destroyed" the black community.
He blamed "a progressive, liberal bloc working overtime" to block Breed. "Number one, the girl is smart," Brown said. "She's competent, she's courageous, and she speaks her mind. And she does it respectfully. She is another Barack Obama, no question about it."
While the Board deprived Breed of incumbency in the mayoral race, its decision to oust her might redound to her benefit. At least that's what her supporters are hoping. "Quite frankly, I think it is giving a lot fuel to her campaign," Steele said, noting that the Board's decision came just days after Oprah Winfrey's speech on the #MeToo movement at the Golden Globes and the second iteration of the Women's March on the anniversary of Trump's inauguration. "It was so tone-deaf in that sense," she said.
If she wins the June election, Breed would be a mayoral trailblazer by virtue of both her race and her gender. But the part of her identity she talks about most is her upbringing: Breed grew up poor in the district she now represents, living in a public-housing project with her grandmother. She lost a sister to a drug overdose, and her brother is currently incarcerated for drug-related crimes.
Breed posited to me that she was the first member of the Board of Supervisors ever to grow up in poverty in San Francisco. "Diverse representation is important," she said, "but I also think having diverse experiences from people is equally important because you come from a different perspective, and how you make decisions comes directly from experience."
At the moment, Breed's closest rival appears to be Kim, a fellow Board member who scored an endorsement from Senator Bernie Sanders in an earlier, unsuccessful bid for the state Senate. She's also talked up her upbringing as the daughter of South Korean immigrants who was raised in a one-bedroom apartment. A victory by either Breed or Kim would instantly diversify the ranks of big-city mayors, elevating a woman of color to a powerful post that can be a springboard to even higher office in California.
That likelihood, along with the enthusiasm of women and first-time political candidates more broadly in the Trump era, has left liberal advocates cautiously optimistic that change will come more rapidly to urban leadership across the country. Gentrification and changing voting behavior, among other factors, may have stymied the advance of women and non-white mayors. But reengaged voters and a renewed focus on races up and down the ballot could turn an emerging trend away from diversity into a mere historical blip instead. "I think we're at a different moment," Quinn told me. "We're going to bust the ceilings off City Halls very, very soon. And cities will be better for it."
---
* This article originally misstated that Muriel Bowser was the first African American woman elected mayor of Washington D.C. That was Sharon Pratt in 1990. We regret the error.