The Rift Between McCabe and Comey Could Help Trump
Both former top FBI officials are potential witnesses in the obstruction probe focusing on the president—and each is now attacking the other's credibility.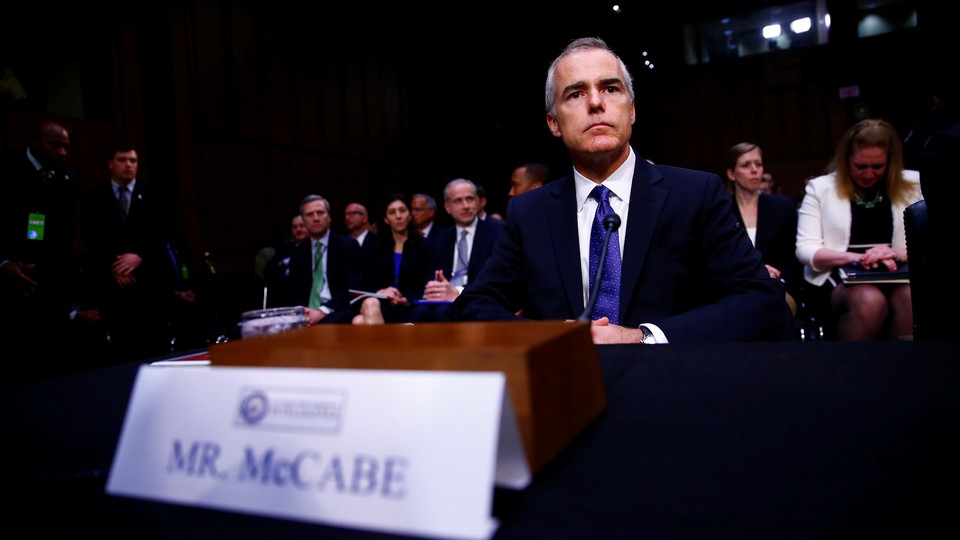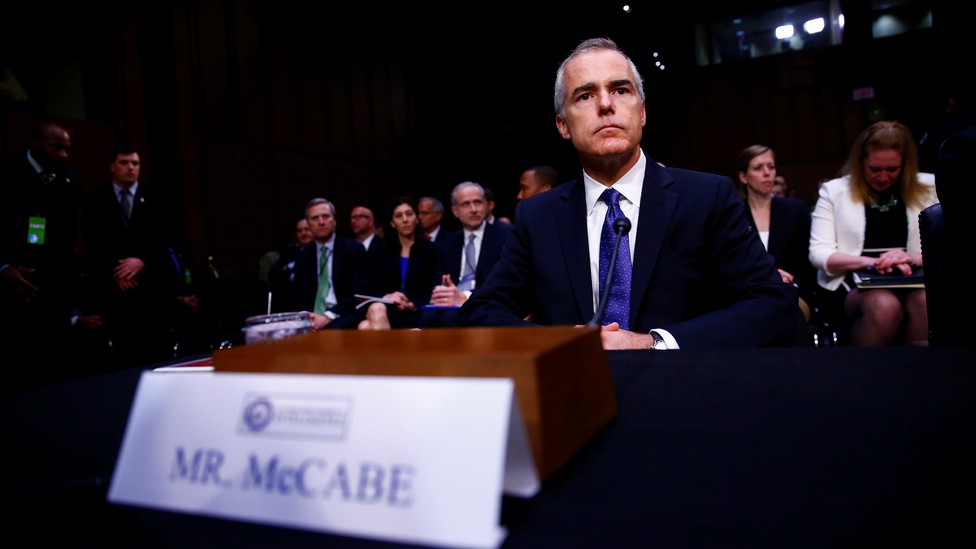 The growing tension between two frequent targets of President Trump, former FBI Deputy Director Andrew McCabe and his old boss, former FBI Director James Comey, was laid bare Friday morning.
"Andy is upset and disappointed in some of the things Comey has said," McCabe's lawyer Michael Bromwich said at a briefing for reporters Friday morning. Comey told the Justice Department's internal watchdog that McCabe never alerted him to disclosures he planned to authorize to The Wall Street Journal in October 2016. McCabe, who was fired last month after the Justice Department Inspector General determined that he lied about those disclosures, insists that Comey knew—and that there are email and phone records that prove it. The IG has referred McCabe for possible prosecution to the U.S. Attorney for Washington, D.C.
The open conflict between the two former associates reveals the stark reality of McCabe's defense strategy, and its unlikely intersection with Trump's: Both McCabe and Trump's efforts to defend themselves against allegations that they acted improperly—McCabe through self-serving leaks, Trump through attempts to influence the FBI investigation into his former national-security adviser—now depend in large part on their ability to impeach Comey's credibility. Trump, whose new nickname for the former FBI director is "Lyin' Comey," has taken this a great deal further than Bromwich, who has attributed the disagreement between McCabe and Comey's version of events to Comey's "fallible memory." But Bromwich's suggestion that Comey's recall may be faulty comes at a particularly sensitive time for Comey, who has been trying to convince the public—through the launch of a new book and a whirlwind media tour—that he can be trusted to recall the details of his private conversations with the president.
An attorney for Comey declined to comment.
Leaks about Trump's private interactions with both Comey and McCabe over the last year have rattled the president, who is under investigation by Special Counsel Robert Mueller for potential obstruction of justice. Mueller is also looking into whether officials involved in Trump's 2016 campaign aided a Russian influence operation aimed at helping Trump win the presidency.
Comey's memos memorializing his conversations with Trump—and McCabe's memos memorializing his conversations with Comey about his conversations with Trump—could make them important potential witnesses in that obstruction probe. Comey wrote in his memos that Trump asked him for loyalty, and to consider dropping the investigation into former National-Security Adviser Michael Flynn. Trump has characterized Comey, whom he fired last May, as a liar, and McCabe as biased due to a donation McCabe's wife received from a political action committee run by a Clinton ally in 2015—months before McCabe stepped into a new role as deputy director that gave him an oversight role of the Clinton email investigation. Trump may not be able to successfully harm either man's credibility—but it's possible that McCabe and Comey's conflict will do that for him.
McCabe was fired by Attorney General Jeff Sessions last month, days before he was eligible to retire, after an internal Justice Department probe found that he had "lacked candor" when investigators asked him about his role in authorizing a disclosure of information to the Journal, including when he was interviewed under oath. The IG report concluded that McCabe had tried to "make himself look good by making senior department leadership … look bad." McCabe has denied misleading investigators.
The Journal reported, based in part on information McCabe had authorized to be released, that McCabe had pushed back on what he saw as a request from a high-level DOJ official to slow-roll an investigation into the Clinton Foundation. McCabe's disclosure revealed the existence of an ongoing investigation, according to the report, which violates longstanding DOJ rules. He then mischaracterized his role in the leak in conversations with both Comey and internal investigators, according to the report. Comey said during an appearance on The View this week that he ordered the leak investigation, but Bromwich said it was "not clear" to him whether that probe was targeted at McCabe specifically or at the bureau as a whole.
Comey was interviewed as part of the investigation, and a transcript of his remarks was made available to McCabe and his lawyers so they could present a rebuttal. According to Bromwich, that transcript of Comey's interview shows that his responses were vague when he was asked whether McCabe had alerted him to the media disclosures. "Comey kept saying, 'I don't have a clear recollection,'" Bromwich said, citing the transcript. The IG report, however, paints Comey as unequivocal: McCabe "definitely did not tell me that he authorized" the disclosure, Comey told the inspector general, according to the report. "I have a strong impression he conveyed to me, 'It wasn't me, boss,'" he purportedly added. Bromwich said on Friday that Comey's claims were "a case of fallible memory," and that email and phone records that were not included in the IG's final report show that McCabe did not mislead the FBI director.
McCabe "was in constant communication with Comey," Bromwich said on Friday. "Can he remember, specifically, the words he used when he told Comey that he had authorized the sharing of that information? He cannot," Bromwich said. He noted that McCabe, as deputy director, was allowed to authorize media disclosures, and would have no reason not to tell Comey about it. In an interview with MSNBC's Rachel Maddow on Thursday, Comey agreed that McCabe had this authority, but reiterated that McCabe did not consult him about the Journal disclosures.
The IG declined to comment when asked why the emails and phone records described by Bromwich had not been included in the final report. A nondisclosure agreement has prevented McCabe's legal team from obtaining and releasing those records—as well as an 11-page rebuttal memo summarizing those records and other information—to the public, according to Bromwich. DOJ and FBI employees who come under investigation are required to sign an NDA promising not to disclose materials that did not make it into the final IG report.
"I'm not saying they buried it," Bromwich told me when I asked why the IG had not included the emails and phone records in its final report. "But they did not give them adequate weight." A spokeswoman for McCabe, Melissa Schwartz, said that the materials could be obtained via a lawsuit through the discovery process. McCabe's attorneys are thinking of bringing a civil suit against the DOJ on McCabe's behalf, Bromwich said, which would include allegations of wrongful termination and defamation.
Comey, for now, seems to be rolling with the OIG's findings. "Good people lie," he said during his appearance on The View earlier this week. "I think I'm a good person, where I have lied. I still believe Andrew McCabe is a good person but the inspector general found he lied." The stakes are high for Comey not only because of his book launch, but also because he testified to Congress under oath last May that he never authorized anyone to leak about either the Trump or Clinton investigations. In a Senate Judiciary Committee hearing held just before Comey was fired, chairman Chuck Grassley asked him whether he had "ever authorized someone else at the FBI to be an anonymous source in news reports about the Trump investigation or the Clinton investigation."
"No," Comey replied.