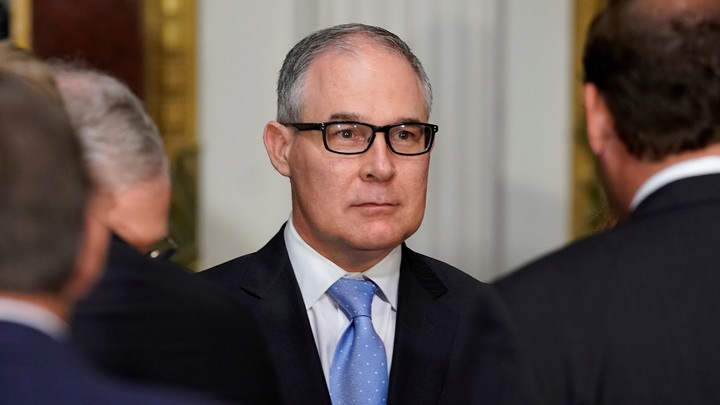 Today in 5 Lines
---
The Race We're Watching
Voters in Wisconsin are headed to the polls to cast their ballot for a new state Supreme Court justice. The two candidates are Rebecca Dallet, a center-left former prosecutor and circuit court judge, and Michael Screnock, a lawyer and former conservative activist.
The race has received national attention as another test of the nation's mood heading into the midterms. Screnock, a conservative, has been endorsed by the NRA, while Dallet, a liberal, was backed by former Vice President Joe Biden. If Dallet wins, it would change the ideological balance of the state's Supreme Court to four conservatives and three liberals.
---
Today on The Atlantic
---
Snapshot
---
What We're Reading
Trump Sets His Sights on Amazon: The president is reportedly discussing how to step up his attacks on the company and its CEO, Jeff Bezos. "He's obsessed with Bezos," said one source close to the White House. (Gabriel Sherman, Vanity Fair)
The War Continues: President Trump is targeting a private American business largely because of his personal issues with its owner, argues Noah Rothman. That is both dangerous and un-American. (Commentary)
Go Right Ahead: CNN reports that the Justice Department authorized the special counsel's investigation into allegations that former Trump campaign manager Paul Manafort colluded with the Russian government. (Katelyn Polantz)
'LeBron James, Explained': Here's how one of the best basketball players in history has become a political force for racial justice. (Dylan Scott, Vox)
David Hogg Isn't a Bully: The Parkland student's recent rise as a gun-control activist falls into a similar pattern: Adults elevate the voices of victims/ activists only to later weaponize them. (David French, National Review)
Did Fake News Actually Sway Voters to Vote Against Clinton?: A new study suggests that three false stories might have. (Aaron Blake, The Washington Post)
---
Visualized
What Is Your City's Twin?: Check out the places that have similar job postings to where you live. (Jed Kolko and Josh Katz, The New York Times)
-Written by Elaine Godfrey (@elainejgodfrey)
We want to hear what you think about this article. Submit a letter to the editor or write to letters@theatlantic.com.
Elaine Godfrey
is a staff writer at
The Atlantic
, where she covers politics.