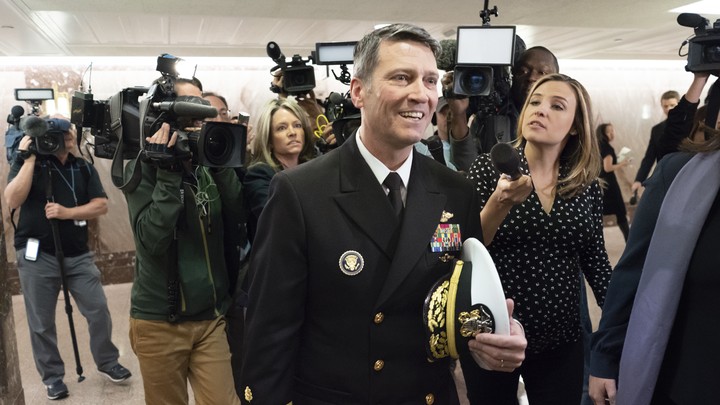 Today in 5 Lines
---
The Race We're Watching
Voters in Arizona's 8th congressional district are heading to the polls to choose a replacement for Republican Representative Trent Franks, who resigned in December amid reports of sexual misconduct. Democrat Hiral Tipirneni, a cancer research advocate and former ER doctor, is challenging Republican state Senator Debbie Lesko. The district, which is heavily Republican, went for Donald Trump by 21 points in the presidential election. It's not likely that Tipirneni will win here, but if she can come close, Democrats are planning to call it a victory.
Polls close at 7 p.m. PT, 10 p.m. ET.
---
Today on The Atlantic
---
Snapshot
---
What We're Reading
'I Surely Expected Better': The Center for American Progress, a leading progressive think tank that has led a campaign against workplace sexual harassment, reportedly "grappled with a divisive internal battle over sexual harassment" in 2016. (Sarah Mimms, BuzzFeed)
'Kanye Tweets Right': Conservatives who reject the liberal narrative about what it means to be black in America should be heartened by the rapper's endorsement of conservative commentator Candace Owens, argues Rafael Mangual. (City Journal)
The Most Useless Force in American Politics: The centrist nonprofit group No Labels aims to bring politicians together to promote bipartisan legislation. Instead, it trafficks in empty "mealy mouthed defenses of political profiteers and empty buzzwords." (Alex Nichols, The Outline)
What About Us?: At this point, no women and no minorities are in contention to replace Paul Ryan as House speaker. Republican women are wondering when they'll see themselves represented in leadership. (Lauren Fox, CNN)
---
Visualized
Zoom In on Texas: On Tuesday, the Supreme Court heard arguments in a 7-year-old gerrymandering case. Here's how the Dallas-Fort Worth area could be affected. (James Barragán, Dallas News)
-Written by Elaine Godfrey (@elainejgodfrey)
We want to hear what you think about this article. Submit a letter to the editor or write to letters@theatlantic.com.
Elaine Godfrey
is a staff writer at
The Atlantic
, where she covers politics.