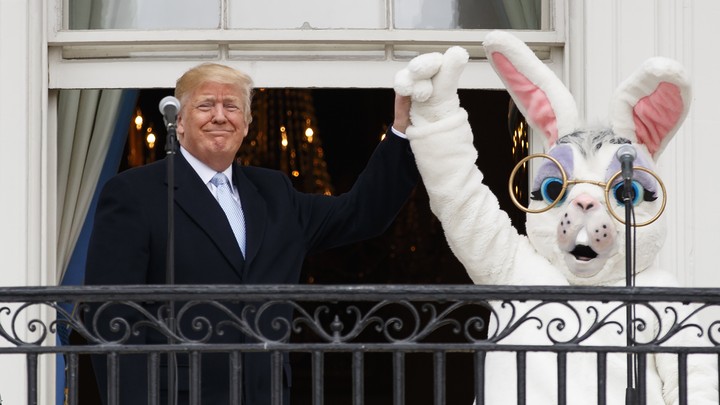 Today in 5 Lines
---
Today on The Atlantic
Follow stories throughout the day with our Politics & Policy portal.
---
Snapshot
---
What We're Reading
'A Betrayal': A teenager talked to police about his gang, MS-13. But his cooperation put him on a path to deportation—and his likely death. (Hannah Dreier, ProPublica)
America On the Brink: Experts from the Hoover Institution argue that the country's current debt spiral is close to becoming a crisis. The only way forward is to reform and restrain the growth of entitlement programs. (The Washington Post)
Not So Fast: Nathaniel Rakich challenges the narrative that the path to victory for Democrats is through the suburbs. (FiveThirtyEight)
Scripted: Sinclair Broadcast Group forced dozens of local news anchors across the country to read pre-scripted messages that warned viewers about "false news," effectively turning its reporters into soldiers in Trump's war on the media. (Timothy Burke, Deadspin)
But Is It a Big Deal?: Erick Erickson says no: Anti-Trump media outlets already engage in some of the same kinds of behaviors. Everyone can do better. (The Resurgent)
'The Things You Do With 38 Minutes Left to Live': Here's what happened on January 13 when Hawaiians received an alert that a missile would be hitting the islands imminently. (Sean Flynn, GQ)
---
Visualized
Counting Matters: Here's how adding a question about citizenship to the 2020 Census could affect states' federal funding and congressional seats. (Alicia Parlapiano, The New York Times)
-Written by Elaine Godfrey (@elainejgodfrey)
We want to hear what you think about this article. Submit a letter to the editor or write to letters@theatlantic.com.
Elaine Godfrey
is a staff writer at
The Atlantic
, where she covers politics.