Is Rural America Getting Tired of Tough-on-Crime Policies?
Across political, racial, and geographic lines, more Americans seem ready to move past the age of mass incarceration.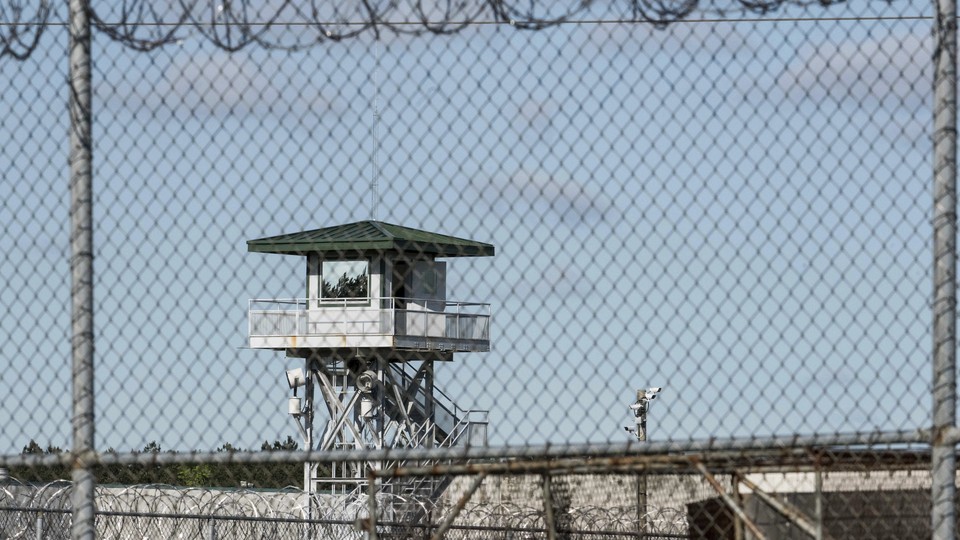 Incarceration policy represents the reddest of red meat. From Richard Nixon's calls for "law and order," to George H.W. Bush's Willie Horton ads, to President Trump's promises to jail or deport "bad dudes," modern American leaders have reliably used punitive rhetoric to get elected—and have overseen the expansion of the carceral society that inevitably followed.
There's evidence now, however, that the allure of these appeals may be waning. A new poll, released Thursday by Greenberg Quinlan Rosner Research and the Vera Institute of Justice, provides the latest data in a growing body of evidence suggesting that Americans actually want fewer prisons—and now favor policies and politicians that put fewer people in them.
The GQR/Vera poll finds that a plurality of Americans believe incarceration rates are too high. Forty percent of those polled said too many people are incarcerated, versus 33 percent who said the number is just about right and 9 percent who said rates are too low. These results track with other surveys, such as those cited by Peter Enns in Incarceration Nation, showing that, overall, Americans' punitive attitudes have decreased since their 1995 peak. A recent Morning Consult poll found that even more Americans, at 51 percent, believe there are too many people in prison.
The main value of the GQR/Vera poll is not its confirmation of these evolving attitudes, however. Rather, its value stems from its approach to assessing who is driving those attitudes, and how those attitudes interact with policy. The poll compares people in rural areas to the general population, and measures the geographic differences in where prisons are built and where people are most likely to be jailed or imprisoned. By comparing rural residents with the broader pool of Americans, it creates an inexact proxy of partisan attitudes. "[Rural voters] are without question more politically conservative," Dave Walker of GQR said. "If you look at Republicans throughout the country, they'll look similar. Most of them voted for Trump, at least the white ones did. So, that's reflected here."
According to the poll, even rural, mostly conservative voters aren't thrilled by the current state of mass incarceration. Sixty-one percent of all rural residents believe that constructing more prisons doesn't actually reduce crime, compared with just over two-thirds of the general population. And only 27 percent of people in rural areas believe crime in their immediate vicinity to be a major concern.
Identifying the attitudes of these voters in particular is important. As an earlier Vera Institute study notes, the majority of the growth in jail construction and incarceration rates is actually occurring in rural areas and midsize towns. "We see where incarceration is shifting away from America's biggest cities and trending downwards there," the Vera Institute's Jasmine Heiss said. "There's the obvious question about whether that trend and the shift are the result of a continuing adherence to a tough-on-crime narrative in small places."
But the new poll indicates that the creeping advance of mass incarceration into rural areas may run counter to the real priorities of residents there. Like the broader population, rural residents ranked prison construction dead last as a local priority, even though generally accepted wisdom says that the boom of rural jails and prisons has been a boon to struggling small-town economies. Perhaps on a related note, some data cast doubt on the stimulus effect of rural jail-building.
Heiss and Walker believe that the ambivalence toward incarceration might translate to voters' receptiveness to political messages that support criminal-justice reform—the same way residents of major cities began electing reform-minded prosecutors as they themselves became more aware of mass incarceration. "In many ways, there's overwhelming support for rethinking how the justice system functions and—really critically—how local governments invest limited resources into all of the different things that can make communities vibrant or safe or contribute to the quality of life," Heiss said.
Support for reform, such as it is, could be amplified by the sting of the opioid crisis, which has hit rural areas hard and is responsible for increasing numbers of both white and black arrests. The poll tested the viability of a generic candidate who wants more investment in "treatment options," "rather than burdening taxpayers with the cost of unnecessary incarceration." Over two-thirds of all rural voters indicated they'd support such a candidate.
Of course, it's hard to control for cognitive dissonance in polls like these, and the results of the last few elections complicate the picture. In the survey, the generic candidate wasn't tested against an opponent, and the two pro-carceral and anti-carceral messages weren't tested against each other. It's true, at least, of the 2016 election that Trump garnered great success in rural areas running with an extraordinarily punitive agenda, with a promise to restore private prisons and put more people in jail.
He may have managed to do so by capitalizing on Americans' consistent overestimations of crime. And there may be distinctions between the kinds of people rural voters want to help or punish. As a 2016 Vox analysis shows, while it's clear that most Americans have softened their stances on drug sentences, they've remained quite rigid on sentences for violent crime. Americans generally overestimate how much drug offenders contribute to mass incarceration, which may explain the conflict between their preference for decreasing the number of jails and their support for maintaining punitive measures against violent criminals.
It remains to be seen if, say, rural residents or conservative voters would respond positively to a politician committed to reforms for violent criminals. That position is often a delicate one for candidates to support, as shown recently by former Virginia Governor Terry McAuliffe's careful clemency campaign. McAuliffe faced significant political attacks for his program that were passed down to his lieutenant governor, Ralph Northam, who succeeded him in the governor's mansion this year.
Still, polls do show some movement toward bipartisan and urban-rural consensus on some criminal-justice priorities, including reducing the number of prisons and the number of incarcerated persons. In a political landscape full of wedge issues designed to splinter voters into factions, perhaps incarceration could be emerging as the opposite: a coalition-building issue that can bridge the vexing urban-rural divide.