Sean Hannity's Ties to Two More Trump-Connected Lawyers
The Fox News host denies that Michael Cohen was ever his lawyer—but Hannity was represented by a pair of legal advisers who also have close links to the president.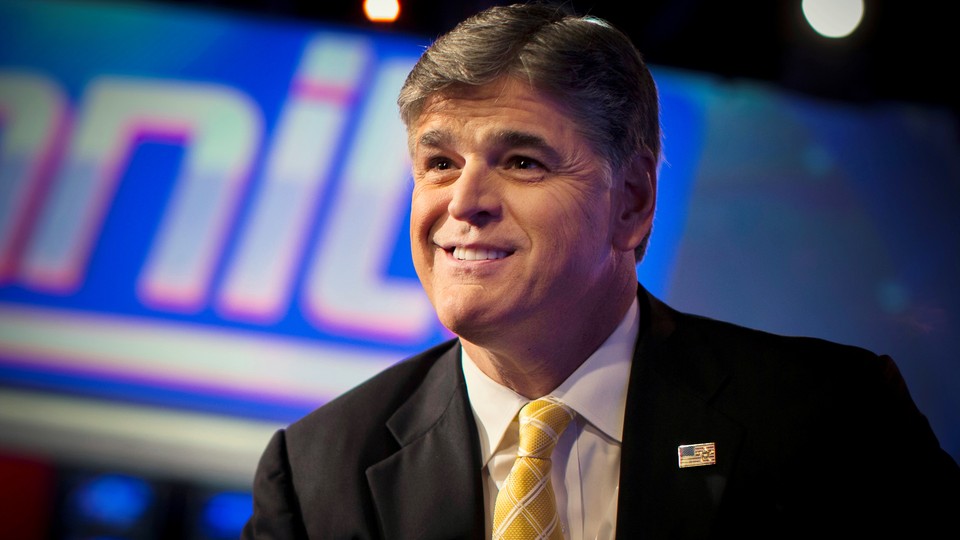 This post was updated on April 17 at 4:24 p.m.
Sean Hannity has had no shortage of lawyers. In court on Monday, his name was disclosed as the third "mystery client" of Donald Trump's personal lawyer Michael Cohen. Though Hannity says he was never actually Cohen's client, he does appear to have used the legal services of other well-connected Trump-world lawyers in a different matter a year ago.
On May 25, 2017, KFAQ, a radio station based in Tulsa, Oklahoma, received a cease-and-desist letter signed by two lawyers for Hannity: Victoria Toensing and Jay Alan Sekulow. Toensing's signature sits above her name and that of her husband Joseph E. diGenova, the members of diGenova and Toensing LLP, who are identified as "Counsel for Sean Hannity," according to a copy of the letter obtained by The Atlantic. Sekulow is also identified in the letter page as a "Counsel for Sean Hannity."
Sekulow is now the only known personal attorney for President Trump working full-time on the response to Special Counsel Robert Mueller's inquiry. Sekulow recently announced that diGenova and Toensing had been hired to join him, before reversing course. The letter to the radio station was sent before Sekulow joined Trump's team.
The letter was sent in response to accusations against Hannity made by the controversial conservative activist Debbie Schlussel. During an appearance on the Pat Campbell show on KFAQ last April, Schlussel said Hannity had been "creepy" towards her and had invited her to his hotel room.
Hannity responded at the time by calling the allegations "100 percent false and a complete fabrication," and said that he had hired lawyers to plan a response. "This letter provides notice that Ms. Schlussel's statements are false and defamatory," the letter read. "Continued publication will result in further exposure to liability because of continued harm to Mr. Hannity's impeccable reputation."
On Monday, Schlussel said she remembered that the radio station where she made the remarks had received a legal letter afterwards, but she didn't know who the lawyer was. Reached by phone on Tuesday, Toensing acknowledged that "at that time" she was acting as Hannity's lawyer but wouldn't comment on whether she still represents him.
"I've just learned in the press that anybody who is Sean Hannity's lawyer is going to be blasted so I think this phone call is over," Toensing said. "I'm wondering what attorney-client privilege means to anybody. I don't say who my clients are, sometimes I do, and many times, most of the time, I do not."
Sekulow, diGenova, and Toensing have frequently appeared on Hannity's program; diGenova appeared on the show as recently as Monday night. Asked for comment, Hannity sent a text consisting of NewsBusters and Daily Caller links to stories about ethical misconduct in the mainstream media and declined to offer further comment. "I don't have time for these silly questions," he said.
Sekulow didn't immediately respond to a request for comment. After publication of this story, a Fox News spokesperson sent an example of Hannity mentioning Sekulow as his lawyer. On May 23, 2017, two days before the letter was sent, he said on his show that Sekulow had "done legal work for me in the past."
The addition of Toensing and diGenova to Trump's legal team was recently announced, but then swiftly reversed. "The President is disappointed that conflicts prevent Joe diGenova and Victoria Toensing from joining the President's Special Counsel legal team," Sekulow said in a statement at the time. "However, those conflicts do not prevent them from assisting the President in other legal matters. The President looks forward to working with them."
When the Cohen news came out, Hannity insisted that Cohen had not really been his lawyer and that he had only asked him for advice regarding real estate. "I never retained his services, I never received an invoice, I never paid Michael Cohen for legal fees," Hannity said on his show on Monday night. "I did have occasional brief conversations with Michael Cohen—he's a great attorney—about legal questions I had where I was looking for input and perspective. My discussions with Michael Cohen never rose to any level that I needed to tell anyone that I was asking him questions and to be absolutely clear, they never involved any matter, any—sorry to disappoint so many—matter between me, a third party, a third group, at all."
On Monday night's show, Hannity was criticized by the retired Harvard Law professor Alan Dershowitz, who told him he should have disclosed the relationship to his viewers when discussing Cohen-related matters. "I'm on his show from time to time and I just thought I had an obligation to tell him I think it would have been appropriate for him to disclose that …" Dershowitz told me. "When I'm on the show, I want to be on the show with someone who satisfies journalistic standards, and that would satisfy journalistic standards."
But it's unclear whether Fox News, which gives Hannity broad autonomy, cares about these conflicts. It's already well-known that Hannity champions the president publicly and advises him privately, although the breadth of his relationships with attorneys linked to the president wasn't known before this week. "I think he's totally fine," one Fox source who was not authorized to speak publicly said on Monday. "I take Sean at his word that nothing's there" in the relationship with Cohen, a former Hannity employee who also spoke on the condition of anonymity said, adding that Hannity normally uses David Limbaugh as his lawyer and agent for "absolutely everything."
"While Fox News was unaware of Sean Hannity's informal relationship with Michael Cohen and was surprised by the announcement in court yesterday, we have reviewed the matter and spoken to Sean and he continues to have our full support," the network said in a statement on Tuesday.
"I don't want to get into it because I haven't talked to Sean about whether he wants me to say anything publicly, as a lawyer I'd better not," Limbaugh said, but added that he is "proud of my relationship with him." Limbaugh said he had had nothing to do with anything related to the Schlussel matter.
A Fox News spokesperson didn't immediately respond to a request for comment.