Sean Hannity's Ethical Mess
The revelation that the Fox News host sought legal advice from the embattled Trump attorney raised questions about the network's journalism—and about the president's tangled relationships.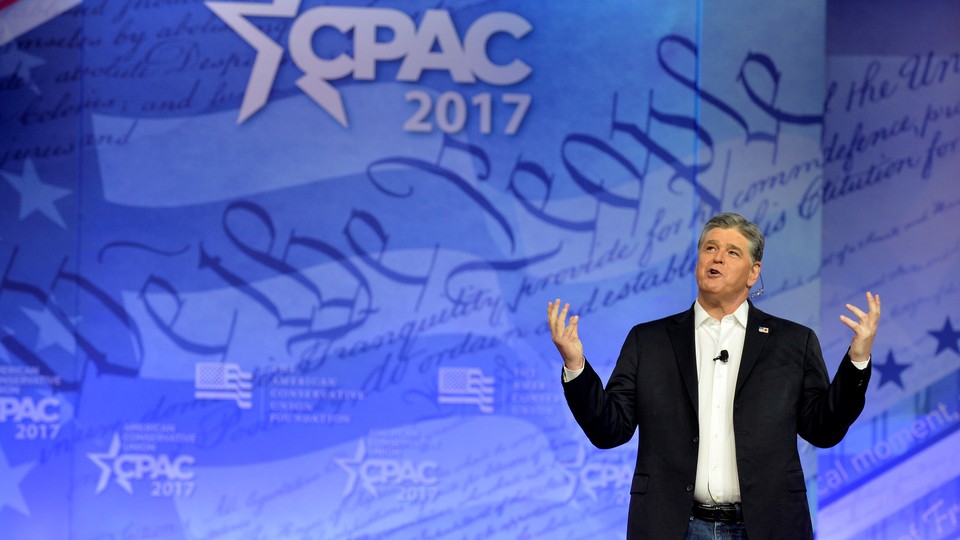 Genuinely stunning moments are hard to come by these days, but one arrived on Monday in a courtroom in New York City.
Michael Cohen, President Trump's fixer, was in court, trying to shield documents seized in a raid Monday on his office, home, and hotel room from prosecutors. Cohen had invoked attorney-client privilege to ask the court to hold documents back, but there have been questions about the extent to which Cohen was actually working as a lawyer. Cohen's attorneys said he had three clients for whom his work was legal in nature. Two were previously known: Trump, and Elliott Broidy, a major GOP fundraiser for whom Cohen arranged a $1.6 million payout to a Playboy Playmate whom he had impregnated.
Cohen's lawyer wrote to Judge Kimba Wood, "The third legal client directed Mr. Cohen to not to reveal the identity publicly." But Wood ordered Cohen to reveal the name Monday afternoon.
It was Sean Hannity.
The Fox News host himself offered contradictory responses, denying that Cohen had ever represented him as an attorney, yet saying elsewhere that he might have taken legal advice from him. In a statement provided by Fox, Hannity said:
Michael Cohen has never represented me in any matter. I never retained him, received an invoice, or paid legal fees. I have occasionally had brief discussions with him about legal questions about which I wanted his input and perspective. I assumed those conversations were confidential, but to be absolutely clear they never involved any matter between me and a third party.
On his radio show on Monday, Hannity offered a slightly different, and somewhat contradictory, answer. "Michael never represented me in any matter, I never retained him, I never paid legal fees to Michael," Hannity said, appearing to contradict Cohen's attorney's statement in court. "But I have occasionally had brief legal discussions with him where I wanted his input and perspective." Yet Hannity then said he "might have handed" Cohen $10 and said, "I want attorney-client privilege on this." It's not clear whether that would meet the legal standard to establish an attorney-client privilege.
From one perspective, Hannity's entanglement with Cohen is not a great surprise. Hannity is not only politically allied with Trump, but is personally close to him and his family, and Cohen has been deeply enmeshed in Trump family and business matters for years.
Yet the ethical implications boggle the mind. Hannity has covered the raid on Cohen with vigor. Hannity said the raid was proof that Special Counsel Robert Mueller had "declared war" on Trump.
"It is clear, as I have been warning, Mueller is out to get the president and it appears at any cost," he said. "Clearly, his objective is to remove him from office. Now, I told you and I've told anyone who will listen: Mueller's team is corrupt, starting with him, and it has been from the beginning." Hannity called the raid (which was conducted after a referral by Mueller, but executed by the federal prosecutors in Manhattan) an "unprecedented abuse of power" and evidence of a "two-tiered justice system."
"There's no limit at all into the fishing expedition that Mueller is now engaged in and if he has access to everything that his personal attorney has, I can only imagine where that's going to lead," Hannity said on his radio show.
These views align with Trump's, so it's likely that Hannity would have espoused them anyway. We now know, however, that his coverage represents a huge conflict of interest. By concealing—not just by omission, but by commission, in requesting that his involvement be kept anonymous—his relationship with Cohen when he made these comments, Hannity misled his viewers and listeners, whether that relationship was with an attorney or simply with a friend.
Such behavior would not pass muster at any other major news organization. Fox representatives did not respond to questions about whether the company was aware of Hannity's relationship with Cohen, whether he should have been allowed to cover the raid without disclosing it, or whether he would be allowed to cover it going forward.
Conflicts of interest exist elsewhere in the media—witness last night's high-profile moment, in which former Bill Clinton spokesman George Stephanopoulos interviewed James Comey about, among other things, Hillary Clinton's presidential campaign. But the Fox News conflicts are on a different scale.
Fox has previously yanked Hannity back for crossing ethical lines. In 2010, he was barred from headlining a Tea Party fundraiser. But Fox has changed a great deal in recent years. Roger Ailes, its longtime leader, was forced out in a sexual-harassment scandal, and Bill Shine, his deputy, also left the company. Perhaps most importantly in this case, the channel began the 2016 race as Trump-antagonist or -agnostic, but its opinion shows have since become an important pro-Trump organ. (This separates Hannity and colleagues like Laura Ingraham from the more traditional, if right-leaning, news side, represented by hosts like Bret Baier.)
Fox News has always been a de facto ally of the Republican Party, but Hannity's closeness with Trump is a symptom of an even closer relationship between this administration and the channel. Hannity and the president speak frequently, and Trump seems to take his advice seriously on a wide range of topics, even as he tends to disregard advice from specialist aides. That relationship is already far closer than most news organizations would find acceptable. Trump, meanwhile, has treated Fox News as a farm team for his administration, hiring widely from the network's ranks of hosts, journalists, and contributors, most recently new National-Security Adviser John Bolton.
The substance of Hannity's discussions with Cohen remains unknown. Although Cohen arranged settlements with ex-paramours on behalf of both of his other clients, Hannity said Cohen had not arranged any third-party agreements on his behalf.
During his interview Sunday, Comey described similarities between the mafia and Trump's approach to leadership. "I think what it was was the nature of La Cosa Nostra, is an effort to make everyone part of the family. There's an expression in the Mafia—there's a distinction between a friend of yours and a friend of ours. A friend of yours is someone on the outside of the family, a friend of ours, an 'amica nostra' is the way they talked about it in Sicilian, is part of the Family, capital F."
The ever-closer relationship between Fox, and especially Hannity, and Trump is another example of this. Far beyond his pose of being a simple opinion journalist, Hannity is a close adviser to the president—and they even share a relationship with the same somewhat dubious attorney. As a result, when a pinch like the current one comes, Hannity has a special interest in leaping to defend Trump and Cohen, because he, too, is implicated. Hannity's concealment of this fact from his fans is unlikely to cost him audience in the immediate run, but these compromises erode Fox's ability to function independently of the Trump White House. It's a Faustian bargain, and the price is much greater than 10 bucks for legal advice.