Scott Pruitt and the Trump White House's Serial Scandals
In an echo of past controversies, the EPA administrator initially denied approving salary hikes for his top aides, but admitted he did so when questioned before Congress.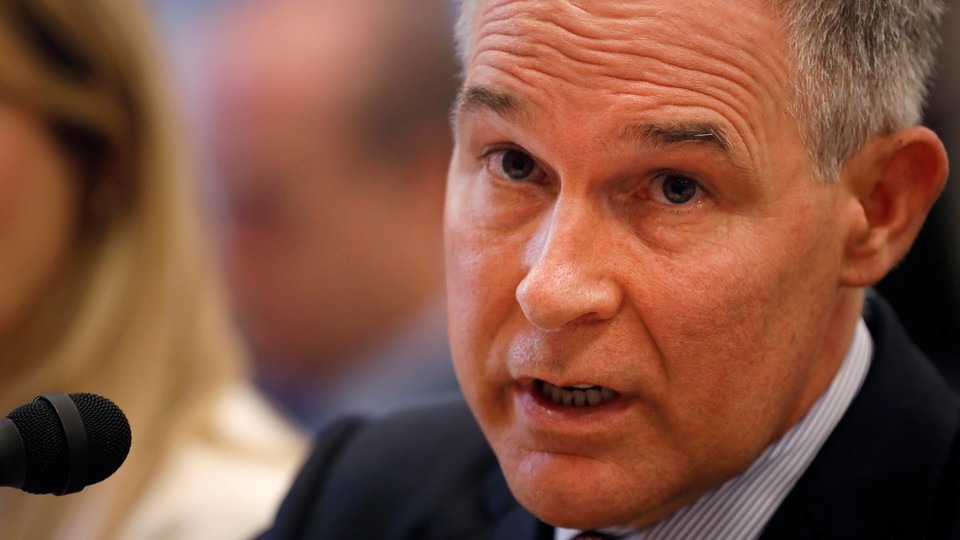 In the hierarchy of Donald Trump-era scandals, from the brazen to the boorish, pay raises in a low-level agency shouldn't crack the top quartile. But on Thursday, Environmental Protection Agency Administrator Scott Pruitt managed to spin his hiring practices into a cobweb beyond his control—leaving some reporters to question whether a low-stakes snafu could now be the "end of the line."
In his hearing before the House energy panel, Pruitt struggled to answer questions about salary hikes given to two of Pruitt's closest aides. As The Atlantic first reported earlier this month, Pruitt bypassed the White House to give raises of 33 percent and 52 percent to Millan Hupp and Sarah Greenwalt, respectively, both of whom had worked for Pruitt while he was attorney general of Oklahoma. At the time, Pruitt denied any knowledge of the raises, telling Fox News's Ed Henry that he didn't know who on his staff had authorized them. Democratic lawmakers quickly questioned Pruitt's account, prompting the agency's inspector general to start digging. Pruitt has also been under scrutiny for leasing a condo from the wife of a lobbyist and for spending more than $40,000 for a soundproof booth around his office.
Democratic Representative Paul Tonko's question was simple: Did Pruitt authorize his chief of staff to grant those raises?
Pruitt, sticking carefully to the passive voice, conceded that the raises were "delegated" to his chief. "So you did authorize him, then … ?" Tonko pressed. "There were delegations given to him with that authority," Pruitt responded.
"So," Tonko concluded, "that's a yes."
The exchange put to rest the nearly month-long dance between EPA officials and reporters, with Pruitt acknowledging that he had, in fact, overseen the salary hikes. A few seconds later, an EPA official texted me. "It's incredible that he admitted that," said the official, who requested anonymity to speak candidly. "I'm just sitting here shocked that actually happened."
The exchange crystallized just how often this administration has been its own worst enemy. Suddenly, the pay raises were once more in the limelight. Reporters were quick to repost segments from that fateful Fox News interview. Social-media users responded by lambasting Pruitt as a "liar," with "#BootPruitt" climbing the ranks of Twitter's trending topics. In a nation where, in the last week alone, cable news has flashed with images of Kanye West, Stormy Daniels, and Michael Cohen, salary boosts for the director of scheduling and senior counsel of the EPA were yet again newsworthy.
This story should be familiar. In some ways, the pay-raise debacle calls to mind Rob Porter, the ex-White House staff secretary who was fired after allegations of abusive relationships surfaced in the media. In a rapid-fire news cycle, the Porter scandal commanded weeks of attention. This was not because of a pile-on from the press; rather, it was because the White House continued to douse the issue with gasoline, with top aides changing their stories of what they knew and when.
The allegations against Pruitt and Porter are drastically different. But they both reflect this White House's propensity to make the cover-up the story on top of the crime. Had Pruitt immediately taken responsibility for the raises in a quick press release, he might not be drawing headlines today. To wit, Tonko didn't ask Pruitt about the amount of the raises, or why he'd skirted the White House to grant them—but whether he'd been forthright in his claims of ignorance.
Toward the end of Tonko's questioning, Pruitt maintained that he wasn't aware of the amount of the raises, or the fact they'd been rejected by the White House—blaming once more his chief of staff. "Well then I'm concerned," Tonko said, "that you have no idea what's going on in your name, at your agency." You might be forgiven for forgetting that just 30 minutes earlier, Pruitt had stated that "as administrator of the EPA, responsibility … rests with me, and no one else."