Scott Pruitt Bypassed the White House to Give Big Raises to Favorite Aides
The embattled EPA chief used an obscure provision last month to increase the salaries of a pair of staffers by tens of thousands of dollars.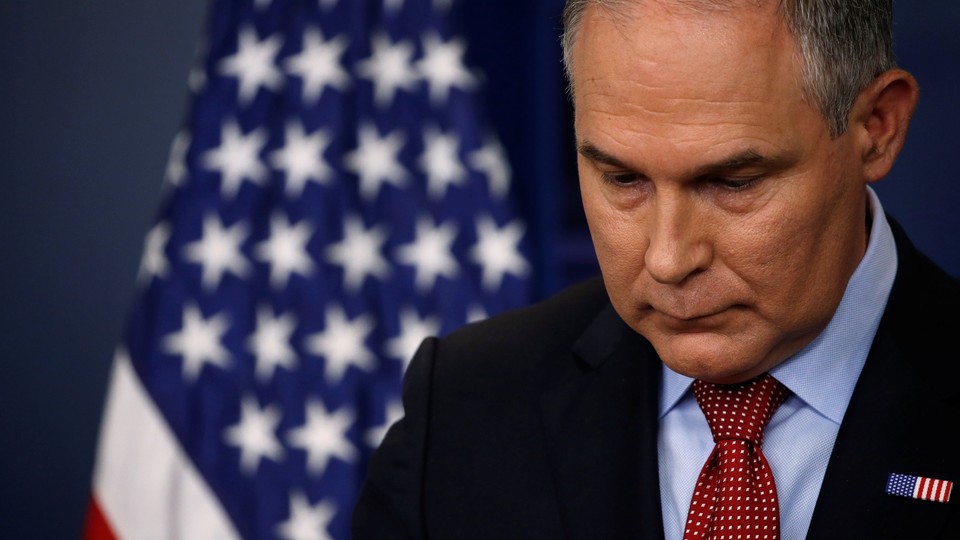 Updated on April 3 at 2:23 p.m. ET
In early March, Environmental Protection Agency Administrator Scott Pruitt approached the White House with a request: He wanted substantial pay raises for two of his closest aides.
The aides, Sarah Greenwalt and Millan Hupp, were part of the small group of staffers who had traveled with Pruitt to Washington from Oklahoma, where he had served as attorney general. Greenwalt, a 30-year-old who had worked as Pruitt's general counsel in Oklahoma, was now his senior counsel at the EPA. Hupp, 26, was working on his political team before she moved to D.C. to become the agency's scheduling director.
Pruitt asked that Greenwalt's salary be raised from $107,435 to $164,200; Hupp's, from $86,460 to $114,590. Because both women were political appointees, he needed the White House to sign-off on their new pay.
According to a source with direct knowledge of the meeting, held in the Eisenhower Executive Office Building, staffers from the Presidential Personnel Office dismissed Pruitt's application. The White House, the source said, declined to approve the raises.
So Pruitt found another way.
A provision of the Safe Drinking Water Act allows the EPA administrator to hire up to 30 people into the agency, without White House or congressional approval. The provision, meant to help expedite the hiring of experts and allow for more flexible staffing, became law in 1996. In past administrations, it has been used to hire specialists into custom-made roles in especially stressed offices, according to Bob Perciasepe, a former acting EPA administrator.
After the White House rejected their request, Pruitt's team studied the particulars of the Safe Drinking Water provision, according to the source with direct knowledge of these events. By reappointing Greenwalt and Hupp under this authority, they learned, Pruitt could exercise total control over their contracts and grant the raises on his own.
Pruitt ordered it done. Though Hupp and Greenwalt's duties did not change, the agency began processing them for raises of $28,130 and $56,765, respectively, compared with their 2017 salaries. Less than two weeks after Pruitt had approached the White House, according to time-stamped Human Resources documents shared with The Atlantic, the paperwork was finished.
Word of the raises quickly began to circulate through the agency. The episode infuriated some staffers; to some political aides, it was evidence of Pruitt's disregard for the White House's warnings to cabinet officials that they avoid even the appearance of impropriety. It also underscored the administrator's tendency to play favorites among his staff, according to two sources with direct knowledge of agency dynamics. Hupp, in particular, is making more than her Obama-era predecessor, a five-year veteran of the agency who did not break six figures until the final year of the administration, according to public records. (While Greenwalt has no obvious peer in the Obama administration, the EPA's general counsel had an annual salary of $155,500 in 2016.)
Said one EPA official, who spoke on the condition of anonymity because they were not authorized to talk to the press: "This whole thing has completely gutted any morale I had left to put up with this place."
"The Safe Drinking Water Act provides the EPA with broad authority to appoint scientific, engineering, professional, legal, and administrative positions within EPA without regard to the civil service laws.  This is clear authority that has been relied on by previous administrations," EPA spokesman Jahan Wilcox said in a statement. "The Administrator was not aware that these personnel actions had not been submitted to the Presidential Personnel Office. So, the Administrator has directed that they be submitted to the Presidential Personnel Office for review."
The White House did not return requests for comment.
---
The unusual hiring scheme comes amid new questions about Pruitt's ethics as administrator. The EPA chief rented a Capitol Hill apartment partly owned by the wife of a top energy lobbyist, paying just $50 per night for the space, according to an ABC News report last week. Pruitt also faces questions over his use of taxpayer money to make regular first- and business-class flights during his first year in office.
Now, in the wake of Greenwalt and Hupp's salary boosts, government watchdogs are deepening their probe of Pruitt's use of the Safe Drinking Water Act.
Last May, Senate Democrats pressed the agency for answers about Pruitt's embrace of the provision. That month, for example, Pruitt used the law to hire Nancy Beck, a long-time lobbyist for the chemical industry, as the deputy head of the Office of Chemical Safety and Pollution Prevention. Historically, that role has been filled by a career civil servant or a political appointee.
Because she was hired administratively, and not appointed by the White House, Beck did not have to sign President Trump's ethics pledge, which mandates that Trump officials cannot work on an issue on which they had lobbied in the previous two years. Senators Tom Carper and Sheldon Whitehouse, top Democrats on the Environment and Public Works Committee, sent a letter to the Government Accountability Office requesting a probe into Beck's hiring. They were concerned, chiefly, that Pruitt was using the Safe Drinking Water hiring authority as a way for new employees to evade the ethics pledge.
"[The Safe Drinking Water Act] can be a legitimate way to bring on skilled experts the EPA needs to protect Americans' health and safety, but Administrator Pruitt seems more interested in using it to skirt ethics requirements, like the president's order banning hires from working on matters involving former employers or clients," Whitehouse said in a statement provided to The Atlantic.
Last October, Senator Bob Menendez wrote to the EPA inspector general requesting an investigation of the agency's use of the Safe Drinking Water hiring authority, among other matters. The IG agreed to take up the investigation two months later, but it wasn't until March that they began seriously questioning the EPA's top political appointees about potential abuse of the hiring authority.
Now, staffers are waiting to see how officials will address the raises.
"It's a complete coincidence that Pruitt went behind the White House's back and used this in the most unethical way possible, just as the [inspector general] starts asking questions," said one EPA staffer. "Now they just have to connect the dots."
It's not as though Pruitt is the first EPA administrator to lean on the Safe Drinking Water Act hiring authority. EPA veterans of both the George W. Bush and Barack Obama administrations said they were well-acquainted with the provision. But of the half-dozen former top EPA staffers interviewed for this article, not one could comprehend using it as a means of increasing salaries—especially following a rejection from the White House.
"I can't imagine that being done in the regime in which I served," said Stan Meiburg, a former acting deputy administrator of the EPA in the Obama administration. "It would have been very controversial. The accusation that would have been pinned on the administrator was that they were trying to give a private benefit using public funds."
Meiburg, who spent his career at the EPA after joining as career staff in 1977, said that "ADs"—the internal shorthand for "administratively determined" hires—were considered a precious commodity inside the agency.
"The number of ADs were monitored very closely by the chief of staff," he said. "To get one was a big deal. To get one was not an easy task."
Christine Todd Whitman, the first EPA administrator under President George W. Bush, said she couldn't remember ever reclassifying a political appointee as an AD. "I don't even remember it being brought up as a potential or something to think about," she said.
As Meiburg noted, even appearing to convert a political appointee to an AD simply to give a salary raise could prove politically damaging. But other officials said the deeper effects would be felt inside the agency, where a transparent show of favoritism could inflame inter-office tensions and decrease morale. And in an office where staffers already jockey for favor among Pruitt's "posse," according to a source who works closely with the EPA, such a backlash is likely.
"It's already such a toxic work environment," the source said, requesting anonymity to speak candidly. "It's hard to see how it could get any worse."
Over the last several days, as press reports have zeroed in on Pruitt's living arrangements, this is the scandal that has seized the agency from the inside. If Pruitt was on thin ice with the White House before, the acceleration of the inquiry into his payroll practices may shatter it.
"We were once the president's favorite," said the EPA official. "Now we're the problem child."