The 'Dragon Energy' of Kanye West and Donald Trump
The rapper and president are bros now. Here's why.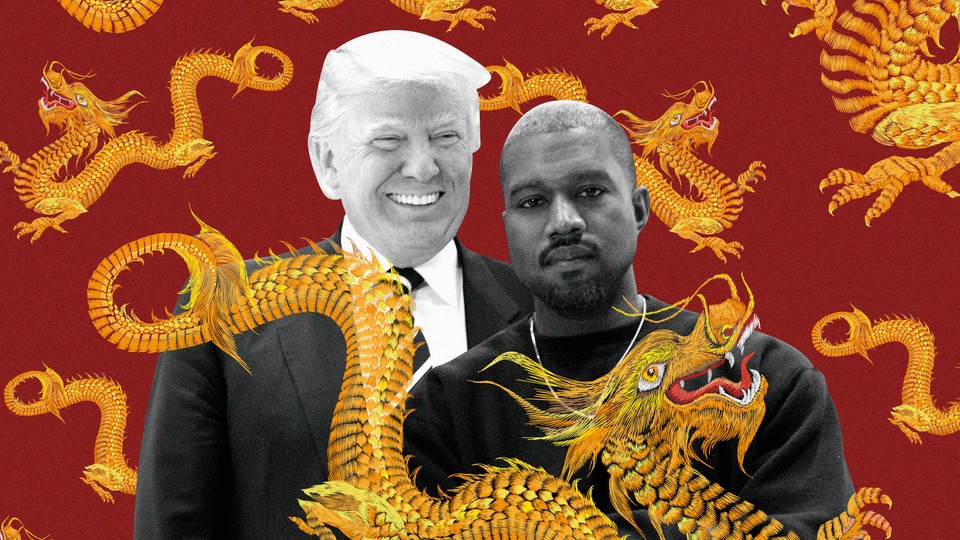 The scandals are like sediment in the delta of Kanye West. Each new controversy—each paparazzi fight, each "BILL COSBY INNOCENT," each repackaging of ratty apocalypse couture as expensive fashion, each "multiracial women only" casting call—instead of burying him, only builds up higher and higher until it somehow becomes the very thing that grounds him. It's worth wondering if, some untold number of years in the future, contemporaries will reflect on West and struggle to remember past the questionable comments and erratic behavior to even recognize his brilliant artistic contributions. The rapper and producer has become a pulsar of nihilism, an object to be followed closely only if one wants to have their faith in humans tested.
That's why his newfound—and loudly tweeted about—admiration of fellow star Donald Trump shouldn't be all that surprising.
West opened up his freshest round of controversy on Twitter this week, after a series of tweets proclaiming what appears to be a rejection of much of the black-activist thought that has been associated with his work, and an embrace of Trump. After reopening his Twitter account earlier this month following a long period of deactivation, it first appeared that Kanye had become a purveyor of scattershot, if banal, self-help maxims and weird stream-of-consciousness thoughts. He was going to write a book—except his tweets were the book, and he wasn't really writing one. He posted lots of his fashion concepts, including photos of shoes that appear to take their inspiration from lawnchairs and spaceships, or lawnchair spaceships. It was weird, but Kanye West fans handle weird just fine, so long as it's just weird.
There was the sense, however, that West was working toward something, and then on April 19 there it was. He announced albums from himself and his recording-label mates, what amounts to a significant slate of hip-hop and R&B albums scheduled to be released this spring. The weirdness all seemed to make sense then: West could have been doing some kind of Dadaist Twitter performance art, all with the end goal of getting eyes and ears on his new musical project. For his fans—who have grown quite accustomed to ignoring his antics when in the service of his musical projects—that explanation seemed enough.
That explanation was not enough. On April 21, West complicated things with a single post. "I love the way Candace Owens thinks," he tweeted. Owens, a conservative African American media personality, is known for her YouTube channel in which she expresses support for Trump and disdain for much of liberal or leftist black politics. Recently, at a Turning Points USA discussion in Los Angeles, Owens lectured a group of Black Lives Matter protesters, saying:
I can guarantee what you're seeing happening is victim mentality versus victor mentality … Victim mentality is not cool. I don't know why people like being oppressed. It's the weirdest thing I ever heard: "I love oppression. We're oppressed. 400 years of slavery, Jim Crow." Which, by the way, none of you guys lived through. Your grandparents did.

And it's embarrassing that you utilize their history, you utilize their history and you come in here with more emotion than they ever had when they were living through it. You're not living through anything right now. You're overly privileged Americans.
West appeared to echo those sentiments in a series of tweets, remarking that "constantly bringing up the past keeps you stuck there," that slavery is now a "mentality," and that "self victimization is a disease." Over the next few days, he expanded on the theme, calling himself a "free thinker," and then tweeting out videos of Dilbert cartoon and comic creator Scott Adams, who's become a prominent figure on the pro-Trump right over the past few years.
As is the case for most of what West does, he gave little indication of why he composed any of his tweets, or the actual shape and form of the ideas to which he is gesturing. But his tweeting seemed like a slow-rolling "redpill" moment—a term used on the alt-right especially for people who reject certain liberal political sensibilities. Among black personalities especially—as exemplified by Owens—"redpills" reject institutional and structural racism as major political and social forces in America, instead often blaming "victim mentality" and liberal groupthink as the major causative factors for black dysfunction, evidence be damned. He's also mentioned the fictional "sunken place" from the 2017 film Get Out, indicating he's at least aware of some criticisms from black users of the site who think he's gone too far.
It's hard to say definitively if West really had a redpill moment—hey, he loves Hillary too—because his tweets are just so hard to parse at times, but West made most of that parsing irrelevant this afternoon, when he launched into a bizarre tweetstorm about his admiration for Trump. Among the greatest hits is his claim of brotherhood with Trump over their shared "dragon energy":
You don't have to agree with trump but the mob can't make me not love him. We are both dragon energy. He is my brother. I love everyone. I don't agree with everything anyone does. That's what makes us individuals. And we have the right to independent thought.

— KANYE WEST (@kanyewest) April 25, 2018

President Trump reciprocated the admiration just three hours later.
Things have moved fast since then. Kim Kardashian West has her own thread defending her husband, while also distancing herself from his own personal views. Kanye West tweeted a photo of himself wearing a "Make America Great Again" hat, with two record-label executives. West tweeted about a number of meetings he wanted to have with Silicon Valley elites, including conservative billionaire Peter Thiel, whom West originally referred to as "Peter Teal." "They have spoken in the past and there's mutual interest in meeting again," said a person close to Peter Thiel, speaking on condition of anonymity to discuss a private conversation.
West later posted a photo of a signed "Make America Great Again" hat, to which President Trump responded: "MAGA!" Donald J. Trump Jr. also joined in the love fest on Instagram, saying "nice to see some real influencers push back on the nonsense narrative and actually push for free speech and thought."
A White House spokesperson has confirmed that there are no meetings scheduled between West and Trump.
So what exactly is going on? The instinct to pass off such a sensationalized exchange between West, Trump's intellectual praetorian guard, and the president himself, as merely a publicity stunt seems almost quaint, given that the last few years of American history should be pretty clear on the fact that publicity-boosting endeavors can also be dead serious. It could be equally difficult, however, to treat West's sudden gust of admiration as truly genuine, given the infamy he garnered for calling out a sitting president as racist during Hurricane Katrina. Then again, West already received a round of criticism before for embracing the president last year. Then again, he pilloried the same Ku Klux Klansmen the president called "very fine people" in a video and song called "Black Skinhead" a few years ago. The man does contain multitudes.
But in one light, the newfound brotherhood between Trump and West seems almost preordained given their similarities. Both men are known for their erratic commitments to any sort of core ideological platforms, often shifting positions wildly over time. Both men have a penchant for misogyny—and both have marked their careers with attacks against prominent women, and defenses of men accused of violence against women. Both are tireless self-promoters above all else, and seem to always react to controversy and even aversion by leaning into it, regardless of who gets hurt in the fallout. And, critically, both men were sent careening to this point in their careers by a single slight from one President Barack Obama, who famously called West a "jackass," and in 2011 ridiculed Trump's chance of holding office.
It's worth noting, however, that Trump's propulsion to the spotlight and now to the center of American life means more than just validation of his own personal brand. The president may soon prevail at the Supreme Court in an effort to bar travelers from several mostly Muslim nations by executive order after running on banning Muslims from the country entirely. Millions stand to lose health insurance, largely from what seems one president's vendetta against another's signature policy. Immigration roundups are bolder and more pervasive, and anti-immigrant rhetoric exists alongside a wave of hate crimes. Candidates like the Trump-pardoned Joe Arpaio of Arizona—who once proudly proclaimed the immigrant "concentration camps" he ran as sheriff—have been energized. And police have been encouraged by the president to engage in brutality—a scourge against which West himself has railed. For black Americans especially, this administration is not just an exercise of contrarian "free thinking."
Strange as it may seem, right now there might be more in common between the rapper and the president than in conflict. And between the two, in a world currently facing a mounting tide of genuine moral, economic, and health threats, their vapid attraction compresses the space between them with a special kind of crushing cynicism, the grinning and grimacing acknowledgment of two self-promoters who can't stop promoting themselves, even when the show is no longer about them.
---
Additional reporting contributed by Rosie Gray