Paul Ryan Makes His Exit
The speaker of the House has decided not to run for reelection, setting off a succession fight—and perhaps yet another wave of retirements.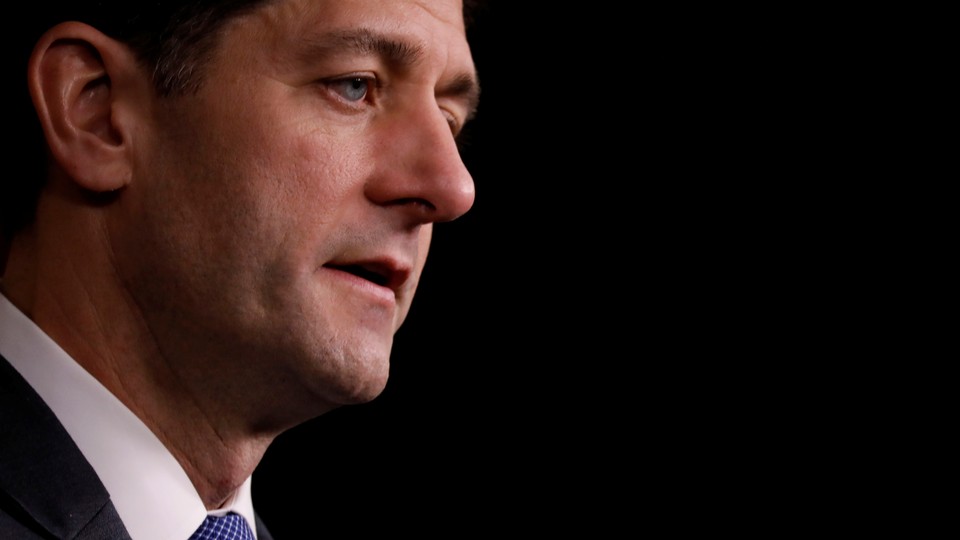 Updated on April 11 at 9:46 a.m. ET
For months, House Republicans and Democrats alike have traded bets on whether Speaker Paul Ryan would run for reelection. Now, it seems, they have their answer.
At a House Republican conference meeting on Wednesday morning, Ryan informed colleagues that he will not seek reelection in his Wisconsin district, according to multiple House Republican sources. A source with direct knowledge said that Ryan told his staff just before the gathering, at approximately 8:45 a.m. ET.
"I've become a Sunday Dad," Ryan told members in the closed-door session, according to two Republicans inside the room. He said that after 20 years in Congress he is anxious to spend more time with his family. Looking "subdued" and "respectful"—as one Republican put it—Ryan added that he's satisfied with his accomplishments, including tax reform and an increased defense budget.
"Members are thankful to Paul," one member texted me. "It's his decision, so everyone seems okay and understanding." (Lawmakers cited in this story spoke on the condition of anonymity so they could speak freely.)
As Ryan addressed the conference, his longtime communications aide Brendan Buck issued a statement to reporters confirming the news:
This morning Speaker Ryan shared with his colleagues that this will be his last year as a member of the House. He will serve out his full term, run through the tape, and then retire in January. After nearly twenty years in the House, the speaker is proud of all that has been accomplished and is ready to devote more of his time to being a husband and a father. While he did not seek the position, he told his colleagues that serving as speaker has been the professional honor of his life, and he thanked them for the trust they placed in him.
For months now, rumors have circulated on Capitol Hill that Ryan was mulling retirement from the speakership he never wanted. The whispers triggered a fundraising frenzy from Majority Leader Kevin McCarthy and Majority Whip Steve Scalise, who are jockeying to replace him. Both McCarthy and Scalise have been more overt about their ambitions in recent weeks, fueling more speculation that Ryan was eyeing the exits.
Ryan now joins a growing list of Republicans who, ahead of the midterm elections in November, have decided to hang it up. Citing partisan gridlock and other frustrations particular to the Trump era, backbenchers and committee chairmen alike are fleeing the chamber.
The White House, for its part, appeared unsurprised by Ryan's announcement. Asked for reaction to the news, a senior White House official texted: "Not shocked." Ryan phoned President Trump and Vice President Pence just before the House conference to share his decision, according to two sources with direct knowledge.
Just before 10 a.m., the president weighed in with words of appreciation:
Speaker Paul Ryan is a truly good man, and while he will not be seeking re-election, he will leave a legacy of achievement that nobody can question. We are with you Paul!

— Donald J. Trump (@realDonaldTrump) April 11, 2018
The news of Ryan's decision was first reported by Axios's Jonathan Swan.
This is a breaking-news story and will be updated.