Paul Ryan Personifies the Devil's Bargain the GOP Struck With Trump
The outgoing House speaker, more than any other lawmaker, paved the path for congressional Republicans' subjugation to the president.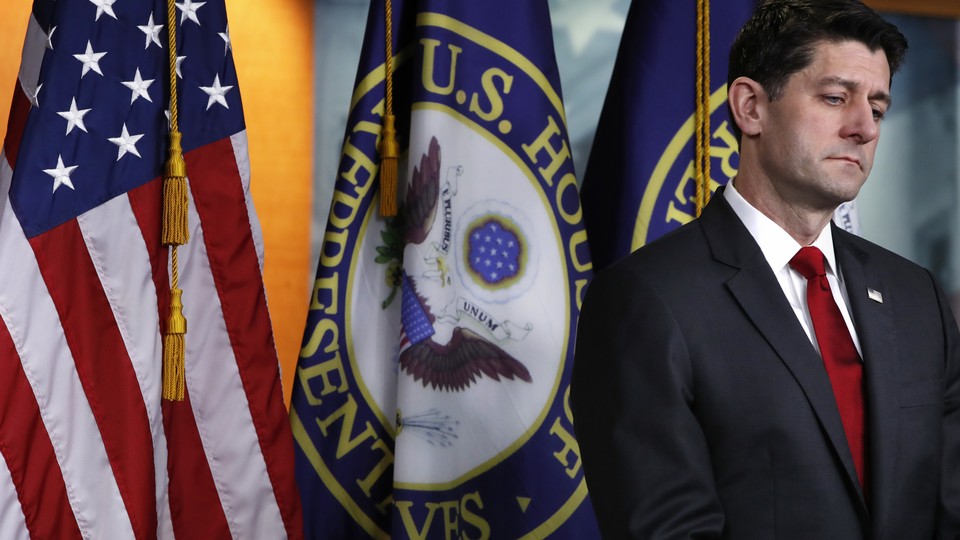 Paul Ryan, who once aspired to advance the vision of conservative icon Jack Kemp, will leave Washington carrying a more tarnished legacy—as the most important enabler of Donald Trump.
No one in the GOP was better equipped, by position and disposition alike, to resist Trump's racially infused, insular nationalism, or to define a more inclusive competing vision for the party. Instead, Ryan chose to tolerate both Trump's personal excesses and his racially polarizing words and deeds as the price worth paying to advance Ryan's own top priorities: cutting spending; regulations; and above all, taxes. The result was that Ryan, more than any other prominent Republican, personified the devil's bargain the GOP has signed with Trump. And his departure crystallizes the difficult choices Republicans face as Trump redefines the party in his belligerent image.
From the exhaustive reporting of Politico's Tim Alberta, who was first to telegraph that Ryan was likely to retire, we know that the speaker, expecting a Trump defeat, planned to deliver a speech on Election Night in 2016. He intended to denounce Trump's racially polarizing agenda as a political dead end and a betrayal of conservatism's ideals. Instead, when Trump won, Ryan folded the speech back into his jacket pocket—where it has receded deeper ever since.
Throughout his career, Ryan has presented himself as a disciple of Kemp, the ebullient former pro-football player and Reagan-era Republican congressman who sought to expand the party's appeal to non-white communities. Ryan idolized Kemp and even worked for him: The future speaker was a young staffer at Kemp's think tank, Empower America, in the early 1990s.
But after Trump took office, Ryan blinked at confronting the president's appeals to white racial resentments. Pressed for reaction to comments like Trump's reported description of African nations as "shithole" countries, Ryan managed to mumble the bare minimum of plausible criticism: "The first thing that came to my mind was very unfortunate, unhelpful." For most people genuinely distressed by Trump's remarks, "unfortunate" and "unhelpful" were probably not the first words that came to mind; "racist" and "xenophobic" were.
Even more consequential was Ryan's refusal to challenge Trump on behalf of the young undocumented immigrants included in former President Barack Obama's Deferred Action for Childhood Arrivals program. Though the speaker repeatedly promised the "Dreamers" that Congress would protect them, he has allowed the legislation that would have preserved their legal status to wither, after Trump and House Republican hardliners insisted on linking it to poison-pill provisions that would slash legal immigration.
"I worked with him back in his days of working for Jack Kemp at Empower America," Frank Sharry, the executive director of the pro-immigrant advocacy group America's Voice, told me Wednesday. "He was one of the most committed pro-immigrant, pro-immigration libertarians I've encountered in my three decades in D.C. Then, after ascending to one of the most powerful positions in the nation, he talked a good game and did nothing—except front for Trump's nativism."
On Trump's excesses, Ryan followed a similar pattern of denial. Those who imagined he would defend the law-enforcement institutions that Trump has subjected to unprecedented attacks were invariably disappointed. At a critical moment in the standoff between the Justice Department and House Intelligence Committee Chairman Devin Nunes—over access to highly classified surveillance warrants—Ryan intervened to support Nunes. He was, by extension, supporting Trump, whom Nunes was hoping to assist by raising doubts about the initial justification for the investigation into Russian election interference. On Special Counsel Robert Mueller's investigation itself, Ryan has mouthed the right sentiments about allowing the inquiry to proceed without intervention. But he's resolutely refused to consider legislation to ensure that it could.
Month after month, Ryan signaled that as long as Trump provided a vehicle for advancing the speaker's own goals of retrenching government—especially by cutting taxes—he would be willing to defend (or at least minimize) almost any presidential outrage. Ryan was hardly alone in broadcasting that message—every other major Republican congressional leader did, too. But it was especially powerful coming from a speaker who had fashioned himself as both a champion of inclusion and a policy wonk motivated more by ideas than partisan maneuvering.
The result of all this inaction has been the transformation of the GOP majorities into the see-no-evil Congress, with rank-and-file Republicans and their leaders repeating the same mantra: Move along folks, there's nothing to see here.
That instinct is most apparent in their limp response to Trump's threats against Mueller, but it extends far beyond the Russia investigation. Just this week, legislators with oversight responsibilities for the Environmental Protection Agency declared they saw no reason to investigate the multiple controversies converging on EPA Administrator Scott Pruitt. It's also evident in legislators' policy choices, including the reluctance of even farm-state Republicans dubious of Trump's threatened trade war with China to personally criticize the president.
Ryan more than any other Republican paved the path for this subjugation to Trump—if only because he provided the most viable rallying point for an alternative, optimistic, inclusive vision and yet chose to submit. He leaves the party lashed to a volatile, impulsive leader who is systematically stamping it as a vehicle for white racial resentment, even as the nation grows kaleidoscopically more diverse.
Maybe the vision that Ryan claims to champion would have lost out to Trump anyway, given how heavily the GOP now relies on the voters—older, blue-collar, evangelical, and non-urban whites—most uneasy about the demographic and economic changes remaking America. Ryan's tragedy is that he never tried to find out.