Rewriting My Grandfather's MLK Story
In excavating the story of King's visit to Harlem Hospital, I uncovered my grandfather's own fight for civil rights—and realized I'd misunderstood his legacy as a black doctor all along.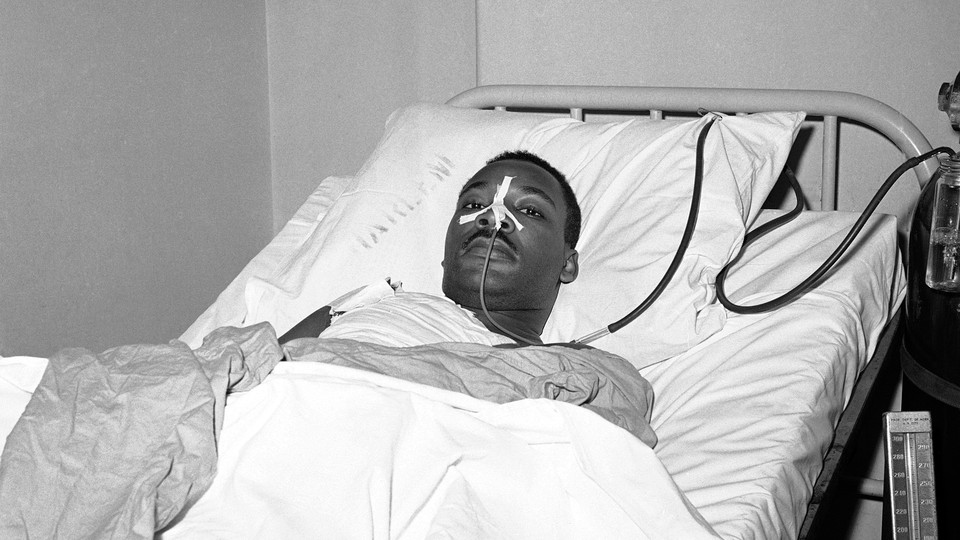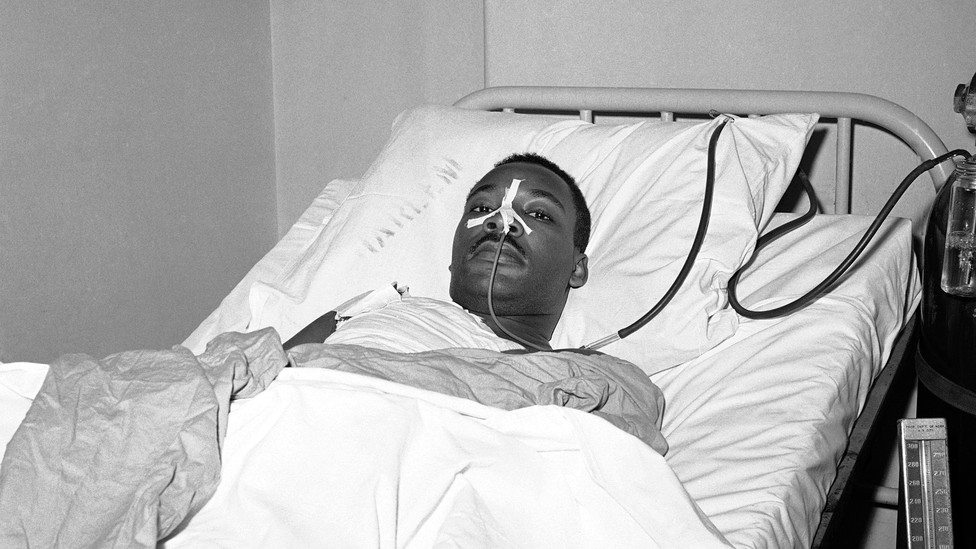 Our stories, for all their intangibility, come to define who we are. My grandfather was reticent about race, so I grew up believing that his being Creole was simply a fact: the makeup of our blood; the additional boxes we checked on forms; the wiry curl of his hair and the slight wave in mine. He was born in Jim Crow Louisiana, married a Japanese woman in the 1950s, and became a successful doctor, but rarely acknowledged his own life as remarkable.
It wasn't until his passing four years ago that I recognized how little I knew of my grandfather's relationship to race, and how desperately I wanted to better understand it. In his absence, I grasped at his stories—and clung most fiercely to his account of Martin Luther King Jr.'s trip to Harlem Hospital in New York City.
It was one of the only stories in which he took explicit pride in being black. But as I began excavating it, I stumbled upon aspects of my grandfather's own fight for civil rights, and realized the extent to which I'd misunderstood his legacy as a black doctor all along. His real legacy, I would find out, wasn't the small role he had played in saving one black life, but his large role in saving so many others.
In the last speech King gave before his assassination, he recalled how he had been stabbed, and almost killed, in Harlem. The story, as King told it, goes like this: It was a Saturday afternoon, and King had been signing his first book, Stride Toward Freedom, at Blumstein's Department Store on 125th Street. A black woman approached him where he was sitting. She asked if he was really Martin Luther King. He said yes. Then, she plunged a letter opener into his chest.
According to a New York Times article the following day, the blade was sitting so close to King's aorta that a sneeze could have killed him. Bystanders restrained the woman, who was mentally ill. Meanwhile, King told the crowd, he "was rushed to Harlem Hospital."
My grandfather was about to go off duty when King was brought into the Harlem Hospital emergency room on a stretcher, the letter opener still wedged into his chest. As a first-year resident specializing in pulmonary medicine at the time, my grandfather was one of the first people to examine King: He removed King's shirt, listened to his lungs, and took an EKG. According to my grandfather's written account, published decades later in an anthology, King himself remained very calm throughout. "If he was praying," my grandfather wrote, "he was praying to himself."
Soon, emergency nurses and doctors whisked King away, and a small group of surgeons—black and white—performed the two-and-a-quarter-hour operation that would save the civil-rights leader's life.
It was September 20, 1958, and King was only 29 years old. He had not yet given his dream speech; had not yet seen the Civil Rights Act passed; had not yet led the march from Selma to Montgomery. Ten years later, King would tell the crowd in Memphis that he was "so happy" he didn't sneeze that day.
---
My grandfather played a negligible role in King's survival, but he felt honored just to have met the civil-rights leader. He was young, three years older than King, and Harlem Hospital's history factored heavily into his being there that day, too. According to Sylvia White, the current executive director of administration, Harlem Hospital had long provided "people of all cultures and from all over the world a place to come and practice medicine." In 1919, it became the first New York municipal hospital to appoint a black doctor to its staff. By the time my grandfather arrived in the 1950s, its fully integrated team of doctors treated a mostly black community.
My grandfather was born Charles Peter Felton in New Orleans in 1926, the seventh youngest in a family of 10. They were a mix of African American, white, and supposedly Native American blood, so some of the children looked like white boys and girls and others black. Charles—Charlie, as he was known then—fell somewhere in the middle. He was bright, and studied hard, and was lucky to have a supportive family: His oldest brother helped pay his way through medical school in Switzerland, where it was easier to study being black. But when Charlie returned to the U.S., he didn't go back to his family in the south. He went to Harlem Hospital.
My grandfather would eventually go on to become an associate director at the hospital; move into a big house in a white, wealthy suburb; and be named a professor emeritus of medicine at Columbia University. His story was the American Dream, realized, in no small part because he decided to leave New Orleans.
He was a proud man, so he never so much as suggested that racism was an obstacle to his success—despite the significant barriers that existed for black doctors at the time. Neither did he talk about growing up in a state still in the grip of segregation, except to say that he really did have to sit at the back of the bus. When my father once asked him if we had any relatives born into slavery, my grandfather replied, simply, "We don't talk about that."
I am still unsure of exactly what kept my grandfather silent about the discrimination he faced in his own life—whether it was his reserve, or the etiquette with which he was raised, or perhaps some sort of shame. But when he spoke of King, and what he achieved for African Americans, he was reverential, animated. I remember him telling the story of King's visit to the hospital a handful of times, usually around the big mahogany dining table in his Palisades, New York, home, where we visited every Christmas. In my mind, the story was an exception: It broached a topic otherwise not discussed, offered a glimmer of how my grandfather conceived of his own racial identity. There could be no shame in his background in relation to King, because King was such a hero himself.
I see now that it is often easier to talk about race in that way: to frame the collective struggle for equality by focusing on one great man.
---
King's visit to the hospital became a source of pride for everyone involved. "For [King] to be brought to Harlem Hospital for a dangerous thing like that, where his life was at stake, it was a challenge," Aubre Maynard, one of the black surgeons who operated on King, told the Times in 1996. "You see, it was a city hospital, and it was looked down upon."
Al Cohen, the director of a soon-to-be-released documentary about King's stabbing, recently explained the episode like this to me: "This was early on in Dr. King's career, and at that particular time, he hadn't yet risen to the prominence level that we know of him. And Harlem Hospital rallied to save his life, to give him the 10-year legacy that we know today."
The episode not only proved that Harlem Hospital could handle a high-profile, high-pressure case; it eventually became woven into the very legacy of the institution. According to White, the staff still celebrates September 20 as the day Harlem saved King and the civil-rights movement. The story cemented Harlem Hospital's place in black history.
Toward the end of our conversation, White—who has worked at the hospital for 25 years—reminded me that she had also known my grandfather. "Your grandfather is actually one of the people of whom we talk about when we talk about the legacy of Harlem Hospital, too," she said, referring to a presentation she gives on the hospital's history. "We actually mention Dr. Felton because of his work in eradicating tuberculosis in this community."
I had known, dimly, that my grandfather's research revolved mostly around tuberculosis, but I didn't realize that the hospital factored him into its "legacy"—the same one that included New York City's first appointment of a black doctor and King's life-saving surgery. He was humble; he had never put his career in those terms for me. I could no longer ask him directly, so I began looking for the legacy that lay beyond what my grandfather ever voiced himself.
---
It happened that, by the time my grandfather was the director of Harlem Hospital's pulmonary division in the late 1980s, New York City was witnessing the beginnings of a tuberculosis epidemic. The disease was a well-known scourge of minority inner-city communities, but had been declining in New York for most of the 20th century. Then, the halt of federal funding for preventative measures in the '70s, coupled with the rise of drug-resistant strains and of HIV, led to its sudden resurgence.
Black neighborhoods like Harlem were exponentially more vulnerable than white ones. According to a New York City Department of Health report, the national average for tuberculosis cases was 10.5 per 100,000 in 1992. The rate for non-Hispanic whites in New York City was slightly higher, at 13.8. The rate for African Americans in New York City as a whole was 112.4. The rate in Central Harlem was 240.2.
New York magazine ran a lengthy feature on tuberculosis in 1992, with subheads like "Tuberculosis Is Back. What Should You Do?" and "The Problem: New York City's tuberculosis epidemic is the worst in the nation." My grandfather is quoted throughout, explaining the rise of the disease and advocating for fighting against its spread. One page features a large, dramatically lit photograph of him, captioned: "'Drug-resistant strains are today's public-health nightmare,' says Dr. Charles Felton, of Harlem Hospital."
In 1996, one of three Center for Disease Control and Prevention "model centers" opened at Harlem Hospital to tackle the epidemic. It was named the Charles P. Felton National Tuberculosis Center and, in addition to other city efforts, became "a model for the kind of close monitoring of patients that will be needed to wipe out TB," according to a Times article. My grandfather worked until 1998, leading the center, conducting research, and training other doctors. By 2002, the TB rate in Harlem had dropped to 38 out of 100,000.
A blurb from the CDC, titled "A Black History Salute," describes my grandfather, "Dr. Felton," as "a tireless advocate for the health needs of the African American community." It reads: "During the decades when TB case rates consistently declined, he continued to point out to Congressional leaders and CDC officials that African American communities, such as Harlem, had not benefited from these advances." When I recently asked my grandmother—who also worked as a doctor at Harlem Hospital for her entire career—she recalled him saying that he'd never wanted to work anywhere else, because he was committed to treating "his people."
Uncovering his legacy as it was immortalized by others allowed me to see what being black had meant to him all along: It was Harlem, and the hospital, and serving a black community. He may have been uneasy talking about it, but there was extraordinary pride and heroism in the service to which he devoted his life.
In truth, my grandfather was one of thousands of black women and men of his generation who hadn't merely persisted through discrimination themselves, but who had fought to make life better for the next generation. Did they recognize their own contributions to history? They certainly hadn't asked for recognition from anyone else. Their remarkable stories remain mostly untold.
King was able to tell his own story to the crowd 50 years ago, on April 3, 1968, in Memphis. Fearing his assassination was imminent, he thanked God he had survived the stabbing in Harlem 10 years before, so he could speak at the March on Washington, and witness the passage of the Civil Rights Act, and lead the walk from Selma to Montgomery.
That was the story that would be remembered by millions—but it's not too late to tell the rest.