The Michael Cohen Case: A Definitive Guide to Key Players
The criminal investigation brings together the president of the United States, an adult-film performer, several lawyers, and a combative Fox News host.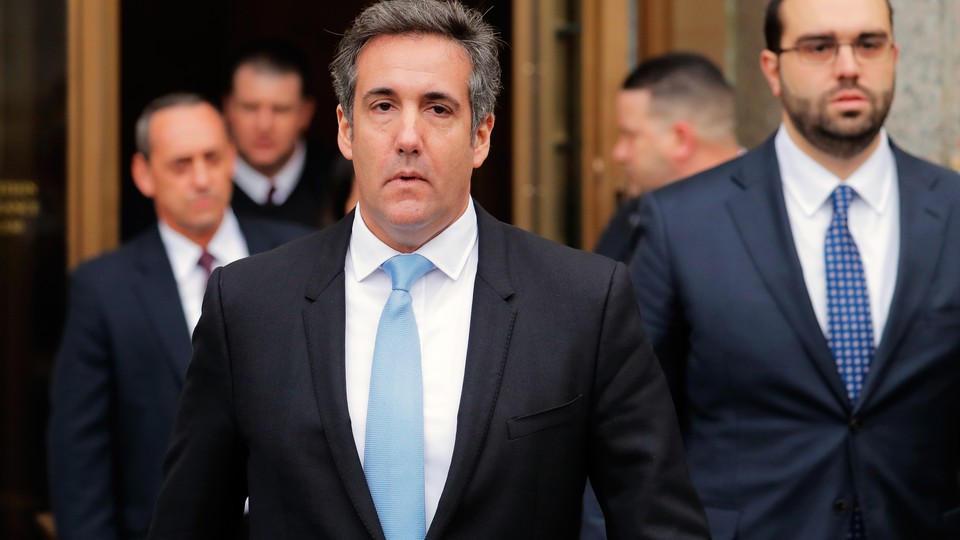 The longtime attorney for President Donald Trump's real-estate empire, Michael Cohen, went to federal court on Monday in a bid to block federal prosecutors from reading documents and other materials that were seized from Cohen's home in a sweeping raid. The porn star Stormy Daniels, whom Cohen allegedly paid off to protect Trump, was there to watch. And the hearing was presided over by Judge Kimba Wood, who ordered Cohen to reveal the name of a client he'd tried to keep secret: the Fox News host Sean Hannity.
In a blow to Cohen and Trump, who asked to review the seized documents before the government had a chance to look at them, Wood ruled that Justice Department staffers divorced from federal investigators—known as a "taint team"—could be trusted to sift through the seized materials and determine what is and isn't protected by attorney-client privilege. Wood signaled that she would consider appointing a special master to ensure not "fairness" but "the perception of fairness," and said the court would reconvene after all parties have a chance to review the seized material and make privilege requests.
The president of the United States is one key player with a personal link to Cohen—but there are many other people involved in the rapidly unfolding drama. Here are the people you need to know about, to understand what happens next:
Joanna Hendon
The high-stakes nature of the Cohen investigation was punctuated last week when Trump hired a new attorney, Joanna Hendon, to represent him in the New York legal battle—a battle that Trump's advisers reportedly fear more than the Russia investigation. Hendon, who works with Spears & Imes in New York and specializes in white-collar criminal defense, was hired by the president two days after the raid on Cohen's home and office. She requested a temporary restraining order and preliminary injunction against the government on the president's behalf, in an attempt to stop prosecutors from reviewing the seized materials before Trump got the chance to review them himself. The president, she said on Monday, "objects to anyone else but him making the first claim of privilege." When Wood asked how much time the president would have to devote to that task, Hendon replied that it was "impossible to say," and made an impassioned plea for the "rights of the privilege-holder" while emphasizing that neither she nor Trump knew what was in Cohen's files. "Memos? Maybe they hand-wrote letters to each other?" Hendon asked, trying to make a point. "Well, they talked," Wood replied, implying that prosecutors may have obtained recordings of conversations between Trump and Cohen. Hendon appeared uncomfortable, pausing before announcing that she didn't know "whether Cohen recorded things my client said to him."
Judge Kimba Wood
Wood, who has been a judge in the Southern District of New York since 1988, appeared more sympathetic to the prosecutors than the defendants—at one point, she interrupted one of Cohen's attorneys, Todd Harris, when he claimed that the prosecution was trying to paint Cohen and his team as "bad people."
"It's not that you're bad people, it's that you've mis-cited the law," Wood said. When Cohen's attorney Steve Ryan said that Cohen was worried about revealing his third client's name against that person's wishes, Wood deadpanned: "If I ordered it to be released, Mr. Cohen would have no ethics issues." She ultimately ordered the name to be revealed to the court under seal, at which point an attorney representing various media outlets approached the podium and argued that there was no legal reason why the client's identity should be hidden from the press and the public. Wood agreed. Later, she said that she had faith in "the integrity" of the U.S. Attorney's office in Manhattan to review the seized materials properly, without violating attorney-client privilege. While Cohen and Trump's legal teams should get a copy of the materials, she ruled, prosecutors would be allowed to screen them simultaneously.
Stormy Daniels
"It's a stormy day," Daniels's attorney, Michael Avenatti, told reporters gathered at the Manhattan courthouse on Monday. He had promised on Sunday that she would be at the hearing, and he delivered—Daniels entered the courtroom shortly after 2 p.m. and sat down in a folding chair, her back to the wall and Cohen's back to her. In January, The Wall Street Journal broke the story that Cohen had paid Daniels $130,000 just days before the 2016 election in exchange for her agreeing to sign a nondisclosure agreement about an affair she allegedly had with Trump in 2006. Daniels is now suing Trump to try to get out of that agreement, which she claims is invalid because Trump himself never signed it. She is also suing Cohen for defamation over a statement he released in February indicating that her claims of an affair were false. "So for years, Mr. Cohen has acted like he is above the law. He has considered himself and openly referred to himself as Mr. Trump's fixer," Daniels told reporters outside the courthouse on Monday. "He has played by a different set of rules, or should we say no rules at all."
Elliott Broidy
Cohen's attorneys confirmed in a court filing Monday morning that the former deputy finance director of the Republican National Committee, Elliott Broidy, was one of Cohen's three clients. Cohen helped Broidy arrange a $1.6 million payment to a Playboy Playmate in late 2017 in exchange for her silence about an affair she had with Broidy, while he was married, that led to a pregnancy, The New York Times reported. The arrangement was the third reported instance of Cohen trying to suppress negative information about a client—the first being Trump's alleged relationship with Daniels, and the second being Cohen's alleged role in silencing a former Playboy model named Karen McDougal who says she had an affair with Trump in 2006. Broidy, a member of Trump's Palm Beach Mar-a-Lago club who frequented the White House through 2017, came under scrutiny earlier this year over his ties to George Nader—a businessman with ties to Russia and the United Arab Emirates who is reportedly cooperating with Mueller's investigation into improper foreign influence over the Trump campaign and administration.
Sean Hannity
The Fox News host, a supporter and frequent dinner partner of Trump who has repeatedly called for Mueller's probe to be shut down, was revealed on Monday to be one of Cohen's clients. In a court document filed on Monday morning, Cohen's attorneys said that Cohen had three clients: Trump, Broidy, and one who wished to remain anonymous. Wood was skeptical of Cohen's reasons for keeping the third client a secret—Cohen's attorney said it would cause the client "embarrassment"—reasoning that it would be difficult to determine whether certain materials seized in last week's raid were protected by attorney-client privilege if all of the clients were not identified. Wood initially said she would allow Cohen to submit the name under seal, but an attorney representing The New York Times and CNN, among other outlets, convinced Wood that there was no legitimate reason to keep the name a secret from the public. Hannity later tweeted about the revelation, claiming that Cohen had "never represented" him "in any matter," and that their discussions "dealt almost exclusively" with real estate. Legal experts noted that Hannity's comments denying any kind of formal legal relationship with Cohen may make it difficult for Cohen to assert that their communications are protected by attorney-client privilege.
Stephen M. Ryan
Ryan, a lawyer with McDermott Will & Emery, has been representing Cohen for the last year on matters related to the investigation into Russia's election interference. He said that while "the Russia case is a dry hole," it has taken up most of his energy and attention. Last week's raid, Ryan indicated, left him and others at his firm scrambling to react. That seemed clear on Friday, when Cohen's lawyers were unable to say with certainty how many clients Cohen actually had whose communications might be protected by attorney-client privilege. Ryan said on Monday that releasing the name of Cohen's third client would cause that client "embarrassment" and would "affect people's willingness to consult an attorney." At that, the courtroom erupted in hushed giggles—more than a few reporters rolled their eyes. "Withholding a client name is not in accordance with the law in this circuit," Wood said. She was prepared to let Ryan hand her an envelope with the client's name written down, but Ryan went ahead and said the name out loud: "Sean Hannity," he announced, to audible gasps in the courtroom.
Michael Avenatti
Avenatti has been representing Daniels in her case against Trump and Cohen over the nondisclosure agreement she signed days before the 2016 presidential election—in exchange for $130,000—promising not to discuss the alleged affair she had with Trump over a decade ago. Avenatti has claimed that the agreement is invalid. Trump said on Air Force One earlier this month that he had "no knowledge" of the Daniels agreement or payment. "You'll have to ask my attorney, Michael Cohen," he said. Both Avenatti and Daniels sat among the reporters in the courtroom on Monday but didn't take questions until after the hearing ended, on the steps of the courthouse. Cohen is "radioactive," Avenatti said, and "anybody associated with him in the last 20 to 30 years should be very, very concerned."
Michael Cohen
Cohen, personal attorney to the president and former Trump Organization executive, has been under criminal investigation for months, according to a court document filed by federal prosecutors in the Southern District of New York last week, over conduct that "largely centers on his personal business dealings."
That investigation, which began on a referral from Special Counsel Robert Mueller, reached a climax when federal agents executed a search warrant on Cohen's home, office, and hotel room. The search warrant is still under seal, but agents were reportedly looking for information related to everything from Cohen's taxi businesses and his payments to Daniels to what role he played, if any, in trying to block the release of the Access Hollywood tape. The lead prosecutor, Thomas McKay, said Monday that roughly 10 boxes of documents were seized and several of Cohen's personal devices were imaged on-site. Cohen's cellphones were confiscated, too, and Wood suggested that the government had obtained tape recordings of Cohen's conversations with Trump. Cohen requested a temporary restraining order following the raid to block federal investigators from reviewing the seized materials, claiming that they were protected by attorney-client privilege. Cohen's attorney Steve Ryan argued on Monday that he and his firm had the resources to sift through the documents quickly and determine what was and wasn't protected. "I've practiced law for 37 years," Ryan said, adding, "I've tried organized crime cases." Wood agreed that Cohen's legal team should have access to a copy of the seized documents, but declined to prevent the government from reviewing them, too.
President Donald Trump
Cohen, who said recently that he would "jump off a building" for Trump, also appears to be at the intersection of questions about Trump's treatment of women and the business practices of Trump's real-estate organization. Trump's spokespeople have attempted to distance the president from Cohen: White House Deputy Press Secretary Hogan Gidley told CNN on Monday night that Cohen was one of "many" Trump lawyers, and White House Press Secretary Sarah Huckabee Sanders told reporters that while Trump and Cohen have "still got some ongoing things, the president has a large number of attorneys." Trump, like Cohen, sought a temporary restraining order on the seized material. His lawyer emphasized the "rights of the privilege-holder," to which Wood replied that such privilege is "a policy" rather than a constitutional right. Trump's lawyer on this case, Hendon, argued that the government's seizure of materials belonging to the president's personal attorney was "extraordinary" and should be treated by the court as a "first impression"—in other words, unprecedented. McKay, the federal prosecutor, pushed back: "Just because Mr. Cohen has a powerful client doesn't mean he is entitled to different treatment."
---
After hearing arguments, Wood ruled that the court should reconvene once prosecutors had uploaded all of the seized material to their system and handed over copies to Trump and Cohen's legal teams. At that point, she said, "we will know more about the volume and the content of the documents, and we can make a more intelligent choice as to whether a taint team or a special master should be involved" in the process of determining what is and isn't protected by attorney-client privilege. "I envision a test," she told Trump's attorney. "As soon as we see the documents, I want a proposal for how to move quickly on this."