What Mueller's Most Conspicuous Silence Suggests
The theft of emails from Democratic officials seems like the most likely avenue for proving collusion between Russia and the Trump campaign—but the special counsel never mentions it.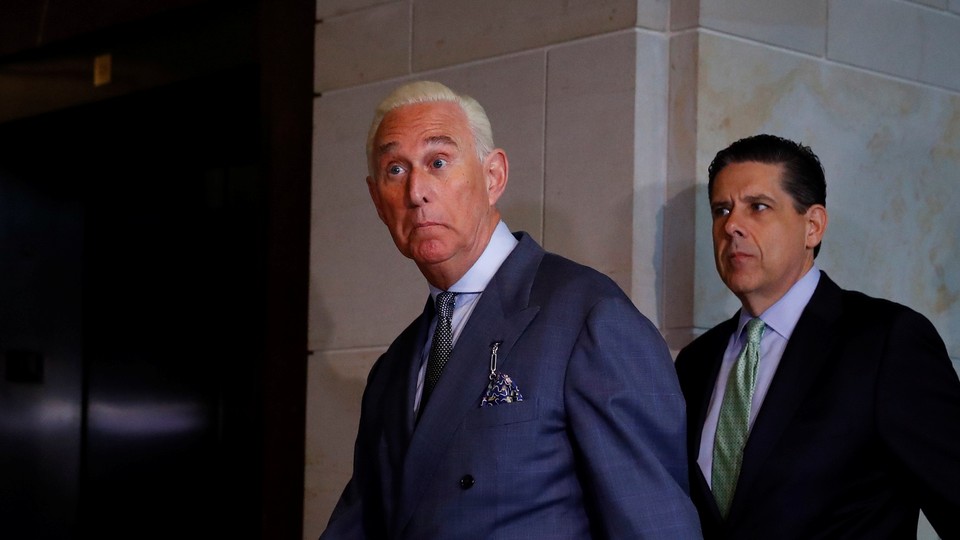 But the emails!
It's not just an increasingly worn rejoinder to any story of chaos and disaster in the Trump administration. It's also an interesting question to ask about Special Counsel Robert Mueller's investigation. The internal scale of the probe remains unknown to anyone outside, but based on what Mueller has revealed publicly in court documents, we can get a good idea of some of what he is considering.
Through indictments and plea deals, Mueller has gone after Russians for conducting a social-media campaign to influence the election. He has targeted Paul Manafort and Rick Gates for actions outside of the Trump campaign, and on Tuesday Alex van der Zwaan, an attorney, is due to be sentenced for lying about conversations with Gates. Michael Flynn and George Papadopoulos have also pleaded guilty to lying to the FBI. On the collusion front, Mueller said in a court filing Monday that he had been authorized to investigate whether Manafort colluded with Russians to influence the election. Finally, Mueller is believed to be extremely interested in whether President Trump obstructed justice in his firings of Michael Flynn and James Comey.
What Mueller hasn't done yet is tipped his hand on the hacking of emails from the Democratic National Committee and Clinton campaign chairman John Podesta. This is notable, since the hacking of the emails is clearly within the scope of Mueller's appointment. It is clearly a crime that occurred, unlike obstruction of justice and other allegations of collusion, for which there is evidence but not the same smoking gun. The hacks had a clear effect on the course of the election, one that is easier to pinpoint than the misinformation campaign conducted by the Internet Research Agency. And there's a clear culprit. There has long been widespread agreement (with some rare though notable exceptions) that Russia was behind the hack, and The Daily Beast reported last month that Guccifer 2.0, the pseudonymous hacker who published some DNC emails and provided others to WikiLeaks, had at one point erred and revealed himself to be a Russian intelligence officer.
Even so, Mueller hasn't indicted anyone for the hacks yet, or if he has, the indictments are sealed. It is not as if he has been shy about indicting Russians, or indicting people unlikely to ever be arrested, as the IRA indictments show.
On Monday, The Wall Street Journal reported that Roger Stone, the political hoodlum, on-again, off-again Trump adviser, and former business partner of Paul Manafort, wrote in an August 4, 2016, email, "I dined with Julian Assange last night." The following day, Stone tweeted, "Hillary lies about Russian Involvement in DNC hack -Julian Assange is a hero." Later that month, he said Podesta was in for a "time in a barrel," ahead of the leak of Podesta's emails by WikiLeaks. In October, he once again accurately predicted a new WikiLeaks dump.
Stone's defense is that the email was bullshit. "I never dined with Assange," he told the Journal. There was no such meeting. It's not what you say, it's what you do. This was said in jest." This is the second time in recent weeks that a Trump-connected person has offered this trust me, I was lying defense, following Cambridge Analytica's Alexander Nix. Both men have been such prolific merchants of balderdash that it's hard to dismiss this excuse. Stone's penchant for falsehood is such that he could very well have invented a meeting with Assange to aggrandize himself.
On the other hand, Stone later exchanged Twitter messages with WikiLeaks, as my colleague Natasha Bertrand reported in February. He has also admitted to being in touch with Guccifer 2.0, the hacker who provided the emails to WikiLeaks, though he insists he did nothing untoward. He also defended Guccifer 2.0 as not being a Russian.
Although Mueller has not charged anyone yet in connection with the emails, there are clues that he is focused on them. Stone's email boasting of his dinner with Assange was sent to Sam Nunberg, the former Trump aide whom Mueller subpoenaed in February (and who briefly claimed he would resist the subpoena). NBC News also reported in February that Mueller's team was asking whether Donald Trump himself was aware of the hacked emails before they were released.
Papadopoulos, a foreign-policy adviser to the Trump campaign, is said to have boasted to an Australian diplomat that Russia had leverage on Hillary Clinton, long before the emails were released. Trump himself infamously pleaded publicly with Russia to hack and release emails from Clinton's time as secretary of state, remarks he later passed off as joking.
The emails are worth watching closely because they are perhaps the most likely avenue for showing material collusion between the Trump campaign and Russia. The June 2016 Trump Tower meeting between Trump campaign officials and Russians is another contender. It shows a willingness to collude on the part of the Trump team, and related emails indicate Russian President Vladimir Putin's support for Trump, but members of both parties claim that no actual material changed hands at that meeting. (That meeting's importance to the investigation may instead hinge on whether the president's involvement in attempts to cover it up constitute obstruction of justice.) Then there are more elaborate theories of collusion, which range from collaboration between Trump's digital team and Russian trolls to speculation about business arrangement, decades-long Russian cultivation of Trump, or kompromat, from the financial to the salacious.
The enticing thing about each of these theories is that there's just enough evidence and mystery that they can't be ruled out. Yet it's the emails that remain the most obvious place to find collusion: There's clearly a crime; there's a connection between the Trump camp, Guccifer 2.0, and WikiLeaks in Stone; and there is the president's own strange refusal to acknowledge Russian culpability for the hacks. Robert Mueller's comparative public reticence about the email hacks doesn't seem like an indication that he lacks interest or information about it—in fact, it may indicate precisely the opposite.