How Long Can Eric Greitens Hold On?
The Missouri governor is trying Trumpian tactics to defuse a scandal, but a new report adds sexual violence to the list of allegations against him and has top Republicans calling for his resignation.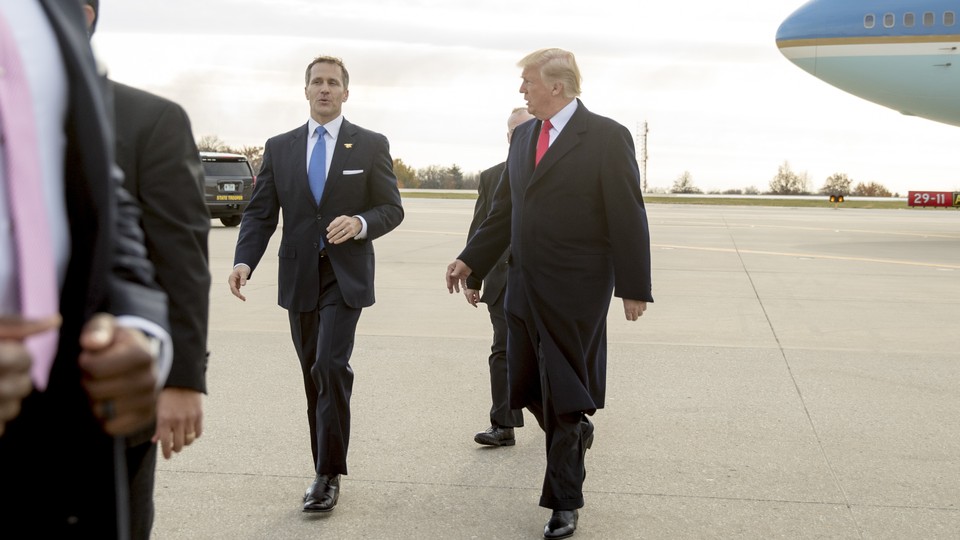 The man at the top is in trouble. The attorney general, a member of his own party, won't defend him. There's talk of impeachment. Republican legislators are restive and fear that he's putting their electoral chances at risk. The exec himself remains defiant, insisting he's the subject of political witch hunts and fake news.
This sounds a lot like what's happening in Washington, but it's also what's happening in Jefferson City, as the crisis facing Missouri Governor Eric Greitens deepens. The state's attorney general and the majority leader in the state Senate have both called for Greitens to resign after the release of a damning report this week by the state House Special Investigative Committee on Oversight, a bipartisan team.
Greitens, a Republican, was indicted in February on allegations that he took a picture of a woman with whom he had an affair in order to use it as blackmail, keeping her from revealing the liaison. (Her now ex-husband recorded her describing the incident, then leaked the tape.) The allegations laid out in the indictment were bad enough, and amounted to a felony, though Greitens denied them.
But the report released Wednesday is much worse. It describes not only an invasion of privacy, but a sexual assault. The woman describes feeling she could not leave Greitens's house without having sex with him. The committee deemed her "an overall credible witness" after interviewing her.
The woman met Greitens in 2013, when he became her client at a hairdressing shop. She developed a minor crush on him, but he quit coming to her for haircuts. Then, in March 2015, he returned, and moved his hand up her leg to her crotch, without her permission, she said. He then called her and asked her to meet. "Next weekend, my wife is going out of town, you can come over to my house, we can discuss these things," he said, according to the woman. She suggested a Starbucks instead, saying she didn't feel comfortable coming to his house, but he said he was worried about being seen in public, since he was running for office.
Once she was at Greitens's house, he asked her to change into clothes he provided. She later told a friend she thought Greitens was worried she might be wearing a wire, and that he also checked her purse for recording devices. The woman said she expected some sort of "sexy workout" with Greitens, but added, "I know I had made it clear I had not cheated on my husband before and that, you know, I didn't want to do anything physical with him."
Leading her to his basement, Greitens taped her hands to workout rings and blindfolded her. He began kissing her and then ripped her shirt, she said, without her consent. He pulled down her pants, and then she heard what she believes was a picture being taken, and saw a flash. The woman has testified she doesn't know for sure that a photo was taken, and so far neither prosecutors nor the committee seems to have viewed one.
But the woman testified that Greitens warned her, "You're not going to mention my name. Don't even mention my name to anybody at all, because if you do, I'm going to take these pictures, and I'm going to put them everywhere I can. They are going to be everywhere, and then everyone will know what a little whore you are."
She says he then began kissing her.
"I just started freaking out and I started ripping down my hands," she said. "I was like, Get me out of here. I'm not ready for this. I don't want this. I don't want this." He moved to comfort her, she said, but also kept fondling her:
He starts undoing his pants, and he takes his penis out and puts it, like, near where my face is. And I'm like—so this guy literally just wants me for this, and this is all he wants, and then he'll let me—because at this point, too, I also know I have to be at work, and he's not going to let me leave, because he's obviously still horny. So I gave him oral sex at this point.
She told the committee she thought that was the only way to get out of the basement. She said she had felt coerced and was worried for her physical safety: "It's a hard question because I did it—it felt like consent, but, no, I didn't want to do it."
She left, but forgot her keys, and when she returned to the house, she said that Greitens told her he had deleted the photo, though she did not believe him.
The woman said she kept in contact with Greitens, who was concerned to make sure she had not told anyone about their encounter. In June 2015, she went to his house and was making out with him when he asked her if she'd had sex with anyone else:
I said, What do you mean? And he said, Well, since you and I started—because he knew that I had been separated from my husband. And I said, Well, I slept with my husband—because I know at some point I had. And he slapped me across my face, just like hard to where I was like, What? Eric, what in the heck? You're married. Why would—what do you mean? And he just said, No. Like, that was—you're mine. This is—what do you mean you slept with your husband? You are not supposed to be sleeping with him, you know? And I said, I think you're screwed up from being in the Navy.
(Greitens, as he seldom hesitates to remind audiences, served briefly in the Navy SEALs.)
The report is sickening to read, adding violence and coerced sex to the list of accusations against Greitens. These are particularly damaging because the events it portrays allegedly occurred even as he was getting ready to run for office with a campaign in which he blasted the state's existing politicians as corrupt and unscrupulous, and trumpeted his own supposed family values. That campaign resonated with voters, but it had the side effect of upsetting many Missouri politicians, including those in his own party, who have been slow to defend him and even eager to blast him. (Greitens seems to have an uncanny ability to alienate coworkers; some Navy SEALs have also come forward to criticize Greitens and his stories of his service.)
In a statement on Thursday, Missouri Attorney General Josh Hawley, a Republican, called for Greitens to resign immediately. "The House Investigative Committee's Report contains shocking, substantial, and corroborated evidence of wrongdoing by Governor Greitens," he said. "The conduct the report details is certainly impeachable, in my judgment, and the House is well within its rights to proceed on that front. But the people of Missouri should not be put through that ordeal. Governor Greitens should resign immediately."
Hawley may have extra motivation for wanting Greitens gone. He's running for U.S. Senate against incumbent Democrat Claire McCaskill in what is expected to be a very competitive race, and doesn't want the Greitens case hanging over the party. Senate Majority Leader Mike Kehoe, another Republican, said Greitens has lost the "moral authority and the ability to lead."
Greitens has fought back against the onslaught. He has reiterated that the relationship with the woman was consensual, and said it was a personal error on his part. He has denied the blackmail, but as the House committee noted, he conspicuously avoided denying that he took a photo during an interview with the Associated Press in January.
After Greitens was indicted, the Missouri GOP accused St. Louis prosecutor Kim Gardner of being part of a political conspiracy against the governor, noting that she had received $200,000 from groups funded by the liberal benefactor George Soros. In addition to the anti-Semitic overtones of the charge, this was an act of remarkable chutzpah, since Greitens served on the board of a Soros-funded charity.
On Thursday, Greitens's attorneys again attacked Gardner, alleging she had concealed a video recording of Greitens's accuser from his legal team. Gardner told a judge she only learned of the video on Monday. The judge on Tuesday issued a partial gag order after a public volley between the prosecution and defense.
The sex scandal is not the only one threatening Greitens. The same state House committee is also investigating whether Greitens improperly used a donor list for his veterans nonprofit during his political campaign. As The Kansas City Star reports, Greitens first said his campaign didn't have the list, then admitted it did. The Mission Continues, his charity, says it did not give the list to the campaign.
As President Trump becomes embroiled in an increasing number of personal scandals—in addition to the broader political scandals—it's tempting to compare the situations. In both cases, an executive is imperiled by his own bad judgment and lack of discipline. In both cases, he has attacked the press and prosecution and blamed broader, conspiratorial forces for his plight. In both cases, the executive is a first-time candidate who won in large part by rebelling against the GOP establishment. And in both cases, it's ultimately his own party that holds the keys to his fate.
In Trump's case, it's Republicans in the U.S. House and Senate who are in the position of warning him not to fire Special Counsel Robert Mueller. It's they who will have to decide whether to move against him should he fire either Mueller or Deputy Attorney General Rod Rosenstein. And it's they who will have to decide what to do if Mueller (or a successor) brings evidence of wrongdoing against Trump to them. The same is true for Greitens, a Republican in a state with a GOP majority in both houses of the General Assembly. So far, however, Missouri Republicans have been much more aggressive in calling Greitens out than their national counterparts have been with the president.
Of course, the comparison between the two executives has its limitations. Both come from outside politics, but Trump's entire career seemed to militate against his viability as a candidate—right up to the moments in which he won the Republican nomination and then the presidency. Greitens, by contrast, seems to have been building a perfect resume for office for years. He attended Duke on a scholarship, won a Rhodes Scholarship, and then joined the SEALs. Leaving the military, he won a prestigious White House fellowship, founded his charity, and churned out a series of inspirational books. Greitens was notably party-agnostic: He was a Democrat for much of his career, and was courted to run for office for both parties, making his campaign turn to aggressive social-conservative rhetoric not only hypocritical, in light of his affair, but also jarring.
While Greitens was apparently not motivated to get into politics by ideology, he was always interested in office. Thomas McCollough, one of his professors at Duke, told St. Louis magazine in 2016 that Greitens told him he wanted to be president. Greitens also registered the domain name ericgreitensforpresident.com.
As I wrote when Greitens was indicted, his travails show the dangers of electing inexperienced politicians to high office. Nonetheless, the lurid nature of the allegations is surprising. Not only did Greitens run as a clean, family-values candidate, but he centered much of his early career around ethics. At Duke, he chaired the Honor Council, a body that raises awareness of and punishes violations of a school rule not to lie, cheat, or steal, and even designed his own major—in ethics.
On Thursday, I reached McCollough, who is now retired but taught ethics for many years in Duke's religion department. He told me he first met Greitens, and was impressed, when the then-student presented on the honor code to a faculty group. "I always considered him of very high character," McCollough said. He hasn't kept in touch with Greitens over the years, but when he read the news out of Missouri, "I was surprised."
I said that Greitens's alleged acts must be at odds with ethical behavior as McCollough taught it.
"That's correct," he said. "It is."