The Comey Memos Won't Derail the Mueller Probe
The release of the documents seems unlikely to harm the current stage of the investigation, but if Congress keeps tipping the special counsel's hand, that could change.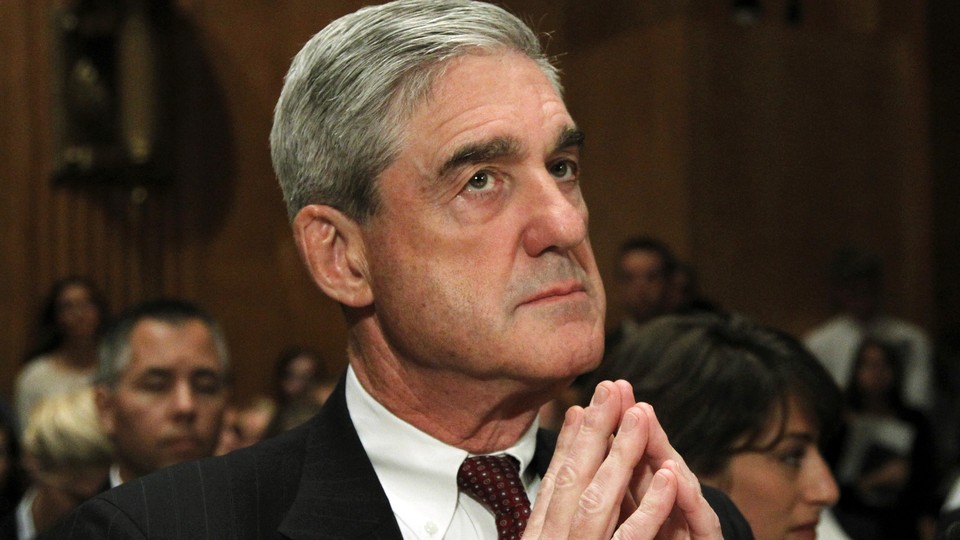 The release of former FBI Director James Comey's memos detailing his early interactions with Donald Trump are unlikely to harm Special Counsel Robert Mueller's investigation, legal experts say.
"Ordinarily, prosecutors conducting grand-jury investigations need to keep their cards close to the vest. That goes double for obstruction-of-justice investigations. If corrupt witnesses know what evidence and testimony have already been accumulated, they can build a false story around it without fear of contradiction," said Bruce Green, a former federal prosecutor and a law professor at Fordham. "As far as the Comey memos are concerned, these considerations stopped mattering once so much of their content had leaked."
On Thursday evening, the Department of Justice complied with demands from Republicans in Congress to turn over Comey's memos of his interactions with Trump, in which Comey recounts Trump's preoccupation with allegations that he consorted with sex workers in Moscow, and details an effort by the president to persuade Comey to shut down an investigation into Trump's former national-security adviser Michael Flynn. The memos promptly leaked to the press. Democrats on the committee have accused the majority of attempting to shield the president from Mueller's probe. The Department of Justice initially resisted turning over the memos, saying they were relevant to an ongoing criminal investigation.
The release of the Comey memos is unlikely to hurt that investigation however, because so much of their content was publicly known from Comey's public testimony last year, his recently released book, and his public appearances. Rather than undercut Comey, they bolster his credibility, because contemporaneous accounts are considered more accurate than recollections.
"Witnesses's notes are often used to refresh their recollections of the conversations they described right afterwards. So insofar as Comey testifies consistently with the memos, his credibility will be enhanced," said Green. "That's particularly so because lawyers are trained to take accurate notes. It's hard to imagine that Comey left his meetings with the president and then created notes fabricating their conversations."
Three Republican committee chairmen—Devin Nunes, Trey Gowdy, and Bob Goodlatte—released a joint statement arguing that the memos showed Trump's innocence, because  "former Director Comey never wrote that he felt obstructed or threatened."
But John Q. Barrett, a former associate counsel in the Iran-Contra affair and a law professor at St. Johns, said that Comey would not have included that information if he did.
"These are factual recordings of events, not assessment documents. He's writing this down as someone who is concerned that he might later need to have a full recollection," said Barrett. "They're witness documents; he's not writing down a prosecutor's assessment of what this might legally amount to. For an obvious reason, when you're a witness, the events are happening to you, you're not going to be assessing whether it's improper. They will be there for an investigator to assess what they amount to."
Although the Comey memos most likely will not undermine the Mueller probe, legal experts warn that if the Department of Justice accedes to future requests, it might give potential targets of the investigation a heads up on information they shouldn't have access to yet.
"Going forward," said Green, "Congress will frustrate Mueller's investigation if it keeps tipping his hand."