James Comey's Shocking—Yet Unsurprising—Interview
The news isn't that the former FBI director called Donald Trump a chronic liar who is "morally unfit" to serve—it's that so many people have already long ago decided the same.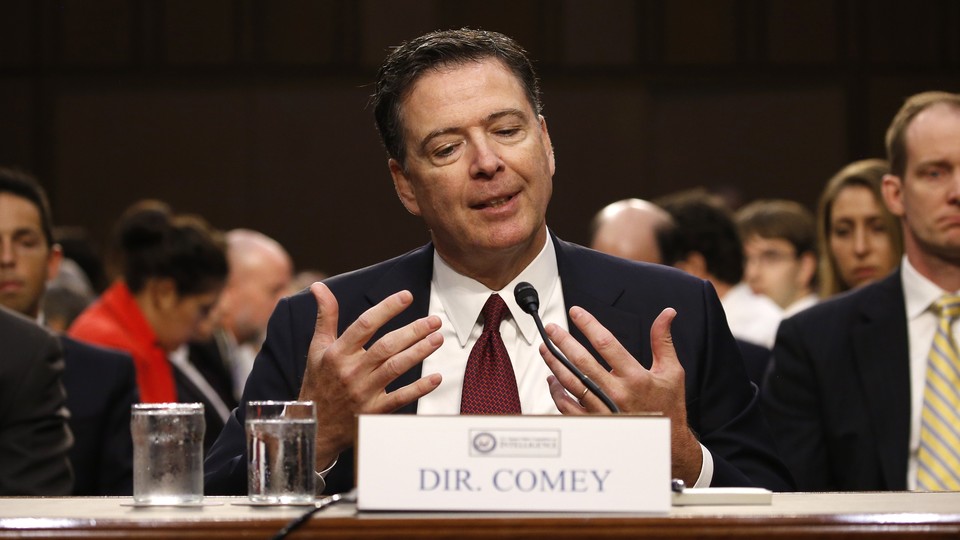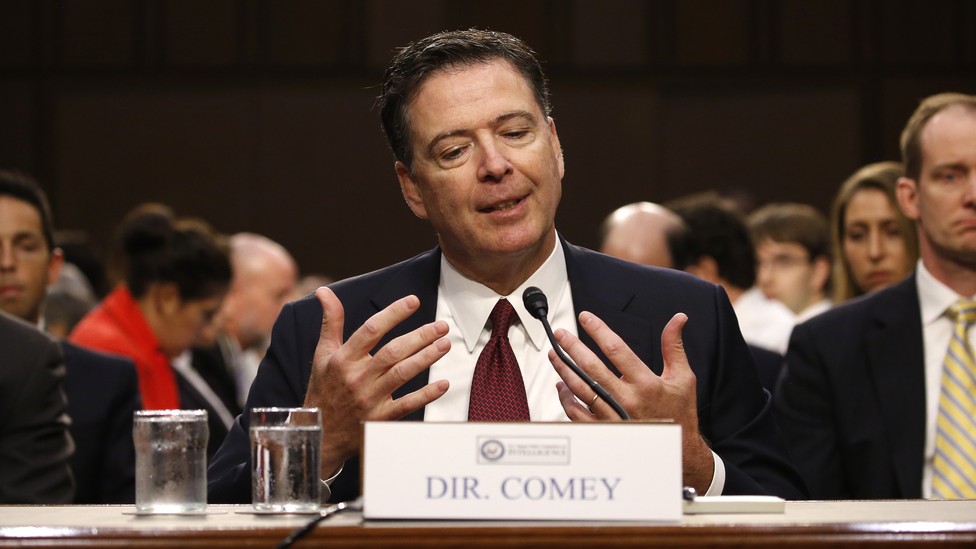 Former FBI Director James Comey called President Donald Trump "morally unfit to be president," a liar, someone who "does not reflect the values" at the core of the United States during a scorching interview with ABC's George Stephanopoulos Sunday night.
"A person who sees moral equivalence in Charlottesville, who talks about and treats women like they're pieces of meat, who lies constantly about matters big and small and insists the American people believe it, that person's not fit to be president of the United States, on moral grounds," Comey said. "Our president must embody, respect, and adhere to the values that are at the core of this country. The most important being truth. This president is not able to do that. He is morally unfit to be president."
Comey also suggested Trump had obstructed justice and said he could not say whether Russia had compromising material about the president.
The interview is the first of many this week as part of a press blitz for Comey's book A Higher Loyalty. Sunday began with Trump delivering a multi-tweet tirade about Comey, whom he fired in May 2017, calling him a liar and perjurer, "out of whack," "not smart!" and "the WORST FBI Director in history." Given past patterns, Comey's words in the hour-long special are likely to elicit still more fury from the White House in the hours and days to come.
Comey's interview was one of the most anticipated news events in recent memory, and many of his statements about the president are noteworthy—especially coming from a decorated and widely respected lawman and lifelong Republican like Comey.
Yet what is perhaps more striking is just how ordinary much of what Comey said was. A majority of voters in the country concluded that the president is a serial liar and unfit for his office long ago. His misogyny and moral equivocation on issues like white supremacy have been amply displayed by his public statements, without any need for someone like Comey to point them out, as striking as it may be to hear Comey say it.
The interview also captured the sense of surrealism that has pervaded much of American political life for the last two years. Comey was at the heart of many of the major events in that span, including the Clinton email investigation, the Russian election-interference investigation, and of course his own firing, yet his reaction to these events is as dumbfounded as people who watched from afar. The view from the inside is uncannily like the view from the outside.
When Trump stood up and invited Russia to release emails hacked from Clinton, Comey said, "I'm thinking the questions that we're asking ourselves, which is, is anybody—is the Trump campaign in any way working directly with the Russians?" When he noticed similarities in style between the Trump team and mafia dons, he thought, "That's crazy." The briefing in which he told Trump about the Steele dossier was "really weird. … It was almost an out-of-body experience for me. I was floating above myself, looking down, saying, 'You're sitting here, briefing the incoming president of the United States about prostitutes in Moscow.'" When he learned he'd been fired, he was less angry than baffled. "That's crazy. How could that be?" When, the next day, Trump welcomed the Russian foreign minister and ambassador in the Oval Office and told them that firing that "nut job" Comey had taken pressure off him, Comey's reaction was, "That's crazy."
These things are, in fact, crazy. Some of the more compelling moments in the interview came from Comey's bluntness. When Stephanopoulos noted that Trump denies pressuring Comey to drop an investigation into fired National-Security Adviser Michael Flynn, Comey replied, "Well, what am I going to do? He did." (Flynn has since pleaded guilty to lying to the FBI and is cooperating with Special Counsel Robert Mueller.) Some key issues remain he-said, he-said battles between Trump and Comey, and Comey presents a more credible story and demeanor, as well as painting a picture of Trump that aligns with the president's public persona. Comey says, for example, that Trump complained that the Russia investigation "was getting in the way of his ability to make deals for the country," which rings syntactically true.
Comey would not say whether he believed Trump had obstructed justice, but said Trump's direction regarding Flynn was "evidence of obstruction of justice" and referred to the "pretense" of his firing "melting away." He defended his decision to send memos about his meetings with the president to a friend to send to the press, and pointedly called them unclassified memos, against Trump's repeated claims that Comey leaked classified information. He said he had hoped for the appointment of a special counsel, and tried to frame the debate over a possible firing of Mueller.
"It would, I hope, set off alarm bells that this is his most serious attack yet on the rule of law," Comey said. "And it would be something that our entire country—again, Democrats and Republicans, that is higher than all the normal fights about policy. That is about the values of this country and the rule of law. And it would be to the everlasting shame of partisans if they were unable to see that higher level and to protect it."
Stephanopoulos pressed Comey at some length on his choices during the Clinton email investigation, and in particular his decision to publicly reopen the investigation on October 28, 2016, which Clinton and some analysts believe cost her the election. Comey has already laid out his somewhat tortured explanation for why he did what he did, and he comes across as regretful about how things played out. It was for this that Comey was ostensibly fired, and his decisions have been criticized by former Justice Department officials of both parties. Comey said he would still have made the choices he made, but nothing new in his explanation is likely to convince doubters.
In one of the starkest moments of the interview, Comey said he still did not know whether Russia possessed blackmail material on Trump.
"I think it's possible. I don't know. These are more words I never thought I'd utter about a president of the United States, but it's possible," he said. "It is stunning and I wish I wasn't saying it, but it's just—it's the truth. I cannot say that. It always struck me and still strikes me as unlikely, and I woulda been able to say with high confidence about any other president I dealt with, but I can't. It's possible."
The climax of the interview was Comey's judgment that Trump was unfit to serve. He rejected the idea, floated by some, that Trump is mentally incompetent, or suffering from dementia that endangers his judgment. "He strikes me as a person of above average intelligence who's tracking conversations and knows what's going on," Comey said. In other words, the problem is not that Trump does not know what he's doing: It's precisely that he does know what he's doing.
Comey hedged a bit when quizzed about whether he would back impeachment. He wouldn't rule it out, but said, "I hope not because I think impeaching and removing Donald Trump from office would let the American people off the hook and have something happen indirectly that I believe they're duty-bound to do directly. People in this country need to stand up and go to the voting booth and vote their values." It's a curious answer, to say that a president is a chronic liar unfit to serve yet also be willing to leave him in office for another two years.
Gauging the political impact of Comey's interview, and his book, remains challenging: Opinions about Trump are so firmly ensconced that it's hard to say what might actually shift public opinions. Those opinions are set because so much of the material needed to judge the president has long been available. Even the indictment that Comey offered Sunday night is a retread. During the presidential campaign, Hillary Clinton repeatedly called Trump unfit to serve as president.
Voters, with a nudge from James Comey, decided otherwise.