The Covers Behind KING
The designer of our Martin Luther King Jr. special edition describes his inspiration.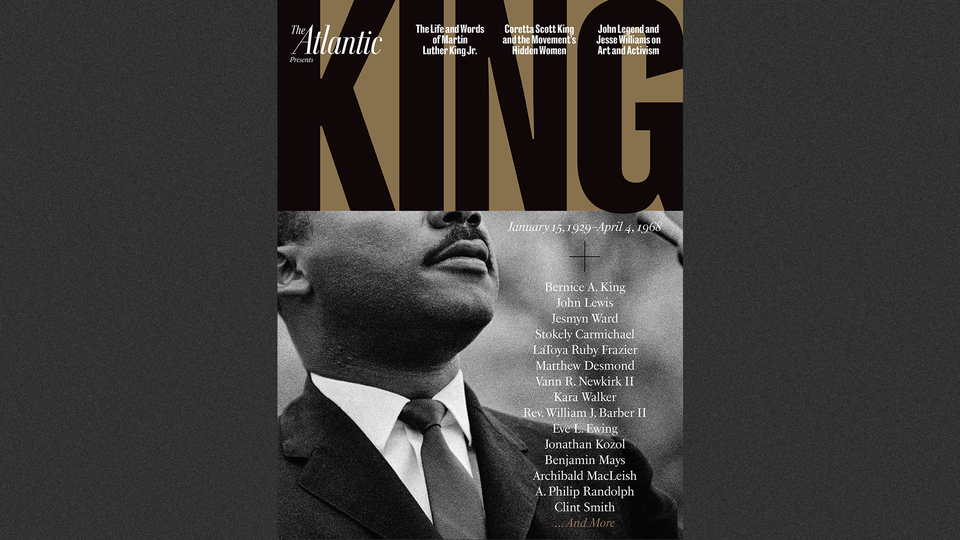 This article is a sample of the exclusive stories written for members of The Masthead, the membership program from The Atlantic (find out more).
This year marks the 50th anniversary of Martin Luther King Jr.'s death. To honor his legacy, The Atlantic published a special edition of the magazine. Featuring rarely published speeches by King; contemporary voices including Bernice King, John Lewis, and Jesmyn Ward; and excerpts from The Atlantic's own archives, the issue reflects on the man who defined the civil rights movement and how his message still resonates today. I talked with Bobby Martin, founding partner of The Original Champions of Design, who designed the issue, about the inspiration behind the cover.
---
How to Put Martin Luther King Jr. on the Cover of The Atlantic
Caroline Kitchener: When you first learned that you'd be creating the cover for the Martin Luther King Jr. special issue of The Atlantic, what went through your head?
Bobby Martin: It was a lot to take in. It's an important year. It's an important time to talk about a lot of the issues that were being discussed 50, 60, 70 years ago. Reading through this issue of The Atlantic, it is clear that, sadly, many of the topics are still being discussed in 2018. When we were designing this magazine, we wanted to make sure that we were not only doing justice to King—making sure we held up his legacy—but also celebrating what he was fighting for. We needed the electricity and vibrancy of the time to come through when people engage with the issue.
Caroline: I love those words, electricity and vibrancy. How did King create that kind of energy?
Bobby: King had this ability to engage and connect with people that was unlike any other. It was his energy, it was his passion, it was his commitment to nonviolence—at a time when it was much more difficult to be nonviolent than violent. How can you translate all of those feelings into design?
Caroline: What were some of the first images you felt drawn to?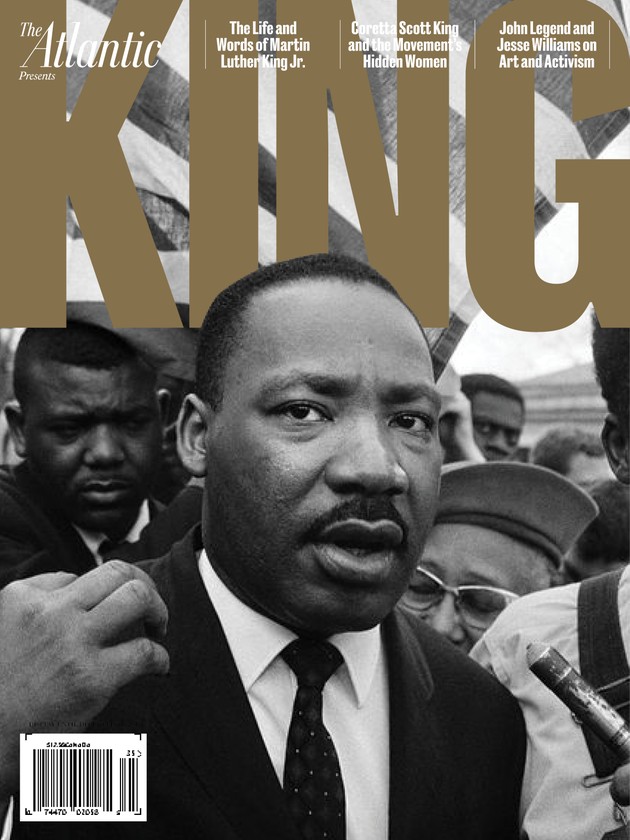 Bobby: It was all about deciding what narrative about King we wanted to tell. This image with the crowd stood out because there is a lot happening. It feels like there is a forward momentum: There is this hand on his shoulder, he is leading a crowd, there is an American flag waving in the background, it looks like he is actually talking while he is walking. It tells a story about a life that was very involved.
Caroline: This one evokes a totally different feeling.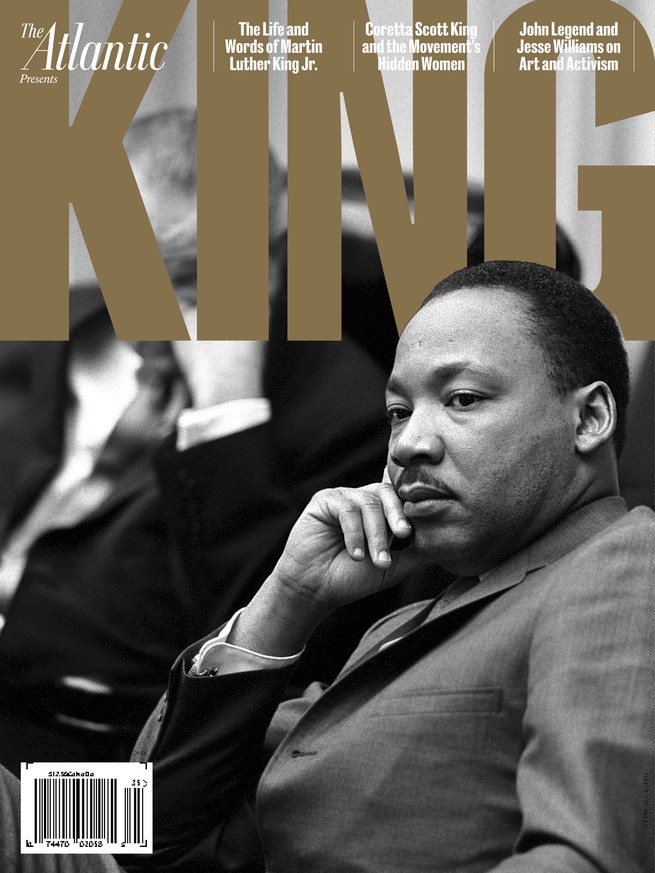 Bobby: This one was pensive, it was him weighing a lot of the challenges of the time. This was one of the easier ones for us to move beyond. It was a little too laid back. We wanted something with more urgency.
Caroline: What about this one with the handkerchief?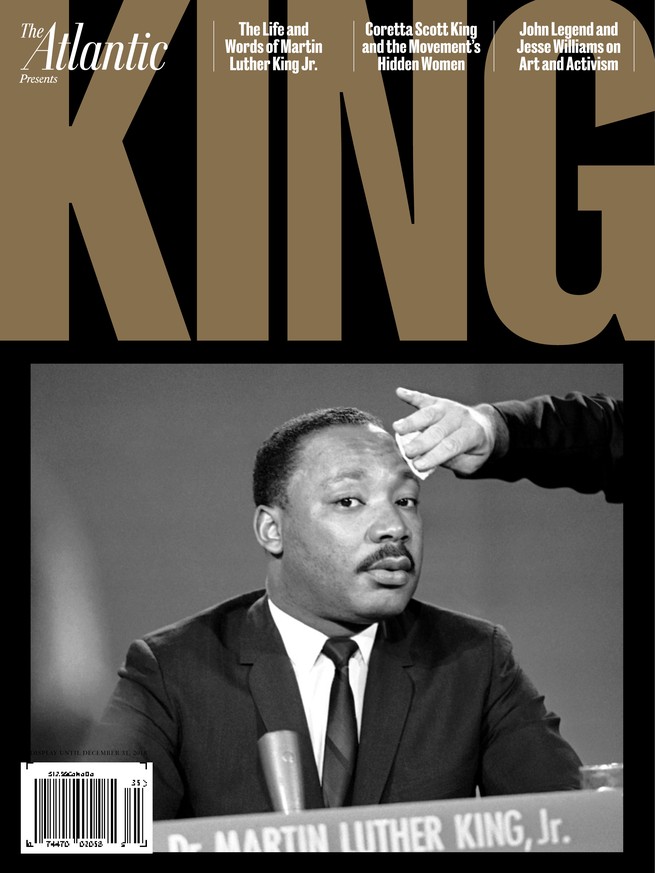 Bobby: We ended up using this one on the table of contents page because we loved it so much. Again, it didn't quite reflect the tone we thought was important for the cover, but it does show a different perspective of King. As soon as we saw this, everybody just smiled. It humanizes him. It's a little bit imperfect. It also shows a hand of someone who is probably Caucasian wiping his brow or applying makeup, which at the time was a bit of a switch.
Caroline: All three of these show King's entire face, but the final cover [below] does not. Why did you decide to move away from that aesthetic?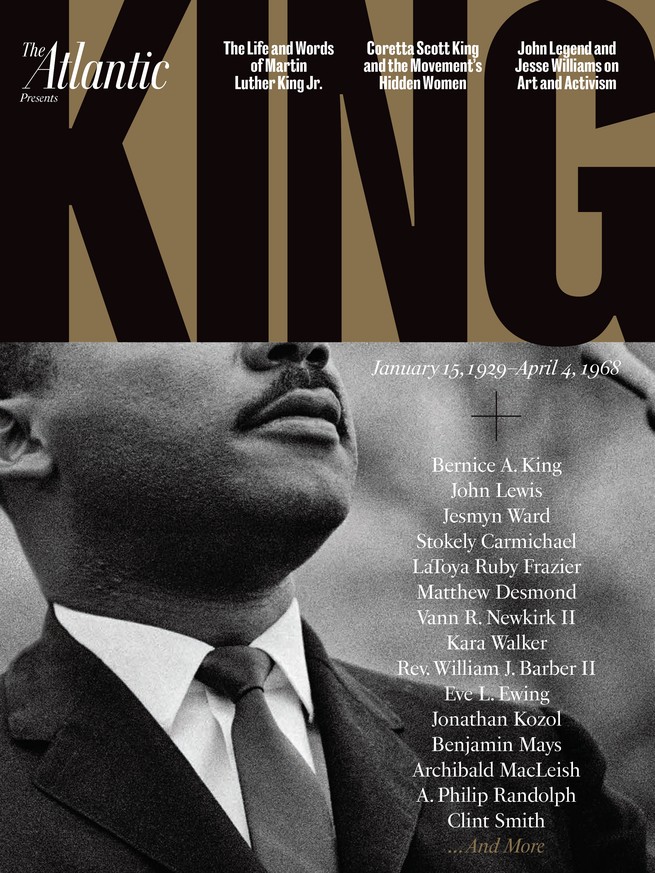 Bobby: We are bombarded by imagery of King—since his death, a lot of the images used on magazine covers have been very similar, even identical. Now, 50 years after his death, you become a little bit numb to it. You forget some of what King was about. So when we started to think about a cover for this issue and how to make people stop and take notice, we actually had to refocus a little bit. We had to reframe it. We had to zoom in and re-emphasize what we wanted people to really see.
We zoomed in on his mouth, and included the microphone in the shot, because we wanted to focus on the oratory of King. We wanted to focus on his eloquence—his ability to inspire and lead a movement. Diving into [his] archives, we were diving into real, actual words that Martin Luther King was saying and speaking and writing. One of my favorite writings here is his "Letter from a Birmingham Jail." He wrote it on the edges of a newspaper, in response to some things that were going on at the time, and published it in The Atlantic in August, 1963.
Caroline: Were you conflicted about the decision to crop his eyes out of the photo?
Bobby: It's something we carefully considered. You could do the opposite of what we did, and just focus on the eyes. But as soon as you open this issue, he's looking right at you. So we thought that focusing on his mouth could actually reassure you that you're going to be seeing much more of him as you get into the issue, and he's going to be seeing a bit more of you.
Caroline: How did you decide to put just the word "King" up there at the top?
Bobby: We realized that when you blow up those four letters—K-I-N-G—in full bleed, it becomes this bold crown, which I think is quite powerful. That comparison becomes even more intense when you play with color and metallic gold.
Caroline: What kind of background research did you do for this project?
Bobby: I compiled as many images as I could find of King: photographs, illustrations, sketches, magazine covers. I wanted to find images from Ebony, Jet, The Atlantic, TIME, Life, The Negro Digest, from the time when King was stirring things up. Through the research process, I wanted to discover things that I didn't know before. It's important for us not to just come into projects with our own assumptions.
Caroline: What were some of the specific historical references that inspired this cover?
Bobby: The "We Insist" album cover from Max Roach, from 1960, had the big, bold, type-heavy typography that we featured on the cover. "We Insist" was Max Roach's political and social response to the civil rights movement. This album cover was iconic, featuring this picture of a sit-in. It has that urgent boldness, from a graphic standpoint.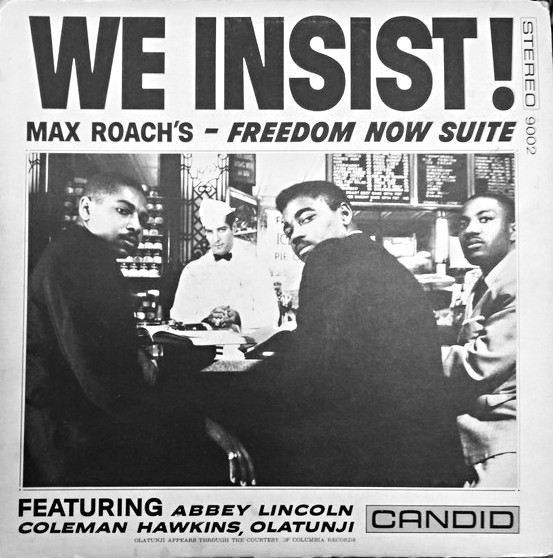 Caroline: Personally, what did it mean to you to design this cover?
Bobby: Coming out of such an awful election and living through the result and knowing that it's exactly the antithesis of everything that this man, and his wife, Coretta, fought for, it meant a lot to work on this and to do this right. This magazine is full of love and tolerance and understanding. I think people will read through it and hopefully learn a little about what those words actually mean.
For more exclusive behind-the-scenes stories about The Atlantic, join The Masthead.