A Suspected Russian Spy, With Curious Ties to Washington
A longtime Republican operative has been in contact with a suspected Russian intelligence agent for nearly two decades. What does it mean for Robert Mueller's investigation?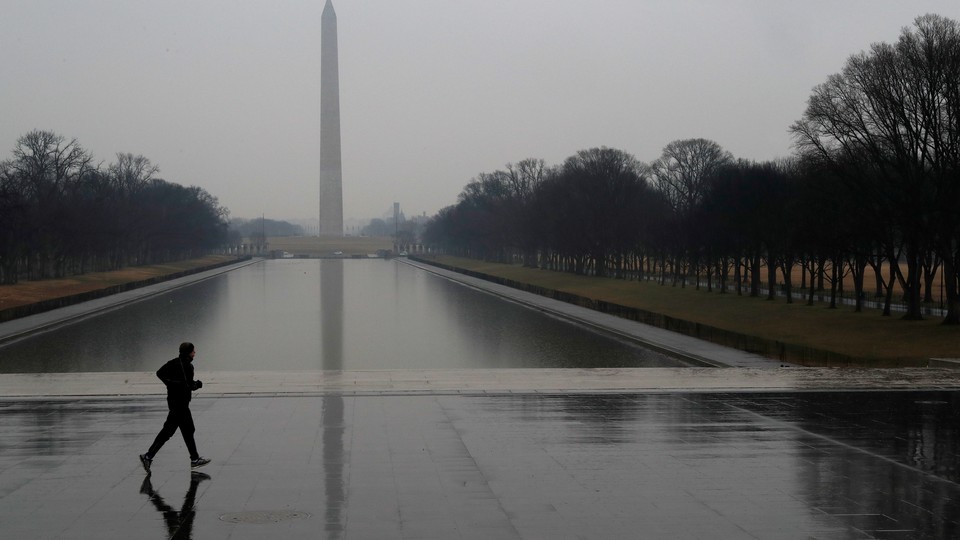 A longtime Republican operative with ties to the controversial data firm hired by President Donald Trump's campaign team also has a nearly two-decade-long friendship and business relationship with a suspected Russian intelligence agent, Konstantin Kilimnik, who has landed in Special Counsel Robert Mueller's crosshairs.
The Washington-based operative, Sam Patten, would not tell me whether he has been interviewed by Mueller's team as part of their investigation into Russia's election interference and potential collusion between the Trump campaign and Moscow. But Patten said that his relationship with Kilimnik—a former officer in Russia's Main Intelligence Directorate (GRU) who worked closely with Trump's campaign chairman Paul Manafort and his deputy, Rick Gates, for over a decade—has "been thoroughly explored by relevant government entities."
Patten's long friendship with Kilimnik—which stems from their time working together at the International Republican Institute in Moscow between 2001 and 2003—would likely be enough to draw scrutiny from Mueller, who appears to have homed in on Kilimnik as a potentially significant link between the Trump campaign and Russia. The special counsel's office alleged in a court filing late last month that Kilimnik still had ties to Russian intelligence services in 2016, and that his conversations with Gates in September of that year are relevant to the investigation. Manafort and Gates's arrival to the campaign team coincided with the most pivotal Russia-related episode of the election: the release of emails that had been stolen from the Democratic National Committee by hackers working for the GRU, Russia's premier military-intelligence unit.
"We've known each other for more than 15 years, and we periodically look for places we can work together," Patten told me of Kilimnik. Their relationship is also proof that Kilimnik's ability to ingratiate himself with American political consultants went beyond Manafort and Gates—a fact that could serve as a new data point in examining Russia's ties to Republican operatives in the U.S. By the spring of 2015—when, as my colleague Frank Foer wrote, Manafort's "life had tipped into a deep trough"—Kilimnik was already working on a new venture with Patten that appeared to be focused on targeted messaging in foreign elections.
That venture, first reported by The Daily Beast this week, was a private LLC incorporated in February 2015 called Begemot Ventures International (BVI) with a mission to "build the right arguments before domestic and international audiences." Kilimnik is listed as the firm's principal and Patten is listed as an executive, according to company records, and the company is registered to Patten's office address in Washington. A website for Begemot—which was built almost two years after the company was incorporated—links to Patten's email for inquiries, but does not list the company's clients.
It is not clear why Patten, who already had a consulting firm registered in D.C., decided to open a brand-new company with Kilimnik. Asked whether any of the firm's clients were in Russia or Ukraine, Patten replied, "It would be poor business to talk about our clients, but I can tell you declaratively that none of the clients have involvement in the particular circus in the U.S. that seems to have become a news industry in and of itself," an apparent reference to the Russia investigation. He confirmed that the company, which he described as providing "strategic communications advice for clients outside the U.S.," is still active, but said it has no projects ongoing at this time.
"BVI has only worked for clients outside U.S. in other countries," Patten said. "As a result of all this, I regret it probably won't be working for anyone anymore, but you never know. Life can be unpredictable." Patten said that, "to the best of [his] knowledge," Kilimnik "was no longer working for Manafort when BVI was formed." But he acknowledged that Kilimnik and Manafort, who began working together in Kiev in 2005, "remained in touch, as is well-known." Patten's work in Ukraine dovetailed with Manafort's. About eight months after BVI was incorporated, in October 2015, Patten was in Ukraine advising Kiev Mayor Vitali Klitschko on his reelection campaign. On his website, Patten writes that he "helped steer Mayor Klitschko to reelection in Ukraine's capital and largest city in one of the toughest anti-government atmospheres in that country's history."
Serhiy Lyovochkin—the former chief of staff to ousted Ukrainian President Viktor Yanukovych, who hired Manafort to rebrand the pro-Russia Party of Regions in 2014—brought Patten onto Klitschko's team, Ukrainian media reported at the time. Dmitry Firtash, a pro-Russia Ukrainian oligarch with ties to Manafort who is known for bankrolling pro-Russia candidates in Ukraine, also boasted in 2015 that he was involved in Klitschko's campaign. Asked whether Manafort coordinated with Patten and/or Kilimnik on Klitschko's reelection campaign, a spokesman for Manafort said he had "nothing to add."
Patten describes himself as an "international political consultant" on his website, but he worked at the Oregon office of Cambridge Analytica's parent company, SCL Group, helping to fine-tune the firm's voter targeting operations in the runup to the 2014 midterm elections, according to investigative journalist Nafeez Ahmed, now a columnist for Middle East Eye. Patten alluded to this work on his website, writing that he worked with "one of London's most innovative strategic communications companies" on "a beta run of a cutting-edge electoral approach" that "included taking micro-targeting to the next level" during the 2014 congressional cycle. Those technologies, he wrote, were "adopted by at least one major U.S. presidential candidate."
Both Republican candidates Ted Cruz and Donald Trump employed Cambridge Analytica during the 2016 election. Mueller is now scrutinizing the Trump campaign's ties to Cambridge Analytica, whose board included Trump's campaign CEO and former chief strategist, Steve Bannon. Bannon interviewed Patten in July 2016 for his SiriusXM radio show, Breitbart News Daily, about a group Patten represents called the Committee to Destroy ISIS. There is no evidence that Patten did any work with Cambridge Analytica or the Trump campaign during the 2016 election. But his relationship with the data firm did not end with the 2014 midterm elections. According to The Guardian's Carole Cadwalladr, Patten "played a central role" in the firm's work in Nigeria in early 2015—work that included hiring Israeli computer hackers to search for "kompromat," or compromising information, on the candidate challenging the incumbent president at the time, Goodluck Jonathan. Patten didn't respond to a request for comment about the Nigeria campaign.
Patten said that he remains in touch with Kilimnik, who he believes has been unfairly scrutinized. "As you might imagine, the barrage of shade and innuendo that has been cast on him since Manafort had his time in Trump Tower has not been something he'd welcomed, nor anything that could objectively be called fair," Patten said, referring to Manafort's role on the campaign, which was headquartered at Trump Tower.
Gates and Manafort—who were indicted by Mueller in late October on charges including money laundering and tax evasion—remained in touch with Kilimnik during the campaign, according to court documents and emails, even though both knew about Kilimnik's background in Russian intelligence. Kilimnik later acknowledged in an interview with Radio Free Europe/Radio Liberty that he and Manafort emailed each other "about Trump and everything" during the campaign. "There were millions of emails," Kilimnik told RFERL in a text message. "We worked for 11 years. And we discussed a lot of issues, from Putin to women."