Trump's Bizarre Response to Putin's Reelection
Sarah Sanders says the U.S. can't "dictate" to other countries how to run themselves, but Trump has had no problems labeling governments elsewhere in the world repressive.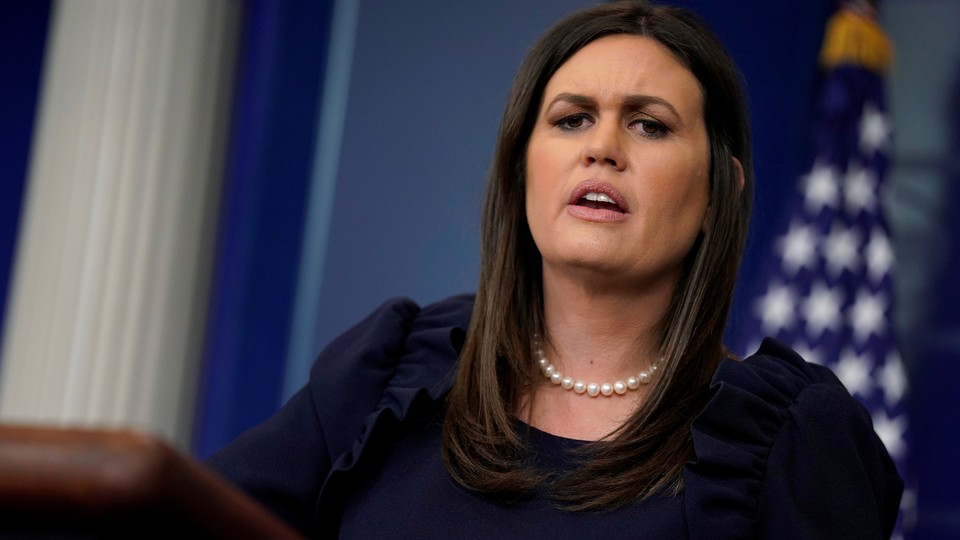 The White House again offered a puzzling response to foreign policy regarding Russia on Tuesday, refusing to criticize the voting that reelected Vladimir Putin by a landslide on Sunday.
Asked whether the White House deemed the election "free and fair," Press Secretary Sarah Sanders offered this deflection:
In terms of the election, there we're focused on our elections. We don't get to dictate how other countries operate. What we do know is that Putin has been elected in their country, and that's not something that we can dictate to them how to operate. We can only focus on the freeness and fairness of our elections, something we 100 percent fully support, and something we're going to continue to do everything we can to protect to make sure bad actors don't have the opportunity to impact them in any way.
This statement is misleading where it isn't simply beside the point, and confusing in both cases. The question is not whether the U.S. has the ability to dictate to other countries how to run their elections (though there is a certain irony in Sanders making this comment 15 years to the day after the U.S. invaded Iraq to install democracy, in a war the president supported). The question is whether the U.S. can and should label unfair and repressive government when it sees it.
There's little question that the Russian election was not free and fair. The government barred Putin's leading opponent from running. Putin's margin of victory—nearly 77 percent—is practically unheard of in contested elections, and apparent ballot-stuffing was caught on video in multiple places. The Organization for Security and Co-operation in Europe concluded that the election "took place in an overly controlled legal and political environment marked by continued pressure on critical voices" and that "restrictions on the fundamental freedoms of assembly, association and expression, as well as on candidate registration, have limited the space for political engagement and resulted in a lack of genuine competition."
In the past, it has been a staple of U.S. practice to label unfair elections as such. Sanders's refusal to even acknowledge the ability to do so is important. It is also at odds with the Trump administration's own statements elsewhere, where it has been perfectly happy to label repression as such. In a statement released late Monday, for instance, the president wished the people of Iran a happy Nowruz and stated that "Iran's rulers suppress their own citizens' rights to free assembly, access to information, and equal opportunity." Why is it that the Russian government escapes such scolding?
Sanders's statements about focusing on U.S. election integrity ring hollow too. The president, hung up on the idea that acknowledging Russian interference might delegitimize his victory, has denied in the past that it ever occurred. And while the administration finally levied sanctions against Russia over the meddling last week, the head of the National Security Agency told Congress late last month that the president had not given orders to combat continuing Russian interference. The administration's single concerted effort to look into the elections was a widely derided panel that set out to investigate illusory claims of voter fraud, and was summarily disbanded when its overreaching tactics met pushback.
While Trump's hesitation, and often refusal, to condemn Russia is well-documented, Sanders has notably pulled punches on Russia as well, an approach that has sometimes forced her into positions as tortured as the one she offered Tuesday. After a former Russian spy was poisoned in London, Sanders said last week, "The use of a highly lethal nerve agent against U.K. citizens on U.K. soil is an outrage. The attack was reckless, indiscriminate, and irresponsible. We offer the fullest condemnation." But she refused to say who she was condemning, instead saying "we are standing with our U.K. ally"—although the British government has unequivocally blamed Russia for the incident.
Sanders has refused on several occasions to say whether Russia is a friend or foe of the U.S., saying at one point that it's up to Putin to decide that. She has said, contra extensive polling, that "no one cares about" investigating collusion with Russia in the election.
In addition to Sanders's comments, Trump also spoke with Putin on the phone on Tuesday. In a brief readout, the White House said, "The two leaders discussed the state of bilateral relations and resolved to continue dialogue about mutual national security priorities and challenges. President Trump congratulated President Putin on his March 18 reelection, and emphasized the importance of denuclearizing the Korean Peninsula."
Later on Tuesday, The Washington Post reported that Trump had apparently disregarded briefing notes from his national-security team that spelled out, "DO NOT CONGRATULATE" in capital letters.
Trump confirmed the meeting to reporters while meeting with Saudi Crown Prince Mohammed bin Salman. "We had a very good call," the president said, adding, "I had a call with President Putin and congratulated him on the victory, his electoral victory … we will probably get together in the not too distant future."
While any conversation between Trump and Putin is bound to draw interest, the simple fact of Trump calling Putin to congratulate him is not especially unusual per se. Presidents often extend congratulations, even when the U.S. does not believe an election was conducted fairly.
"The United States gets hung up on process," Tamara Cofman Wittes, a senior fellow at the Brookings Institution and former Obama State Department official, told me last April. "There's a very strong tendency in U.S. foreign policy to acknowledge and to congratulate for holding elections, even when those elections take place in a pretty unfair context."
But the details of Trump's call to Putin are a little unusual. The U.S. has tended to use a variety of measures to express disapproval of unfair elections. After Putin won Russia's last presidential election, in 2012, for example, President Obama waited days before releasing a statement that said "the United States looks forward to working with the president-elect," not mentioning Putin by name. The State Department "urge[d] the Russian Government to conduct an independent, credible investigation of all reported electoral violations," and congratulated the Russian people, rather than Putin, on completing the election. The election was held on a Sunday; not until Friday did Obama call Putin "to congratulate him on his recent victory."
The following year, when Egypt's Abdel Fattah el-Sisi, the president of a key American ally, was reelected in flawed elections, Obama congratulated him. But he waited nearly two weeks to do so, and he pressed Sisi on human-rights issues during the congratulatory call. Even then, some Obama administration officials thought the statement was too close to endorsing the election. Sanders said Tuesday that Trump had not raised the issue of the ex-spy's poisoning in his call with Putin, and the U.S. readout made no reference to any other discussion of political repression. (Unsurprisingly, neither did the Russian readout.)
Delayed phone calls, lawyerly phrasing of congratulations, stern messages delivered alongside good wishes: These are the sorts of diplomatic practices that veteran foreign-policy hands view as crucial, nuanced tools, and which Trump has clearly established he views as totally pointless. When Turkish President Recep Tayyip Erdogan, another repressive leader (and a tenuous American ally) won a flawed referendum granting him new power last year, Trump quickly called Erdogan to congratulate him and made no bones about electoral problems, scandalizing former diplomats. "There have been times when we have chosen not to criticize a foreign leader for violating democratic principles. I can't think of the last time we've congratulated a leader for doing that," Tom Malinowski, a former State Department official under Obama, told me.
In the case of Sunday's Russian election, the Trump State Department took a different tack from the White House. During a press briefing on Monday, spokeswoman Heather Nauert endorsed the OSCE report, and said that there were flaws in the election. This is not the first time in Trump's presidency that the White House and State Department have not seen eye to eye.
In the short run, any individual decision not to condemn electoral problems in any individual case is unlikely to have any direct effect—harsh words from Trump would be unlikely to change Putin's approach to governance. Over the course of time, however, Trump's choices in calls to people like Erdogan and Putin will establish a pattern, showing current or aspiring repressive leaders that the U.S. has no interest in or stomach for pushing back on human-rights abuses. But there's no need to look for such a pattern when the press secretary has said the same thing explicitly from the White House lectern.