Why Is Trump Turning Against Russia Now?
The president's lingering insecurity about his legitimacy might explain his willingness to punish the Kremlin for a poisoning in Britain but not for meddling in the 2016 election.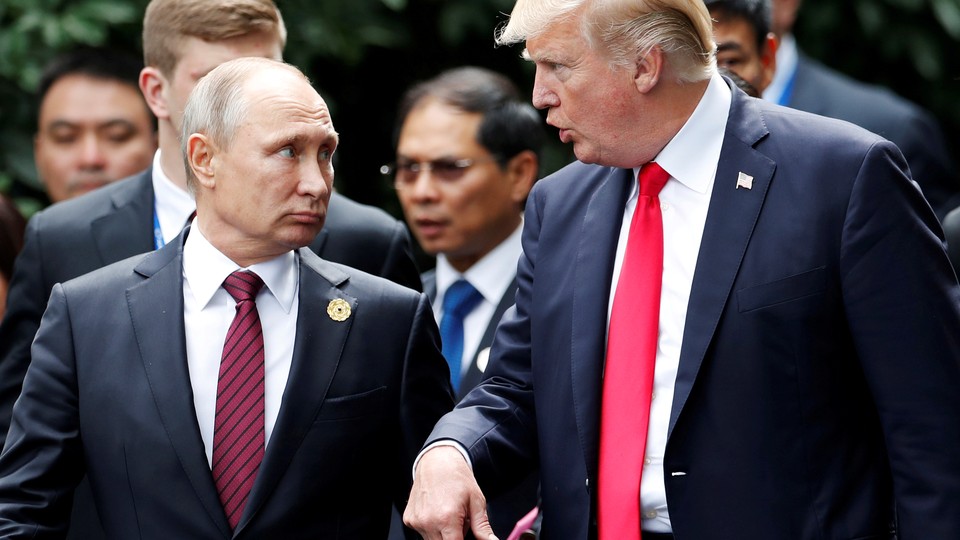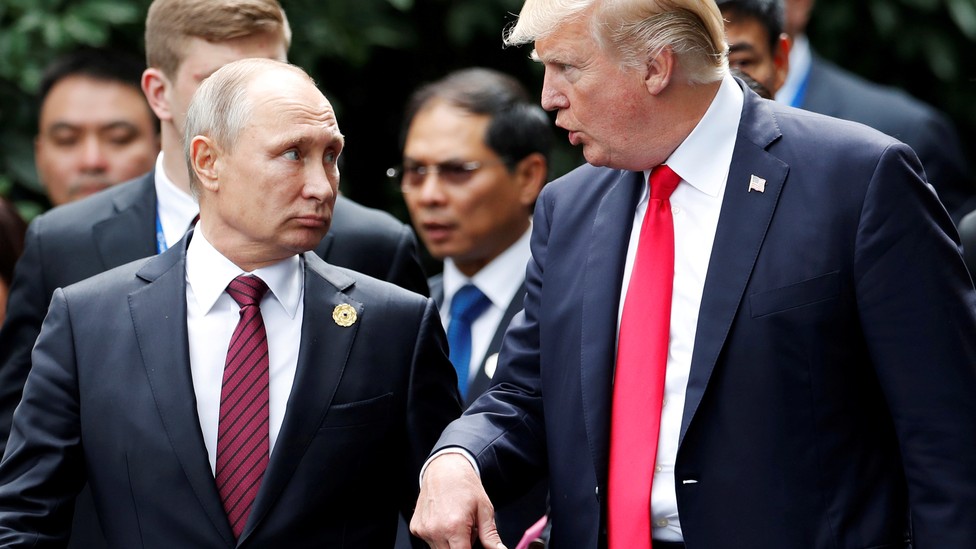 No single stand has hobbled Donald Trump's presidency more than his attitude toward Russia.
During the presidential campaign, he conspicuously praised Vladimir Putin, and refused to condemn his seizure of Crimea. Trump also publicly called for Russia to release emails hacked from Hillary Clinton, something his aides said was a joke. Trump's perceived softness on Putin seems to have encouraged advisers like George Papadopoulos and perhaps Michael Flynn to make overtures to the Kremlin, whether Trump intended that or not.
Once in office, Trump's apparent Russophilia has continued to dog him. His refusal to acknowledge Russian meddling in the election, and his eagerness to stifle or shut down any investigation that touched on it, has directly or indirectly produced tremendous legal and political peril for Trump. Polls show support for Special Counel Robert Mueller, concern that Trump obstructed justice, and worries that the president doesn't take Russia seriously enough. Russia is hardly the only problem the president has, but it is the largest and most multifarious. No matter what Trump does for the rest of his term, he will be unable to undo the damage of his strange stance toward Russia so far.
Which is one reason why recent events in the Trump-Russia relationship are so strange: Every indication points to the president coming to a harsher stance toward the Kremlin. The major example of this is the tough line the White House took over the poisoning of a former Russian spy and his daughter in Salisbury, Britain.* Not only did the Trump administration join with nearly 30 other countries expelling Russian officials, but the U.S. reaction—60 diplomats or spies kicked out, and a consulate shuttered—dwarfed any other nation's steps. Meanwhile, Russia's new ambassador to the U.S. has seen doors figuratively slammed in his face as he tries to settle in to Washington. Contrast that with his predecessor, Sergey Kislyak, who with the Russian foreign minister managed to obtain an Oval Office meeting, in which Trump called recently fired FBI Director James Comey a "nut job" and divulged classified information.
Last week, when Trump abruptly pushed out National-Security Adviser H.R. McMaster in favor of John Bolton, many observers noted that while Bolton fit Trump's rhetorical style, the two men diverged on some key issues—most notably Russia. But what if that wasn't a mistake or a tradeoff, and the hire was another piece of Trump's turn against the Kremlin?
The White House has long protested that it was much tougher on Russia than it receives credit for. That argument has some truth to it, though mostly if you separate the president from the conversation. Other top officials, especially UN Ambassador Nikki Haley, have drawn a tough line on Putin. It's more Trump's own rhetoric, as well as his press secretary's, that has been strangely deferential. Even amid the recent turn, Trump found time to congratulate Putin on his electoral victory, over the express (and all-caps) advice of his aides.
Heightening the peculiarity of the apparent change of heart is the motivation. When Russia interfered in American affairs, Trump tried to ignore the story, refused to blame Russia, sought to finger other culprits, and muddied the waters. Yet when Russia (by all indications) poisoned a Russian national on British soil, the president acknowledged it publicly and took decisive action.
Trump's critics have tended to interpret his soft-pedaling on Russia as self-incriminating evidence of collusion with the Kremlin during the 2016 campaign—or, among the more conspiratorially minded, as evidence that Putin possesses compromising material on the president—but the fact and circumstances of his recent reversal, despite little political upside, complicate the picture. It has long been clear that one reason Trump is so peevish about stories of Russian interference in the election is that he feels such stories delegitimize his victory. His willingness to strike back at Russia now, on an unrelated provocation, shows just how much that sensitivity might explain his actions.
As I have noted previously, the question about collusion is no longer whether Trump officials had untoward contacts with Russians—two have already pleaded guilty to concealing meetings with Russians from the FBI, for reasons that are not entirely clear—but the scale of the collusion, and whether Trump himself was involved. So far, there's no public evidence that the president himself was involved. A new CNN report, saying that Mueller aggressively pursued former Trump aide Rick Gates because he wanted Gates to speak about collusion, seems to suggest that Mueller hasn't found concrete evidence to implicate Trump either. In the absence of evidence Trump colluded, the simplest explanation for the president's actions is that he reacts hysterically mostly to stories that he thinks bring his election into question.
Consider McMaster, who angered Trump not by staking a hardline position against Russia per se (after all, he was replaced by the even harder-line Bolton), but by stating that evidence of Russian meddling in the election in particular was incontrovertible.
NBC News and The Washington Post both have stories Friday that go inside the White House process of deciding on the expulsions. NBC's item has two particularly interesting details. One is that Trump was reportedly particularly upset about Putin claiming to have powerful new nuclear weapons. It's tempting to read this as some sort of phallic showdown, or a clash of two performatively masculine leaders, but Trump has not responded similarly on other occasions when Putin has mocked the U.S. and Trump himself, so it's hard to know why this time has produced different results.
The second is that although Trump has sometimes signed off on measures punishing Russia, he's been reluctant to be seen as doing so. In August, for example, Trump finally acceded to a plan to arm Ukraine:
Yet when the president finally authorized the major policy shift, he told his aides not to publicly tout his decision, officials said. Doing so, Trump argued, might agitate Russian President Vladimir Putin, according to the officials.

"He doesn't want us to bring it up," one White House official said. "It is not something he wants to talk about."
That reticence is mystifying. On the one hand, it doesn't fit the theory that Trump is a pawn of Putin, since it's a material blow against Russia; on the other hand, refusing to discuss it deprives Trump of a talking point to rebut claims that he's a pawn of Putin.
Trump's fear of delegitimization doesn't explain why Trump was so friendly to Putin before the election, but there are other plausible reasons for that. Trump clearly respects strongmen and was surrounded by  campaign advisers like Rudy Giuliani who had publicly venerated Putin. Moreover, all evidence suggests Trump expected not to win the election, but did have a long-running interest in doing business in Russia. The campaign offered Trump a months-long opportunity to cozy up to the Kremlin in preparation for what he expected would be a return to the real-estate business.
Trump isn't wrong to believe that the Russia story partly delegitimizes his election. Quantifying the effect of foreign interference is likely impossible, and it alone does not explain the outcome. Every election is the result of multiple factors, and in the case of 2016, Hillary Clinton's strategic decisions about where to focus her campaign and Comey's decision to publicly reopen the case against her in late October produced more directly quantifiable effects on the final result. Yet there is substantial evidence that Russian efforts were designed to aid Trump.
The president can't erase that by pretending it doesn't exist, but he continues to try. That might explain why Trump is willing to punish Russia for what it does in Britain, but any mention of the election quickly elicits fevered tweets about Democratic hoaxes.
---
* This article originally stated that a former Russian spy and his daughter were poisoned in London. We regret the error.