A Cabinet of Conspicuous Corruption
Wasteful spending of taxpayer dollars by several secretaries follows a tone set by the president.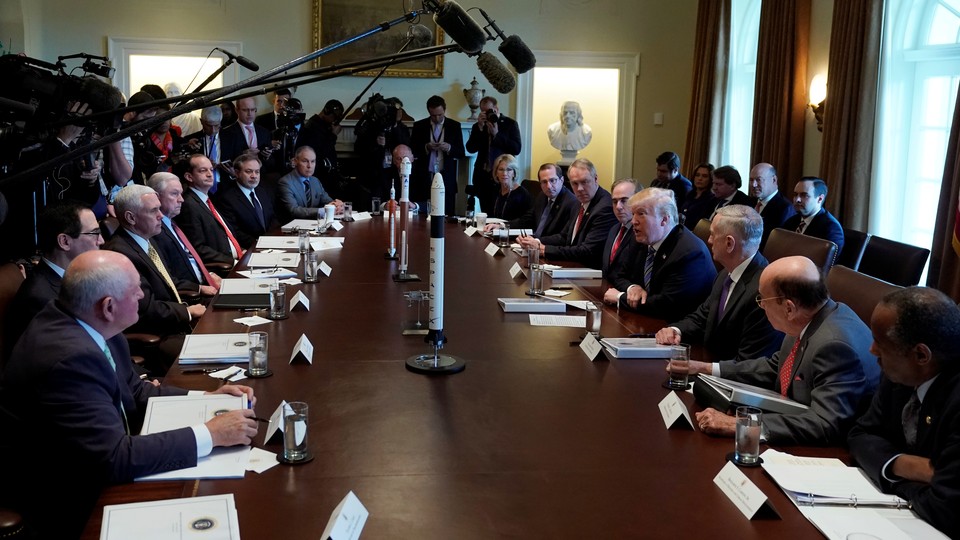 For spring cleaning this year, President Trump is looking at his Cabinet. The Associated Press reported Monday that Veterans Affairs Secretary David Shulkin is near to being removed. When Trump fired H.R. McMaster as national-security adviser, that torpedoed a plan to dismiss McMaster, Shulkin, and Ben Carson, the secretary of housing and urban development, at once, according to Politico's Eliana Johnson.
Shulkin and Carson face the same problem: dubious use of taxpayer dollars in their duties as secretaries. They can console themselves knowing that they're in good company. Interior Secretary Ryan Zinke, EPA Administrator Scott Pruitt, Treasury Secretary Steven Mnuchin have been caught in extravagant expenditures, too. Less heartening is the sixth example, Tom Price, who was unceremoniously forced out as secretary of health and human services in September 2017.
This extravagant spending around public displays of status—call it, with apologies to Thorstein Veblen, conspicuous corruption—has become a trademark of the Trump administration. There are so many cases of huge spending of taxpayer dollars by Cabinet secretaries that it's easy to lose track of them all—or simply to become desensitized—so here's a few of the lowlights.
Shulkin is under fire for a trip to Europe during summer of 2017. The government paid not only for Shulkin, but also for his wife, a security detail, and other staffers. Almost half of the trip was devoted to tourism, visiting castles and then the Wimbledon tennis tournament, to which the Shulkins improperly accepted tickets. A scathing inspector general's report last month described "serious dereliction by VA personnel concerning the Europe trip," which cost more than $122,000 total.
Carson's big problem is a $31,000 dining-table set purchased for his office, which far exceeded regulations on spending for decoration. (The secretary has worried publicly about public housing being too comfortable for inhabitants.) His team has repeatedly bobbled the case: It first became public when an employee alleged she was fired for refusing to approve the spending. HUD initially said Carson was unaware of the purchase, only to have emails emerge that contradict that claim. Then during testimony to a House subcommittee last week, the secretary blamed his wife—a choice unwise for reasons both domestic and professional, since Carson is the secretary and his wife is not a government official.
Price was forced to resign after spending more than $1 million on travel on private and military jets. That's the largest single figure to emerge, but only by a hair, while the type of behavior has occurred repeatedly. Documents obtained by the left-leaning watchdog group CREW suggest Mnuchin racked up nearly $1 million in his own travel, including a notorious trip to watch the eclipse at Fort Knox in Kentucky, publicized by his wife Louise Linton's Instagram feud about it.*
Then there's Interior Secretary Ryan Zinke, who took a security detail along when he went on a non-work-related two-week vacation in Greece and Turkey last year. (For context, Zinke is a former Navy SEAL.) Zinke's travel habits are also the subject of an inspector-general investigation. That includes trips in which Zinke mixed official business and visits with donors. He also chartered a flight for $12,000 at taxpayer cost, aboard a plane owned by executives at an oil company. In another case, he spent $14,000 on helicopter rides around D.C., in part so he could participate in a horseback ride with Vice President Pence. (This is something of a pattern for Zinke: He was reprimanded for, and according to some former flag officers saw his career partly derailed by, inappropriately billing the government for travel home while he was a SEAL.) For still-opaque reasons, the Interior Department paid $139,000 for a door for Zinke's office; the House Oversight Committee is investigating.
Don't forget Scott Pruitt, the EPA chief, who has spent more than $100,000 on first-class tickets, an expenditure he attributed to the need for security, citing vague and indeterminate threats. EPA initially said that Pruitt has a "blanket waiver" to fly first class, then quickly changed its story when reports pointed out that federal rules prevent any such waiver. Pruitt has separately rung up nearly $60,000 in flights on charter and military jets. He also spent almost $43,000 on a soundproof phone booth for his office.
The impulse to live luxuriously on taxpayer dollars has become a pattern for this administration. It is not the only form of impropriety on display. The president has surrounded himself with crooks and liars throughout his political career, and there are more traditional forms of corruption at play in the administration. There was Carl Icahn apparently using a post as a senior adviser to further his own personal interests. There's Commerce Secretary Wilbur Ross claiming he would divest holdings but not actually doing so (which of course echoes the non-divestment of the president himself). There are warnings that Carson could be using his position to advance his son's business interests.
But why has extravagant spending around public displays of status become a distinctive form of corruption for this particular administration? It's probably impossible to answer that question definitively, but a few informed guesses make the excessive spending seem like a paradigmatic Trump administration scandal.
One is that the president sets the tone for the rest of the administration. The George W. Bush administration began with a heavy focus on MBA-style management, reflecting its MBA-holding president. The Obama administration valorized Ivy League intellectualism. It stands to reason that in an presidency helmed by a man whose name is synonymous with decadent displays of luxury, and who is famous for flying around the country in a private jet with his name on the side, Cabinet members would seek to emulate the same luxurious jet-setting lifestyle, with their own first-class travel, stays in luxurious hotels, and imposing security details. (Maybe it's not a coincidence that Bill Clinton, who in his lack of personal discipline shows a faint similarity to Trump, had his own travel-related scandal early in his presidency.)
The problem is that Trump's private jet was just that: private, and paid for by himself. What these Cabinet secretaries are attempting to do is to live a Trump-lite lifestyle on the taxpayer's dime. In so doing, they often break rules about spending, as in Carson and Shulkin's cases; even when they do not, it looks awful, since no one wants to see their hard-earned money put toward lavish travel by political appointees. (The costs of Trump's travel have also drawn criticism, though the rules and expectations around presidents are different from Cabinet secretaries.)
Trump also sets a tone for how his aides approach the job. If one thinks of one's self as a public servant, one is less likely to feel comfortable traveling extravagantly on the public dime. Trump seldom talks about public service, and offers little indication that he thinks of himself as a public servant. Instead, he's a guy who's doing the nation a favor by striding into office to make it great again, and he's not afraid to grouse about it. "I loved my previous life. I had so many things going," he said last year. "This is more work than in my previous life." He has also mixed his own private business interests with the government in an unprecedented manner. If government officials view themselves as doing citizens a favor, they're more likely to see first-class plane tickets as deserved recompense for their troubles.
Finally, Trump has no ideological interest in fiscal conservatism. Whether recent Republican fidelity to the concept was genuine or not, Trump doesn't even pretend to believe in it. He called for big spending on infrastructure, preservation of entitlement programs, and even health care. His support for tax cuts was that of a man who stood to benefit. Not for Trump and his aides Mark Sanford-style displays of performative asceticism like sleeping in their offices. Because fiscal conservatism isn't an organizing principle for the Trump presidency, it's easier for Cabinet secretaries to justify big spending. That produces curious results, like Tom Price, who had a record of fiscal conservatism as a congressman, suddenly becoming a big-spending traveler as a Cabinet secretary.
Though the lavish spending is spread around several Cabinet secretaries, the repercussions have not been consistent. Price was pushed out quickly. Shulkin seems to be on his way out. (During a press briefing on Monday, White House spokesman Raj Shah answered questions about Shulkin by saying he had no personnel announcements to make—not much of a vote of confidence.) Carson's position is tenuous. But Mnuchin seems to have suffered few ill-effects of his travel (unfairly, his wife has taken the most heat). Pruitt and Zinke have been publicly pilloried for their spending, but haven't been subject to the same rumors of firings; Pruitt, in fact, has been mentioned as a possible successor to Attorney General Jeff Sessions. Meanwhile, Rex Tillerson was conspicuously parsimonious in his travel habits, but that didn't save him from firing.
Excessive travel isn't old-school graft—the culprits aren't really enriching themselves, just pampering themselves with extra legroom and complimentary drinks. Yet as secretary after secretary keeps discovering to his chagrin, it is comparatively easy for reporters to catch and to explain to the public, unlike some complex and slow-rolling scandals of yore. Then again, poorly disguised scandals are a model set by the president too.
---
* This article originally stated that Fort Knox was in Tennessee. We regret the error.