What Is Sam Nunberg Doing?
The former Trump aide's decision to announce that he was defying a subpoena from Robert Mueller is more likely to pique the special counsel's interest than dispel it.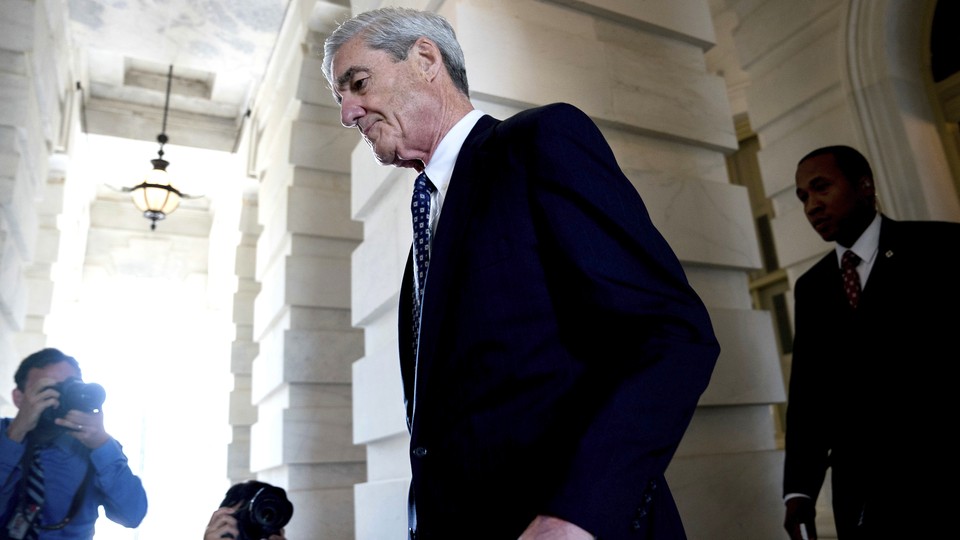 Updated on March 6 at 10:36 a.m. ET
When former Trump aide Sam Nunberg called into MSNBC on Monday to declare his intention to defy a grand-jury subpoena in the Russia investigation, Special Counsel Robert Mueller's team was almost certainly watching with interest.
"I'm not going to cooperate! Why do I have to spend 80 hours going over my emails that I've had with Steve Bannon and with Roger Stone?" Nunberg asked NBC News reporter Katy Tur on Monday afternoon. "Why does Bob Mueller need to see my emails when I send Roger and Steve clips and we talk about how much we hate people?"
Nunberg, who was exiled from Trumpland early in the 2016 campaign, has been consistent in defending President Trump from allegations of collusion with what U.S. intelligence agencies have called a Russian campaign to swing the 2016 election in Trump's favor. On MSNBC on Monday, Nunberg repeatedly called the special counsel's investigation a "witch hunt" and said that there was "no collusion" between the Trump campaign and Russia. Yet defying Mueller's subpoena could lead to conviction on charges of civil contempt, and then imprisonment. Nunberg, an attorney, said he was willing to go to prison if necessary.
Rather than dissuading Mueller, though, Nunberg's strange appearance on cable television may convince Mueller that Nunberg has a story to tell.
"That's a pretty amazing interview, I have to say," John Barrett, a former associate counsel in the Iran-Contra investigation and a law professor at St. Johns University, said of Nunberg's appearance on MSNBC. "'It's hard to cooperate with law enforcement' is just not a valid reason to refuse to cooperate with law enforcement." Barrett points out that the the government could argue that, if gathering the relevant emails is too burdensome, prosecutors could take possession of the server and perform the search themselves.
Pressed by Tur about whether he believed Mueller "had something" on Trump, Nunberg said: "I think that he may have done something during the election. But I don't know that for sure."
That admission on its own may sabotage whatever chance Nunberg had of fighting the subpoena. "It's the kind of statement that obviously must pique the interest of Mueller and his office, and it cries out for further questioning," said Barrett.
Later, speaking to CNN's Gloria Borger, Nunberg elaborated on the same sentiment—even confirming that the special counsel was now looking into Trump's business deals. "The way they asked about his business dealings, the way they asked if you had heard anything even while I was fired, it just made me suspect that they suspect something about him," Nunberg said. "He may very well not have done anything, but the other thing I will tell you, is regardless of whether or not he had money coming to him during the election, okay, during the general, he won that election. And he has to get credit for it."
Later, Nunberg added, "Trump may have very well done something during the election with the Russians. If he did that, I don't know. If he did that, it's inexcusable if he did that."
"By admitting that Trump 'may have done something' and that he may have specific knowledge about that something, Nunberg may have provided a probable cause tipping point that would allow Mueller to obtain a search warrant for all the information—i.e., email content—that Nunberg is presently refusing to provide," Dave Gomez, a former FBI agent and a fellow at George Washington University's Center for Cyber and Homeland Security, told me in an email.
A grand-jury subpoena to turn over information can be fought—either by alleging an excessive burden, or invoking the Fifth Amendment, or seeking to narrow its scope. But a warrant based on probable cause would allow Mueller to seize the emails himself.
"A search warrant is for an involuntary seizure of property. It requires an affidavit presenting probable cause for the search and/or seizure, sworn to by the investigator, and approved by a judge," Gomez said. "The phone company or email provider maintains copies of content, but requires a search warrant for access. Which is why Nunberg's public comments are interesting. He clearly did not clear that statement with his attorneys."
Bruce Green, a former associate counsel in the Iran-Contra affair and a law professor at Fordham, said Nunberg's refusal to testify would not, by itself, constitute probable cause. "His refusal to testify would probably have no evidentiary significance and would therefore be irrelevant," said Green. "But if there is probable cause, the special counsel may be more motivated to seek a warrant if Nunberg will not comply with a subpoena."
A later statement to CNN's Jake Tapper may also raise eyebrows. Nunberg told Tapper that the president had been aware of a June 2016 meeting at Trump Tower, set up by Donald Trump Jr., on the premise that Kremlin intermediaries would provide them with derogatory information on Hillary Clinton.
"Trump talked about it the week before. And I don't know why he did this. All he had to say was, 'Yeah, we met with the Russians. The Russians offered us something and we thought they had something and that was it.' I don't know why he went around trying to hide. He shouldn't have," Nunberg told Tapper. That meeting, and Trump Jr.'s misleading public statements about it, are already reportedly a focus of Mueller's inquiry.
Barrett said that while Nunberg's statements are certainly unusual, there may be an ulterior motive behind his appearance. Nunberg might be attempting to put his continuing loyalty to Trump on display, or encourage other potential witnesses to defy Mueller. He could be trying to goad the president into firing the special counsel by publicly announcing Mueller's interest in Trump's business practices. Or he may be auditioning for immunity, by convincing Mueller that he may possess information that the special counsel would find useful, and that he would cooperate if protected from legal exposure.
"I wouldn't take his appearance at face value," Barrett said.
If all Nunberg was trying to do is discredit the Mueller investigation, though, his choices of medium, method, and message seemed ill-advised. But there's also the possibility that other factors were at play. By Monday night, Nunberg was telling the Associated Press that he would likely cooperate after all.
Several of Nunberg's friends told The Daily Beast they worried he was under the influence of alcohol during the afternoon's interviews. And later on Monday, after a full day of appearances on cable news, CNN's Erin Burnett told Nunberg she smelled alcohol on his breath. Nunberg insisted she was wrong: "I have not had a drink."
"Anything else?" Burnett asked later.
"No," Nunberg said. "Besides my meds. Anti-depressants. Is that OK?"