Trump's Surprise Pick to Head the VA
Rear Admiral Ronny Jackson brings bipartisan acclaim and a sterling resume as White House physician to the job—but no experience running a huge bureaucracy.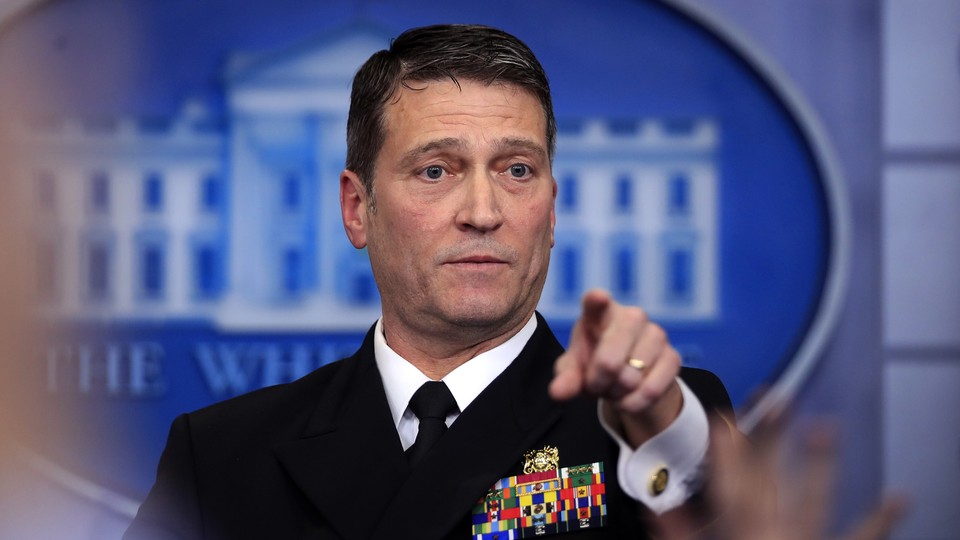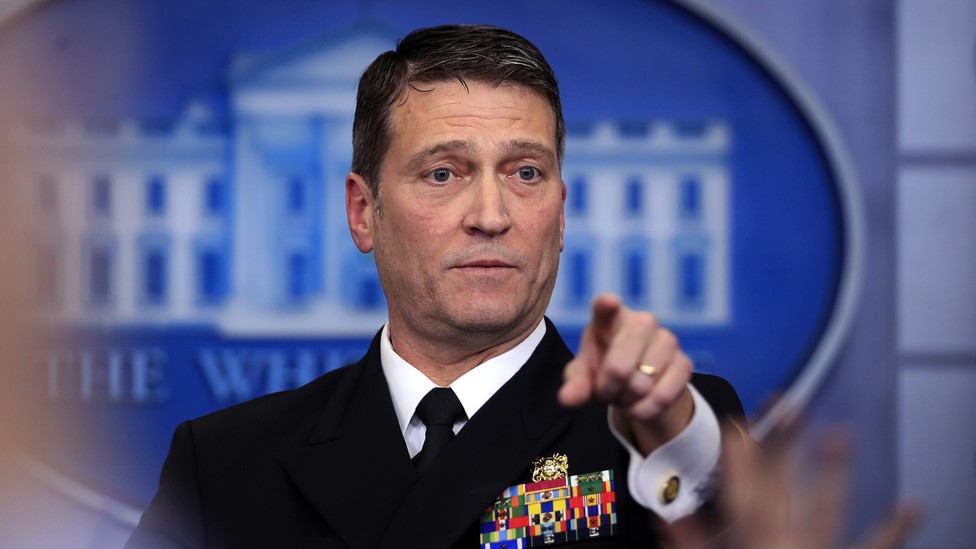 President Trump broke a period of strange silence Wednesday afternoon with an equally peculiar announcement.
The first part of the announcement wasn't a big shock. Confirming days of reports, Trump fired Veterans Affairs Secretary David Shulkin, who was embroiled in a scandal over his spending during a trip to Europe last summer. It was the second part that was a surprise: The president is nominating Rear Admiral Ronny Jackson, his personal physician, to take over the job.
As Shulkin's fate became clear, names of possible candidates to take his place circulated, with Pete Hegseth, a Fox News commentator and former Army officer topping many lists, but Jackson's name was not in the mix. But in the end, Trump found his pick for the VA close to home—in fact, in an office at the executive residence.
Shulkin was nominally forced out over a summer 2017 trip. Though the $122,000 trip was for business, Shulkin brought his wife and visited castles and the Wimbledon tennis tournament. An inspector general's report described "serious derelictions" related to the trip. He was one of several Cabinet secretaries under fire for profligate spending of taxpayer dollars. He was also embroiled in a fight with Trump appointees in his own department over the pace and direction of efforts to offer access to privately provided health care.
Jackson is not just a surprising choice; he's an unorthodox one, especially to take over one of the most troubled federal bureaucracies. Millions of veterans rely on the VA system for their medical care, but the network has been hit by a succession of scandals, mostly related to long wait times for care.
Jackson brings to the job an excellent resume, and bipartisan respect. He has been a White House physician since 2006, and Barack Obama appointed him presidential physician. In January, after questions about his health, Trump released a range of information, and sent Jackson to the White House briefing room to answer questions about an examination. Jackson's sanguine assessment drew detractors, but Democrats who served in the Obama administration were quick to defend Jackson as a straight shooter and no partisan hack. That should serve Jackson's nomination well.
What Jackson doesn't have much of, despite his high rank in the Navy, is extensive administrative experience, especially with a bureaucracy the size of the VA. In addition to running the White House medical office, he also led a bomb-disposal unit and commanded a forward-deployed Surgical Shock Trauma Platoon in Iraq. Compare that to Shulkin, a health-care executive with a lengthy resume, who Trump promoted to VA secretary after he served as deputy secretary during the Obama administration. Shulkin's predecessor was Robert McDonald, who had previously served as president, chairman, and CEO of the Fortune 500 company Procter and Gamble. McDonald replaced Eric Shinseki, who had been chief of staff for the Army. Jackson is being asked to take on an enormous, complicated, and troubled bureaucracy with much less direct experience than those men.
Jackson did, however, look good on TV discussing Trump's health—and both in the past and recently, that has been a major criterion for the president in making his picks. John Bolton, who was last week named national-security adviser, differs from Trump on his approach to several crucial items, including Russia, but the president has been impressed by his aggressive stance during appearances on Fox News. The president also added Joseph diGenova to his legal team on the strength of TV appearances in which he alleged a conspiracy against the president. (DiGenova's stint was brief: On Saturday, the White House announced he wouldn't join after all, because of conflicts of interest with other clients.)
Trump has struggled to recruit fresh blood into his administration, with candidates reluctant to join a troubled, chaotic, and legally embattled administration. As a result, the president has resorted to moving people around jobs, and he's done the same with Jackson. Jackson is also yet another high-ranking military officer to get a top Trump appointment. (He'll have to resign his commission and retire from the military prior to his confirmation, though; the White House confirmed on Wednesday that he intends to do just that.) It's a pool of potential appointees that seems to serve the president well, because career soldiers and sailors have a sense of duty and are not in a good position to turn down the commander in chief.
Jackson shares one other thing with a couple other Trump nominees for Cabinet positions: He is a physician being asked to do something else. Trump appointed Tom Price, an orthopedic surgeon, to lead the Department of Health and Human Services. He also selected Ben Carson, a famed neurosurgeon, to lead the Department of Housing and Urban Development, even though Carson (by his own admission) had no credentials for the job. But those two examples might give Jackson pause. Price was forced to resign in September over his own excessive spending on flights. Carson, meanwhile, is said to be in danger of losing his job over a $31,000 dining set. Whatever else Jackson does as VA secretary, he should probably buy his furniture at IKEA and fly coach.