The Murkiness of Trump's New Transgender Military Ban
In a directive Friday, the president ordered that people with gender dysphoria will be prevented from serving in most cases. Implementation, however, is uncertain.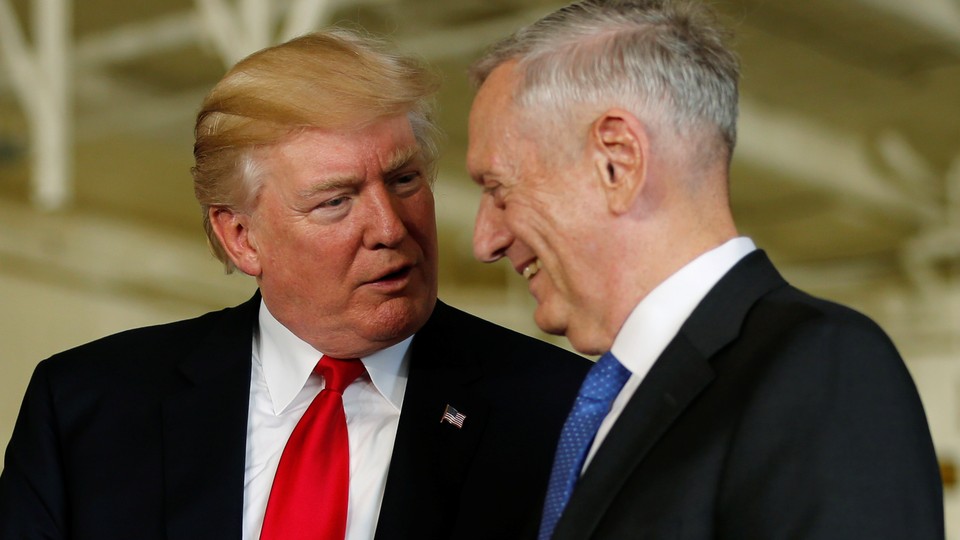 Capping a busy day of news, the White House Friday night issued a new directive to ban most transgender people from serving in the military.
If that sounds familiar, it's because the new document supersedes President Trump's announcement in July that he'd prevent transgender people from serving. That statement took the Pentagon and top generals by surprise, and the various branches were not prepared to implement it. Many commanders said they were waiting to take action until they understood the order. Trump offered some leeway when he formally issued the command in August, asking Secretary of Defense James Mattis to present an implementation plan by February 21, 2018.
"The Secretary of Defense and the Secretary of Homeland Security have concluded that the accession or retention of individuals with a history or diagnosis of gender dysphoria—those who may require substantial medical treatment, including through medical drugs or surgery—presents considerable risk to military effectiveness and lethality," White House Press Secretary Sarah Sanders said in a statement Friday. Because of ongoing litigation, however, the effects of the order are not clear.
The Obama administration ordered the armed forces to be open to transgender enlistees, effective July 1, 2017. Mattis had been expected to recommend that transgender servicemembers be allowed if they could deploy overseas. Commanders were also reportedly reluctant to throw transgender members out of the military, even if new recruits were prevented. But Friday's White House memo states that they will be "disqualified from military service except under certain limited circumstances."
My colleague Emma Green reported in July 2017 that a ban on transgender troops could force thousands of members out of the armed services. It's one of several moves by the Trump administration to roll back protections for transgender people implemented by the Obama administration.
The White House said the new policy was "developed through extensive study by senior uniformed and civilian leaders, including combat veterans," although Trump also claimed his July 2017 order came "after consultation with my Generals and military experts," only to see most members of the Joint Chiefs of Staff surprised and dismayed by the announcement.
Groups that advocate for transgender people immediately blasted the order. "Implementing this plan would cause needless chaos and expense for the military and discard valuable personnel with critical skills, not because they can't do their job but because of who they are," the National Center for Transgender Equality said in a statement.
But the actual effects of the directive are not entirely clear, and likely minimal in the immediate term. Several federal courts have issued injunctions on Trump's original ban, including one in which a judge concluded, based on his tweets, that the president's decision was likely based on animus. The administration opted in December not to appeal to the U.S. Supreme Court to appeal the injunctions. As long as those rulings remain in place, the Pentagon will be required to accept transgender recruits starting January 1. The ultimate word will likely come from the Supreme Court.
The ban is part of a flurry of activity to come out of the White House this week, much of it related to defense. On Thursday, Trump ousted H.R. McMaster, his national-security adviser. On Friday, he backed down from a threat to veto an omnibus spending bill, explaining the decision with a lengthy statement focused on military preparedness. For all the fanfare, however, the court decisions mean that Trump's new transgender order simply replaces one policy stuck in limbo with another.